Posts Tagged 'abusive conduct'
Thursday, January 28th, 2016
Eleven Washington State House Representatives have sponsored the anti-bullying Healthy Workplace Bill (HB 2894). Another 11 state Senators of both parties are sponsoring the Senate companion bill (SB 6532). The HWB defines health-harming abusive conduct and makes it unlawful for employers to allow it to happen.
This marks the return of the legislation to Washington, absent since 2012. Washington was the 4th state to ever introduce the legislation.
If you live in the state, please visit the WA State Page at the Healthy Workplace Bill website. Contact information for all bill sponsors and committee members can be found there. You can also volunteer to testify or help the State Coordinator get the bill through committees and floor votes in a very short legislative session.

Tags: abusive conduct, Healthy Workplace Bill, workplace bullying, workplace bullying insitute
Posted in Healthy Workplace Bill (U.S. campaign), Workplace Bullying Laws | No Archived Comments | Post A Comment () »
Friday, November 27th, 2015
Seek advice for your dilemma. Write to Kalola.
Dear Kalola:
I was a legal assistant with a well-respected legal organization for a little over four years. The bullying occurred primarily in the last three years and very intensively in the lastnine months. I was let go during the summer.
I was treated by the lead attorney and staff attorneys as if I was inferior. Although everyone in that office made mistakes, mine were the only mistakes that were brought to light. Each small mistake was blown into a huge mistake and was used to threaten my job. Sometimes I found out I wasn't even the one who made the mistake.
My co-workerswere very clique-ish and juvenile. There were many whispered conversations behind closed doors. I was definitely not included in that clique and was isolated psychologically and physically. I was told not to talk about my family, while everyone else in the office was free to talk at length about theirs.
I was treated rudely by the supervisor and all my co-workers (five total). They told me I asked too many questions. I have worked in the legal field for over 18 years and have never worked with any attorneys who did not want to communicate with their support staff. Also, I was asking questions because the tasks were often poorly written, hard to understand, and incomplete. They refused to look at my Outlook tasks to see how my workload was before they assigned a large task claiming that they were too busy.
In the end, I believe that two of the attorneys were trying to get me to lose my temper and/or quit my job. One would assign me tasks, complete them herself, and then "forget" to tell me, wasting a lot of my time while I was already under pressure. Another would show up in my office several times a day and chastise me for some small error (that I may or may not have made) or yell at me for some small problem and then turn on her heel and leave my office before I could respond. I was treated differently in that it was a huge deal if I used any vacation or sick leave, while everyone else in the office called in sick leave weekly for any little ailment and were often paid for hours they were not actually working. I think this was behind the bullying. I got the feeling they thought I was going to expose them, which I had not planned to do.
I tried to talk about the problems I was having with the supervisor, but eventually stopped when the conclusion to each conversation was everything ended up as my fault. I was thinking about going to the HR department when I was terminated. I was also starting to think about looking for another job. The official reason was that I "made too many mistakes". When I asked what those mistakes were, I was told "I don't want to argue with you."
The termination was very cold and impersonal. A few days later I received a termination letter (with typos) that still did not tell me what these mistakes were. To this day I do not know what these mistakes were, how they effected the office or client, or even find out if I did make the mistake.
My termination came as a huge shock to me. Although I was unhappy, I thought if I just did my best they couldn't get rid of me. And I needed the income. The first few weeks after being terminated were really rough mentally and physically. I isolated myself in self-doubt and depression. In the first few days I called the crisis line but there was only so much they could do. I was smoking way too much and having trouble eating. I've lost about 15 pounds. My stress level made it hard to sleep and I've increased my over the counter sleep aid. I was terrified at first to interview because of my damaged self-confidence and trying to figure out how to tactfully tell potential employers "why" I lost my last job. I've used the resources at Worksource to get some questions answered and help brush up on my job search skills.
I see now that I was much more stressed and angry in my last job than I thought. I'm nicer now to family, friends, and strangers hat I know I am not bullied anymore. I spent the last three years being short-tempered after a long day of being treated rudely and walking on egg shells. I know my family and friends can see a difference in me now that I'm getting back on my feet.
I believe I lost my job due to office bullying. I never believed in the term before, but I now know how real and damaging it is. If I would have done anything different, it would to realize that office bullying does exist and acted differently (document abuse situations, look for a new job). Thanks to the support of family and friends, I'm doing better. Instead of waking up each morning in terror of "what am I going to do?" I wake up grateful that I'm not a target anymore. I haven't landed on a new job yet, but I have lots of good experience, a lot of job applications out there, apply for everything I can and have been on several interviews. In fact while writing this I received an email scheduling a promising interview tomorrow morning. I know I have the chance to work in a happier, more respectful work environment. I deserve to be happy again.
If I could say anything to another abused worker, it would be to realize office bullying is real. Research it and be prepared to deal
with it if it happens to you. If it ends with a brutal termination, as it did with me, give yourself a little time to take care of yourself. Eat, breathe, sleep, and understand how important the healing process is. Reach out to friends and family, but realize not everyone will be able to be there all the time. Don't get stuck – get moving on your job hunt and build back your confidence. The best revenge is to move on to something better with your head held high.
I was impressed to find the Workplace Bullying Institute website. It gave me hope that I'm not crazy and this problem truly exists. I am excited to see that there is an interest in proposing legislation that will address this problem. Targets should have some recourse in office bullying.
West Coast Worker
(more…)
Tags: abusive conduct, attorneys, Kalola, Leymann, Mobbing, workplace bullying
Posted in Let's Talk with Kalola, WBI Education | No Archived Comments | Post A Comment () »
Friday, October 23rd, 2015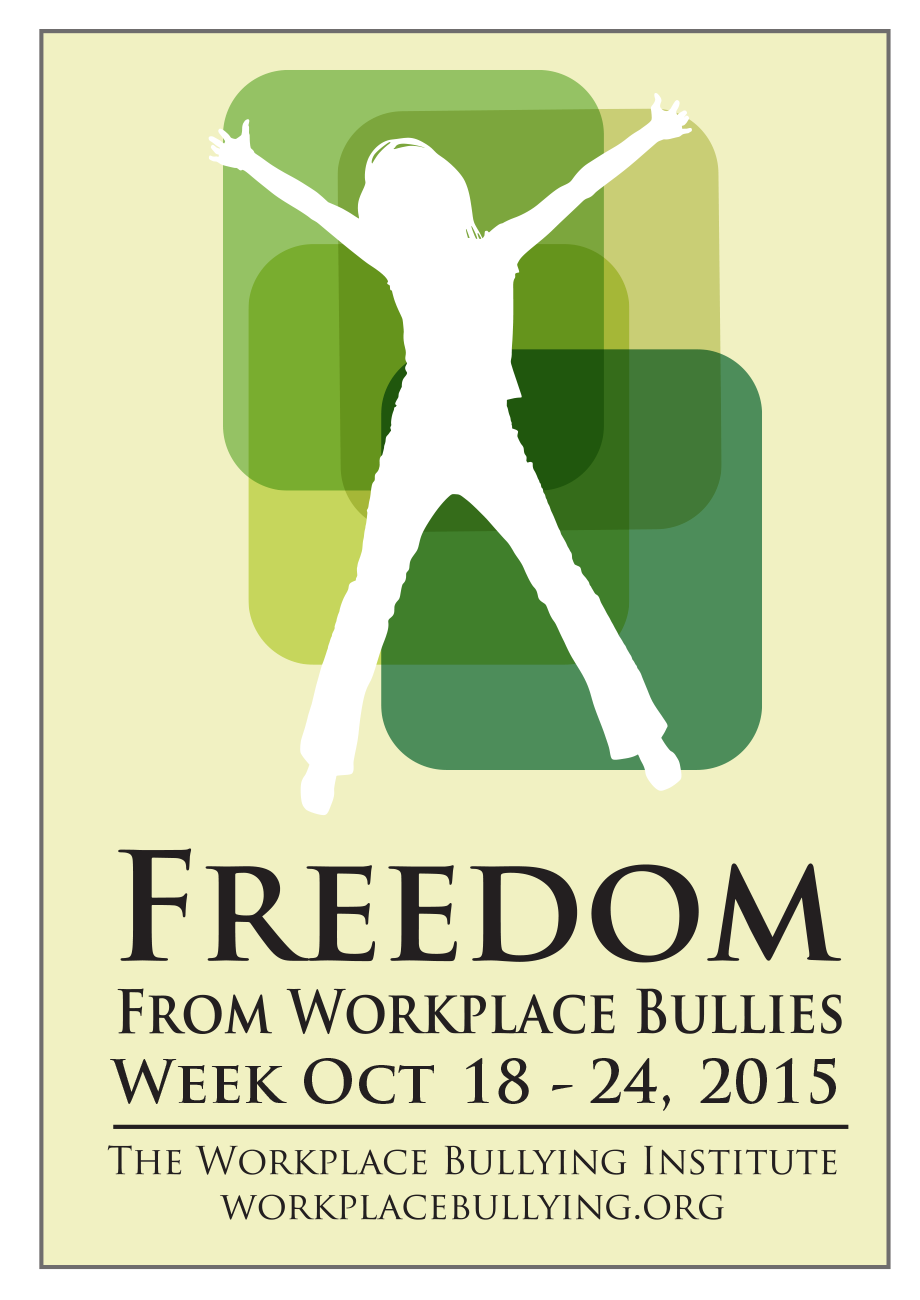 On October 19, 2015, during WBI Freedom from Workplace Bullies Week, Anchorage Mayor Ethan Berkowitz approved a new policy to combat bullying in the workplace. The policy aims to ensure that city employees are respected and treated with dignity while at work.
Berkowitz said that Anchorage does not have a significant bullying problem in work areas, but the issue does come up on rare occasions. He said the idea was first brought to him by city employees to propose a policy prohibiting all verbal abuse, humiliation or threatening behavior in the municipality's workplaces.
The new policy went into effect Oct. 19. It is an expansion of existing anti-discrimination policies that comply with state and federal laws. The policy fails to address thorough procedures to ensure fair and credible resolution of reported incidents. However, it's a start.
WBI congratulates Anchorage for taking this humane step to provide additional protections for City employees.
Tags: abusive conduct, Anchorage, Ethan Berkowitz, Freedom from workplace bullies week, WBI, workplace bullying policy
Posted in Broadcasts: Video, TV, radio, webinars, Employers Doing Good, Good News, Media About Bullying | No Archived Comments | Post A Comment () »
Friday, October 23rd, 2015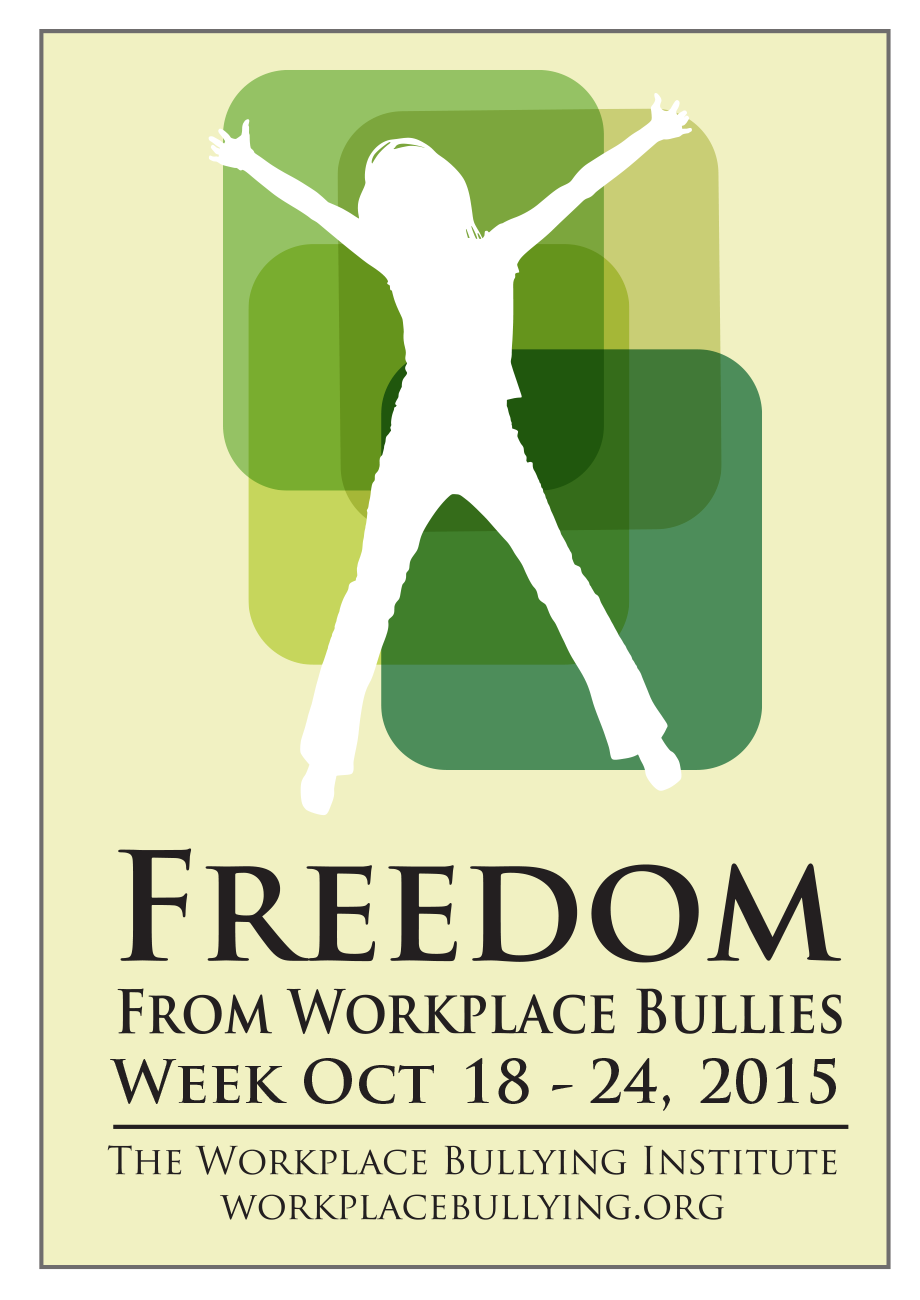 The Workplace Bullying Institute thanks the following West Virginia cities for acknowledging Freedom from Workplace Bullies Week and the necessity of caring for those subjected to abusive conduct at work.
It's a call to action for employers in those cities and the entire state.
Anmoore
Charleston
Elkins
St. Albans
Star City
Welch.
Click to view the Proclamations.
West Virginia has a history of introducing the WBI anti-bullying Healthy Workplace Bill. It has yet to be enacted into law.
The time has come. 2016 provides the state lawmakers a chance to show who they represent.
Tags: abusive conduct, Freedom from workplace bullies week, Healthy Workplace Bill, WBI, West Virginia, workplace bullying, Workplace Bullying Institute
Posted in Freedom Week, Healthy Workplace Bill (U.S. campaign), WBI Education | No Archived Comments | Post A Comment () »
Thursday, October 22nd, 2015
Bullying in the workplace: How to recognize and address it
By Becky Parker, WDAZ-TV (Grand Forks, North Dakota), Oct. 22, 2015
Bullying is an issue people may think is reserved for the schoolyard, or even cyberspace.
But adult bullying in the workplace can have devastating effects on people's lives.
One in 10 U.S. workers say they are being bullied at their jobs.
Forty-five-percent say they've been bullied at some point during their career, and another 25% say they've witnessed workplace bullying.
We spoke to North Dakota State University professor and researcher Pam Lutgen-Sandvik, who has been studying workplace bullying for nearly 15 years. [Note: Dr. Lutgen-Sandvik is a WBI friend & colleague; her research is featured prominently in the WBI training for professionals, Workplace Bullying University.]
She defines bullying as persistent, hostile, aggressive behavior that can be verbal or non-verbal.
Research shows adult bullying can lead to depression, eating disorders, sleeping disorders, PTSD and physical ailments.
It also increases the person's stress levels and degrades their mental health by making them feel crazy, scared, and anxious.
"It also bleeds into families. When you're bullied and abused at work you go home and sometimes there's displaced aggression when you're screaming at your family members, sort of that, 'kick-the-dog' kind of thing. We do know for sure it reduces people's satisfaction with their personal lives," says Lutgen-Sandvik.
Here's what she says you should do if you are being bullied at work:
• Give it a name – define it as workplace bullying.
• Remember that it's not your fault – bullies often make the victim feel crazy.
• Get some social support – like a counselor – as bullying can degrade your mental health.
• Take some time off from work to regroup and figure out how to address the problem.
"Trying to make sense of it and figure out what you're going to do is really difficult when you're in the environment and you're constantly bombarded with this aggression and hostility. If it's possible, take some time off of work so you can kind of get your bearings and figure out, 'am I going to stay? If I'm not going to stay, what am I going to do here?'"
Many people in a bullying situation at work might want to fight back, but that can be risky.
Often, bullying situations at work involve an element of power. In the U.S., it's usually a manager, but can also be a peer.
If you do choose to fight back, Lutgen-Sandvik says the best way is to talk to someone who has power over the bully.
Bring specific examples of bullying, have other co-workers to back you up, and have a clear goal in mind.
Lutgen-Sandvik says it is not a good idea to confront the bully directly.
"They will escalate the abuse worse than it ever was before, and drive the people out of the workplace because now they've become serious threats to the perpetrator. So, directly confronting the perpetrator, it's really a very, I would say, dangerous thing to do."
###
This is Freedom from Workplace Bullies Week and October is Bullying Prevention Month and Domestic Violence Awareness Month.
Readers may click-to-purchase Adult Bullying, Pam's chronicle of her decade of research into workplace bullying, written in easy-to-understand prose.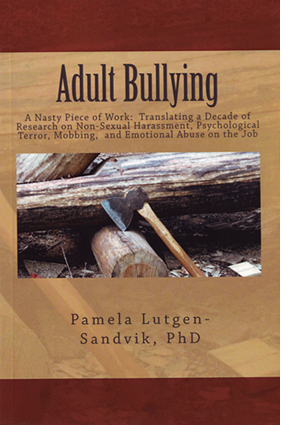 Tags: 2014 WBI U.S. Workplace Bullying Survey, abusive conduct, adult bullying, health harm, Lutgen-Sandvik, NDSU, professor, research, workplace bullying
Posted in Bullying & Health, Bullying-Related Research, Social/Mgmt/Epid Sciences, WBI Education, Workplace Bullying University | No Archived Comments | Post A Comment () »
Wednesday, October 21st, 2015

Lana Cooke, West Virginia State Coordinator, Healthy Workplace Bill campaign

Ernie Cooke, Lana's supportive husband, Requiescat in pace dear gentle man

Jane Bethel, Virginia State Coordinator, Healthy Workplace Bill campaign

Neil Dias, Verizon

Susan Rae Baker


Tags: abusive conduct, anecdotal tales., bullied targets, degradation, harm to individuals, health harm, spousal support, workplace bullying, Workplace Bullying Institute
Posted in Freedom Week, WBI Education | No Archived Comments | Post A Comment () »
Wednesday, October 21st, 2015

Gary Namie introduction

SEIU International President Mary Kay Henry

NAGE: Nat'l President David Holway & VP Greg Sorozan

AFGE: Local President Charletta McNeill


Tags: abusive conduct, AFGE, Freedom from workplace bullies week, Healthy Workplace Bill, NAGE, seiu, Unions, workplace bullying
Posted in Freedom Week, Healthy Workplace Bill (U.S. campaign), Unions, WBI Education, Workplace Bullying Laws | No Archived Comments | Post A Comment () »
Tuesday, October 20th, 2015
Bullying of Faculty Alleged at UMass
By Laura Krantz, Boston Globe, Oct. 18, 2015
Power struggle roils chemical engineering department
It began as minor personality clashes among professors, the type that can be common at any university. But what evolved at the University of Massachusetts Amherst chemical engineering department has proved far nastier.
Over three years, the dispute has turned into an ugly power struggle over an aggressive — one report said "bullying" — attempt by four members of the department to recruit others in a coup to oust their department head.
Documents and e-mails provided to the Globe paint a picture of the extended battle. Some involved in it describe screaming at faculty meetings, a rigged department election, vindictive annual reviews, and an attempt to block a professor from securing a full-time position.
Facts about who is ultimately to blame are harder to find. What is clear is that for the prestigious department in the state's flagship public university, with its renowned faculty, millions in funding, and promising research, the imbroglio created a poisonous atmosphere that has disrupted the scientists' work.
Beyond the department, it pulled in the faculty union and Chancellor Kumble Subbaswamy, who called the situation "quite serious."
On one side, professors accuse four colleagues of trying to bully other faculty into supporting a bid to undermine then-department head T.J. Mountziaris, who served for nine years.
On the other side, professors said Mountziaris, who lost his chairmanship last year and is on sabbatical, made life difficult for some faculty, going so far as to block one person's attempt to shift to become a full-time professor.
Tags: abusive conduct, bullying in the academe, Gary Namie, professors, UMass, workplace bullying, Workplace Bullying Institute
Posted in Employers Gone Wild: Doing Bad Things, WBI in the News | No Archived Comments | Post A Comment () »
Tuesday, September 22nd, 2015
Workplace Bullying May Increase Risk of Suicidal Thoughts
By Lisa Rapaport, Reuters News Service, Sept. 17, 2015
(Reuters Health) – Workers who are victims of bullying on the job may become more likely to contemplate suicide than people who don't experience a hostile office environment, a Norwegian study suggests.
Researchers surveyed a nationally representative sample of roughly 1850 workers and followed them from 2005 to 2010. While less than five percent of participants reported thoughts of suicide during the study period, they were about twice as likely to do so after being victims of workplace bullying.
"Our study adds to the understanding of how bullying is related to thoughts about suicide by showing that the perception of being bullied at work actually is a precursor of suicidal ideation and not a consequence," said lead study author Morten Birkeland Nielsen of the National Institute of Occupational Health and the University of Bergen.
At least 800,000 people worldwide take their own lives each year, making suicide a leading cause of death, Nielsen and colleagues write in the American Journal of Public Health.
Although psychiatric disorders are involved in the majority of suicide attempts, most people with mental health disorders don't take their own lives, the researchers note.
Tags: abusive conduct, American Journal of Public Health, Einarsen, Gary Namie, Nielsen, suicide, University of Bergen, workplace bullying, Workplace Bullying Institute
Posted in Bullying-Related Research, Social/Mgmt/Epid Sciences, Tutorials About Bullying, WBI Education, WBI in the News | 1 Archived Comment | Post A Comment () »
Monday, August 3rd, 2015
Workplace bullying is endemic in healthcare and education, including higher education, for reasons discussed elsewhere at the WBI website.
Now comes a story of an inept community college administration, at Weatherford College, unwilling to even consider complaints from a long-time faculty member. Professor Karen Lopez Austen about the abusive conduct she faced in the Athletics Department.
The WBI 2014 U.S. Workplace Bullying Survey revealed that most employers deny complaints or justify them. In Austen's case, they never considered the evidence she had assembled for the Board. An outsider can easily infer that the Administration, led by Kevin Eaton, had decided to not renew Dr. Austen's contract, despite the legitimacy of her complaint.
So, as was her right, Dr. Austen filed a civil suit claiming sex and ethnicity discrimination along with retaliation for daring to hold the college accountable to operate lawfully and according to internal policies. She probably, like most bullied targets, especially highly educated individuals, expected to find justice in court. We constantly warn targets that justice is rarely found and almost never in court.
Remember, the college administrators refused to hear her complaint. The trial court judge did not allow Dr. Austen her day in court. Judges possess ultimate authority to grant access to their courts.
Judges have two avenues to end cases before they start — dismissal or summary judgement. Targets are typically plaintiffs who sue their employers, the defense. The defense files the motion to dismiss. Dismissal is based on technical details of the case that have not been addressed ensuring that the law cannot relieve the problem — e.g., "including lack of subject matter jurisdiction, lack of personal jurisdiction, improper venue, insufficiency of process, insufficiency of service of process, failure to state a claim upon which relief can be granted, or failure to join a necessary party."
When the defense files a motion for summary judgement, it is saying that if the parties don't dispute the material facts of the case, then the judge can determine whether the defendant is liable based simply on the pre-trial evidence assembled, if any exists. In the case Austen v. Weatherford College, there was no such agreement. The civil case was all about the disputed facts. The college said nothing happened. Dr. Austen said otherwise. Guess what. The judge in Federal District Court agreed with the college and threw out the case based on summary judgement.
In most cases, financially strapped terminated and unemployed targets go no further. But Dr. Austen filed an appeal with the federal Fifth Circuit. It was no surprise that the Appellate Court upheld (agreed with) the pro-administration ruling of summary judgement. Remember, no entity had yet considered the evidence that plaintiff Austen had put together to prove her complaint of discrimination.
Austen's attorney, Mark Robinett, at the Austin Texas firm of Brim, Arnett & Robinett. P.C., was shocked by the 5th Circuit Court's ruling of a 3-judge panel (Judges Smith, DeMoss and Higginson). What he found appalling was that his client's evidence did not matter. In a general letter to the public, attorney Robinett wrote:
… the Court of Appeals held that her evidence did not matter, that she had failed to present a "prima facie" case or "rebut the legitimate reasons for termination (sic nonrenewal) offered by the college. The court also holds, as if it has some basis for making a fact finding (which is a "no-no" for an appellate court) that "(t)he six serious, documented instances of misconduct from the semester after the settlement agreement were the primary reasons for termination (sic nonrenewal).
Robinett, quoting the appellate court's ruling stated
What matters is not the truth of the underlying complaints and reports, however, but rather whether the college could legitimately have relied on them in deciding to terminate Austen. The college could do so.
In fact, the college president, Eaton, mis-characterized Dr. Austen's complaint to the Board. The Board never heard Austen's perspective.
The injustices Austen faced was compounded by the 5th Circuit with its pro-institutional bias that claimed evidence did not matter. Robinett concluded that the court was doing a trial jury's job without the benefit of live testimony or assessing the credibility of the Weatherford College administrators.
Read Attorney Robinett's letter countering the assertion that Dr. Austen was not renewed for just reasons. She never got to tell her side of the story to an impartial court.
Read the ruling by the three judges that back legal scholarship and justice by decades.
Justice in America?
Tags: 5th Circuit Court of Appeals, abusive conduct, dismissal, justice, Karen Lopez Austen, summary judgement, Weatherford College, workplace bullying
Posted in Fairness & Social Justice Denied, Related Phenomena, Rulings by Courts, WBI Education, Workplace Bullying Laws | 1 Archived Comment | Post A Comment () »