Posts Tagged 'abusive conduct'
Wednesday, February 18th, 2015
The Washington State Republicans run the state Senate. That means Republicans chair all committees. Committee chairs have great control over which bills get a public hearing. But typically during those hearings, chairpersons grant each committee member opportunities to pose questions and to comment on bills before the committee.
State Sen. Pam Roach, chair of the Governmental Operations and Security Committee made a snide comment to a group that was testifying before her committee in early February. She asked if they knew where their campaign support money went and commented, "Because you know what? I won."
That exchange drew a scolding letter from the Democratic Lt. Gov. Brad Owen. Read the letter dated Feb. 13, 2015.
This wasn't Pam Roach's first encounter as a bully/perpetrator. The Owen letter lists 16 years of prior incidents starting in 1999 and including a Dec. 2012 finding that she had violated the Senate's "respectful workplace policy." All bullies are repeat offenders as is Roach. Her own party caucus, fellow Republicans, found fault with her "abusive conduct."
Roach now must be accompanied by a fellow Republican during all future meetings with committee staff, the non-elected professionals who serve the committee, many of whom are attorneys.
The Lt. Gov. ends with a veiled threat. "Your abusive behavior must stop. Further violations will not be tolerated." Yeah, sure. The policy that she willfully violated for years is evidently toothless because it has no enforcement provisions.
Read the letter to see the entire list describing how offensive and abusive Pam Roach has been.
Of course, Roach's reply to AP reporter Rachel La Corte is that she is a "tough chair." And that she herself is the actual victim, "I've been the most unfairly treated senator in state history." Of course you are. All bullies are misunderstood victims.
She will not change until made to change. Stay tuned.
Tags: abusive conduct, Brad Owen, Pam Roach, respectful workplace policy, Washington State Senate, workplace bullying
Posted in Media About Bullying, Print: News, Blogs, Magazines | No Archived Comments | Post A Comment () »
Thursday, February 12th, 2015
Featured on Waterford, CT community television: Dr. Kathy Hermes. She discusses the bullying-caused suicide of dear friend Marlene Braun and the need for state legislation, the Healthy Workplace Bill.
Tags: abusive conduct, Connecticut, domestic violence, Healthy Workplace Bill, Kathy Hermes, legislation, workplace bullying
Posted in Healthy Workplace Bill (U.S. campaign), Workplace Bullying Laws | No Archived Comments | Post A Comment () »
Monday, February 9th, 2015
Proponents for social justice in the #BlackLivesMatter movement seek accountability. The unethical county prosecutor misled the grand jury so it would not hold officer Darren Wilson responsible for the death of Michael Brown. Hence, the hands-up gesture of surrender that Brown used that Wilson ignored as he gunned Brown down on that Ferguson, MO street. Both Wilson and the prosecutor got away without being held accountable.
The wife and surviving children of Eric Garner also seek accountability. NYPD officers Daniel Pantaleo and Justin Damico combined a chokehold and physical restraint to kill Garner on a Staten Island sidewalk while a witness filmed the episode. The grand jury there also let the officers walk away without facing consequences for taking a life.
Then, in Cleveland, 12-y.o. Tamir Rice was gunned down within seconds by Timothy Loehmann as his patrol car rushed to the public park scene where Tamir was playing by himself. Loehmann's employment record showed him to be too incompetent in handling firearms for a small city police squad before he found a job with the Cleveland PD. Rice is dead because the Cleveland PD ignored early career warning signs about Loehmann. He also failed his written entrance exam for Cleveland employment.
The headline-grabbing, media-saturation stories "surprised" white TV viewers who had no appreciation of the ongoing abuse black men face at the hands of police. They were Furthermore, because of implicit (unstated or attitudes possessed without explicit self-awareness) racism by whites, there was little sympathy for those murdered.
In fact, police violence apologists attempted to guide the public to make what is called the fundamental attribution error. Victims are degraded and treated as though they deserved their fate. The error is behind all "blame-the-victim" scenarios that we perpetuate in the aftermath of personal crimes: rape, campus sexual assault, and even murder victims.
It's a tug of war between two competing explanatory models: fixing responsibility on perpetrators of violence or seeking faults in victims that made them somehow provocative and deserving their fate.
The overlap with bullied targets is easy to see. When they inform management about their ordeal, they are not believed and retaliated against for tarnishing the perpetrators' image honed by years of ingratiating themselves to their executive sponsor. Management tends to "circle the wagons," to grow increasingly defensive. Management should care about the impact of bullying on finances as well as the impact on employee health. Instead, managers tend to deny, discount and rationalize bullying.

Another insult to bullied individuals is the sham investigation done by the employer. Organizations cannot conduct unbiased investigations of themselves. The pressures for individual survival and covering up are too great. Furthermore, HR is a management support function. Therefore, it is management investigating incidents of wrongdoing primarily by managers. Truth is sacrificed for the sake of political expediency.
When investigations conclude with an inability to assign responsibility (the infamous "she said/she said" tie) or the mischaracterization of the abuse as a "personality clash" between bully and target, targets are upset and frustrated. Their sense of justice was shattered by the bullying. A failure to find fault in perpetrators compounds the injustice.
Sadly, of the cases in which bullying has stopped, 77% of targets pay the price by losing the job they had no business losing or they transferred (11%) as if they had done something wrong. Perpetrators bully with impunity.
Bullied targets and witnesses simply want perpetrators to be held accountable.
Accountability is nearly impossible without a policy. It is also impossible when a policy exists but is not applied to all employees at all levels of the organization. Inconsistent or absent enforcement renders the policy ineffective. It is only a collection of positive words and thoughts.
Most policies are created in response to laws. Without laws that provide legal redress for bullied individuals, employers do not voluntarily address abusive conduct in comprehensive ways. They may engage in minimal training (as mandated in California starting in 2015) or be "encouraged" to adopt a policy (as suggested in TN law, effective in 2015). Strong laws will compel good policies, which in turn, make accountability more likely. Help enact the WBI anti-bullying Healthy Workplace Bill.
Tags: abusive conduct, accountability, American Psychological Association, bullied targets, Cleveland, Eric Garner, Ferguson, Gary Namie, Michael Brown, Staten Island, Tamir Rice, victims, violence, workplace bullying
Posted in Related Phenomena, WBI Education, WBI Surveys & Studies | No Archived Comments | Post A Comment () »
Saturday, January 31st, 2015
In 2015, California law mandates that supervisors in all firms with 50 or more employees receive "training" in abusive conduct. The term "abusive conduct" was lifted from the WBI Healthy Workplace Bill language we have been using since 2003 to introduce and pass a comprehensive law against workplace bullying.
Training done right can overcome deficits in skills. Training is the wrong tool to reverse immoral conduct. But training is useful to make everyone aware that misconduct is happening.
Training backfires when it teaches there is a problem and the organization has no procedures in place to deal with the misconduct. It's clear that only a small (5.5%) of American employers have the will to actually prevent or correct health-harming abusive conduct. No effective state laws have yet been enacted to compel employer compliance. So, few have good policies. Even fewer have the voluntary desire to stop it. No laws; no policies; lazy employers.
When supervisors get trained, in the best possible way — live, interactive, Q&A sessions, employee expectations will rise. Everyone will wonder when and how the bullying will end in their workplace. If employer actions are limited to supervisor training, very little will be done. Employee distrust and disengagement will follow.
Another concern is how will the training be conducted? The new law based on AB 2053, adds training in abusive conduct (which is currently legal) to the requisite training in sexual harassment (which is illegal). The mix will not only confuse employees; most employers don't know the difference. Workers will be expecting policies for bullying to apply that don't exist.
It is alarming to find that many employers post online slide shows to educate workers about sexual harassment. It's a joke that no one takes seriously. A slide show with little content and no interaction. Really, how lazy can employers be. It's called "compliance." Given the complexity of bullying's effect on the entire workplace and the fact that current sex harass trainers and conflict resolution professionals don't understand bullying, we fear for the future.
In other words, disembodied training can do more harm than good. Beware of premature awareness!
Training should be preceded by a commitment by leadership to stopping bullying. Then, organizational prevalence should be determined. Next, a code or policy or set of behavioral expectations must be created along with procedures to correct confirmed violators. Then, and only then, should training be undertaken.
If you know of, or are, a California employer, contact WBI for help addressing the problem that will comply with the law and help your organization at the same time. We have also produced a 20 min. DVD to introduce Abusive Conduct to organizations.
Tags: abusive conduct, DVD, education, Gary Namie, Healthy Workplace Bill, supervisors, training, Workplace Bullying Institute
Posted in Healthy Workplace Bill (U.S. campaign), Workplace Bullying Laws | No Archived Comments | Post A Comment () »
Monday, January 5th, 2015
Attention California (& all other) Employers
California AB2053 extracted one paragraph from the WBI Healthy Workplace Bill — the definition of "abusive conduct" and made it mandatory to acquaint supervisors and managers with the phenomenon every two years beginning Jan. 1, 2015.
WBI is the source of the phrase and the U.S. movement. There is no better qualified vendor to provide the necessary information to augment your sexual harassment training than WBI.
WBI produced a brief 20 min. video introduction that can be streamed for intranet posting or run during in-person education sessions.
Only $499. Order today.
Products for HR and employers from the originators of the workplace bullying consulting specialization in America.
Order online or call 360-656-6630
Tags: AB2053, abusive conduct, Gary Namie, supervisors, training, workplace bullying
Posted in Products & Services, WBI Education | No Archived Comments | Post A Comment () »
Monday, January 5th, 2015
By Sherrill Gilbert, Vermont State Coordinator, the Healthy Workplace Campaign
The gavel will again call to order the Senate and the House. They will take an oath to serve the people of Vermont. The issues that impact the lives of Vermonters will once again be on the agendas, some will be re-introduced from the previous biennium. There are bills that were and still are valid and important to our community as a whole and the future of our workers and future generations. Workplace Bullying is controversial, it needs to be a public conversation and not hidden away as it has been the past seven years.
The Healthy Workplace Bill has been in the legislature since 2007, a few individuals decided they did not want this bill to be voted upon in committee nor did they want a public hearing on Bullying in the Workplace. This conversation would mean they would have to acknowledge bullying happens here and for several years they have turned their backs on the workers who have been abused by bullies.
There is a battle being fought in many workplaces here in Vermont in all fourteen counties. We are not alone, every state faces the same issues across America. Like all wars there are casualties. This war is no difference in that there are victims who are left broken, their lives are forever changed. For the bully this would not be enough, they would have to add more suffering and pain for the target, transferring the element of shame, the bully transfers the shame upon the target Stripping Targets of their self-esteem, their dignity and self-confidence publicly can be the straw that breaks the camel's back. We are talking about a psychological warfare, no bullets that can be seen or outward bruising.
Tags: abusive conduct, Healthy Workplace Bill, law, legislation, workplace bullying
Posted in Healthy Workplace Bill (U.S. campaign), Workplace Bullying Laws | 1 Archived Comment | Post A Comment () »
Friday, January 2nd, 2015
If not now, when will principled lawmakers come forward to not only introduce, but to work tirelessly to enact, legislation that holds employers accountable for allowing (through indifference or ignorance) or fostering (through rewards, both explicit and implicit) health-harming abusive conduct, a.k.a., workplace bullying?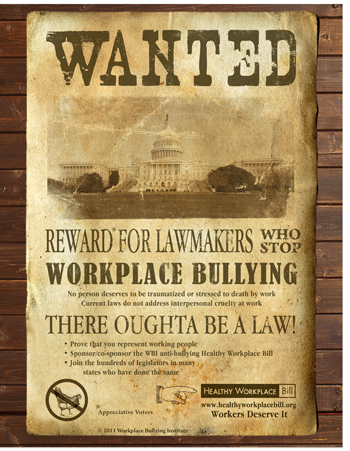 We seek elected officials who can resist arguments of pro-business lobbyists who make false claims about our Healthy Workplace Bill.
Here are some of those lies and distortions espoused by HWB opponents followed by the truth according to terms and provisions of the actual legislation.
1. Workplace bullying sounds childlike. Bullying is for kids; adults work.
The term does not appear in the text of the HWB bill. Instead, lawsuits will require demonstrably health-harming abusive conduct be shown that was followed by the employer's decision to punish the plaintiff with negative employment actions. Nothing infantile about abuse. Arguing "for abuse" should be condemned for not only poor "optics" but for the immorality of the position.
2. Bullying is too subjective. It cannot be defined.
So is sexual harassment, though illustrations can be given. But the perception's of the allegedly harassed recipient must be treated as credible until shown to be otherwise. This bill reflects the same subjectivity contained in civil rights statutes. By adding significant evidentiary burdens for the plaintiff, such as malice, proof of health harm, and a demonstrated pattern of repeated misconduct, the definition of abusive conduct approaches a more objective standard than long-standing harassment laws.
Tags: abusive conduct, health harm, Healthy Workplace Bill, legislation, objections, politicians, workplace bullying
Posted in Healthy Workplace Bill (U.S. campaign), Workplace Bullying Laws | 1 Archived Comment | Post A Comment () »
Sunday, December 21st, 2014
At WBI we consistently draw the analogy between domestic violence and abusive conduct at work (the most serious forms of workplace bullying). Our rationale is based on the following commonalities shared by these two forms of abusive relationships:
• The abuser has more power to wield over the abused person
• The abuser unilaterally controls when, where and what method
• Abusers objectify, dehumanize and show contempt for victims
• Society tends to blame victims for their fate
• Victims are expected to solve their problem themselves
• Witnesses rarely intervene
• Institutional responses are delayed, inadequate and not helpful
• Root causes, often embedded societal values, remain unexplored
Advocates working to end domestic, or partner, violence described the myriad of tactics used by abusers using the 8-factor Biderman "chart of coercion." Albert Biderman interviewed US Air Force pilots who had been captured and tortured during the Korean war. The Chinese taught interrogation techniques to the North Koreans. The piolots described their experiences and Biderman distilled the range of techniques to eight fundamental methods designed to break the will of, and brainwash, the pilots. In 1957, Biderman published his report "Communist Attempts to Elicit False Confessions From Air Force Prisoners of War." [Note that Biderman recognized that torture produces false confessions. The 8-factor report became the model for US torture of prisoners at Guantanamo.] That article was the origin of the Biderman Chart of Coercion.
Domestic violence and child abuse advocates use the Biderman Chart to describe abusers' tactics in their specialty domains.
Therefore, it is logical for us to apply Biderman's Chart to workplace bullying, given the parallels with domestic violence. In its most extreme forms, bullying is torture. See the chart below.
Tags: abuse victims, abusers, abusive conduct, abusive relationships, Biderman, Chart of Coercion, interrogation methods, torture, workplace bullying
Posted in Bullying & Health, Tutorials About Bullying, WBI Education | No Archived Comments | Post A Comment () »
Monday, November 3rd, 2014
State to Workplace Bullies: Knock It Off
By Jonathan Horn, San Diego Union-Tribune, Nov. 2, 2014
When Stephen Cruz got a new supervisor a few years ago, his staff job at UC San Diego became something of a living hell.
The new boss would repeatedly yell at workers, scold them behind closed doors, tower above them at their desks, get visibly agitated and red in the face, and send out harsh emails when something went wrong. The emails didn't include foul language but called out workers with phrases like "I told you," or "I gave you a direct order," evidence of what Cruz called extreme micromanagement.
"It may have been stylistic, but it was unacceptable," said Cruz, who works on the medical school campus. "Yes, we need supervisors. Yes, we need managers. But we're not at each other's throats. We're there to work on the mission of the university."
Cruz, 46, said he considered the supervisor's conduct — which improved after university and union involvement — to be abusive.
A state law taking effect Jan. 1 hopes to curb that behavior at the start. The legislation, authored by Assemblywoman Lorena Gonzalez, D-San Diego, requires that employers in California with 50 or more workers include lessons on anti-workplace bullying when they carry out state-mandated sexual harassment training for supervisors every two years.
Tags: AB2053, abusive conduct, Gary Namie, Healthy Workplace Bill, supervisor training, UCSD, workplace bullying, Workplace Bullying Institute
Posted in Healthy Workplace Bill (U.S. campaign), Media About Bullying, Print: News, Blogs, Magazines, WBI in the News, Workplace Bullying Laws | No Archived Comments | Post A Comment () »
Sunday, October 19th, 2014
Just in time for WBI's Freedom from Workplace Bullies Week, James Woodson, Tuscaloosa Senior Assistant City Attorney introduced and the city council passed its first-ever workplace bullying policy (Ordinance No. 8144, Oct. 14, 2014). As documented elsewhere at the WBI site, a policy is necessary but not sufficient to comprehensively prevent and correct bullying. But it is a good preliminary step by any employer. Tuscaloosa will follow with training for staff and managers. We commend Mr. Woodson and the council. Woodson told his local TV station
"It wasn't that many years ago that employers were adopting for the first time sexual harassment policies, then that became anti-harassment policies, and I think this is a natural extension to bullying, to essentially catch all of the inappropriate workplace behavior."
[Earlier in 2014, Tennessee became the first state to encourage government agencies as employers to adopt policies to address abusive conduct.]
Here are the policy's strengths and shortcomings.
Tags: abusive conduct, Alabama, HR, policy, Tuscaloosa, workplace bullying policy
Posted in Freedom Week, Good News, Tutorials About Bullying, WBI Education | No Archived Comments | Post A Comment () »