Posts Tagged 'adult bullying'
Wednesday, July 16th, 2014
If you are anywhere near Deerfield Beach, FL, you owe it to yourself to attend the Broward Crime Commission Workplace Bullying event. Come meet Dr. Gary Namie (WBI Director, co-author, The Bully At Work), Dr. Maureen Duffy (co-author, Overcoming Mobbing), law professor Kerri Stone, and Jonathan Martin attorney David Cornwell.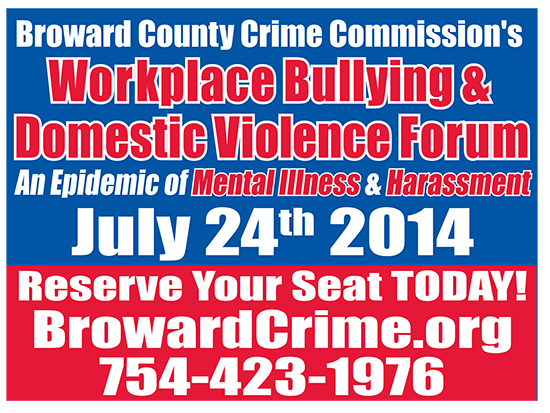 Tags: adult bullying, Broward Crime Commission, David Cornwell, Gary Namie, Kerri Stone, Maureen Duffy, workplace bullying
Posted in Hear Ye! Hear Ye! 2, NFL: Jonathan Martin | No Archived Comments | Post A Comment () »
Thursday, June 26th, 2014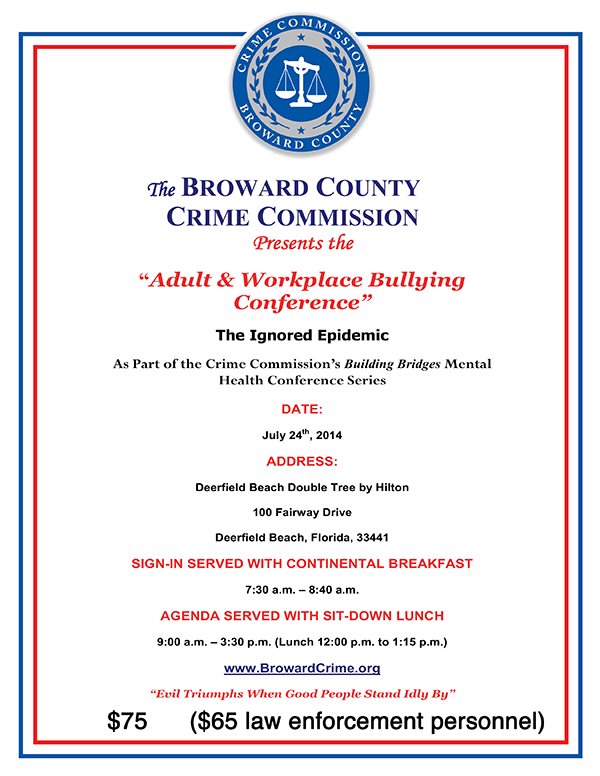 Register Here (Program appears here for review)
Host organization: Broward Crime Commission, James DePelisi, President
The Workplace Bullying Institute is a proud participant
Tags: adult bullying, Broward Crime Commission, conference, Gary Namie, James DePelisi, July 24, workplace bullying, Workplace Bullying Institute
Posted in Events & Appearances, Hear Ye! Hear Ye! 2, WBI Education | No Archived Comments | Post A Comment () »
Thursday, February 28th, 2013
Our unhealthy love of reality TV
by Jen Christensen, CNN, Feb. 28, 2013
A red-faced Gordon Ramsay gets nose-to-nose with an older man and shouts, "Wake up!" He calls another chef's food "rotten." He reduces a middle-aged woman to hysterical tears. And all that's just in the opening credits of "Kitchen Nightmares."
For the next hour of the British culinary icon's popular reality TV series, there is little in the way of praise or pats on the back for the chefs he's coaching. Instead, he swears. He throws food. He calls people "stupid" and "disgusting pigs." His entire performance is based on sharp criticism and what some may argue is bullying-type behavior. Viewers eat it up.
Nightmarish behavior is the stuff reality TV shows are made of. Ramsay is certainly not alone. Tami Roman on VH1's "Basketball Wives" calls her friends "bitches" and physically attacks one of them in front of a fancy Miami restaurant. A study of the U.K.'s version of "The Apprentice" found it depicted 85 aggressive acts an hour. "American Idol" showed 57 aggressive acts an hour.
Tags: adult bullying, aggression, ostracism, reality TV, workplace bullying
Posted in WBI in the News | No Archived Comments | Post A Comment () »