Posts Tagged 'adult bullying'
Thursday, October 22nd, 2015
Bullying in the workplace: How to recognize and address it
By Becky Parker, WDAZ-TV (Grand Forks, North Dakota), Oct. 22, 2015
Bullying is an issue people may think is reserved for the schoolyard, or even cyberspace.
But adult bullying in the workplace can have devastating effects on people's lives.
One in 10 U.S. workers say they are being bullied at their jobs.
Forty-five-percent say they've been bullied at some point during their career, and another 25% say they've witnessed workplace bullying.
We spoke to North Dakota State University professor and researcher Pam Lutgen-Sandvik, who has been studying workplace bullying for nearly 15 years. [Note: Dr. Lutgen-Sandvik is a WBI friend & colleague; her research is featured prominently in the WBI training for professionals, Workplace Bullying University.]
She defines bullying as persistent, hostile, aggressive behavior that can be verbal or non-verbal.
Research shows adult bullying can lead to depression, eating disorders, sleeping disorders, PTSD and physical ailments.
It also increases the person's stress levels and degrades their mental health by making them feel crazy, scared, and anxious.
"It also bleeds into families. When you're bullied and abused at work you go home and sometimes there's displaced aggression when you're screaming at your family members, sort of that, 'kick-the-dog' kind of thing. We do know for sure it reduces people's satisfaction with their personal lives," says Lutgen-Sandvik.
Here's what she says you should do if you are being bullied at work:
• Give it a name – define it as workplace bullying.
• Remember that it's not your fault – bullies often make the victim feel crazy.
• Get some social support – like a counselor – as bullying can degrade your mental health.
• Take some time off from work to regroup and figure out how to address the problem.
"Trying to make sense of it and figure out what you're going to do is really difficult when you're in the environment and you're constantly bombarded with this aggression and hostility. If it's possible, take some time off of work so you can kind of get your bearings and figure out, 'am I going to stay? If I'm not going to stay, what am I going to do here?'"
Many people in a bullying situation at work might want to fight back, but that can be risky.
Often, bullying situations at work involve an element of power. In the U.S., it's usually a manager, but can also be a peer.
If you do choose to fight back, Lutgen-Sandvik says the best way is to talk to someone who has power over the bully.
Bring specific examples of bullying, have other co-workers to back you up, and have a clear goal in mind.
Lutgen-Sandvik says it is not a good idea to confront the bully directly.
"They will escalate the abuse worse than it ever was before, and drive the people out of the workplace because now they've become serious threats to the perpetrator. So, directly confronting the perpetrator, it's really a very, I would say, dangerous thing to do."
###
This is Freedom from Workplace Bullies Week and October is Bullying Prevention Month and Domestic Violence Awareness Month.
Readers may click-to-purchase Adult Bullying, Pam's chronicle of her decade of research into workplace bullying, written in easy-to-understand prose.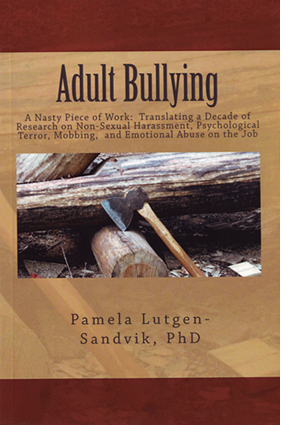 Tags: 2014 WBI U.S. Workplace Bullying Survey, abusive conduct, adult bullying, health harm, Lutgen-Sandvik, NDSU, professor, research, workplace bullying
Posted in Bullying & Health, Bullying-Related Research, Social/Mgmt/Epid Sciences, WBI Education, Workplace Bullying University | 5 Archived Comments | Post A Comment () »
Wednesday, July 16th, 2014
If you are anywhere near Deerfield Beach, FL, you owe it to yourself to attend the Broward Crime Commission Workplace Bullying event. Come meet Dr. Gary Namie (WBI Director, co-author, The Bully At Work), Dr. Maureen Duffy (co-author, Overcoming Mobbing), law professor Kerri Stone, and Jonathan Martin attorney David Cornwell.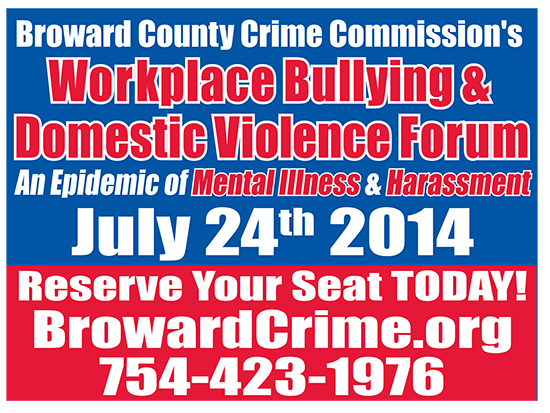 Tags: adult bullying, Broward Crime Commission, David Cornwell, Gary Namie, Kerri Stone, Maureen Duffy, workplace bullying
Posted in Hear Ye! Hear Ye! 2, NFL: Jonathan Martin | No Archived Comments | Post A Comment () »
Thursday, June 26th, 2014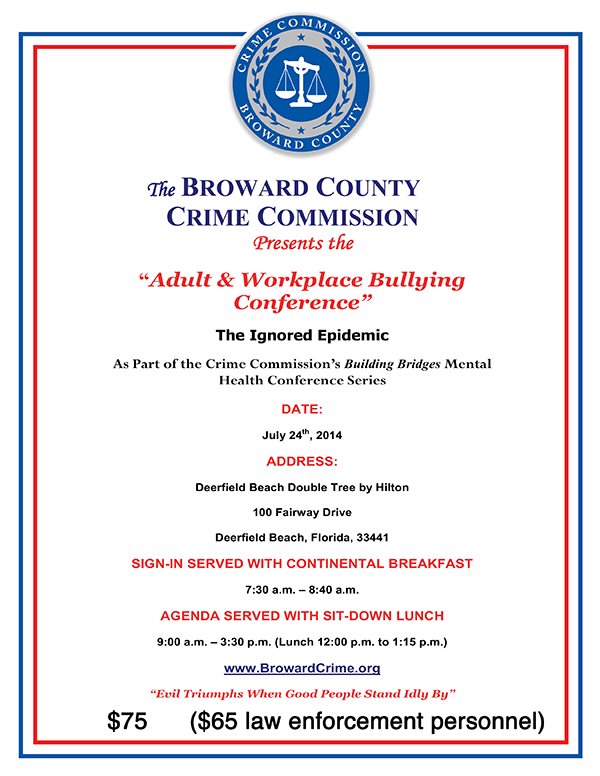 Register Here (Program appears here for review)
Host organization: Broward Crime Commission, James DePelisi, President
The Workplace Bullying Institute is a proud participant

Tags: adult bullying, Broward Crime Commission, conference, Gary Namie, James DePelisi, July 24, workplace bullying, Workplace Bullying Institute
Posted in Events & Appearances, Hear Ye! Hear Ye! 2, WBI Education | No Archived Comments | Post A Comment () »
Thursday, February 28th, 2013
Our unhealthy love of reality TV
by Jen Christensen, CNN, Feb. 28, 2013
A red-faced Gordon Ramsay gets nose-to-nose with an older man and shouts, "Wake up!" He calls another chef's food "rotten." He reduces a middle-aged woman to hysterical tears. And all that's just in the opening credits of "Kitchen Nightmares."
For the next hour of the British culinary icon's popular reality TV series, there is little in the way of praise or pats on the back for the chefs he's coaching. Instead, he swears. He throws food. He calls people "stupid" and "disgusting pigs." His entire performance is based on sharp criticism and what some may argue is bullying-type behavior. Viewers eat it up.
Nightmarish behavior is the stuff reality TV shows are made of. Ramsay is certainly not alone. Tami Roman on VH1's "Basketball Wives" calls her friends "bitches" and physically attacks one of them in front of a fancy Miami restaurant. A study of the U.K.'s version of "The Apprentice" found it depicted 85 aggressive acts an hour. "American Idol" showed 57 aggressive acts an hour.

Tags: adult bullying, aggression, ostracism, reality TV, workplace bullying
Posted in WBI in the News | No Archived Comments | Post A Comment () »