Posts Tagged 'American Bar Association'
Monday, November 3rd, 2014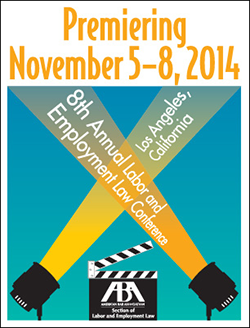 A workshop "Eliminating Bullying and Incivility: Training the Trainer" on Thursday Nov 6 is part of the 8th Annual ABA Labor & Employment Law Conference in Los Angeles.
The session: 2:15-3:30 pm in rooms Platinum H-J, JW Marriott Hotel
Bullying and incivility in the workplace raise concerns that go beyond whether the behavior is illegal, and affect all aspects of the working environment. This program features an expert in anti-bullying training and is designed to provide practical, hands-on training to participants such that they will be able to train others in the workplace.
MODERATOR:
Monique Gougisha Doucette, Ogletree, Deakins, Nash, Smoak & Stewart, P.C.,
New Orleans, LA
SPEAKERS:
Luanne M. Peterpaul, Gluck Waltrath, LLP, Red Bank, NJ
Gary Namie, PhD, The Workplace Bullying Institute, Bellingham, WA

Tags: American Bar Association, attorneys, employment attorneys, Gary Namie, labor law, Luanne M. Peterpaul, Monique Gougisha Doucette, training, workplace bullying, Workplace Bullying Institute
Posted in Events & Appearances | No Archived Comments | Post A Comment () »
Thursday, May 15th, 2014
By Monique Gougisha Doucette, Ogletree, Deakins, Nash, Smoak & Stewart, P.C., Americanbar.org, April 2014
In February 2014, the Workplace Bullying Institute issued the comprehensive results and analysis of its Workplace Bullying Survey. This 2014 survey is the third national survey conducted by the Workplace Bullying Institute and based on responses to an online survey of 1,000 adults in the United States. When conducting the 2014 survey, the Workplace Bullying Institute asked the participants/interviewees to consider only "the most serious forms of bullying" when answering the survey questions.
These survey results shine a harsh light on what the Institute refers to as the "prevalence and awareness" of workplace bullying. According to the survey, 27% of Americans have suffered abusive conduct at work and another 21% have witnessed bullying in the workplace. Seventy-two percent of the participants are "aware that workplace bullying happens"–specifically, this number represents the sum of those with direct and vicarious experiences with workplace bullying combined with individuals who do not have such experience, but nonetheless believe that workplace bullying happens.
This survey also provided race and gender demographics related to workplace bullying. The results indicated that workplace bullies were more likely to be male than female (69% v. 31%). However, in 68% of the cases involving female bullies, the victim was also female. Of all the individuals surveyed, Hispanics represented the highest percentage of those "affected" by workplace bullying (56.9%), with African-Americans at 54.1% and Asians at 52.8%. Overall, the non-White participants showed higher percentages of those affected by bullying. The Institute nonetheless concluded that "bullying is cruelty that transcends race and gender boundaries."
Employer reactions to workplace bullying, according to the survey, are most commonly expressions of "denial and discounting." Despite significant public awareness and recent discussion regarding workplace bullying, the survey indicated that the participants believed employers failed to appropriately react to abusive conduct. Specifically, 25% of the interviewees stated that employers denied and failed to investigate complaints of bullying and 16% indicated that employers believed the impact of workplace bullying as "not serious."
At the close of the survey, the Workplace Bullying Institute concluded that the American public wants legislative enactment of protections against workplace bullying, as 63% of the participants "strongly supported" specific anti-workplace bullying legislation and 30% "somewhat supported" such legislation.
Practical tips for employers: Employers are encouraged to have a policy declaring that harassing and threatening behavior toward coworkers is not acceptable. By doing so, employers will create a workplace culture where disruptive and destructive behavior is not ignored or encouraged. At the very least, employers are warned against ignoring bullying allegations or dismissing them as "personality conflicts" between coworkers. Finally, employers must maintain their culture and policies through supervisor training.
Listen to the author participate in an American Bar Association teleconference earlier this year.

Tags: 2014 U.S. Workplace Bullying Survey, American Bar Association, Monique Gougisha Doucette, Ogletree Deakins, workplace bullying, Workplace Bullying Institute
Posted in WBI in the News | No Archived Comments | Post A Comment () »