Posts Tagged 'attorneys'
Friday, November 27th, 2015
Seek advice for your dilemma. Write to Kalola.
Dear Kalola:
I was a legal assistant with a well-respected legal organization for a little over four years. The bullying occurred primarily in the last three years and very intensively in the lastnine months. I was let go during the summer.
I was treated by the lead attorney and staff attorneys as if I was inferior. Although everyone in that office made mistakes, mine were the only mistakes that were brought to light. Each small mistake was blown into a huge mistake and was used to threaten my job. Sometimes I found out I wasn't even the one who made the mistake.
My co-workerswere very clique-ish and juvenile. There were many whispered conversations behind closed doors. I was definitely not included in that clique and was isolated psychologically and physically. I was told not to talk about my family, while everyone else in the office was free to talk at length about theirs.
I was treated rudely by the supervisor and all my co-workers (five total). They told me I asked too many questions. I have worked in the legal field for over 18 years and have never worked with any attorneys who did not want to communicate with their support staff. Also, I was asking questions because the tasks were often poorly written, hard to understand, and incomplete. They refused to look at my Outlook tasks to see how my workload was before they assigned a large task claiming that they were too busy.
In the end, I believe that two of the attorneys were trying to get me to lose my temper and/or quit my job. One would assign me tasks, complete them herself, and then "forget" to tell me, wasting a lot of my time while I was already under pressure. Another would show up in my office several times a day and chastise me for some small error (that I may or may not have made) or yell at me for some small problem and then turn on her heel and leave my office before I could respond. I was treated differently in that it was a huge deal if I used any vacation or sick leave, while everyone else in the office called in sick leave weekly for any little ailment and were often paid for hours they were not actually working. I think this was behind the bullying. I got the feeling they thought I was going to expose them, which I had not planned to do.
I tried to talk about the problems I was having with the supervisor, but eventually stopped when the conclusion to each conversation was everything ended up as my fault. I was thinking about going to the HR department when I was terminated. I was also starting to think about looking for another job. The official reason was that I "made too many mistakes". When I asked what those mistakes were, I was told "I don't want to argue with you."
The termination was very cold and impersonal. A few days later I received a termination letter (with typos) that still did not tell me what these mistakes were. To this day I do not know what these mistakes were, how they effected the office or client, or even find out if I did make the mistake.
My termination came as a huge shock to me. Although I was unhappy, I thought if I just did my best they couldn't get rid of me. And I needed the income. The first few weeks after being terminated were really rough mentally and physically. I isolated myself in self-doubt and depression. In the first few days I called the crisis line but there was only so much they could do. I was smoking way too much and having trouble eating. I've lost about 15 pounds. My stress level made it hard to sleep and I've increased my over the counter sleep aid. I was terrified at first to interview because of my damaged self-confidence and trying to figure out how to tactfully tell potential employers "why" I lost my last job. I've used the resources at Worksource to get some questions answered and help brush up on my job search skills.
I see now that I was much more stressed and angry in my last job than I thought. I'm nicer now to family, friends, and strangers hat I know I am not bullied anymore. I spent the last three years being short-tempered after a long day of being treated rudely and walking on egg shells. I know my family and friends can see a difference in me now that I'm getting back on my feet.
I believe I lost my job due to office bullying. I never believed in the term before, but I now know how real and damaging it is. If I would have done anything different, it would to realize that office bullying does exist and acted differently (document abuse situations, look for a new job). Thanks to the support of family and friends, I'm doing better. Instead of waking up each morning in terror of "what am I going to do?" I wake up grateful that I'm not a target anymore. I haven't landed on a new job yet, but I have lots of good experience, a lot of job applications out there, apply for everything I can and have been on several interviews. In fact while writing this I received an email scheduling a promising interview tomorrow morning. I know I have the chance to work in a happier, more respectful work environment. I deserve to be happy again.
If I could say anything to another abused worker, it would be to realize office bullying is real. Research it and be prepared to deal
with it if it happens to you. If it ends with a brutal termination, as it did with me, give yourself a little time to take care of yourself. Eat, breathe, sleep, and understand how important the healing process is. Reach out to friends and family, but realize not everyone will be able to be there all the time. Don't get stuck – get moving on your job hunt and build back your confidence. The best revenge is to move on to something better with your head held high.
I was impressed to find the Workplace Bullying Institute website. It gave me hope that I'm not crazy and this problem truly exists. I am excited to see that there is an interest in proposing legislation that will address this problem. Targets should have some recourse in office bullying.
West Coast Worker
(more…)

Tags: abusive conduct, attorneys, Kalola, Leymann, Mobbing, workplace bullying
Posted in Let's Talk with Kalola, WBI Education | No Archived Comments | Post A Comment () »
Monday, November 3rd, 2014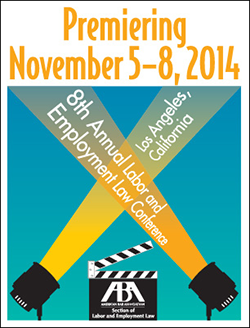 A workshop "Eliminating Bullying and Incivility: Training the Trainer" on Thursday Nov 6 is part of the 8th Annual ABA Labor & Employment Law Conference in Los Angeles.
The session: 2:15-3:30 pm in rooms Platinum H-J, JW Marriott Hotel
Bullying and incivility in the workplace raise concerns that go beyond whether the behavior is illegal, and affect all aspects of the working environment. This program features an expert in anti-bullying training and is designed to provide practical, hands-on training to participants such that they will be able to train others in the workplace.
MODERATOR:
Monique Gougisha Doucette, Ogletree, Deakins, Nash, Smoak & Stewart, P.C.,
New Orleans, LA
SPEAKERS:
Luanne M. Peterpaul, Gluck Waltrath, LLP, Red Bank, NJ
Gary Namie, PhD, The Workplace Bullying Institute, Bellingham, WA

Tags: American Bar Association, attorneys, employment attorneys, Gary Namie, labor law, Luanne M. Peterpaul, Monique Gougisha Doucette, training, workplace bullying, Workplace Bullying Institute
Posted in Events & Appearances | No Archived Comments | Post A Comment () »
Wednesday, May 29th, 2013
Abuse of power: Dealing with a bully lawyer. By Barbara L. Jones, Minnesota Lawyer, May 10, 2013.
CLE examined the cost of bullying in the legal profession
When Minneapolis attorney Bernice Fields organized a CLE on Bullying in the Legal Workplace, some legal secretaries told her they were afraid to ask for time off to attend.
At least one person in the audience cried at the description of being a bully's target and what that can do to your health.
And the Minnesota Supreme Court last week confronted bullying in the profession when it suspended attorney Peter Nickitas for 30 days, followed by two years of supervised probation. There were several charges against Nickitas, but they included behavior that could readily be described as bullying. The petition said he made insulting remarks to opposing counsel during an arbitration, even screaming nose-to-nose with one attorney, the petition said. Nickitas could not be reached for comment.
The topic of bullying has taken center stage lately. The Anoka-Hennepin School District entered into a consent decree in 2012 governing discrimination and bullying after seven students there committed suicide. The Minnesota House of Representatives has passed the Safe and Supportive Schools bill requiring schools to have tougher antibullying policies. Hennepin and Ramsey County have "respectful workplace" policies that encompass bullying.

Tags: attorneys, Barbara L. Jones, Bernice Fields, Gary Namie, Hennepin County Bar Association, lawyers, legal secretaries, workplace bullying, Workplace Bullying Institute
Posted in Target Tale, Tutorials About Bullying, WBI Education, WBI in the News | No Archived Comments | Post A Comment () »
Wednesday, April 18th, 2012
Since 2008, WBI founders have periodically offered intensive, interactive, small-group training for mental health counselors, human resources professionals, attorneys, trainers and consultants. All have sought to either establish a new practice or expand an existing one to include a specialization in workplace bullying. It is a 3-day training called Workplace Bullying University. Sessions are held in Bellingham, Washington.
The next University is June 15-17 for general professional audiences.

Tags: attorneys, counselors, HR, training, WBI, Workplace Bullying University
Posted in Events & Appearances, Fairness & Social Justice Denied, Unions | No Archived Comments | Post A Comment () »