Posts Tagged 'BCGEU'
Thursday, December 5th, 2013
By BCGEU – 12/4/13
How does the new Workers Compensation Board (WCB) language on workplace bullying and harassment affect BCGEU members?
Prevention and Compensation
There are two aspects to all health and safety matters. First, procedures and systems must be put into place to prevent workplace injuries. Secondly, workers who suffer workplace injuries have a right to compensation.
Bullying and Harassment
On July 1, 2012, the Workers Compensation legislation regarding bullying and harassment was changed to include:
Benefit coverage for mental disorder claims for workers who experience bullying and harassment in the workplace and are unable to work;
The provision for the WCB to define bullying and harassment and to develop policies and procedures requiring employers to prevent and address workplace bullying and harassment.
Members have asked:
How do the new WCB policies and procedures fit with the anti-bullying language the union has negotiated in many of our collective agreements?
If I am bullied in my workplace, what are my options to make it stop?
Should I be filing a complaint through the WCB process?
To answer these questions, it is important to review the union's response to bullying behavior. The union has spoken out loudly and clearly that bullying is not acceptable. Bullying in the workplace is wrong and should be addressed quickly and appropriately. Because all workers deserve a workplace that is free from harassment and bullying, we negotiated anti-bullying policies and protections in many of our agreements. We encourage employers to engage with us in developing and teaching respectful workplace practices.

Tags: BCGEU, British Columbia, Canada, compensation, policy, workers' compensation, workplace bullying
Posted in Tutorials About Bullying | No Archived Comments | Post A Comment () »
Monday, February 11th, 2013
What began as a high school initiative, wearing pink to signify a commitment to end bullying, evolved into a Union-supported event for adults suffering workplace bullying. The day is February 27.
Here is the notice on the BCGEU site.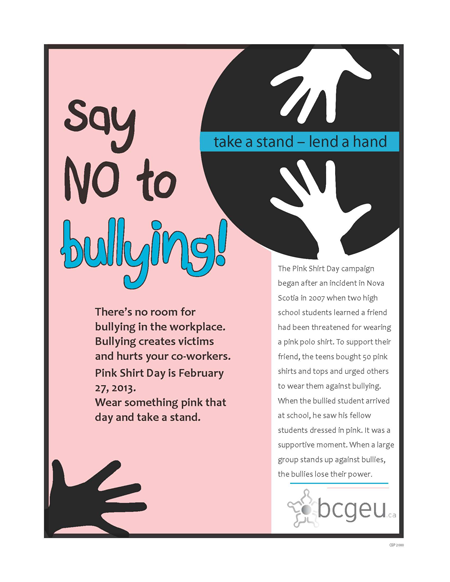 Tags: BCGEU, Wear Pink Day, workplace bullying
Posted in Events & Appearances, Unions | No Archived Comments | Post A Comment () »
Wednesday, February 29th, 2012
BCGEU President Darryl Walker announced the union's commitment to stopping workplace bullying on Pink Shirt Day, Feb. 29. Said Walker,
"the BCGEU is a strong advocate of respect in the workplace and we're continuing to put mechanisms in place to address the problem. We've organized member and public awareness campaigns, and held workshops to ensure our members are knowledgeable about workplace bullying and the steps they can take when they encounter it… We've also negotiated anti-bullying language into collective agreements."
WBI's Gary Namie addresses a BCGEU workplace bullying event on March 9.

Tags: BCGEU, Darryl Walker, Mike Schmidt, union, Workplace Bullying University
Posted in Unions | No Archived Comments | Post A Comment () »
Friday, February 3rd, 2012
This week the B.C. Government and Service Employees' Union (BCGEU/NUPGE) was in the print and broadcast news talking about workplace bullying.

Tags: BCGEU, workplace bullying
Posted in Fairness & Social Justice Denied | No Archived Comments | Post A Comment () »