Posts Tagged 'bill'
Thursday, March 12th, 2015
Texas state House Rep. Garnet F. Coleman on March 11, 2015 introduced the full version of the WBI anti-abuse Healthy Workplace Bill (HWB). HB 3226, the first-ever introduction in Texas.
Texas is the 29th state since 2003 to introduce the HWB. Texas joins Massachusetts and New York with proposed laws that make employers liable for exposing workers to health-harming abusive work environments.
Texas is the 7th state to introduced abusive conduct-related legislation in 2015.
Visit the Texas State Page at the HWB website for details.
The HWB campaign map for March 12, 2015.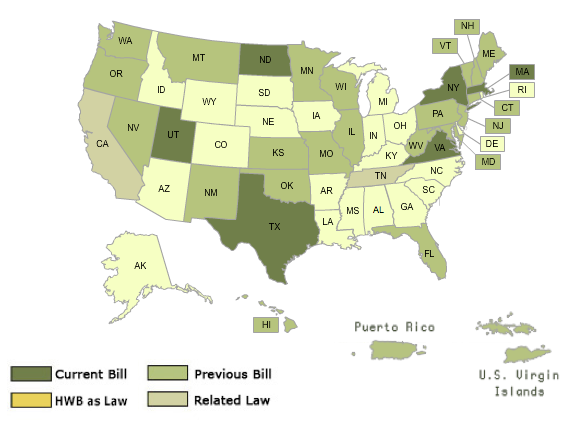 Tags: abusive conduct, bill, Garnet F. Coleman, Healthy Workplace Bill, law, legislation, Texas, workplace bullying
Posted in Healthy Workplace Bill (U.S. campaign), Hear Ye! Hear Ye! 2, Workplace Bullying Laws | No Archived Comments | Post A Comment () »
Tuesday, July 29th, 2014
Gov. Hassan Vetoes Workplace Bullying Bill
By Holly Ramer, Associated Press, July 28, 2014
CONCORD, N.H. (AP) — Gov. Maggie Hassan vetoed a bill Monday aimed at protecting New Hampshire state employees from abusive work environments, saying it was well-intentioned but unworkable.
Lawmakers passed the measure after hearing from current and former state workers who said they experienced workplace bullying. It would have required state departments and agencies to develop policies to address harassment.
But Hassan said the legislation's definition of "abusive conduct" was overly broad and would have made the most routine interactions potential causes of action. For example, workers could claim abuse if they believed they had "unreasonable" workloads, felt co-workers weren't answering emails in a timely manner or had received constructive criticism from supervisors or peers, she said.
"The bill also attempts to legislate politeness, manners and the interpersonal relationships of co-workers," Hassan said.
The governor said state employees deserve respect and the opportunity to work in respectful environments, but she argued the legislation would lead to a dramatic increase in lawsuits, which would in turn hinder productivity.
The bill's sponsor, Rep. Diane Schuett, said she hopes lawmakers will override the veto.
"We all know there's bullying in school, and just because someone graduates from school, doesn't mean they stop doing it, and it carries over into the workplace," she said. "It undermines the efficiency within state government if you end up with one or two employees being harassed on the job, either by another employee or a supervisor, and you end up with the entire agency being aware of it and feeling like they have to pick sides."
Schuett, D-Pembroke, and other supporters said the state has no written policy against abuse in the workplace nor any office procedure to follow to address such issues. But Hassan said existing state rules give employees an avenue for making complaints.
Diana Lacey, president of the State Employees' Association, disagreed. She said in the two years since the bill was first introduced, the governor has done little more than have the state personnel division develop an online "Respect in the Workplace" training presentation.
"It just feels like more stalling," she said. "The governor has the power to issue an executive order to take this more seriously … If the governor wasn't going to support the legislation, the governor's office should've pitched an executive order and has not done so. So we're very upset."
As for the concern about litigation, Lacey said state employees already have been using the courts to seek relief.
###
The WBI response to the veto.
Tags: abusive conduct, bill, bill veto, HB 591, Healthy Workplace Bill, law, legislation, Maggie Hassan, New Hampshire, SEIU Local 1984, SEIU/NAGE, workplace bullying
Posted in Healthy Workplace Bill (U.S. campaign), Unions, Workplace Bullying Laws | No Archived Comments | Post A Comment () »