Posts Tagged 'board of education'
Thursday, September 12th, 2013
WBI colleague Dr. Matt Spencer has written his first book. He's applied his 32 years experience as a Superintendent, Associate Superintendent, teacher and coach in public schools to expose the problem of School Boards run amok. Here's a description.
Exploiting Children: School Board Members Who Cross the Line
By Matthew Spencer, Ed.D.
Published Sept. 22, 2013 by Rowman & Littlefeld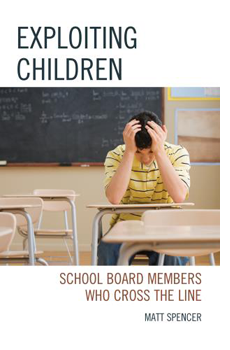 From the Foreword
Hold onto your hats, dear reader. This book is not for the faint of heart. Defenders of the status quo will be rattled. Similarly offended will be the apologists for scheming citizens who occupy seats on local school boards merely to have a pulpit for propagating their mix of anti-public school ideology and a naked desire for personal aggrandizement.
This book comes from the heart of a man with an indefatigable commitment to educating children. He has worked in districts that became the hell he describes in these pages. Authenticity and integrity leap off of every page.
Description
America's citizens want children to receive a high-quality education in clean, orderly and safe schools staffed with quality teachers, support staff and courageous educational leaders. In many communities, such a school experience is something the students will never have.
Why? One or more members of the governing board desire to use their elected position for personal gain. They are Exploiters. Some desire to exploit a little. Others crave total domination of the school system and become the petty tyrants of education.
Tags: board of education, exploiting children, Gary Namie, Matt Spencer, public schools, school boards, workplace bullying
Posted in Books, Events & Appearances, Media About Bullying | No Archived Comments | Post A Comment () »