Posts Tagged 'bullied targets'
Thursday, June 12th, 2014
Bullied targets need to work to live after leaving the job where they were bullied. As if recovering is not a large or difficult enough task, getting the next job will require offering references attesting to your skills. No matter how well you pick references, the next employer will reflexively find the name of your last boss even if not on the list you provide.
It's as if you cannot be believed, but because she or he was your boss, that person is credible to the next boss. Yikes. What if that boss was your bully? Best to find out what is being said about you. Too bad, we are not yet at the stage in the U.S. where everyone recognizes that being bullied had nothing to do with the person targeted.
So, find out what that idiot is saying about you. Use the reference checker we have recommended for years — Allison & Taylor of Rochester, NY. Here's a short clip by the company rep explaining how willing bad bosses are to give negative, job-killing references.
Tags: Allison & Taylor, bad bosses, bullied targets, references
Posted in Tutorials About Bullying, WBI Education | No Archived Comments | Post A Comment () »
Friday, May 30th, 2014
Many bullied targets experience trauma-like symptoms but don't always have diagnosed PTSD. They suffer intrusive thoughts, hypervigilance, avoidance and dissociation. Successful recovery using current treatment techniques is rare. Targets are in search of alternatives. A report in the May 22, 2014 New York Times Magazine by Jeneen Interlandi describes one such alternative.
Bessel van der Kolk, M.D. uses an untested technique to deal with complex trauma and PTSD victims that he calls a "structure," also called psychomotor therapy, developed by a dancer.
(the victim) would recreate the trauma that haunted him most by calling on people in the room to play certain roles. He would confront those people — with his anger, sorrow, remorse and confusion — and they would respond in character, apologizing, forgiving or validating his feelings as needed. By projecting his "inner world" into three-dimensional space, (the victim) would be able to rewrite his troubled history more thoroughly than other forms of role-play therapy might allow. If the experiment succeeded, the bad memories would be supplemented with an alternative narrative — one that provided feelings of acceptance or forgiveness or love.
Van der Volk, a trained psychiatrist, runs the Trauma Center at Justice Resource Institute in Brookline, Mass.
Van der Volk claims the two most common methods of dealing with trauma — exposure therapy and CBT. Exposure relies on repeated confronting the painful memories until they lose their power. It's called desensitization. CBT is cognitive behavioral therapy, talk therapy used by most psychotherapists. van der Volk contends that trauma resets the primitive (sub-cortical deeper than cognitive awareness) regions of the brain to "interpret the world as a dangerous place." Therefore, he argues, cognition cannot affect it.
He believes that traumatic experiences are stored in the body. His new book is The Body Keeps the Score: Brain, Mind, and Body in the Healing of Trauma (released Sept. 2014).
He believes people's bodies failed them — legs had not run quickly enough, arms had not pushed powerfully enough, voices had not screamed loudly enough — to avoid disaster.
"The single most important issue for traumatized people is to find a sense of safety in their own bodies"
The key is to reconnect the mind to the body's sensations. To cope, trauma victims engage is self-numbing to avoid the physical discomfort that comes from reliving painful experiences. Over time, victims get stuck in the past and cannot live in the present. Van der Volk credits yoga, tapping (emotional freedom technique), EMDR, or massage.
He believes labeling all trauma as PTSD is a mistake. PTSD is still defined as acute incidents triggered by a single event. He points out that much trauma is from chronic exposure to abuse and neglect. He wants to distinguish that form from PTSD and call it "developmental trauma disorder." The DSM does not yet recognize this alternative view.
Several psychotherapists reject learning new things. That's why we produced Workplace Bullying for Mental Health Professionals. For therapists who do want to learn more about the techniques van der Volk and his associates practice, there is training available.
###
The following is remarkable comment that I post here for all to read:
I faced this type of trauma months after the daily 1.5 years of mobbing ended. It lasted for years as the more covert mobbing ensued until I quit (terrorized out) 3 years later. I thought I would never heal from the intense anger, upset, hurt, recurrent thoughts/replays and hypervigilence… my brain felt dehydrated and I had difficulty with short-term memory loss. It was when I took a trip to Thailand 5 months after I quit that I was given a farewell hug from a tour guide (after I paid the day before). He was a monk through high school, and the message he imparted to me was of absolute love and acceptance. It shocked me to my core, and brought me back instantly to a sense of healing and happiness. I credit him with saving my psychological life, if not my physical one. I went back immediately to Thailand to volunteer teach among the monks for 3 months, and have taken up massage training to help others with stress/PTSD. I know the depths of trauma this type of abuse creates. No one should have to suffer it, and more need to understand it.
Tags: bullied targets, healing from trauma, psychomotor therapy, PTSD, therapy, trauma, treatment, van der Volk
Posted in Media About Bullying, Print: News, Blogs, Magazines, Tutorials About Bullying, WBI Education | 2 Archived Comments | Post A Comment () »
Monday, May 5th, 2014
Don't Be a Victim: 7 Signs YOU are a Victim of Workplace Bullying
By Keris Alison Lahiff, The Street, May 3, 2014
For the average American, the majority of waking hours are spent at work, whether it be in a cubicle, on the trading floor or out in the field. In such close proximity to colleagues, and for such an extended period of time, it's little wonder conflicts arise.
However, the difference between naturally-occurring disagreements and all-out harassment is an important distinction. According to the Workplace Bullying Institute (WBI), a national organization committed to raising awareness, office harassment is an issue in desperate need of attention.
According to its recent 2014 U.S. Workplace Bullying Survey, 27% of American workers have suffered abusive conduct at work, while another 21% have witnessed it. WBI estimates the number of U.S. workers subjected to abusive conduct totals 37 million.
Tags: 2014 WBI U.S. Workplace Bullying Survey, bullied targets, Gary Namie, recognizing bullying, workplace bullying, Workplace Bullying Institute
Posted in Media About Bullying, Print: News, Blogs, Magazines, WBI in the News | 2 Archived Comments | Post A Comment () »
Wednesday, April 30th, 2014
This video teaches the people closest to bullied targets what their loved one is going through, that there is little you can do by yourself to stop it, why the assaults consume and contaminate quality time with family, what behaviors to expect from you as time passes with no resolution, and the best things they can do for themselves and for you to approach normalcy again.

Tags: bullied targets, For family and friends, Gary Namie, health impact, WBI, webinar, workplace bullying
Posted in Tutorials About Bullying, WBI Education, Webinars | No Archived Comments | Post A Comment () »
Friday, April 18th, 2014
We announce the first-ever healing workshop for bullied targets and their loved ones.

The inaugural Workplace Bullying Retreat will be Saturday May 31 in Bellingham, WA. The one-day Retreat is facilitated by WBI founders, Drs. Ruth and Gary Namie. Attendees will understand the storm that ripped through their lives, its impact on their health, and solutions when employers do nothing to stop it.
"Bullying is perplexing, leaving targeted workers with lingering questions such as 'Why me?'," said Dr. Gary Namie. "The retreat is designed to answer those questions so the person can move on with her or his life after bullying."
This new workshop differs from WBI's other programs that emphasize education alone. The Retreat is designed to create a validating, encouraging, emotionally positive, healing, and supportive, safe harbor for attendees who have endured emotional abuse.
"No one else has talked with over 10,000 bullied targets like we have," remarked Dr. Ruth Namie. "We're proud to create this first-ever, in-person experience just for targets after 17 years of advocacy on behalf of targets."
Family members are also encouraged to attend in order to learn how to best help their loved one move on toward an abuse-free working life.
The first three scheduled days in 2014 are May 31, July 19, August 23
Visit the Retreat page for details.
Tags: bullied targets, education, Gary Namie, healing, retreat, Ruth Namie, workplace bullying, Workplace Bullying Institute
Posted in Hear Ye! Hear Ye! 2, Products & Services, WBI Education | 2 Archived Comments | Post A Comment () »
Friday, December 6th, 2013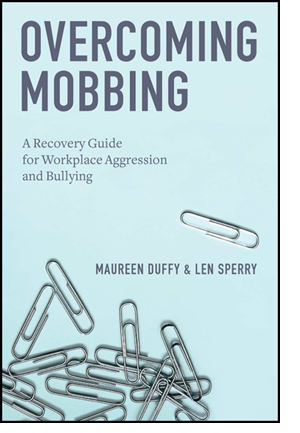 Overcoming Mobbing
A Recovery Guide for
Workplace Aggression
and Bullying
By Maureen Duffy & Len Sperry
A powerful, practical book that accurately reflects the entire bullying experience. These two clinicians, Duffy a clinical psychologist and Sperry a psychiatrist, demonstrate a deep understanding of bullied individuals and what it takes to heal them so life can be lived after bullying.The subtitle says it all — Recovery.
From the Foreword
Practical is the adjective to best describe this book. Though it is rich in citations and relies on science, applicability to real lives, real families and real organizations jumps off the pages. It tackles an admittedly complex subject with an accessible writing style that showcases illustrations and summary lists and tables. Points are driven home artfully with compassion for victims present throughout …
The blunt and truthful authors then describe how organizations create "shadow files" and do whatever it takes for administrators hide behind the myth that it is a "good and fair place to work." Hypocritically, those employers discard good employees as though they are dispensable resources using the tactics of mobbing fueled by the hurtful power of social exclusion, ostracism …
The authors do not leave the reader submerged in the dark side of the world of work. Ultimately, the book is about hope and inspiration. So, the seventh chapter signals the shift toward a discussion of recovery from mobbing. The valuable advice flows steadily and includes gems such as "don't make fighting the organization that mobbed you your next career." Their wisdom extends to selecting psychotherapists who practice "trauma-informed mental health care" by taking into account the organizational, cultural and power dynamics factors that instigated the mobbing experience rather than a focus on the victim's vulnerability …
The authors' defiantly critique the "bad apple," personality-dominated explanation for mobbing. They give the reader an introduction to work environments and their working parts. Personalities of perpetrators comprise only a small part …
Hooray for Duffy and Sperry's clarity in pronouncing that banishing bullies does not end the systemic problem. As the authors write "it takes an organization" to create it, and that's what it takes to stop it. ###
There is wisdom for organizational reps for those smart enough to apply the lessons contained inside. However, this book is primarily for bullied targets and the families who love them.
About the authors
Maureen Duffy, PhD, is a practicing family therapist and consultant specializing in workplace and school mobbing and bullying issues and an Affiliate with the Qualitative Research Graduate Program at Nova Southeastern University She provides trauma-informed psychotherapy to targets of mobbing and bullying and their families and consultation and training on workplace abuse to stakeholders including human resource managers and attorneys. She is the coauthor of Mobbing: Causes, Consequences, and Solutions.
Len Sperry, MD, PhD, is Professor of Mental Health Counseling at Florida Atlantic University and Clinical Professor of Psychiatry at the Medical College of Wisconsin. He has provided psychotherapy to mobbing victims and consulted with corporations on mobbing and bullying. He is the coauthor of Mobbing: Causes, Consequences, and Solutions.
Buy this book (along with the Lutgen-Sandvik book and, if they don't own it yet, our book, The Bully At Work) for those who need it most this Christmas season. They will be forever grateful.
Tags: bullied targets, Len Sperry, Maureen Duffy, Mobbing, organizational factors, self help, strategies, therapy, trauma, workplace bullying
Posted in Books, Bullying-Related Research, Good News, Hear Ye! Hear Ye! 2, Media About Bullying, Social/Mgmt/Epid Sciences, Tutorials About Bullying | 1 Archived Comment | Post A Comment () »
Thursday, December 5th, 2013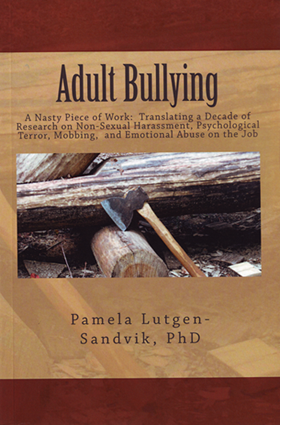 Adult Bullying
A Nasty Piece of Work:
Translating a Decade of Research
on Non-Sexual Harassment,
Psychological Terror, Mobbing,
and Emotional Abuse on the Job
By Pamela Lutgen-Sandvik, Ph.D.
North Dakota State University
Dr. Lutgen-Sandvik is arguably one of the most prolific American academic researchers on the topic of workplace bullying. She certainly is the best informed among academics, with few exceptions.
Here's why.
Pam is real. From her bio, prior to earning her doctorate in organizational communication at Arizona State she worked as a social service organization administrator, first in the field of women's advocacy and then in outpatient substance abuse treatment. Advocacy in the human services field is a rare background for academics.
Pam's practical, kick 'em in the shins approach to the esoteric world of academic research is revealed in the titles of some of her works — "Nightmares, demons & slaves" (can you hear Cher?), "Take this job and shove …" "Burned by bullying in America." And her style of collecting research data was to talk with bullied targets.
This book is a compilation of her work. It is not written by an egghead. The subtitle refers to her "translating" research into plainspeak. That's what she is profoundly good at doing well. Thus, it is ultimately readable.
The information found between the covers is useful if you are fighting a grievance, filing a complaint, embroiled in a lawsuit, or facing blank stares from HR.
The book covers many aspects of the bullying phenomenon with chapters on each — the prevalence, the stages of bullying, explaining the pain, the trauma and stigma of being bullied, how organizations become toxic, why women bully women, behavior of witnesses, and reversing the effects of bullying in individuals' lives.
Pam dedicates the book to all those bullied individuals who bravely participated in her research.
In 2013, she moved to North Dakota State (NDSU) in 2013 to join the Department of Communication in Fargo. She continues to research, publish, and teach in the area of organizational communication at NDSU and serves as the Director of the NDSU Communication Research & Training Center. Dr. Lutgen-Sandvik is married, has two children, and lives in Moorhead, MN.
Also, in 2013, Pam attended the WBI Workplace Bullying University® training for professionals in Bellingham, Washington to which she contributed mightily.
Pam declares that
All proceeds from book sales support scientific research that seeks to reduce workplace bullying, improve workplace communications and build more respectful workplace climates.
Where else can approx. $11 accomplish all that? Buy this book for yourself and as gifts for loved ones who have been bullied at work. While shopping, also buy Overcoming Mobbing by Duffy & Sperry new this holiday season 2013, and our book, The Bully At Work. They will be forever grateful.
With Pam, our admiration is personal. She came to Bellingham to meet us Namies in 2003 before her graduate studies were finished. She came to glean all she could from Dr. Ruth. So she is more than an intellectual colleague, she is a precious friend. We bought the book. You should, too.
Tags: bullied targets, emotional abuse, Len Sperry, Mobbing, non-sexual harassment, Pamela Lutgen-Sandvik, psychological terror, research, self help, workplace bullying, workplace bullying book
Posted in Books, Bullying-Related Research, Good News, Hear Ye! Hear Ye! 2, Media About Bullying, Social/Mgmt/Epid Sciences | No Archived Comments | Post A Comment () »
Friday, November 8th, 2013
Jonathan Martin, the bullied offensive lineman, speaking through his attorney said that he "looks forward to getting back to playing football." This possibly may happen. We predict it will not be with the Miami Dolphins against whom he has registered the complaint that launched an NFL investigation.
As bullied targets know so well, once a complaint is filed, retaliation is the norm (in 99% of cases, in fact). Organizations cannot stand exposure as a place that fosters bullying even though it happens nearly everywhere. They tirelessly defend hurtful actions. They direct attention away from their management-approved actions by attacking the complainant. Pay no attention to what happened to Jonathan Martin — even though we now know coaches ordered the mistreatment and the general manager thought Martin weak for not punching Incognito — instead notice how "withdrawn and shy" Martin was. As if he "deserved" mistreatment.
Tags: abusive work environment, bullied targets, Gary Namie, Jonathan Martin, Miami Dolphins, safe workplace, workplace bullying
Posted in NFL: Jonathan Martin, Tutorials About Bullying, WBI Education | No Archived Comments | Post A Comment () »
Tuesday, November 5th, 2013
The inaction of witnesses is an underreported aspect of the media saturation coverage of the Martin-Dolphins-Incognito bullying case.
As all bullied targets are aware, witnessing coworkers do little to help. In less than 2% of cases they spring to action to help bullied colleagues. [See the WBI 2008 Coworker Response survey] They are fearful — of being next, of betraying the bully and of getting harmed when intervening.
In the Dolphins locker room, there were many 300 pound witnesses to Richie Incognito's mistreatment of Jonathan Martin. Why didn't they simply stomp Incognito into the ground?
Here are some reasons.
(1) Incognito had "leader" status among the players. By some he was revered. Remember a coach called him a "model citizen." He was the NFL personified.
(2) Incognito had a history of aggression with some. In the past he might have made them his targets. Burned once, former targets lay low.
(3) Cowardly witnesses — professional athletes and accountants alike — don't want to get involved, reasoning it safest for them to stay out of others' disputes. These are the do-nothing enablers. They are the "good Germans" Hitler depended on to tame the nation.
(4) Witnesses rationalize their failure to stand by colleagues hurt by relationships within the team by believing that the bullied target somehow deserved his fate. Martin must have angered Incognito for Incognito to have ridden him for a full season and one-half. This blame-the-victim tendency is not restricted to sports organizations or workplaces in general; it is societal. It is called the Fundamental Attribution Error.
(5) The target deserved his fate. Martin is not a full participant in the macho NFL culture as practiced in the Dolphins locker room.
We observers of bullying in our workplaces declare that we would intervene because it is the right thing to do. However, this optimism is balderdash. When circumstances call for intervention, we are all cowards.
To date, Martin is alone in walking out. He should not expect much public support, though friends will call confidentially. Incognito's sycophants will Twitter his virtues for the world to read.
Follow the full story in the Category list in the sidebar: NFL: Jonathan Martin
Tags: bullied targets, bystanders, coworkers, Gary Namie, Joe Philbin, Jonathan Martin, Miami Dolphins, NFL, Richie Incognito, witnesses
Posted in NFL: Jonathan Martin, Tutorials About Bullying, WBI Education | No Archived Comments | Post A Comment () »
Friday, October 25th, 2013
#5: Freedom from Fear
Fear is the dominant emotional identifier in workplaces where bullying has struck. Bullies engineered it that way. When the targeted person is paralyzed by fear, there can be no counter-aggression, no blinding retort that would neutralize the perpetrator. Similarly, fearful coworker-witnesses will not rise up to defend their bullied colleague.
Fear takes many forms:
- Fear to confront swiftly & immediately is mainly felt by witnesses. Of course, deciding to take no action is based on a skewed internal calculus. We irrationally imagine worst case scenarios, magnifying relatively small risks into large ones. Clinicians call it "catastrophizing." The worry: "if I intervene, I will be slain, figuratively." That's an imagined risk and not likely to happen. In fact, everyone suffers more when the bully is allowed to pursue her or his aggression without being stopped by witnesses who have the numerical power to overcome a lone perpetrator. In other words, the failure to stop the bullying poses a real risk to the entire workplace worse than the imagined one. However, the self-generated rationale for coworker inaction is fear of being the next target, of being persecuted for defending the target, of being the only one of the entire team to act, of botching an intervention attempt, or of getting involved in what could be construed as a private battle between two workers.
• For targets, shock from being told they are incompetent overwhelms both coping and decision-making skills. Rational thought becomes almost impossible. The magnitude of the lie is so stunning and incredulous, personal shame and guilt are the most probable initial emotions. After the first assaults, targets fall into a pattern of anxious anticipation of each encounter.
• Long-term harm to witnesses includes clinical depression (yes, just from witnessing bullying) and guilt over not defending a friend.
• No one suffers as much as targets, the direct recipients of abuse. Long-term damage to targets is from anxiety that strengthens when employers block separation from bullies. Anxiety and fear activate the human stress response. Targets are trapped. As exposure to the stressor of workplace bullying extends weeks into months and months into years, health harm worsens. Our biological reaction to stressors is supposed to be brief to minimize harm. Stress-related diseases, from unremitting incidents, affect entire systems — cardiovascular, gastrointestinal, immunological, chronic kidney disease, rheumatological, cortical volume in memory & decision making brain areas, and disruption of DNA replication that accelerates aging. These diseases can kill.
• As bullying continues unabated by inept institutional representatives, targets' emotional injuries grow more severe. 80% experience debilitating anxiety, 50% suffer panic attacks, 49% are diagnosed with clinical depression, 66% have trauma-like states of agitation and anger, and 83% experience acute apprehension of the next negative act. This is a compromised life, of always walking on eggshells in light of impending danger.
• Stressors responsible for all of the ill effects for those unfortunately targeted include: tactical threats to job security, sabotage of work, verbal threats to personal safety, attempts by perpetrators to redefine one's self-definition and self-image, intimidating interpersonal behavior, humiliating actions designed to instill a sense of shame or worthlessness. Remarkably, ALL of these actions are preventable! None make a positive contribution to any workplace. Despite the claim that fear is a useful motivator, in the long-run it fosters disloyalty and resentment. Only unskilled managers routinely rely on fear.
In a sense, the desire to establish fear in the hearts of targeted workers underlies the robbery of the other principal workplace Freedoms — Social Affiliation, Dignity, Credibility, and Innocence.
Sadly, perpetrators of targets' fear are perhaps very fearful themselves. They are mortified of revelations of their personal weaknesses. Some are technically incompetent. Some have only their record of butt-kissing to protect them from termination. Some are socially inept, lacking emotional intelligence. Some are so narcissistic or mean (antisocial), they know their glowing reputation is a farce if the truth ever be found. In some way, all bullies are imposters, with a fictitious public persona masking a darker abhorrent self hiding in the shadows.
It is important we make helping individuals exploited by the imposters our top priority. Let's drive out fear within our organizations on behalf of the victimized.
Five Freedoms for WBI Freedom from Workplace Bullies Week
To Affiliate with Friends | Dignity at Work | To be Believed | To be Innocent | From Fear
Tags: bullied targets, fear, Freedom from workplace bullies week, Gary Namie, Workplace Bullying Institute
Posted in Freedom Week, WBI Education | No Archived Comments | Post A Comment () »