Posts Tagged 'bullied targets'
Tuesday, September 29th, 2015
Seek advice for your dilemma. Write to Kalola.
Dear Kalola:
I have been an executive assistant for a very demanding owner of a fast paced business. I wear different hats, from scheduler, recruiter, travel coordinator, IT supervisor, and personal assistant to punching bag. I've supported this person for twelve years, the company is small. FMLA (Family Medical Leave Act) and other state statutes protecting employees do not apply to them.
I am salaried, work over 12 to 20 hours of unpaid overtime a week, which I'm told is part of my position. In all these years, I have been rewarded with two comp days. If I have to attend a doctor's appointment, I am required to make up the time or use 1/2 day of my vacation time.
I have explained to my boss that exempt means exempt from overtime, but she classifies me as an exempt administrative employee. I try to give her information from the Department of Labor but she tells me she doesn't need my input.
She micro-manages everything I do, and makes all the decisions. I use to supervise the file clerks, and receptionist but she eliminated those positions and I also fill in for those positions. I work 24/7 having to respond to email and emergencies on my vacation days. I get texts at 6:30 am asking to change flights and that they be in first class.
You ask why I have stayed so long? My age, my illness, my health has deteriorated due to the stress, I'm trying to get my daughter (I'm a single parent) her father passed away and I just need to get her to college. My employer knows my limitations so she feels she can insult me, humiliate me, do as she pleases and I am not going to leave. I know she is forcing me into quitting so that I don't collect unemployment etc., which would be nothing.
My situation is comparable to domestic abuse, as she is getting too comfortable and has gone as far as grabbed with force files out of my hands, shoved back a file folder as I tried to place on her desk, which was for her own benefit, not mine.
There is no HR department, she owns and micro manages everything. I know she has disqualified me so many times from an exempt to a non-exempt employee, but I know if I seek help from the labor department, she will fire me. She will hire the best of attorneys money can buy, I've witnessed it before.
So many administrative assistants, executive assistants are abused each day. It doesn't have to be physical abuse but the mental anguish these bosses put their assistants through is deplorable. I can go on and on, because there are so many instances, working 24 hours without a break or sleep, being yelled at for going home to take a shower and coming back. Exempt employees should not have to work 60-hour weeks and still be
treated poorly. This category is used to abuse employees into working without being compensated.
I am currently scheduling an appointment with a therapist because sometimes I feel like I'm going to have a nervous breakdown.
Abused and Exploited Exempt Employee
Tags: advice, bullied targets, exempt status, exploitation, Kalola, workplace bullying
Posted in Let's Talk with Kalola, WBI Education | No Archived Comments | Post A Comment () »
Saturday, September 26th, 2015

Consistency is First Step Toward Accountability: The Problem with Case-by-Case Approaches
By Gary Namie, PhD
One of the major complaints from bullied workers is the unfairness and inequity inherent in their employer's approach to bullying complaints. As a group, bullied individuals are very sensitive to perceived injustices.
It is key to remember that if it is an American employer, there is no legal risk-avoidance reason to compel them to take complaints about bullying and abusive conduct seriously. If they treat complaints as legitimate and serious at all, it is because they choose to do so voluntarily.
When a sympathetic, well-intentioned employer does allow bullying complaints to be lodged, that openness is often followed by resolution attempts on a case-by-case basis (CBCB). Adopting CBCB sounds good but is plagued by unintentional consequences.
To employers, CBCB affords flexibility. It allows the investigator and decision maker to take into account mitigating circumstances. For instance, offenders can be forgiven if their misconduct is found to be based on following orders from a higher ranking manager. It also makes sense to be lenient in delivering negative consequences for first-time offenders. How could this be unfair?
From the perspective of rank-in-file employees the CBCB method is perceived much differently. From that view, in the first instance the given orders were unseen. Only the absence of punishment or changes was noticed. Therefore, the decision smacks of favoritism. And if the offender was a department head or director, then it appears the employer is protecting managers. Bullying is met with impunity.Leniency, too, looks like the employer decided to grant the bully wide latitude.
In both cases, employer flexibility feels like employer betrayal to workers.
This is a preventable error.
At WBI, we suggest dropping the CBCB approach. CBCB is the only alternative when no systematic policy-driven solution exists. Create the alternative. If employers truly want to hold accountable destructive workers, then create a policy or code of conduct in which you state unequivocally that abusive conduct is unacceptable.
More important, you must design enforcement procedures to make the policy a living document.
The procedures you create spell out exactly how complaints alleging violations of the policy or code will be handled. Employer responsiveness is key. Regarding the topic of this column — accountability for violations — your enforcement procedures must clearly dictate consistency. This is done by explicitly stating that all procedural steps — investigations, interviews, timelines, notifications of outcomes, and remedies — apply to ALL employees at ALL levels. The antithesis of CBCB is a consistent application of the rules.
If you, the employer, want engaged loyal employees, then substitute a policy and faithful enforcement procedures (governing rules) for old CBCB, make-it-up-on-the-fly, methods of dealing with bullying. Your reputation with your employees depends on it.
###
Gary Namie is co-author of The Bully-Free Workplace (Wiley, 2011) and co-contributor to the WBI Leaders' Column to advise organizational leaders about strategies to deal with workplace bullying.
Tags: accountability, bullied targets, employer advice, Gary Namie, justice, policy, workplace bullying
Posted in Advice for Employers, WBI Education | No Archived Comments | Post A Comment () »
Friday, February 27th, 2015
Richard Himmer, WBI Affiliate and Workplace Bullying University graduate, leads bullied targets on a unique journey beginning on March 19 from 7 to 8 pm at Extendicare Health 3220 Rosedale St., Gig Harbor, Washington. Richard has a unique process designed to restore targets' lost dignity. He is endorsed by WBI.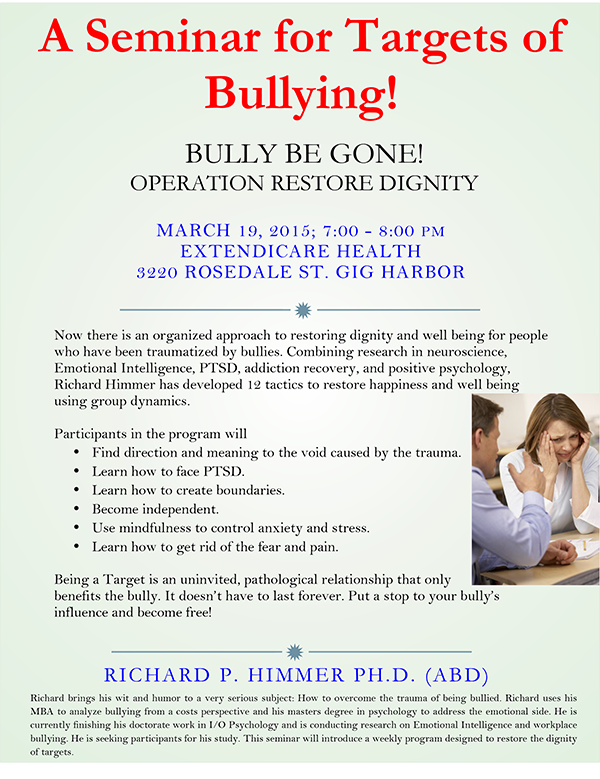 Tags: bullied targets, Dignity, recovery, Richard Himmer, trauma, WBI, workplace bullying
Posted in Events & Appearances, Hear Ye! Hear Ye! 2 | 1 Archived Comment | Post A Comment () »
Monday, February 9th, 2015
Proponents for social justice in the #BlackLivesMatter movement seek accountability. The unethical county prosecutor misled the grand jury so it would not hold officer Darren Wilson responsible for the death of Michael Brown. Hence, the hands-up gesture of surrender that Brown used that Wilson ignored as he gunned Brown down on that Ferguson, MO street. Both Wilson and the prosecutor got away without being held accountable.
The wife and surviving children of Eric Garner also seek accountability. NYPD officers Daniel Pantaleo and Justin Damico combined a chokehold and physical restraint to kill Garner on a Staten Island sidewalk while a witness filmed the episode. The grand jury there also let the officers walk away without facing consequences for taking a life.
Then, in Cleveland, 12-y.o. Tamir Rice was gunned down within seconds by Timothy Loehmann as his patrol car rushed to the public park scene where Tamir was playing by himself. Loehmann's employment record showed him to be too incompetent in handling firearms for a small city police squad before he found a job with the Cleveland PD. Rice is dead because the Cleveland PD ignored early career warning signs about Loehmann. He also failed his written entrance exam for Cleveland employment.
The headline-grabbing, media-saturation stories "surprised" white TV viewers who had no appreciation of the ongoing abuse black men face at the hands of police. They were Furthermore, because of implicit (unstated or attitudes possessed without explicit self-awareness) racism by whites, there was little sympathy for those murdered.
In fact, police violence apologists attempted to guide the public to make what is called the fundamental attribution error. Victims are degraded and treated as though they deserved their fate. The error is behind all "blame-the-victim" scenarios that we perpetuate in the aftermath of personal crimes: rape, campus sexual assault, and even murder victims.
It's a tug of war between two competing explanatory models: fixing responsibility on perpetrators of violence or seeking faults in victims that made them somehow provocative and deserving their fate.
The overlap with bullied targets is easy to see. When they inform management about their ordeal, they are not believed and retaliated against for tarnishing the perpetrators' image honed by years of ingratiating themselves to their executive sponsor. Management tends to "circle the wagons," to grow increasingly defensive. Management should care about the impact of bullying on finances as well as the impact on employee health. Instead, managers tend to deny, discount and rationalize bullying.

Another insult to bullied individuals is the sham investigation done by the employer. Organizations cannot conduct unbiased investigations of themselves. The pressures for individual survival and covering up are too great. Furthermore, HR is a management support function. Therefore, it is management investigating incidents of wrongdoing primarily by managers. Truth is sacrificed for the sake of political expediency.
When investigations conclude with an inability to assign responsibility (the infamous "she said/she said" tie) or the mischaracterization of the abuse as a "personality clash" between bully and target, targets are upset and frustrated. Their sense of justice was shattered by the bullying. A failure to find fault in perpetrators compounds the injustice.
Sadly, of the cases in which bullying has stopped, 77% of targets pay the price by losing the job they had no business losing or they transferred (11%) as if they had done something wrong. Perpetrators bully with impunity.
Bullied targets and witnesses simply want perpetrators to be held accountable.
Accountability is nearly impossible without a policy. It is also impossible when a policy exists but is not applied to all employees at all levels of the organization. Inconsistent or absent enforcement renders the policy ineffective. It is only a collection of positive words and thoughts.
Most policies are created in response to laws. Without laws that provide legal redress for bullied individuals, employers do not voluntarily address abusive conduct in comprehensive ways. They may engage in minimal training (as mandated in California starting in 2015) or be "encouraged" to adopt a policy (as suggested in TN law, effective in 2015). Strong laws will compel good policies, which in turn, make accountability more likely. Help enact the WBI anti-bullying Healthy Workplace Bill.
Tags: abusive conduct, accountability, American Psychological Association, bullied targets, Cleveland, Eric Garner, Ferguson, Gary Namie, Michael Brown, Staten Island, Tamir Rice, victims, violence, workplace bullying
Posted in Related Phenomena, WBI Education, WBI Surveys & Studies | No Archived Comments | Post A Comment () »
Thursday, January 8th, 2015
WBI: Because of the extreme health harm bullying causes, some targeted individuals, with help from their physicians and psychotherapists, were granted paltry amounts of monthly Social Security Disability payments on which their survival is entirely dependent. Republicans in the House included an obscure rule change on opening day of the 114th Congress that altered how Social Security trust fund transfers money to fund SS Disability. They made transferring funds (reallocation) contingent upon either increasing the SS tax or cutting benefits. It is estimated that starting in 2016, disability recipients will suffer a 20% decrease in their benefit.
Dear disinterested/apathetic/dim-witted American voters — pay attention to elections and who you send to Congress and your state legislatures. This is what we have brought upon ourselves.
From the office of Sen. Sherrod Brown: Reallocation is a simple procedure used by Congress to rebalance how Social Security payroll tax revenues are apportioned between the two trust funds – the equivalent of transferring money from a checking to a savings account. Reallocation is commonsense, bipartisan policy that has been utilized by both parties 11 times since 1957 – most recently in 1994, including four times under Ronald Reagan. It was projected that the 1994 reallocation would keep the trust fund solvent until 2016.
Tags: bullied targets, disability, psychological health harm, social security
Posted in Commentary by G. Namie, Fairness & Social Justice Denied, The New America | 1 Archived Comment | Post A Comment () »
Monday, December 8th, 2014
Beef With Bullies
By Mariam Isa, Destiny Connect (UK), Dec 4, 2014
The prevalence of woman-on-woman bullying in the workplace is surprisingly high and, in many instances, is spiraling out of control in the absence of legislation or company policies to curb it. We look at what is behind this insidious trend
Lillian Karuri-Magero, Sourcing Executive for Africa at Barclays Absa, is successful, confident and assertive. She began her second job in the IT industry full of enthusiasm and energy, but ended up leaving prematurely after being bullied by a woman senior who deliberately alienated her from the office environment.
"She publicly humiliated me many times, using her rank to belittle my work. She deliberately withheld information that would have made my working life more efficient and my outputs quicker and better. She called meetings without including me and her behaviour towards me was blatantly rude – no 'good morning' or 'goodbye', barking orders and things like that – which, to me, are outright bullying. It made my ability to function almost impossible," Karuri-Magero says.
Eventually she decided to confront the bully, but it only made things worse: the woman began calling her into her office and behaving more belligerently than 
she would ever have dared to do in front of her own manager. So Karuri-Magero approached the company's HR department for help. That also failed, as the bully, who had been in the company much longer than she had, blatantly lied, making it her word against her victim's. At that point, Karuri-Magero resigned, feeling helpless.
Tags: bullied targets, it, tech industry, woman-on-woman bullying
Posted in Tutorials About Bullying, WBI in the News | 1 Archived Comment | Post A Comment () »
Thursday, November 6th, 2014
ARE BULLIED TARGETS BELIEVED?
WBI Research/Instant Poll: 2014 – F
People who find themselves trapped in a bullying scenario can attest to the crazymaking, irrational nature of the mistreatment. Much of the harm caused by the abusive conduct stems from the shattering of targets' beliefs about fairness, fairness in the work world specifically. First, they are typically the high performers who unknowingly trigger the envy of perpetrators. Targets are aware of their work skill at a deep personal ontological level. Perpetrators come into their lives who determined to reject the agreed-upon perceptions of the targets' skills. There are objective truths, a reality.
When Bullies are Bosses
Perpetrators often use their formal (by organizational rank) or informal power to state the obviously opposite perception about technically skilled targets. Though this defies reality, they convince organizational allies to believe them and not targets.
In simplest form, it becomes a "he said, he said" deadlock. But most bullies who are bosses rely on support from higher up to add weight to their side.
The shrewdest perpetrators use ingratiation over many years to convince their executive sponsors (their enablers) that they, the bullies, are indispensable. Further, if and when they are described as abusive or destructive by one or more targets in the future, the executive will defend her or his "indispensable" perp by ignoring the target's portrayal of a friend and colleague.
Thus conditions are not favorable when targets report the facts about what they have experienced at the hands of the favored perpetrator. After all, targets do bring negative news about people who typically outrank them.
When Bullies are Coworkers
In situations where targets have multiple perpetrators, there are many individuals who can provide accounts of alleged bullying incidents that will be at odds with what targets say happened.
For targets bullied by a gang of coworkers (cliques and mobs also are apt descriptions), it is doubly negative. Not only do they outnumber the target, the target is deprived of the chance to have her or his story corroborated by coworkers. Though few coworkers ever step up to offer support to targets, some do. When coworkers are the bullies, the potential source of support is lost.
Gullible investigators (typically working inside the organization for another department) will have their judgement swayed by many against one, and believe the tale that many tell even if those versions are not true.
The Effects of Not Being Believed
For targets, it's a matter of honor and integrity. Repeated studies have shown that targets claim that their honesty is one of the major reasons for being targeted for abuse. They do seem to be very principled, non-political workers.
Tags: 2014 ip f, attribution error, believing targets, bullied targets, bullying research, credibility, Daniel Christensen, Gary Namie, instant poll, truth, workplace bullying, Workplace Bullying Institute
Posted in Tutorials About Bullying, WBI Education, WBI Surveys & Studies | 5 Archived Comments | Post A Comment () »
Tuesday, October 28th, 2014
I've always had a negative reaction to positive psychology despite a sometimes unjustifiable optimism. The contrarian in me seeks the alternative path when the mainstream suggests we all get in line like sheep, think alike and go down the same road. As a psychologist, I saw positivism as my field's attempt to reinvent a history of its dark obsession with abnormality forged by European pioneers.
Related to my life immersed in bullying and injured bullied targets, I see newcomers and nitwits give targets bad advice. Some invoke positive thinking. Feel good affirmations cannot pierce the shroud under which bullied, anxious, and depressed targets find themselves. Can they? Of course, being told to "get real," and "just grow a thicker skin" are equally inane and ineffective admonitions. Where's the middle ground?
I found the realistic alternative to positivism in the work of German psychologist and researcher Gabriele Oettingen who teaches at New York University. Here are citations from an essay she recently wrote for the New York Times and the lengthier statements from her university webpage. Her approach seems best suited to targets seeking ways to overcome their adversity foisted upon them involuntarily.
Mental Contrasting
"Mental contrasting" has produced powerful results in laboratory experiments. When participants have performed mental contrasting with reasonable, potentially attainable wishes, they have come away more energized and achieved better results compared with participants who either positively fantasized or dwelt on the obstacles.

When participants have performed mental contrasting with wishes that are not reasonable or attainable, they have disengaged more from these wishes. Mental contrasting spurs us on when it makes sense to pursue a wish, and lets us abandon wishes more readily when it doesn't, so that we can go after other, more reasonable ambitions.
WBI: This approach seems to give permission to the person to let go of unattainable goals — e.g., convincing your employer to fire the bully — freeing the person to pursue wholeheartedly realistic goals — e.g., finding the next job, taking time off from work to heal or spending time with family and loved ones to repair strained relationships that matter more than work.
Tags: bullied targets, Gabriele Oettingen, goals, mental contrasting, positive thinking, positivism, workplace bullying
Posted in Bullying-Related Research, Social/Mgmt/Epid Sciences, Tutorials About Bullying, WBI Education | 2 Archived Comments | Post A Comment () »
Tuesday, October 28th, 2014
Posing this question on the internet is risky, certain to draw unsolicited government surveillance attention in paranoid America. You see, terror existed before America's Sept. 11, 2001. Just ask Britain. We should be able to use the word when it applies to a variety of situations. But after 9-11, the semantic gods yielded control of the term to western governments.
Here is Merriam-Webster's definition:

ter·ror noun \ˈter-ər, ˈte-rər\

1:  a state of intense fear
2 a :  one that inspires fear :  scourge b :  a frightening aspect c :  a cause of anxiety :  worry d :  an appalling person or thing; especially :  brat
3:  reign of terror
4:  violent or destructive acts (as bombing) committed by groups in order to intimidate a population or government into granting their demands

Origin of TERROR
Middle English, from Anglo-French terrour, from Latin terror, from terrēre to frighten; akin to Greek trein to be afraid, flee, tremein to tremble First Known Use: 14th century
Thus, a practitioner of terror, the terrorist, is a person who deliberately instills fear and anxiety in others in an intimidating fashion. Isn't that what a workplace bully does when she or he abuses others? From fear comes paralysis. Shocked and paralyzed targets and witnesses do not respond to aggression with aggression.
Look at the fourth term in the above definition. The goal of intimidation is have "a population or government," proxies for organizations, grant the bully's demands. Bullies get their way with their employers. Perpetrators are rarely punished. They abuse others with impunity, rarely facing consequences. American employers do next to nothing to stop bullies while innocent guileless targets lose their jobs, livelihoods and sanity at alarming rates.
Logically, workplace bullies are terrorists within organizations. They are organizational terrorists. Their actions fit the definition. We simply are applying a label appropriately.
Bullying is not simply eye rolling as bully apologists like to characterize it. It is workplace violence, albeit a non-physical form. It is a mistake to underestimate the effects verbal abuse, threats, intimidation, humiliation and domination have on human beings.
History is on our side. The founder of the international movement in Sweden, Heinz Leymann, titled one of his early English-language journal articles — "Mobbing and Psychological Terror at Workplaces." Of course, he chose the term mobbing to connote the interpersonal destruction of workplace victims by multiple perpetrators. To assess the extent to which a target was harmed, he developed his own instrument, the LIPT, the Leymann Interpersonal Psychological Terrorization scale. Leymann minced no words. He died in 1999 before other nations followed America's descent into paranoia about terrorism. I wonder how close he was to naming the phenomenon we know today as bullying, terrorization.
When Dr. Ruth and I made the commitment to begin the work which evolved into the Workplace Bullying Institute back in 1996-97, we had a choice of two reasonable terms. Mobbing was the Scandinavian and European term. Workplace Bullying was the British term. We deliberately chose to import "workplace bullying" for a variety of reasons. We originally did discuss "terrorization," but felt it would be considered too radical to be accepted by American media. A short four years later, Sept 11 happened. The movement would have been stopped in its tracks for adopting anything related to "terror."
Looking back after more than 17 years, in the spirit of realistically naming the destructive force that workplace bullying is, I now see "terrorization" as an entirely appropriate synonym to add to the list of acceptable terms. Invoking Leymann's courage to call it what it is, bullying is terrorism.
Which employers will launch a "war" against it within their walls? Call us. We'll help you do it right.
Tags: bullied targets, Gary Namie, Heinz Leymann, psychological terrorization, terror, terrorist, victims, workplace bullying
Posted in Commentary by G. Namie, The New America, Tutorials About Bullying, WBI Education | 3 Archived Comments | Post A Comment () »
Saturday, October 18th, 2014
Workplace bullying is a complex phenomenon because it is systemic with the majority of causes dwelling in the work environment, organizational culture. It is much more than personalities of targets and perpetrators. Thus, to stop it, we all need to pressure employers to stop running on autopilot and allowing bullying to happen as a normal routine way of doing business.
Here are WBI's suggested actions for each of us in different roles and professions to pressure employers to reign in their out-of-control miscreants, to stop rewarding the misconduct, and to establish a positive workplace culture free of abusive conduct for the future.
Bullied Targets/Individuals
Family & Friends
Co-Workers and Witnesses
Unions
Medical Professionals
Employers/Executives
Mental Health Professionals
School Administrators
Community Leaders
State Legislators
Tags: bullied targets, employers, Freedom from bullies at work week, HR, workplace bullying, Workplace Bullying Institute
Posted in Freedom Week, WBI Education | No Archived Comments | Post A Comment () »