Posts Tagged 'bullies'
Friday, July 7th, 2017
2017 WBI U.S. Workplace Bullying Survey
Stopping Workplace Bullying

65% of bullying stops when the target loses the job held when first bullied

The Workplace Bullying Institute commissioned Zogby Analytics to conduct the 2017 national scientific U.S. survey across two days in late April. The stratified random sample of 1,008 individuals represented all adult Americans. [Zogby methodology and sample details here.] It was WBI's fourth national survey.
We used the definition of workplace bullying that matches perfectly the definition codified in the Healthy Workplace Bill. Bullying is repeated mistreatment but also "abusive conduct." We asked American survey respondents to consider only the most serious forms of bullying.
At WBI, we have been immersed in the lives of bullied targets for two decades. Ideally, employers would recognize the risks workplace bullying/abusive conduct pose and act rationally to stop it. However, we know from targets, this is not the case.
Bullying in its simplest manifestation is dyadic. There is a target and a perpetrator. This question explores how much each player contributes to stopping the bullying and through which personal consequences. [N = 350 with no experience respondents and "not sure" respondents deleted.]
Wording of the Stopping the Bullying Question: What stopped the abusive mistreatment?
This Survey question provided the response option: "It has not stopped" that was chosen by 25% of respondents. Thus, the sample was reduced to N = 263 when those respondents were eliminated. The subsequent percentages in the above Table are based on the new sample that excluded the 25%. The options were chosen only by those for whom the bullying had stopped, either for targets or witnesses.
The sad reality is that even the general public seems to know that it is the target, the victim of the abuse, who is asked to make additional sacrifices to stop the bullying. In 54% of cases, bullying stops only when the target loses her or his job. Remember that individuals do not invite this severe misery into their work lives. Therefore, once a person is targeted for bullying – a choice made by the perpetrator(s) – that person has a 5 out of 10 chance of losing her or his livelihood. If one adds the 11% of targets who had to transfer to retain employment, 65% of targets had to leave the job they loved for no cause.
Furthermore, the target is driven to quit. Voluntary quitting (23%) is usually based on escalating health problems that families and physicians recognize, then encourage the target to leave the job. But 12% of quitting is based on decisions made after work conditions become untenable, so cruel as to drive a rational person to escape. Constructive discharge is the goal for many perpetrators. Terminations (8%) of the skilled but threatening (to bullies) targets are typically based on fabricated lies. Several WBI surveys of bullied targets substantiate this claim.
Accepting a transfer to retain a job (11%), to bullied targets, is often a source of perceived injustice. Their reasoning is "I did nothing to deserve the abuse, why should I be the one to leave the job I love and am best qualified to perform." To many, transfers are punitive. On the other hand, it prevents economic devastation and might provide a degree of psychological safety.
The pattern of results from this national sample stands in marked contrast with WBI studies asking the same question of a sample of only bullied targets. To them, the ratio of negative consequences experienced by targets is 7:1 when compared to negatives for perpetrators. The public overestimates the proportion of negative consequences suffered by perpetrators.
In this 2017 version of the national survey, we added the option for respondents to choose –employers stopped the bullying by doing something positive and proactive such as creating a policy or conducting credible investigations. Ten percent of respondents chose this option.
Gary Namie, PhD
WBI Research Director
Download the pdf version of these Stopping the Bullying findings.
View findings related to other questions asked in the 2017 Survey.
Download the complete report of the 2017 WBI U.S. Workplace Bullying Survey.

Tags: 2017 WBI U.S. Workplace Bullying Survey, abusive conduct, bullied targets, bullies, Gary Namie, outcomes, perpetrators of workplace bullying, stopping the abuse, stopping the bullying, workplace bullying
Posted in Bullying-Related Research, Social/Mgmt/Epid Sciences, WBI Education, WBI Surveys & Studies | No Archived Comments | Post A Comment () »
Thursday, October 23rd, 2014
Why The Office Bully Is Getting Promoted
Your company culture may encourage bullies and you may not even know it.
By Lisa Evans, Fast Company, October 23, 2014
You may have thought you'd escaped bullying when you traded the school yard for the office, but according to the Workplace Bullying Institute, 27% of Americans are still experiencing bullying in the workplace.
Instead of being shoved in a locker or having your head dunked in the toilet, workplace bullying is non-physical, yet still as emotionally harmful. The Workplace Bullying Institute defines workplace bullying as any form of verbal abuse, job sabotage, intimidation, or humiliation.

Tags: 2014 WBI U.S. Workplace Bullying Survey, bullies, Gary Namie, perpetrators, reinforcement, reward, workplace bullying, Workplace Bullying Institute
Posted in Media About Bullying, Print: News, Blogs, Magazines, Tutorials About Bullying, WBI in the News | 1 Archived Comment | Post A Comment () »
Friday, October 17th, 2014
I hate talking points (propaganda) for American-style capitalism. For example, some of the most loathsome soundbites are: All hail entrepreneurship (Shark Tank); Everyone can live the American Dream if they only try hard enough; Ignore gross inequality – having a tiny elite group of individuals owning a disproportionate share of all wealth is good for the country; and Support for our neediest (compassion) is a sign of weakness.
By extension, this mindset also espouses these lies about workplace bullying … People who claim to to be "abused" at work must have provoked their mistreatment … they (targets) undermine virtuous employers … and if, and only if, someone gets hurt at work, perpetrators never intended to harm, it was all a misunderstanding or misperception by the recipient.
The WBI 2014 IP-B study countered the myth about intentionality of bullies completely. We asked bullied targets — not the public, not managers, not bullies, not HR, not owners, not executives, not corporate defenders — and they overwhelmingly stated that their bullies acted with deliberateness (82%) and knew they were harming their victims. When we add in the perpetrators acting on behalf of others, an astonishing 91% were deliberate and malicious. Only 2% of bullies were "accidental" perpetrators.
To conclude that if targets are hurt by bullying, their hypersensitivity was to blame, is a damnable distortion of reality.
What matters most is that bullied targets are hurt by decisions made by perpetrators to behave negatively. Lies about bullies' stated intent matter not one whit. Effects and consequences trump intent. [Using the same logic, we at WBI also state that bullying is not simply based on whether or not negative behaviors occurred but if those acts happened AND they caused the targeted person adverse consequences. We allow for behaviors to have different effects on different recipients allowing for individual differences in the ability to cope and respond to negative actions. If there is genuinely no harm (immediate or latent) to the target, then bullying did not occur.]
Another arena in which the same blame-the-recipient scenario pops up is the modern political apology. Rather than say "I'm sorry," thus accepting personal responsibility, politicos say "I'm sorry if you felt hurt by anything I did," displacing blame on the victim of wrongdoing. And we blithely, through our inept media reporters, accept this sleight of hand by not challenging it.
Lawyer-cartoonist Ruben Bolling perfectly captured the shifting of responsibility for intentionality in the strip below — The "R" Word — with NFL overtones.
(more…)

Tags: bullies, bully, deliberate, intention, malice, perpetrator, workplace bullying
Posted in Tutorials About Bullying, WBI Education, WBI Surveys & Studies | 1 Archived Comment | Post A Comment () »
Thursday, October 2nd, 2014
INTENTIONS OF WORKPLACE BULLIES
WBI Research/Instant Poll: 2014 – B
There has long been a debate about intentionality of perpetrators' action in workplace bullying. Were the tactics committed deliberately? In the earliest WBI definition of bullying, we included "deliberate." But as our legal education progressed and we began to lobby lawmakers to introduce our anti-bullying Healthy Workplace Bill, we learned that the law did not require the discovery of motive if the action happens. That is, the wrongdoing — bullying acts — was evidence of intent. No one has to divine the hidden goals of perpetrators. If they committed the act, they meant to.
Nevertheless bully apologists —bloggers and reporters for business media — like to state that most bullying is unintentional. We certainly allowed for "accidental" or inadvertent bullying in our book, The Bully At Work (Sourcebooks, 2009). However, we now believe that it is very rare, not common like the apologist believe.
WBI Instant Polls are online single-question surveys that rely upon self-selected samples of individuals bullied at work (typically 98% of any sample). No demographic data are collected. Our non-scientific Instant Polls accurately depict the perceptions of workers targeted for bullying at work as contrasted with the views of all adult Americans in our scientific national surveys.
For this survey, we asked 817 respondents (bullied targets and witnesses) to describe the intentions of perpetrators they have experienced.
Of the workplace perpetrators of bullying I've known, they?
The percentages for each response option were:
.821 acted with the deliberate personal intention to harm others
.086 harmed others but were not aware of the consequences
.078 followed instructions of superiors in ways that hurt others
.015 never meant to harm others; were misunderstood
(more…)

Tags: 2014 IP b, bullies, bullying research, deliberateness, Gary Namie, instant poll, intentions, motives, perpetrators, Workplace Bullying Institute
Posted in Tutorials About Bullying, WBI Education, WBI Surveys & Studies | No Archived Comments | Post A Comment () »
Friday, November 22nd, 2013
Review of Buckels, Jones & Paulhus (2013) Behavioral Confirmation of Everyday Sadism. This research was conducted at the University of British Columbia and the University of Texas at El Paso.
The phrase "workplace bullying" prompts most listeners to ponder deviant personality quirks of perpetrators. Though we at WBI believe work environment factors are better predictors of a bullying-prone workplace, it is the interaction of personality and work conditions that provide the fullest explanation. Bullied targets, when under assault, ruminate too long on the personality of their bully and the perp's motivation. So, we advise them to ignore the perp's personality so that they can act to get to safety. Given these forewarnings about the limited role of personality in bullying, here is a research article that addresses perhaps the most relevant of all personality traits related to bullying — sadism.

Tags: aggressors, Buckels, bullies, dark side of the world of work, dark triad, Paulhus, perpetrators, personality, sadism, workplace bullying
Posted in Bullying-Related Research, Social/Mgmt/Epid Sciences, Tutorials About Bullying, WBI Education | 3 Archived Comments | Post A Comment () »
Thursday, September 12th, 2013
Breaking the Silence about this Hidden Epidemic
Announcing the 2013 Workplace Bullying Institute Freedom from Workplace Bullies Week — October 20-26. Created to be a special time to try something different to stop workplace bullying for bullied targets, coworkers, family members, supervisors, managers, HR, executives, lawmakers, cities, counties and communities. Read our suggestions for activities.
Watch videos from the 2012 Washington DC event featuring union officials. Read the proclamations from cities and counties.

Tags: bullies, Freedom from workplace bullies week, Freedom Week, Unions, workplace bullying, Workplace Bullying Institute
Posted in Events & Appearances, Freedom Week, Unions, WBI Education | 1 Archived Comment | Post A Comment () »
Friday, July 12th, 2013
Peggy Drexler, Forbes.com, July 10, 2013
As a longtime hotel manager for upscale resorts across the U.S., Sandrine had spent her career believing that good service was the key to success. That included being courteous to your guests—and to your co-workers. Which is why the company's latest "star" employee, Russ, confounded her. He'd been hired as a bellman at the Northeast beach resort she was currently assigned to and in less than a year had worked his way up to associate manager, earning a promotion (and, she knew, a healthy raise) above her. She'd been with the company for nearly 10 years.
She could understand if he was an exceptionally hard worker, or a talented manager. But, she told me, Russ was verbally abusive to his staff, using fear and intimidation to get them to do what he wanted them to do, and to do it better and more quickly than any other department. He denied vacation requests and spread rumors about staffers who got on his bad side. Once, she'd witnessed him make fun of a hostess, in front of a dozen other employees, for a pimple she'd tried, not very successfully, to cover.
But when the hotel executives came to town, Russ played Mr. Popular amazingly well. "He was charming and believably personable, even if 20 minutes earlier he had been berating the chef," she told me, frustrated by her own inability to climb the ranks as well as Russ had. The higher ups regarded Russ's department as one of the most efficiently run—and it was, given his reports were scared to get on his bad side—and he was happy to accept all the credit for it. As far as the bosses could tell, people seemed to like him. "I always operated by the idea that he'd get what he deserved—people like that always do, don't they?—but all he seemed to get was rewarded," Sandrine said.

Tags: bullies, forbes, research, rewarded, Workplace Bullying Institute
Posted in WBI in the News | 1 Archived Comment | Post A Comment () »
Thursday, May 2nd, 2013
Are bullies demons? Bully apologists abhor "demonizing" abusers in the workplace. What's the alternative? Revere them. Thank them for showing us how loathsome and dark can be the human condition? Ignore their cruelty foisted on the best and brightest workers whose principal goal of every day is to be "left alone" to do their jobs? Of course, that's exactly what bully apologists do. We think they stand on the wrong side of the moral fence.
We at WBI are target-centric. We've chosen the other side. We didn't start the U.S. Workplace Bullying movement to treat it as an academic exercise in neutrality. Targets deserve and need support. Institutions do a fine job of defending perpetrators.

Tags: bullies, courage, coworkers, demons, EFT, EMDR, evil, Gary Namie, Ruth Namie, witnesses, workplace bullying
Posted in Target Tale, WBI Education | 1 Archived Comment | Post A Comment () »
Thursday, February 14th, 2013
By Hilary Holladay, Contributor to The Hook, Charlottesville (VA), Feb. 14, 2013
Over the past five years, I've given a lot of thought to workplace bullying. I moved 650 miles, back home to Virginia, to escape a bully at my old job. I have friends who have been similarly tormented. We've traded stories and consoled one another. Some of them, like me, have found new work, or they have X'ed off the calendar days and finally escaped their tormentors through retirement. But a lot of people don't have those options just yet, and they shouldn't have to leave otherwise rewarding jobs just because someone is trying to make them miserable. So they continue to suffer the anxiety, anger, and depression that come with being bullied.
Awareness of the problem reached a tipping point in Charlottesville after Virginia Quarterly Review editor Kevin Morrissey's suicide in 2010. The devastating event touched off dozens of news stories locally and nationally about workplace bullying. Board of Visitors Rector Helen Dragas' thwarted attempt to oust UVa President Teresa Sullivan last summer raised the specter yet again. Everybody, it seems, is at risk of being bullied.

Tags: are you a bully, bullies, hilary holladay, support for bullies, the Hook, workplace bullying
Posted in Print: News, Blogs, Magazines | 1 Archived Comment | Post A Comment () »
Wednesday, January 16th, 2013
WORKPLACE BULLYING PERPETRATORS' RANK & NUMBERS
WBI Research: 2012 – H Instant Poll
Workplace Bullying Institute Instant Polls are online single-question surveys that rely upon self-selected samples of individuals bullied at work (typically 98% of any sample). No demographic data are collected. Our non-scientific Instant Polls accurately depict the perceptions of workers targeted for bullying at work as contrasted with the views of all adult Americans in our scientific national surveys.
In the eighth IP of 2012, 81% of the 806 respondents declared that a boss (higher-ranking person than the target) was involved than bullying.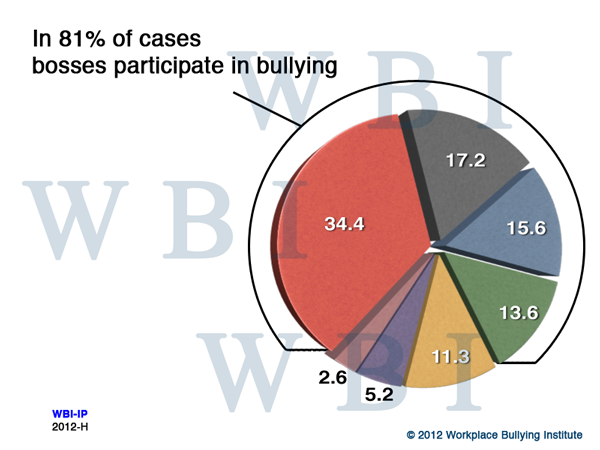 Tags: bullies, instant poll, Mobbing, perpetrators, rank, WBI survey, workplace bullying
Posted in Tutorials About Bullying, WBI Education, WBI Surveys & Studies | 1 Archived Comment | Post A Comment () »