Posts Tagged 'bullies'
Friday, November 22nd, 2013
Review of Buckels, Jones & Paulhus (2013) Behavioral Confirmation of Everyday Sadism. This research was conducted at the University of British Columbia and the University of Texas at El Paso.
The phrase "workplace bullying" prompts most listeners to ponder deviant personality quirks of perpetrators. Though we at WBI believe work environment factors are better predictors of a bullying-prone workplace, it is the interaction of personality and work conditions that provide the fullest explanation. Bullied targets, when under assault, ruminate too long on the personality of their bully and the perp's motivation. So, we advise them to ignore the perp's personality so that they can act to get to safety. Given these forewarnings about the limited role of personality in bullying, here is a research article that addresses perhaps the most relevant of all personality traits related to bullying — sadism.
Tags: aggressors, Buckels, bullies, dark side of the world of work, dark triad, Paulhus, perpetrators, personality, sadism, workplace bullying
Posted in Bullying-Related Research, Social/Mgmt/Epid Sciences, Tutorials About Bullying, WBI Education | 2 Archived Comments | Post A Comment () »
Thursday, September 12th, 2013
Breaking the Silence about this Hidden Epidemic
Announcing the 2013 Workplace Bullying Institute Freedom from Workplace Bullies Week — October 20-26. Created to be a special time to try something different to stop workplace bullying for bullied targets, coworkers, family members, supervisors, managers, HR, executives, lawmakers, cities, counties and communities. Read our suggestions for activities.
Watch videos from the 2012 Washington DC event featuring union officials. Read the proclamations from cities and counties.
Tags: bullies, Freedom from workplace bullies week, Freedom Week, Unions, workplace bullying, Workplace Bullying Institute
Posted in Events & Appearances, Freedom Week, Unions, WBI Education | 1 Archived Comment | Post A Comment () »
Friday, July 12th, 2013
Peggy Drexler, Forbes.com, July 10, 2013
As a longtime hotel manager for upscale resorts across the U.S., Sandrine had spent her career believing that good service was the key to success. That included being courteous to your guests—and to your co-workers. Which is why the company's latest "star" employee, Russ, confounded her. He'd been hired as a bellman at the Northeast beach resort she was currently assigned to and in less than a year had worked his way up to associate manager, earning a promotion (and, she knew, a healthy raise) above her. She'd been with the company for nearly 10 years.
She could understand if he was an exceptionally hard worker, or a talented manager. But, she told me, Russ was verbally abusive to his staff, using fear and intimidation to get them to do what he wanted them to do, and to do it better and more quickly than any other department. He denied vacation requests and spread rumors about staffers who got on his bad side. Once, she'd witnessed him make fun of a hostess, in front of a dozen other employees, for a pimple she'd tried, not very successfully, to cover.
But when the hotel executives came to town, Russ played Mr. Popular amazingly well. "He was charming and believably personable, even if 20 minutes earlier he had been berating the chef," she told me, frustrated by her own inability to climb the ranks as well as Russ had. The higher ups regarded Russ's department as one of the most efficiently run—and it was, given his reports were scared to get on his bad side—and he was happy to accept all the credit for it. As far as the bosses could tell, people seemed to like him. "I always operated by the idea that he'd get what he deserved—people like that always do, don't they?—but all he seemed to get was rewarded," Sandrine said.
Tags: bullies, forbes, research, rewarded, Workplace Bullying Institute
Posted in WBI in the News | 1 Archived Comment | Post A Comment () »
Thursday, May 2nd, 2013
Are bullies demons? Bully apologists abhor "demonizing" abusers in the workplace. What's the alternative? Revere them. Thank them for showing us how loathsome and dark can be the human condition? Ignore their cruelty foisted on the best and brightest workers whose principal goal of every day is to be "left alone" to do their jobs? Of course, that's exactly what bully apologists do. We think they stand on the wrong side of the moral fence.
We at WBI are target-centric. We've chosen the other side. We didn't start the U.S. Workplace Bullying movement to treat it as an academic exercise in neutrality. Targets deserve and need support. Institutions do a fine job of defending perpetrators.
Tags: bullies, courage, coworkers, demons, EFT, EMDR, evil, Gary Namie, Ruth Namie, witnesses, workplace bullying
Posted in Target Tale, WBI Education | 1 Archived Comment | Post A Comment () »
Thursday, February 14th, 2013
By Hilary Holladay, Contributor to The Hook, Charlottesville (VA), Feb. 14, 2013
Over the past five years, I've given a lot of thought to workplace bullying. I moved 650 miles, back home to Virginia, to escape a bully at my old job. I have friends who have been similarly tormented. We've traded stories and consoled one another. Some of them, like me, have found new work, or they have X'ed off the calendar days and finally escaped their tormentors through retirement. But a lot of people don't have those options just yet, and they shouldn't have to leave otherwise rewarding jobs just because someone is trying to make them miserable. So they continue to suffer the anxiety, anger, and depression that come with being bullied.
Awareness of the problem reached a tipping point in Charlottesville after Virginia Quarterly Review editor Kevin Morrissey's suicide in 2010. The devastating event touched off dozens of news stories locally and nationally about workplace bullying. Board of Visitors Rector Helen Dragas' thwarted attempt to oust UVa President Teresa Sullivan last summer raised the specter yet again. Everybody, it seems, is at risk of being bullied.
Tags: are you a bully, bullies, hilary holladay, support for bullies, the Hook, workplace bullying
Posted in Print: News, Blogs, Magazines | 1 Archived Comment | Post A Comment () »
Wednesday, January 16th, 2013
WORKPLACE BULLYING PERPETRATORS' RANK & NUMBERS
WBI Research: 2012 – H Instant Poll
Workplace Bullying Institute Instant Polls are online single-question surveys that rely upon self-selected samples of individuals bullied at work (typically 98% of any sample). No demographic data are collected. Our non-scientific Instant Polls accurately depict the perceptions of workers targeted for bullying at work as contrasted with the views of all adult Americans in our scientific national surveys.
In the eighth IP of 2012, 81% of the 806 respondents declared that a boss (higher-ranking person than the target) was involved than bullying.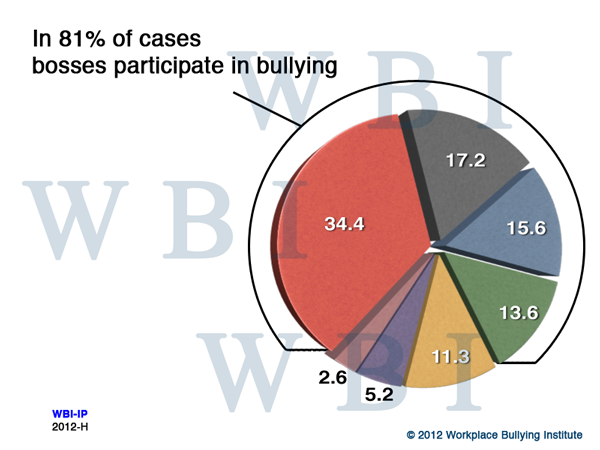 Tags: bullies, instant poll, Mobbing, perpetrators, rank, WBI survey, workplace bullying
Posted in Tutorials About Bullying, WBI Education, WBI Surveys & Studies | No Archived Comments | Post A Comment () »
Tuesday, October 23rd, 2012

Halloween has become the new major holiday. Partying adults account for much of the spending after the candy and kiddie costumes. So, maybe you want to be a bully at work in costume this year. What would that look like?
No worries. Come as you are. Bullies are rarely different than most of us. They don't dress differently. This will save you lots of dough. No special costume required. And only under special circumstances do they think differently. Here's what I mean.


(more…)
Tags: bullies, bully bosses, workplace bullying
Posted in Tutorials About Bullying, WBI Education | No Archived Comments | Post A Comment () »
Friday, September 7th, 2012
Set your DVRs on Sept. 20 to capture the season opening episode of NBC's The Office. According to photos released by the show, the topic is Workplace Bullying.
Can't wait to see if there is even any acknowledgement of how serious bullying can be in this long-running comedy show.
Regardless of how the topic is treated, this is another indicator of the mainstreaming of workplace bullying in the U.S. via pop culture.
Come back here after the episode airs to post your review.
Everyone's a critic.
Tags: bullies, NBC, The Office, TV portrayal of bullies, workplace bullying
Posted in Broadcasts: Video, TV, radio, webinars, Media About Bullying | 1 Archived Comment | Post A Comment () »
Tuesday, February 22nd, 2011
Bullied targets recognize lying. Lies about needing to save money are the governors' (expect this to roll into other states near you, Wisconsin is just the beginning) rationale for eliminating the few remaining rights workers have. You non-union folks know that you have no rights to give up. Turns out that the newly elected Wisc governor inherited a surplus. There was no financial crisis in that state, says former co-chair of the state joint finance committee, state Rep. Marc Pocan.
In states where there are genuinely dire financial straits, the governors are blaming unions. Really?  Why do we have such collective amnesia? How gullible is the American public? Remember the investors who ripped off the world and mortgage borrowers and allowed us saps to absorb the losses? And not one has gone to jail for it (read Matt Tiabi's new article).
And so the pattern is repeated in every bullying scenario. Bullies cost the employer, corporate or government, tons of cash that the employer whines they cannot afford to spare. Yet, they keep the bully on payroll while the losses mount from undesirable turnover, absenteeism, presenteeism, workers' comp, disability insurance, and a damaged reputation as the worst place to work. Bullies are too expensive to keep, but it's about power and cozy relationships between executive sponsors and their favorite sons and daughters. It's never about the money.
Tags: bullies, lies, lying, Scott Walker, Unions, Wisconsin
Posted in Fairness & Social Justice Denied, Unions | 6 Archived Comments | Post A Comment () »
Sunday, September 6th, 2009
According to the WBI survey of 422 respondents, the proposition that bullies are being purged by employers during the recession [see WSJ column] is debunked. Bullies lose their jobs at a rate under 2%, while 44% of bullied targets lose their jobs. Retaliation is the most common consequence for targets. Bullies (still) abuse with impunity.
Tags: bullies, impunity, retaliation, targets
Posted in Bullying-Related Research, Tutorials About Bullying | No Archived Comments | Post A Comment () »