Posts Tagged 'bullying'
Monday, October 26th, 2015
Though at WBI we focus exclusively on adults bullying one another in the workplace, there are lessons to be derived from attempts to stop schoolage bullying. A wonderful experiment exposed adults at a bus stop (probably in S.F. based on signage) to two girls tormenting a third girl. Note how adults intervene and some remove the bullied girl from the others for safety. If only adults would do the same to help their tormented colleagues at work. Of course, adults at a bus stop face no risk intervening with younger people. Wonder if the result would be the same if the kids were all boys and of high school age (who might be carrying a gun in their backpack), or boys of color?????
Read about the film at Stand Up Against Bullying.
Directed/Produced by Rob Bliss Creative: http://www.robblisscreative.com/
Tags: Bassett Unified School District, bullying, bystander, intervention, witness
Posted in Good News, Tutorials About Bullying, WBI Education | No Archived Comments | Post A Comment () »
Thursday, April 2nd, 2015
WBI: Justice is about to be meted out in Madison Wisconsin three years after Philip Otto took his own life though he was close to retirement from the WI Department of Corrections. Otto had transferred from one facility to another. The climate at Oakhill represented by the actions of several coworkers and led by one supervisor was extremely toxic and unwelcoming. After his death, investigations were conducted leading to terminations of key coworkers. The supervisor was allowed to retire. One captain was reinstated. Other workers filed an appeal with the Wisconsin Employment Relations Commission asking for reinstatement. The hearing examiner Stuart Levitan heard testimony during 16 days in 2013. I reviewed the record and testified on behalf of the State concluding that the fired employees (Rachel Koester, Matthew Seiler and Justyn Witscheber) had demeaned, harassed, bullied and disgraced their peer, Mr. Otto, who had transferred recently to their facility — new to the place, but a veteran corrections officer. Progress in the case reported below is that the hearing examiner ruled Rachel Koester was justly terminated, according to a pending decision released on March 4. … Gary Namie
###
Examiner: Firing of Oakhill Guard Following Suicide Was Proper
By Dee J. Hall, Wisconsin State Journal, March 31, 2015
A hearing examiner has determined that the state Department of Corrections properly fired a guard who allegedly shunned and belittled a fellow officer who later committed suicide.
Philip Otto, 52, killed himself in March 2012 after what his wife, daughter and co-workers described as a pattern of bullying by fellow employees at Oakhill Correctional Institution.
The 20-year DOC veteran's death came just months before he planned to retire with full benefits, his wife, Peggy Otto, told the State Journal in 2012.
In the proposed decision dated March 4, Wisconsin Employment Relations Commission examiner Stuart Levitan found the firing of correctional officer Rachel Koester was justified. He cited an internal investigation launched after Otto's death in which dozens of Oakhill staffers were interviewed.
Tags: bullying, coworkers, Oakhill, Philip Otto, Rachel Koester, suicide, Wisconsin Dept of Corrections
Posted in Rulings by Courts, Target Tale, WBI Education | 1 Archived Comment | Post A Comment () »
Friday, December 19th, 2014
"Protection" of Title VII of the Civil Rights Act of 1964 extends to claims of discrimination based on an individual's gender identity, including transgender status. Of course, "protection" actually means the right to file a complaint alleging disparate treatment based on one's transgender status.
In a Dec. 18 memo, Attorney General Eric Holder made identity as a transgender individual a protected group. In order for anyone to claim discrimination, the person must be a member of a protected status group.
This new decision extends the 1964 federal civil rights law. Read the memo.
With respect to bullying in the workplace, according to the 2007 WBI U.S. Workplace Bullying Survey, 20% of bullying cases involve a recognized claim of discrimination. This means that in 1 of 5 bullying cases, targets can compel their employer's attention to the problem because of possible illegal discriminatory conduct.
Tags: bullying, civil rights law, discrimination, transgender
Posted in Rulings by Courts | No Archived Comments | Post A Comment () »
Tuesday, November 25th, 2014
Grad and Professional Student Bullying Rises
By Christopher Aadland, Minnesota Daily, November 24, 2014
University of Minnesota surveys show peer-to-peer and faculty-to-student bullying has risen since 2007.
From verbal attacks to threats, graduate and professional students are increasingly experiencing harassment and bullying at the University of Minnesota, according to surveys.
"… I've lost all desire for research because of the continual harassment and hostile environment I've experienced," an anonymous student said in a recent survey. "I never thought I would give up on research, but I guess anything's possible. I've given up."
For the past decade, Jan Morse, director of the University of Minnesota's Student Conflict Resolution Center, has noticed an upsurge in graduate and professional students coming to her office looking for relief from bullies.
And despite work over the last six years by a group of school administrators, faculty members and students that aims to tackle bullying, this year's survey still shows graduate and professional students are increasingly experiencing harassment.
Tags: bullying, campus incivility, Gary Namie, grad student bullying, Jan Morse, Keaton Miller, prevalence, survey, University of Minnesota
Posted in Media About Bullying, Print: News, Blogs, Magazines, Tutorials About Bullying, WBI Education, WBI in the News | No Archived Comments | Post A Comment () »
Friday, March 7th, 2014
US Congressman Darrell Issa, chair of the House Oversight Committee bullied fellow Congressman Elijah Cummings and below is the video record of it recorded by C-SPAN. Issa allowed no one to testify at this Wed. March 5 hearing held to humiliate former IRS worker Lois Lerner who invoked her 5th Amendment right to not give self-incriminating answers to Issa's questions. Rep. Cummings had something to say, but Rep. Issa turned off his microphone twice. Issa adjourned the hearing while the outraged Cummings attempted to speak.
Bullied targets have borne the brunt of a bully's contempt similar to that demonstrated by Issa.
Tags: bullying, contempt, Darrell Issa, disrespect, John Lewis, political bullying
Posted in Broadcasts: Video, TV, radio, webinars, Media About Bullying, Tutorials About Bullying, WBI Education | No Archived Comments | Post A Comment () »
Thursday, February 20th, 2014
The owner of the NFL Miami Dolphins fired offensive line coach Mike Turner and trainer Kevin O'Neil. Turner was named as an accomplice in the mistreatment of Jonathan Martin by Ted Wells in his report about the abusive team environment and bullying scanda. Below, head coach Joe Philbin commented on the report and changes he plans for next season.
Follow the full NFL story in the Category list in the sidebar: NFL: Jonathan Martin Read the NFL investigation report.
Tags: bullying, Jonathan Martin, Miami Dolphins, NFL, workplace bullying
Posted in Good News, NFL: Jonathan Martin | No Archived Comments | Post A Comment () »
Friday, February 14th, 2014
On Nov. 6, 2013, the National Football League hired Ted Wells and the law firm Paul, Weiss, Rifkind, Wharton & Garrison LLP to conduct an independent investigation into issues of workplace conduct at the Miami Dolphins after the departure of Jonathan Martin from the team last October.
… even the largest, strongest and fleetest person may be driven to despair by bullying, taunting and constant insults

From the Conclusion, NFL Report, Feb. 14, 2014
The long-awaited report exonerates Jonathan Martin, the player targeted for abuse by a trio of fellow players.
Many of the key report conclusions illustrate how this NFL story is one of workplace bullying: (italicized comments by WBI)
• The mistreatment of Martin is consistent with a case of Workplace Bullying
The legal team recognized that bullying is abusive conduct and that Martin was the abused party.
• Martin did not fabricate his allegations of harassment
As is true with bullied targets, they are not the liars; it is most often the abusers, the bullies, who lie.
• Repeated acts of harassment contributed to Martin's departure
Bullying involves repeated acts
• Incognito knew that the harassment affected Martin
Perpetrators are aware that they harm others. Some derive pleasure from it.
• Martin was subjected to persistent harassing language
Persistence, again, repeated acts
• The harassment was humiliating and contributed to his mental health issues
The investigators made the causal link. Humiliation causes mental distress.
• The bullying trio harassed other Dolphins personnel
Cruelty spreads like contagion when unchecked
• It is unclear the extent to which the abuse resulted from racial animus
Illegal harassment/discrimination can be part of bullying, but bullying often is not based on race or gender.
• Culture of the Dolphins offensive line does not excuse the mistreatment
Just because it's the NFL doesn't mean bullying is acceptable.
• Coach Philbin and the Front Office did not know about the harassment
Complaints are often kept at the lowest level. Executives are shielded by lower-level managers.
This is a remarkable report. Read it in its entirety for yourself.
Follow the full NFL story in the Category list in the sidebar: NFL: Jonathan Martin
Tags: abusive conduct, bullying, Jonathan Martin, locker room culture, NFL, Richie Incognito, workplace bullying
Posted in Employers Gone Wild: Doing Bad Things, NFL: Jonathan Martin | 3 Archived Comments | Post A Comment () »
Friday, January 31st, 2014
The Miami Dolphins bullying scandal mirrors in so many ways what happens to bullied targets in corporate and government jobs.
Follow the full NFL story in the Category list in the sidebar: NFL: Jonathan Martin
Now that the target, Jonathan Martin, has finally spoken, the bully ratchets up his defense.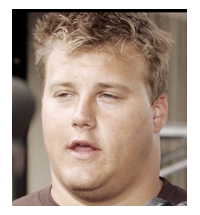 Richie Incognito, alleged bully (pictured on the left), who lost pay for only 2 football games and was paid to not play for the Dolphins or any other team for the remainder of the season, is going on offense.
Since most of his public behavior is indefensible — racial slurs in text messages and drunken rants caught on camera — his PR advisers are attacking Martin. Always blame/attack the victim. He claims Martin gave as good as he got. Remember bullies are believed; bullied targets are not believed.
The Big Lie: the relationship between Martin and Incognito was "friendship." Friends are equals. Friends care about each other. Friends respect one another. Friends don't abuse. Friends don't exploit.
Tags: abuse, bullying, Jonathan Martin, Miami Dolphins, NFL, Richard Sherman, Richie Incognito, Tony Dungy, violence
Posted in NFL: Jonathan Martin, Tutorials About Bullying, WBI Education | No Archived Comments | Post A Comment () »
Thursday, January 30th, 2014
Jonathan Martin, Miami Dolphins offensive lineman, left the team in October, 2013. His voluntary decision to leave an "abusive environment" caused a firestorm of controversy in the sports world. On January 29, 2014, Martin spoke publicly for the first time about his ordeal with former NFL coach, now NBC sports broadcaster Tony Dungy.
The short 3:43 min. version of the interview

The full 25 min. interview
Listen for his distinction between cruelty required on the field and character off the field. Exactly what Richard Sherman described as his "switch."
Follow the full NFL story in the Category list in the sidebar: NFL: Jonathan Martin
Tags: abuse, bullying, Jonathan Martin, Miami Dolphins, NFL, target, Tony Dungy
Posted in Broadcasts: Video, TV, radio, webinars, Employers Gone Wild: Doing Bad Things, Media About Bullying, NFL: Jonathan Martin, Target Tale, WBI Education | No Archived Comments | Post A Comment () »
Thursday, January 30th, 2014
Ever since the media explosion in October 2013 following Miami Dolphins offensive lineman Jonathan Martin's decision to leave the team due to an abusive work environment, jock pundits struggled to understand his courageous decision. Martin, the target of racial and hateful mistreatment, was blamed. Further, jocks (and much of mainstream pro football-crazed America) described abusive locker room conduct as an indispensable part of the NFL job.
Jump forward to Sunday January 19, 2014. Seattle Seahawk safety Richard Sherman blocked the pass that would have put the SF 49ers in the Super Bowl. With the block and only seconds remaining in the game, Sherman cemented the win for his team, and the Seahawks advanced to the biggest game of the season. In the immediate aftermath, while running off the field, he gave a now infamous rant to Erin Andrews and the national TV audience.
All interviews thereafter with the sought-after Sherman were a disappointment if interviewers expected the rage to be repeated. He apologized for a personal attack on the 49er receiver he had bested. But he taught the nation lessons in how American racism resides barely under the surface.
For our purposes here, Sherman's most astute statement was to a CNN interviewer after the on-field rage. His explanation is critical to understanding how abuse can happen in a violent sport, "barbaric" in his own words. He distinguishes play on the field that is necessarily brutal to be successful from how players should conduct themselves off the field, in the locker room and when they re-enter civilian off-the=field life. I call it the Sherman Switch. Listen to his brief explanation. Mature players, currently all men, flip that switch. It is clearly "manly" to do so. He even eschews fighting.
Tags: anger, bullying, Jonathan Martin, Miami Dolphins, NFL, rage, Richard Sherman, Richie Incognito
Posted in NFL: Jonathan Martin, Tutorials About Bullying, WBI Education | No Archived Comments | Post A Comment () »