Posts Tagged 'CEO pay'
Wednesday, September 11th, 2013
Inequality, unfairness, has many causes. In the animal kingdom, hiearchy generates stress for dominated, lower-ranking subordinates. Distress certainly results from poorly executed human systems, specifically hierarchical workplaces gone awry. Consider the connotations of being branded a "subordinate." Dignity and respect are withheld simply because of being on the "bottom" of a graphic. People become top and bottom when they internalize the chart. "Higher ups" have power to control conditions for the "lower-ranking."
Rankism, the granting of superiority to individuals in roles higher up the org chart than us, is a social disease. Though many driven by narcissism claim superiority for no objective reason. [Read the fine work of Dr. Robert Fuller to understand Rankism.] A recent study described in the video blows holes in the proffered rationale that CEO "deserve" compensation that averages 354 times the salaries of workers.
Read the report cited in the video: Executive Excess 2013: Bailed Out, Booted & Busted. A 20-year review of America's top-paid CEOs by the Institute for Policy Studies, August 28, 2013.
Tags: CEO pay, inequality, Institute for Policy Studies
Posted in Employers Gone Wild: Doing Bad Things, Fairness & Social Justice Denied | No Archived Comments | Post A Comment () »
Monday, September 24th, 2012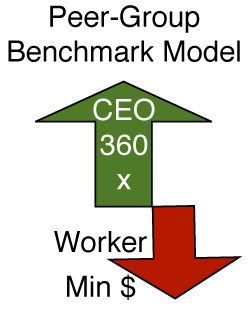 The exemplary New York Times business reporter Gretchen Morgenson discovered a clarifying report that exposes the method corporations use to overpay executives as pure fact-free myth. The evidence comes from two University of Delaware academics, Charles Elson and Craig Ferrere, at the Center for Corporate Governance.
The hypocricy is that executive compensation packages rise at obscene rates despite poor corporate performance metrics and an economy that simultaneously compels workers and unions to forego pay raises and to make economic concessions in the name of austerity.
The model used is called "peer-group benchmarking." It is premised on fear by Boards of Directors in major corporations that they will lose their CEO to a competitor. In turn, that assumes that the wonderful CEO can jump industry to industry and spread his or her (still only 3% are women) magic pixie dust at any corporation and make it profitable. So, even the implied threat of leaving by a CEO triggers a survey of comparable CEO compensation packages, surveying the peer-group. Whenever one CEO wins an astronomical contract, every CEO peer group comparison is higher.
That's how the current ratio of CEO:Worker pay is now 360:1. The average CEO is paid 360 times the average non-supervisory worker rate. Since income (or wealth for the non-working class) is how we define worth, the obscene ratio suggests that one person is 360 times more valuable than another.
Tags: CEO pay, executive pay, Gretchen Morgenson, peer-group benchmark
Posted in Commentary by G. Namie, Employers Gone Wild: Doing Bad Things, Fairness & Social Justice Denied, The New America | 1 Archived Comment | Post A Comment () »