Posts Tagged 'Chamber of Commerce'
Tuesday, August 19th, 2014
Deer Park Chamber Hears Presentation on Workforce Bullying
By Erica Drexler, Deer Park (TX) Broadcaster, August 18, 2014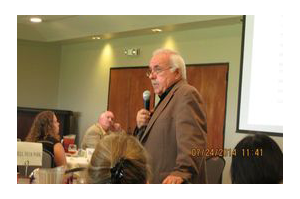 Frank Mulcahy discussed the issue of workforce bullying within organizations and the school system to the Deer Park Chamber of Commerce luncheon last week.
Mulcahy was the featured speaker at the luncheon and is a Business Development Director for the Workplace Bullying Institute (WBI).
"Frank speaks to groups across America about the true costs of workplace bullying, he works with hospitals, schools and businesses on developing a culture on sincerity … when you hear the words bullying, you automatically think of the schoolyard and things that take place there, bullying in the schoolyard is something that's still there," said Tim Culp, President and CEO at Deer Park Chamber of Commerce.
Mulcahy has won awards for his talents as a sales professional, entrepreneur and a master presenter.
"So you know that when somebody comes to you with discrimination or harassment, we got 'Title 7,' we can protect against that, but bullying falls into a different category where there's no protection, and as Tim said, it is in classrooms, I did go to Clemson to get certified so I could work with my school districts to help them to stop the bullying in classrooms and it was there that I recognized workplace bullying," Mulcahy said.
He said that 35 percent of teachers admitted to bullying a student in a survey and 27 percent of individuals have dealt with bullying at their jobs.
"So it estimates that one out of four people are currently going through or have been bullied and the business is the one who paid the price, because 77 percent of the time the target, not the perpetrator, but the target ends up moving on to another position, so the business has to lose their best and their brightest people, because the best and the brightest are the ones that are targeted, everybody recognized bullying in the classroom, everybody, because we know that the kids are tyrants you know, but what we stop to realize as they grow up and unless you stop them from being bullies as children, they then come to the workplace with us with this new practiced set of skills and that's when they become workplace (bullies), the bullying to me has been a source of my want to give back to the businesses," Mulcahy said. "I feel personal about this, you know it's my calling or my mission … because you know it gets a certain point in your life that you want to give back and the Lord's been good to me."

Tags: Chamber of Commerce, Deer Park, Frank Mulcahy, Texas, workplace bullying
Posted in WBI in the News | No Archived Comments | Post A Comment () »
Monday, July 14th, 2014
The Healthy Workplace Campaign is WBI's effort to enact anti-bullying legislation for the American workplace state by state. The model bill is called the Healthy Workplace Bill (HWB).

Features of the HWB
• Suffolk University Law Professor David C. Yamada, text author, used federal Title VII Civil Rights laws as basis
• Defines severe abusive conduct — does not use term workplace bullying
• Provides legal redress for anyone subjected to abusive conduct, whether or not the person is a member of a protected status group
• Requires that abusive conduct result in either demonstrable health or economic harm to plaintiff
• Plaintiffs who file lawsuits make public formerly hidden, confidential employer processes that hide and deny bullying
• Prohibits retaliation against any participant in procedures involved in dealing with the abusive conduct complaint
• Requires plaintiffs to hire private attorneys, no fiscal impact on state government
• Provides incentives (affirmative defenses) for employers who implement genuine corrective procedures
• Preserves managerial prerogative to discipline and terminate employees
• Does not interfere with state workers' compensation laws or union CBAs
We named the HWB in 2002. All other uses of the name HWB are unauthorized by us. California first introduced the HWB in 2003. It has been carried in over half of states and two territories since. The Workplace Bullying Institute trains and provides support to a national network of volunteer Sate Coordinators who lobby their respective state legislators to sponsor the HWB. You can track its status at the HWB website.
Botched Amendments & Unanticipated Consequences
As authors of the HWB, we naturally want the full and original version of the bill enacted into law. And we realize compromises will be made during the process. It is "sausage making," after all. We just wish all bill sponsors would refuse to allow major revisions that change the spirit of the bill from protecting abused workers to something else. Since the HWB was first introduced, different amendments have been proposed or made.
Often the well-intended sponsor, a pro-worker advocate, agrees to compromise adopting the belief that the law can be built in steps. Let's get this version passed now and it will be revisited in the coming years and supplemented with the other desired provisions.

Tags: amendments, business lobby, Chamber of Commerce, David Yamada, Gary Namie, Healthy Workplace Bill, Unions, vicarious liability, workplace bullying, Workplace Bullying Institute
Posted in Employers Gone Wild: Doing Bad Things, Fairness & Social Justice Denied, Healthy Workplace Bill (U.S. campaign), Tutorials About Bullying, Unions, WBI Education, Workplace Bullying Laws | 1 Archived Comment | Post A Comment () »
Monday, March 11th, 2013
By Monica A. Stahly of Willcox & Savage
"Workplace bullying" is a somewhat novel and undeveloped employment law issue. However, it's gaining traction, and attorneys and employers alike are taking note of emerging trial strategies, proposed legislation to regulate workplace behavior, and ways they can proactively promote a professional culture of civility.
Workplace bullying is not illegal—usually. Managers and employees can "legally" insult, intimidate, humiliate, threaten, deliberately ignore, and gossip about other coworkers, and they can engage in a whole slew of other offensive behaviors as long as the intended victim is not a member of a protected class. That means any employee who is not targeted based on race, ethnicity, religion, sex, disability, or age is hard pressed to find a legal remedy for workplace mistreatment. However, some relatively recent cases highlight how employees are starting to carve out a legal niche for workplace bullying claims.

Tags: Chamber of Commerce, monica stahly, wilcox & savage, workplace bullying
Posted in Media About Bullying | 1 Archived Comment | Post A Comment () »
Monday, May 28th, 2012
People ask why our Healthy Workplace Bill (HWB) legislation in the U.S. states has not yet been passed into law in any state. Not for lack of trying, of that we are certain. People who only casually observe politics are not aware of the power the business lobby exerts in each state. Here's a mini-lesson about the current landscape in which gay marriage can pass but a bill prohibiting health-harming abusive conduct faces nearly insurmountable obstacles.

Tags: Chamber of Commerce, Cuomo, Healthy Workplace Bill, HWB, SHRM
Posted in Fairness & Social Justice Denied, Healthy Workplace Bill (U.S. campaign), Tutorials About Bullying | No Archived Comments | Post A Comment () »
Wednesday, June 10th, 2009
On June 11 in the Workforce Protections Subcommittee of the House Committee on Education and Labor, a hearing will be held for House version of the paid sick leave bill called the Healthy Families Act [In the House, it is HR 2460 (Rep. Rosa DeLauro, CT) and in the Senate it is S 1152 (Sen. Edward Kennedy (MA)]. The modest bill would guarantee 7 paid sick days per year for workers at businesses with 15 or more employees, to be used to recover from routine illness, care for a sick family member, or seek services to recover from domestic violence.
The folks at MomsRising.org want you to sign their petition alerting your U.S. Rep and Senators to support the respective bills. The U.S. Chamber of Commerce will certainly fight this pro-employee health bill. They will claim it interferes with employers' ability to "compete."
Read the related report exposing America's dismal denial of paid sick leave.
Stay tuned.

Tags: Chamber of Commerce, DeLauro, Healthy Families Act, HR2460, Kennedy, MomsRising, occupational health, S1152, sick leave
Posted in Bullying & Health, Fairness & Social Justice Denied, Healthy Workplace Bill (U.S. campaign) | 2 Archived Comments | Post A Comment () »