Posts Tagged 'climate change science'
Wednesday, December 12th, 2012
An article not on the topic of workplace bullying, but rather about the power of lying. As convening nations at the UN climate conference COP18 in Doha, Qatar failed to honestly address the science of climate change and even allowed a skeptic to address a plenary session there, I wanted you to know that skeptics are in the vast minority. There is no confusion or controversy according to James Hansen an early expert. The World Bank recently spelled out the serious consequences for all species, including humans, if temperature is not kept below a 4 degree rise. So here is Powell's review of the scientific literature eliminating any confusion you may still harbor.
Why Climate Deniers Have No Scientific Credibility – In One Pie Chart
by James Lawrence Powell
Polls show that many members of the public believe that scientists substantially disagree about human-caused global warming. The gold standard of science is the peer-reviewed literature. If there is disagreement among scientists, based not on opinion but on hard evidence, it will be found in the peer-reviewed literature.
I searched the Web of Science for peer-reviewed scientific articles published between 1 January 1991 and 9 November 2012 that have the keyword phrases "global warming" or "global climate change." The search produced 13,950 articles.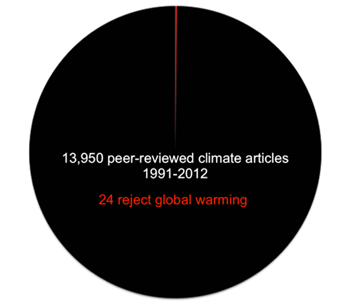 Tags: climate change science
Posted in Commentary by G. Namie, The New America | No Archived Comments | Post A Comment () »