Posts Tagged 'conference'
Thursday, June 26th, 2014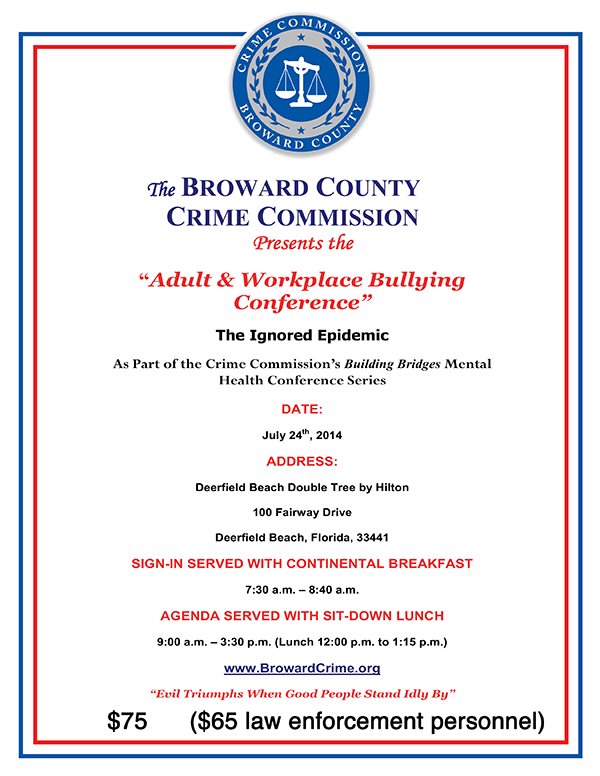 Register Here (Program appears here for review)
Host organization: Broward Crime Commission, James DePelisi, President
The Workplace Bullying Institute is a proud participant

Tags: adult bullying, Broward Crime Commission, conference, Gary Namie, James DePelisi, July 24, workplace bullying, Workplace Bullying Institute
Posted in Events & Appearances, Hear Ye! Hear Ye! 2, WBI Education | No Archived Comments | Post A Comment () »
Tuesday, February 16th, 2010
As a follower of the workplace bullying phenomenon, you are invited to join the new IAWBH organization. Tell your friends. Begun at the biannual conference held in Montreal in 2008 (described at this site), this group which was primarily limited to academic researchers in the early years is now reaching out to a broader constituency — clinicians, practitioners, non-academics.
The next conference is June 2-4, 2010 in Cardiff, Wales. WBI will be represented with Dr. Gary Namie and Prof. David Yamada delivering keynote addresses and presenting papers.

Tags: Cardiff, conference, IAWBH, Namie, Yamada
Posted in Events & Appearances, Hear Ye! Hear Ye! 2 | 4 Archived Comments | Post A Comment () »
Tuesday, February 16th, 2010
Gary Namie will offer a May 28 workshop for AOHN reps & stewards at their conference in Banff. Read the conference brochure.

Tags: AOHN, Banff, conference, union, workshop
Posted in Hear Ye! Hear Ye! 2, Unions | No Archived Comments | Post A Comment () »
Wednesday, May 20th, 2009
Nov. 5-8, 2009
Work, Stress and Health 2009
Global Concerns and Approaches
The 8th International Conference
San Juan, Puerto Rico
Sponsored by the American Psychological Association / National Institute for Occupational Health and Safety / Society for Occupational Health Psychology

Tags: APA, conference, NIOSH, SOHP
Posted in Bullying & Health, Hear Ye! Hear Ye! 2 | No Archived Comments | Post A Comment () »
Wednesday, May 20th, 2009
June 2-4, 2010
Cardiff, Wales, UK
The conference website

Tags: conference, Einarsen, Hoel, IABH, Lutgen-Sandvik, Namie, Rayner, Salin, Sheehan, Wales, Yamada
Posted in Hear Ye! Hear Ye! 2 | No Archived Comments | Post A Comment () »