Posts Tagged 'contracts'
Thursday, January 2nd, 2014
Washington State Governor Jay Inslee was once a liberal democrat as Congressman. Now he fawns over one of the state's two large employers — Boeing — as if he was once an executive there. After McDonnell-Douglas merged in 1997, Boeing became the only surviving American aircraft manufacturer. Its 787 Dreamliner model was fraught with problems when launched. It's newest commercial project is to build the wide-body 777X model. Assembly is scheduled for the Seattle area. But before starting, Boeing decided to alter its contractual relationship with a big part of its laborforce — the machinists. The corporation is behaving as an unscrupulous monopoly.
Boeing moved its corporate headquarters from Seattle, its home since William Boeing bought his first airplane factory site in 1910. It settled contentious strikes, especially with its machinist employees (the IAM, Local 751 in Seattle) the most recent contract expires in 2016! However, negotiating for changing terms began in 2013. Boeing demanded more "givebacks," concessions, by the union.
Tags: Boeing, contracts, employer abuse, IAM, IAM Local 751, Machinists
Posted in Commentary by G. Namie, Employers Gone Wild: Doing Bad Things, Fairness & Social Justice Denied, Unions | No Archived Comments | Post A Comment () »
Monday, July 29th, 2013
Union workers (SEIU, Local 1000) negotiated for, and won, in their new 2013 contract with the State of California and all agencies where Local 1000 members work major victories. They will not be furloughed, but on the workplace bullying front, they will now have new tools to compel State managers to act with respect in a non-bullying, non-abusive manner. Local 1000 counts 95,000 members across its nine bargaining units.
The announcement came on the SEIU website, proclaiming on July 16
Dignity Clause Strengthened
Under our new contract, members have more rights when it comes to workplace bullying or other violations of the dignity clause.

Our bargaining team succeeding in obtaining language that strengthens the Dignity Clause (Article 5.11) so that employees who believe they have not been treated with generally accepted standards of dignity and human courtesy may now file a grievance. Previously, members could only file a complaint of dignity clause violations to their department head.

In addition, our new contract requires each state department to maintain a Workplace Violence and Bullying Prevention policy and distribute it to each employee.

"We fought for the strongest possible protections for our members who experience workplace bullying–I know firsthand how a bully boss can create a nightmare for you at work," said Sophia Perkins, chair of Bargaining Unit 4, who testified about her own experiences during bargaining. "One reason I became active in the union is to address this issue and hold bullying bosses accountable."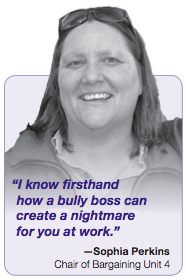 The text of Article 5.11 Dignity Clause, agreed upon on June 9, 2013 is …
"The State is committed to providing a workplace where all employees, regardless of their classification or pay status, are treated by supervisors and managers in a manner that maintains generally accepted standards of human dignity and courtesy. Employees alleging they have not been treated accordingly may file a grievance. The decision reached at Step 3 (CalHR) shall be final."
Further, management proposed language for Article 10.21 Workplace Violence and Bullying Prevention …
"The State and Union developed a model Workplace Violence and Bullying Prevention program. Each department shall maintain a Workplace Violence and Bullying Prevention program that meets the existing mutually agreed upon model program. The department program shall be in writing and distributed an/or made available to all employees."
See the signatures of the negotiating team members on each of these articles.
A "Mini-Arbitration Procedure" has been pilot tested and now made permanent for the life of the new contract. It creates a standing panel of four arbitrators, two assigned by the Union and two by the State. Article 6.14 creates the panel and spells out rules to expedite the hearing process. Arbitration begins at Step 4. Disputes over the Dignity Clause end at Step 3. It appears that like in the 2009 NAGE-State of Massachusetts contract, arbitration is not something the States, as employers, are willing to subject themselves to.
Tags: Article 5.11, Article 6A, bargaining agreement, contracts, Dignity Clause, mutual respect, NAGE, SEIU Local 1000, State of California, State of Massachusetts, Unions, workplace bullying
Posted in Good News, Unions | No Archived Comments | Post A Comment () »