Posts Tagged 'costs of bullying'
Friday, March 14th, 2014
Why Wait for a Law? Stop Bullying Now
By Stephen Paskoff, Workforce Management, March 13, 2014
I recently participated in a webcast discussing current workplace issues, including bullying and abusive conduct. So far, such behavior, however defined or named, has not been recognized as illegal at the state or federal level. Generally, these and other programs I have participated in mostly consider whether workplace bullying is an imminent or remote litigation risk. No doubt that's a matter to be concerned about.
However, to me here's the more critical question: Why are organizations spending so much time discussing what might happen in the future as opposed to addressing the organizational damage abusive behaviors are causing them right now? Wouldn't it be a strange business world if leaders waited to maximize the profitability of their manufacturing and sales processes until some legislature passed a law compelling them to do so? But that's just what they are doing when it comes to bullying conduct.
Tags: costs of bullying, employers, Healthy Workplace Bill, legislation, Paskoff, workplace bullying
Posted in Media About Bullying, Print: News, Blogs, Magazines | No Archived Comments | Post A Comment () »
Monday, April 15th, 2013
The price paid by the City and County of San Francisco for defending indefensible discrimination and general bullying across 5 years was over $10 million. If City leaders were rational, they would see that BULLIES ARE TOO EXPENSIVE TO KEEP! … but it's not a rational world and butt-kissing bullies are adored and hardly ever terminated.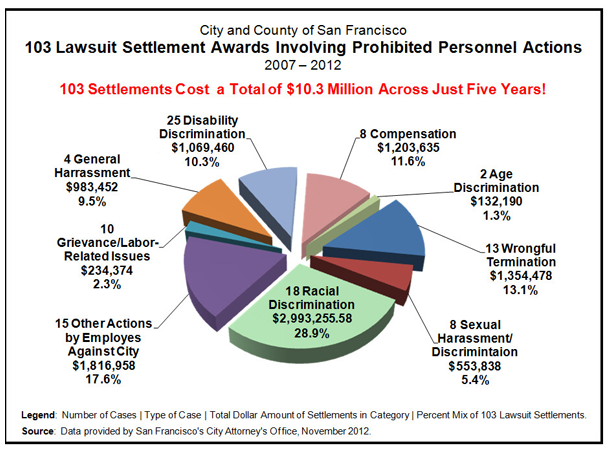 Thanks to Steve Zeltzer for finding this set of facts.
Tags: costs of bullying, discrimination, fiscal impact, harassment, San Francisco, workplace bullying
Posted in Tutorials About Bullying, WBI Education | No Archived Comments | Post A Comment () »