Posts Tagged 'David Phillips'
Tuesday, February 25th, 2014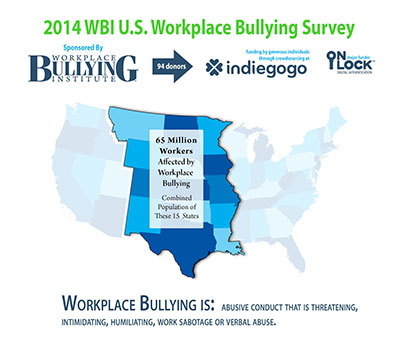 Infographic design by David Phillips, WBI


The results for our WBI 2014 U.S. Workplace Bullying Survey are in! Check out this infographic and please share.

Read the summary of the Survey results.

Or download the complete report.
Tags: David Phillips, infograhpic, survey, WBI 2014 U.S. Workplace Bullying Survey, workplace bullying
Posted in Bullying-Related Research, Media About Bullying, WBI Education, WBI Surveys & Studies | 1 Archived Comment | Post A Comment () »
Tuesday, February 25th, 2014
2014 WBI U.S. Workplace Bullying Survey
February 2014
National Prevalence & Awareness
Gender of Perpetrators & Targets
Perpetrator Rank
Race & Ideology
Employer Reactions
Coworker Actions
Stopping the Bullying
Support for a Law
Causal Factors
About Bullied Targets
Methodology

Funding by 93 Indiegogo Contributors and major support from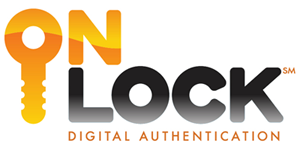 Gary Namie, PhD, Research Director
Assistance from Daniel Christensen & David Phillips
© 2014, Workplace Bullying Institute, All rights reserved.
360.656.6630
Key Findings
- 27% of adult Americans have directly experienced "repeated abusive conduct that is threatening, intimidating, humiliating, work sabotage or work abuse."
- Counting witnesses, 48% have been affected
- 72% of Americans are now aware of workplace bullying
- 93% of Americans want a law to protect them from abuse in addition to anti-discrimination laws
- Employers are lagging far behind and doing relatively nothing voluntarily to stop abusers on the payroll
- Women bullies still target women at a disproportional rate (68%)
- Women are still the majority of targets (60%)
Tags: 2014 U.S. Workplace Bullying Survey, Daniel Christensen, David Phillips, Gary Namie, research, surveys, Workplace Bullying Institute
Posted in Bullying-Related Research, Social/Mgmt/Epid Sciences, WBI Education, WBI Surveys & Studies | 2 Archived Comments | Post A Comment () »
Friday, April 20th, 2012
Effectiveness of Bullied Targets' Strategies to Stop Workplace Bullying
2012 Workplace Bullying Institute Survey
There are many so-called "experts" in workplace bullying offering advice for bullied targets. Strategies common to their lists are: (1) confront your bully, (2) tell the bully's boss, and (3) report problems to HR. Some weirdos even suggest that targets have a "personal responsibility" to confront their bullies, that they "owe" it to themselves.
At WBI, we have never advised such actions. Those steps cause greater harm because of the certain retaliation. So, we submitted those suggestions to empirical study. In early 2012, we asked 1,598 individuals personally familiar with workplace bullying what strategies they adopted to get their bullying to stop and if those actions were effective. Here are the results of that survey.
Tags: attorney, bullied targets, confront, Daniel Christensen, David Phillips, Gary Namie, HR, lawsuit, Sean Lunsford
Posted in Bullying-Related Research, Tutorials About Bullying | 23 Archived Comments | Post A Comment () »