Posts Tagged 'Deer Park'
Tuesday, August 19th, 2014
Deer Park Chamber Hears Presentation on Workforce Bullying
By Erica Drexler, Deer Park (TX) Broadcaster, August 18, 2014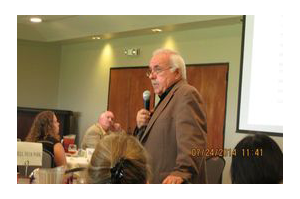 Frank Mulcahy discussed the issue of workforce bullying within organizations and the school system to the Deer Park Chamber of Commerce luncheon last week.
Mulcahy was the featured speaker at the luncheon and is a Business Development Director for the Workplace Bullying Institute (WBI).
"Frank speaks to groups across America about the true costs of workplace bullying, he works with hospitals, schools and businesses on developing a culture on sincerity … when you hear the words bullying, you automatically think of the schoolyard and things that take place there, bullying in the schoolyard is something that's still there," said Tim Culp, President and CEO at Deer Park Chamber of Commerce.
Mulcahy has won awards for his talents as a sales professional, entrepreneur and a master presenter.
"So you know that when somebody comes to you with discrimination or harassment, we got 'Title 7,' we can protect against that, but bullying falls into a different category where there's no protection, and as Tim said, it is in classrooms, I did go to Clemson to get certified so I could work with my school districts to help them to stop the bullying in classrooms and it was there that I recognized workplace bullying," Mulcahy said.
He said that 35 percent of teachers admitted to bullying a student in a survey and 27 percent of individuals have dealt with bullying at their jobs.
"So it estimates that one out of four people are currently going through or have been bullied and the business is the one who paid the price, because 77 percent of the time the target, not the perpetrator, but the target ends up moving on to another position, so the business has to lose their best and their brightest people, because the best and the brightest are the ones that are targeted, everybody recognized bullying in the classroom, everybody, because we know that the kids are tyrants you know, but what we stop to realize as they grow up and unless you stop them from being bullies as children, they then come to the workplace with us with this new practiced set of skills and that's when they become workplace (bullies), the bullying to me has been a source of my want to give back to the businesses," Mulcahy said. "I feel personal about this, you know it's my calling or my mission … because you know it gets a certain point in your life that you want to give back and the Lord's been good to me."

Tags: Chamber of Commerce, Deer Park, Frank Mulcahy, Texas, workplace bullying
Posted in WBI in the News | No Archived Comments | Post A Comment () »