Posts Tagged 'discrimination'
Thursday, April 2nd, 2015
How to Determine if Your Religious Liberty Is Being Threatened in Just 10 Quick Questions
By Rev. Emily C. Heath, Clergy, United Church of Christ, as appeared in the Huffington Post
Just pick "A" or "B" for each question.
1. My religious liberty is at risk because:
A) I am not allowed to go to a religious service of my own choosing.
B) Others are allowed to go to religious services of their own choosing.
2. My religious liberty is at risk because:
A) I am not allowed to marry the person I love legally, even though my religious community blesses my marriage.
B) Some states refuse to enforce my own particular religious beliefs on marriage on those two guys in line down at the courthouse.
3. My religious liberty is at risk because:
A) I am being forced to use birth control.
B) I am unable to force others to not use birth control.
4. My religious liberty is at risk because:
A) I am not allowed to pray privately.
B) I am not allowed to force others to pray the prayers of my faith publicly.
5. My religious liberty is at risk because:
A) Being a member of my faith means that I can be bullied without legal recourse.
B) I am no longer allowed to use my faith to bully gay kids with impunity.
6. My religious liberty is at risk because:
A) I am not allowed to purchase, read or possess religious books or material.
B) Others are allowed to have access books, movies and websites that I do not like.
7. My religious liberty is at risk because:
A) My religious group is not allowed equal protection under the establishment clause.
B) My religious group is not allowed to use public funds, buildings and resources as we would like, for whatever purposes we might like.
8. My religious liberty is at risk because:
A) Another religious group has been declared the official faith of my country.
B) My own religious group is not given status as the official faith of my country.
9. My religious liberty is at risk because:
A) My religious community is not allowed to build a house of worship in my community.
B) A religious community I do not like wants to build a house of worship in my community.
10. My religious liberty is at risk because:
A) I am not allowed to teach my children the creation stories of our faith at home.
B) Public school science classes are teaching science.
Scoring key:
If you answered "A" to any question, then perhaps your religious liberty is indeed at stake. You and your faith group have every right to now advocate for equal protection under the law. But just remember this one little, constitutional, concept: this means you can fight for your equality — not your superiority.
If you answered "B" to any question, then not only is your religious liberty not at stake, but there is a strong chance that you are oppressing the religious liberties of others. This is the point where I would invite you to refer back to the tenets of your faith, especially the ones about your neighbors.
In closing, no matter what soundbites you hear this election year, remember this: Religious liberty is never secured by a campaign of religious superiority. The only way to ensure your own religious liberty remains strong is by advocating for the religious liberty of all, including those with whom you may passionately disagree. Because they deserve the same rights as you. Nothing more. Nothing less.

Tags: discrimination, religious liberty
Posted in Guest Articles | No Archived Comments | Post A Comment () »
Friday, December 19th, 2014
"Protection" of Title VII of the Civil Rights Act of 1964 extends to claims of discrimination based on an individual's gender identity, including transgender status. Of course, "protection" actually means the right to file a complaint alleging disparate treatment based on one's transgender status.
In a Dec. 18 memo, Attorney General Eric Holder made identity as a transgender individual a protected group. In order for anyone to claim discrimination, the person must be a member of a protected status group.
This new decision extends the 1964 federal civil rights law. Read the memo.
With respect to bullying in the workplace, according to the 2007 WBI U.S. Workplace Bullying Survey, 20% of bullying cases involve a recognized claim of discrimination. This means that in 1 of 5 bullying cases, targets can compel their employer's attention to the problem because of possible illegal discriminatory conduct.

Tags: bullying, civil rights law, discrimination, transgender
Posted in Rulings by Courts | No Archived Comments | Post A Comment () »
Wednesday, June 26th, 2013
The U.S. Supreme Court (SCOTUS) is done for the year. Decisions have been rendered. The court gutted the civil rights movement by neutering the Voting Rights Act (Shame on them!) . The court granted LGBT proponents unprecedented rights (Yea!). Two decisions regarding employment law clearly sided with employers and once again stuck it to working men and women.
Case #1: Retaliation Changed to Suit Employer Defendants
In the Univ of Texas v. Nassar (No 12-484), SCOTUS (in a 5-4 vote on June 24, 2013) limits retaliation claims to situations in which the plaintiff can show that the the only employer motivating factor is the desire to retaliate. Justice Kennedy opined that there are two standards — lessened causation and but-for. In cases where the practice of retaliation was motivated by several factors, one of which was race, color, religion, sex or national origin, lessened causation applies. In reality, many factors do apply. The Court called these "mixed-motive" cases.
In this case, a woman supervisor at the University of Texas Medical School, Beth Levine, MD (pictured on the left), harassed Naiel Nassar, MD, a physician of Middle Eastern descent. Nassar was working at Parkland Memorial Hospital in Dallas and was an Associate Professor at the UT Southwestern Medical Center. In 2004, he inherited a new department head, Levine, known to comment "MiddleEasterners are lazy." He was promised a post at the hospital even after he resigned his academic job. Nassar's resignation letter cited Levine's harassment as the reason. A Dr. Fitz who received the Nassar resignation letter felt he had to defend and exonerate his colleague Levine. Fitz convinced the hospital to withdraw its job offer to Nassar. Nassar filed two claims — discrimination by Levine and retaliation by the University that cost him his hospital position.
The five conservative justices actually stated that the lessening causation standard "could contribute to the filing of frivolous claims." The opinion cites EEOC statistics about the "nearly doubled" frequency of retaliation claims in the past 15 years. They equate retaliation claims with baseless claims. They seem motivated, on behalf of corporations against which these retaliation claims are filed, to reduce those numbers that bother corporate defendants.

Tags: antidiscrimination laws, Ball State, discrimination, dissenting opinion, employer responsibility, Justice Kennedy, Justice Ruth Bader Ginsburg, Nassar, retaliation, supervisor defined, Title VII, University of Texas, US Supreme Court, Vance, vicarious liability
Posted in Fairness & Social Justice Denied, Rulings by Courts, Tutorials About Bullying, WBI Education, Workplace Bullying Laws | No Archived Comments | Post A Comment () »
Monday, April 15th, 2013
The price paid by the City and County of San Francisco for defending indefensible discrimination and general bullying across 5 years was over $10 million. If City leaders were rational, they would see that BULLIES ARE TOO EXPENSIVE TO KEEP! … but it's not a rational world and butt-kissing bullies are adored and hardly ever terminated.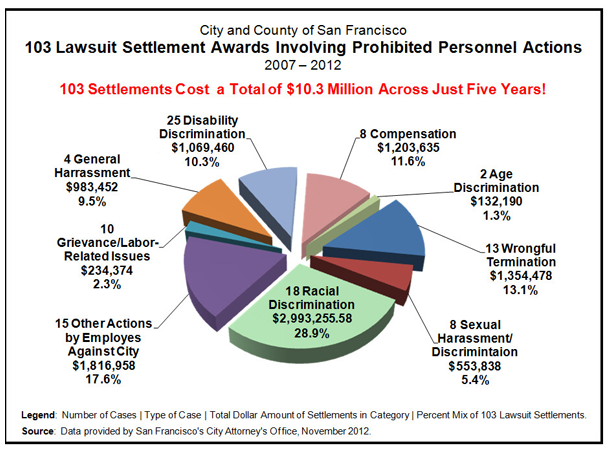 Thanks to Steve Zeltzer for finding this set of facts.

Tags: costs of bullying, discrimination, fiscal impact, harassment, San Francisco, workplace bullying
Posted in Tutorials About Bullying, WBI Education | No Archived Comments | Post A Comment () »
Saturday, November 5th, 2011
Sexual harassment violates state and federal laws. Harassers pose a legal liability to employers. Therefore, employers will pay cash to bury the secrets.

Tags: Cain, discrimination, gag clauses, harassment, lawsuits, settlement agreements
Posted in Employers Gone Wild: Doing Bad Things, Tutorials About Bullying | 3 Archived Comments | Post A Comment () »
Friday, June 18th, 2010
Many bullies prefer a public setting to humiliate their targets. In Las Vegas, a low-level Walmart woman supervisor (unnamed for some reason) confronted an 18 y.o. male temp demanding to know if he was gay. Fernando Gallardo answered "yes" not wanting to lie. What followed is well known to bullied targets. She excluded him from his 50 co-workers, allegedly tried to bribe co-workers to turn against Gallardo as she had successfully turned other managers. Remarkably, she shamed him by making him wear a yellow vest (think yellow star used by Nazis to mark Jews) while at work. HR rejected his complaint despite a Walmart corporate policy prohibiting anti-gay discrimination. So, he filed with the state Equal Rights Commission. Good luck Fernando. Read the original report. Someone, please get me this woman supervisor's name!

Tags: discrimination, Gallardo, gay rights, Wal-Mart
Posted in Fairness & Social Justice Denied | 3 Archived Comments | Post A Comment () »