Posts Tagged 'Edmond Aviv'
Monday, April 14th, 2014
This news is really gonna upset bully apologists who worry so much about the tender sensibilities of offenders (and less about the harm inflicted by these creeps).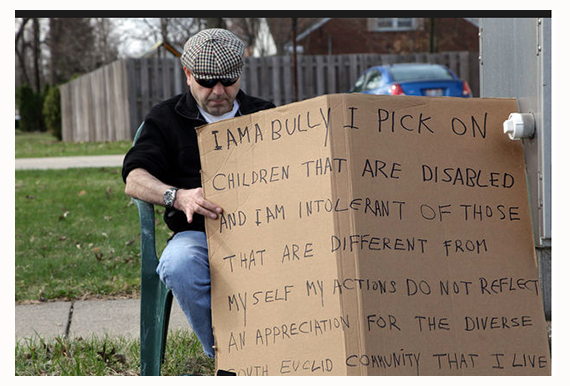 Northeast Ohio Media Group, April 13, 2014
SOUTH EUCLID, Ohio — The man accused of bullying his neighbors for 15 years, including children with developmental disabilities, carried out part of his punishment on Sunday by sitting at a busy intersection with a large sign that says he's a bully.
Edmond Aviv, 62, endured five hours of people yelling at him from passing cars while holding a sign that said: "I AM A BULLY! I pick on children that are disabled, and I am intolerant of those that are different from myself. My actions do not reflect an appreciation for the diverse South Euclid community that I live in."
Aviv, who ignored the comments and rarely looked up, said the judge's sentence and ensuing media coverage that garnered national and international attention ruined his life. He also denied he bullied the family.
"The judge destroyed me," said Aviv, who refused to answer other questions. "This isn't fair at all."

Tags: bully, bullying the disabled, Edmond Aviv, neighborhood bullying
Posted in Broadcasts: Video, TV, radio, webinars, Media About Bullying, Print: News, Blogs, Magazines, Tutorials About Bullying, WBI Education | No Archived Comments | Post A Comment () »