Posts Tagged 'education reform'
Friday, September 13th, 2013
UPDATED Sept. 16, 2013
Because school teachers comprise such a large group of targets bullied in the workplace, we at WBI care very much about the systemic government assaults on public schools in the name of education "reform." Elsewhere, we've shown readers how the U.S. "Common Core" curriculum is destructive to education rather than positive as advertised under the label of "reform."
The Mexican government under President Enrique Pena Nieto (PRI party) is conducting raids of the Mexican education system similar to those in the U.S. The Mexican Constitution was written after the revolution of 1910-1920.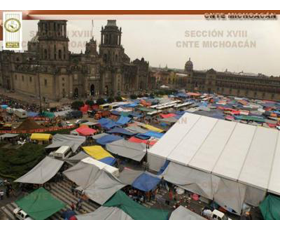 Article 3 established free, public, secular education. Nieto amended Article 3 to mandate teacher evaluation based on student test scores (sound familiar?). Changes included standardization of the responsibilities and salaries of school principals and other supervisors.
The Mexican Teachers Union (SNTE) has been run by a president (Elba Esther Gordillo) who has wielded power for 30 years. Within SNTE a militant caucus called the National Coordinating Committee (CNTE) has taken action on behalf of teacher members. CNTE organized protests in 13 states. Teachers have occupied public buildings, blocked the Mexico City international airport for several hours, and seized highway toll booths. For several days 30,000 have sat in at Mexico City's main square. Tens of thousands have camped out in Mexico City's main square (pictured here by CNTE).

Tags: CNTE, education reform, Mexico, Nieto, SNTE, teachers, workplace bullying
Posted in Employers Gone Wild: Doing Bad Things, Tutorials About Bullying, Unions | No Archived Comments | Post A Comment () »
Sunday, January 13th, 2013
"There is something grotesque about the fact that education reform is being led not by educators but by financiers and speculators and billionaires." Chris Hedges.
Teachers at two Seattle high schools have rebelled against one standardized test. This is perhaps a national first and could launch a movement. In a letter describing the rationale for their decision, Garfield High teachers, the first group to take action after a nearly unanimous vote of teachers (3 dissenting), declared:
"We are not troublemakers nor do we want to impede the high functioning of our school. We are professionals who care deeply about our students and cannot continue to participate in a practice that harms our school and our students."
New York University Professor of Education Diane Ravitch told Seattle public radio KUOW that the boycott may be the first in the U.S.

Tags: Chris Hedges, Diane Ravitch, education reform, Garfield High, MAP, NWEA, Seattle Public Schools
Posted in Good News | No Archived Comments | Post A Comment () »