Posts Tagged 'education'
Thursday, September 12th, 2013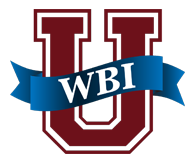 It's fall. The Workplace Bullying Institute announces the final 2013 sessions of its Workplace Bullying University®. University, begun in 2008, is the first and only research-driven training curriculum for professionals to develop a mastery in workplace bullying created by the Drs. Namie, Ruth & Gary.
Ideal for professionals in mental health, healthcare, law, unions and HR.
Oct 11-13 Houston, Texas
Nov 15-17 Bellingham, Washington
Visit the University website for details and discounts.
Tags: Bellingham, education, Gary Namie, Houston, mastery, training for professionals, workplace bullying research, Workplace Bullying University
Posted in Hear Ye! Hear Ye! 2, University Trg for Prof, WBI Education | No Archived Comments | Post A Comment () »
Friday, September 17th, 2010
There are many myths and misconceptions about workplace bullying advanced by disbelievers and opponents. One portrayal is that bullying affects only the uneducated, unskilled workers.
The WBI 2003 online survey reported that the five top reasons individuals are targeted for bullying, in rank order, were: (1) refusal to be subservient (being independent), (2) being more technically skilled than the bully, (3) being liked by co-workers/customers (being the go-to expert), (4) being ethical and honest, and (5) not being sufficiently political. Thus, people are targeted for their strengths and the threats they pose to the defensive, narcissistic perpetrator.
In the scientific (nationally representative) 2010 WBI U.S. Workplace Bullying Survey, respondents could check whether they had a college degree (or beyond) or whether they did not have a degree. That allows us to determine if the reported experiences with bullying differed according to education level.
Tags: 2010 WBI U.S. Workplace Bullying Survey, education, workplace bullying, Workplace Bullying Institute
Posted in Bullying-Related Research, Tutorials About Bullying | 15 Archived Comments | Post A Comment () »
Thursday, March 25th, 2010
Guest essay by Matt Spencer, EdD, veteran school administrator and HR professional, connecting the dots between workplace bullying in the schools and its impact on students.
"The workplace bully in America's schools is a taker…a robber…a thief. The bully steals the dignity, self-esteem, confidence, joy, happiness, and quality of life of the targeted victim. But when the target is a teacher, a great injustice occurs because the bully robs the students of what they want, need, and deserve…. A great tragedy occurs everyday in America's schools as thousands of children are robbed by the workplace bully of the RIGHT to be nurtured and taught by such honorable, caring, outstanding educators."
Tags: bullied teachers impact students, education, HR, Matt Spencer, stealing from children, teacher bullying, workplace bullying in schools
Posted in Employers Gone Wild: Doing Bad Things, Fairness & Social Justice Denied | 8 Archived Comments | Post A Comment () »