Posts Tagged 'education'
Friday, November 27th, 2015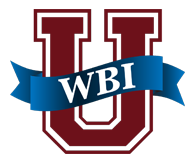 The nation's only comprehensive training in the phenomenon of workplace bullying designed for professionals — Workplace Bullying University®
An early registration discount is available until Friday Dec. 18 for the January 15-16-17 session in Boise, Idaho.
Call today to reserve your seat in the small group.
360-656-6630
Visit the WBI Workplace Bullying University website for program details. Taught personally by Dr. Gary Namie & Dr. Ruth Namie.
Designed for professionals in Healthcare, Mental Health, Counseling, Management, Higher Education, HR, Training, Consulting, and those in life & career transition.
Past graduates have said …
"Like that infernal whack-a-mole game in carnivals, bullies keep popping up in our organizations. Drs. Gary and Ruth Namie have blown the cover of off this game to show us exactly how bullying works, its devastating effects on employees and the negative impact it has to the bottom line. The Workplace Bullying Institute University program has given me the tools to protect our employees from bullying and to permanently disconnect the bully's power source. Definitely the most value-added program to organizational development I have attended in my 30-plus years in the business."-Greg H.
"I acquired a treasure trove of historical and current data on the subject, and detailed explanation of every term and dataset along with a substantial amount of supporting material for use in future presentations of my own. This is the first time in my 17 years as a professional that I attended training and walked away with a turn-key program. I highly recommend this program to any professional who wants to be on the leading edge of preventing, training, and correcting one of the leading detractors to workplace health and productivity."-D.I.G.
"I came away with an in-depth perspective that permeated my being. I received more information in 3 days than in the previous 2 years of research. Gary and Ruth Namie bring a perspective to organizational culture, leadership, and HR that can only be derived from personal experience coupled with scholarly research and study."-Richard H.
"This is more than a course, a class, or a training. It is truly an experience. I have been in HR for 20 years and I can tell you that attending WBU was one of the most fulfilling and gratifying experiences of my life. It even motivated me to seek my PhD and to write my dissertation on workplace bullying."-Nathalie D.
"This is the best training I have attended in my 22 years of being a union advocate." -Judy C.

Tags: education, Gary Namie, Ruth Namie, training, workplace bullying, Workplace Bullying Institute
Posted in WBI Education, Workplace Bullying University | No Archived Comments | Post A Comment () »
Tuesday, October 20th, 2015
Unions are the only genuine advocates for workers worldwide. They all share the mission of protecting the safety and security of their members at work sites. European, Australian and Canadian unions keenly pay attention to members' "psychological safety." Some smart American unions are following suit (MAPE, UNAC-UHCP, IAM, NAGE). However, many are ambivalent about workplace bullying.
Here's the account of one Canadian union in Nova Scotia, the National Union of Public and General Employees (NUPGE) that developed an education program — Bully-Free Workplaces: Shifting Cultures. The union effort begins its fifth year this October and has spread to other provinces.
The program offerings include: 2-hour awareness sessions, 6-hour workshops, and 2-hour, four-module format which increases the options for employers and employees who want more information but with greater flexibility to schedule.
WBI respects this union's program because it does not stop at awareness raising.
The union also offers training for supervisors, managers, human resources, and occupational health professionals who are responsible for policies and procedures, investigations of workplace bullying, and progressive discipline.
The union also strives to heal afflicted work teams, guide bullies through self-reflection, and special assistance for bullied complainant-members.
Hats off to NUPGE/NSGEU which has reached, to date, over 14,000 participants! Read the press release presenting program facts.
###
All of the services NUPGE provides to its members and host employers can be made possible through the training of key American or Canadian Union leaders at the WBI Workplace Bullying University® by WBI founders, Drs. Ruth and Gary Namie.

Tags: education, NUPGE, shifting cultures, training, Unions, workplace bullying, Workplace Bullying University
Posted in Unions, Workplace Bullying University | No Archived Comments | Post A Comment () »
Friday, September 25th, 2015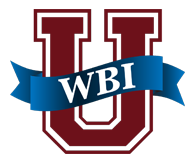 November 13-14-15
In Boise, Idaho
Workplace Bullying University® Training for Professionals
The only intensive, research-driven, comprehensive seminar in all aspects of the Workplace Bullying phenomenon in the world. Created in 2008 by the Drs. Namie, founders of the Workplace Bullying Institute. Three days of exceptional learning, an entirely unique experience.
For Leaders, Nurses, Physicians, Union advocates, Psychologists, Psychotherapists, Consultants, Trainers, HR
For a limited time, we offer an unprecedented tuition discount.
Read all the program details and testimonials at the Workplace Bullying University® website.

Tags: education, Gary Namie, Ruth Namie, seminar, training, Workplace Bullying University
Posted in Hear Ye! Hear Ye! 2, WBI Education, Workplace Bullying University | No Archived Comments | Post A Comment () »
Saturday, January 31st, 2015
In 2015, California law mandates that supervisors in all firms with 50 or more employees receive "training" in abusive conduct. The term "abusive conduct" was lifted from the WBI Healthy Workplace Bill language we have been using since 2003 to introduce and pass a comprehensive law against workplace bullying.
Training done right can overcome deficits in skills. Training is the wrong tool to reverse immoral conduct. But training is useful to make everyone aware that misconduct is happening.
Training backfires when it teaches there is a problem and the organization has no procedures in place to deal with the misconduct. It's clear that only a small (5.5%) of American employers have the will to actually prevent or correct health-harming abusive conduct. No effective state laws have yet been enacted to compel employer compliance. So, few have good policies. Even fewer have the voluntary desire to stop it. No laws; no policies; lazy employers.
When supervisors get trained, in the best possible way — live, interactive, Q&A sessions, employee expectations will rise. Everyone will wonder when and how the bullying will end in their workplace. If employer actions are limited to supervisor training, very little will be done. Employee distrust and disengagement will follow.
Another concern is how will the training be conducted? The new law based on AB 2053, adds training in abusive conduct (which is currently legal) to the requisite training in sexual harassment (which is illegal). The mix will not only confuse employees; most employers don't know the difference. Workers will be expecting policies for bullying to apply that don't exist.
It is alarming to find that many employers post online slide shows to educate workers about sexual harassment. It's a joke that no one takes seriously. A slide show with little content and no interaction. Really, how lazy can employers be. It's called "compliance." Given the complexity of bullying's effect on the entire workplace and the fact that current sex harass trainers and conflict resolution professionals don't understand bullying, we fear for the future.
In other words, disembodied training can do more harm than good. Beware of premature awareness!
Training should be preceded by a commitment by leadership to stopping bullying. Then, organizational prevalence should be determined. Next, a code or policy or set of behavioral expectations must be created along with procedures to correct confirmed violators. Then, and only then, should training be undertaken.
If you know of, or are, a California employer, contact WBI for help addressing the problem that will comply with the law and help your organization at the same time. We have also produced a 20 min. DVD to introduce Abusive Conduct to organizations.

Tags: abusive conduct, DVD, education, Gary Namie, Healthy Workplace Bill, supervisors, training, Workplace Bullying Institute
Posted in Healthy Workplace Bill (U.S. campaign), Workplace Bullying Laws | No Archived Comments | Post A Comment () »
Tuesday, October 7th, 2014
Law Takes Aim at Workplace Bullying, Raises Questions
By Laura Hautaia, Los Angeles Daily Journal, Sept. 17, 2014
What counts as bullying in the workplace?
While the concept may be relatively new, managers will have to undergo training on preventing abusive conduct at work once a new law goes into effect in January. The training will come along with other required lessons on preventing sexual harassment and discrimination, but it's different in one important way: bullying isn't illegal in California. For now.
Attorneys say AB 2053, which Gov. Jerry Brown signed in August, might open the door to making abusive conduct illegal, opening a new category of liability for employers.
"There's a feeling that there should be a way to prevent that kind of destructive behavior, because it does hurt people when it's extreme enough, and it causes economic damage," said Margaret H. Edwards, a shareholder at Littler Mendelson PC who has researched the advent of anti-bullying laws worldwide.
At the moment, the required training might still come into play in a court case if workers sue for harassment or intentional infliction of emotional damage in the workplace, attorneys said.
Whether or not employers provided adequate training on abusive conduct, said Chaya M. Mandelbaum, a partner at Rudy, Exelrod, Zieff & Lowe who represents workers, "could be a very relevant piece in looking at the culture of the workplace." Edwards said the new requirement heralds wider recognition of bullying as a problem that can be addressed with laws. Indeed, other states are considering bills that address bullying in schools, and Tennessee passed a law encouraging public employers to create anti-bullying policies.
What's more, she noted, laws have passed in Canada, the UK and Europe that address bullying in the workplace. "I think part of this is because of work that has been done that comes out of the harassment arena and a desire to try to address destructive behaviors in the workplace that don't quite fall into the traditional harassment and discrimination categories," Edwards said.
Some of that work has been done by Gary Namie, a Washington State social psychologist who advocates for anti-bullying legislation. He worked to get a more comprehensive law banning workplace bullying in California in 2003, but the law didn't pass. Namie said his organization, the Workplace Bullying Institute, talked with California Assemblywoman Lorena Gomez as she authored AB 2053, but that the resulting bill was watered down from what he hopes to see eventually become the law.
"The law is a baby step toward recognizing the impact of workplace bullying defined as abusive conduct," Namie said. Namie compares abusive conduct at work to domestic abuse. Rather than isolated incidents of cruelty, he said, bullying is a pattern that systematically beats down an employee.
Employment attorneys agreed with this description. "It's vicious a lot of times," said Kathryn B. Dickson. What's more, she said, everyone at the workplace can suffer when bullying takes place. "It has impact on morale and productivity." But Dickson also noted that while the law defines abusive conduct, naming it in the workplace might still be difficult." "It gets very mushy around the edges," she said. However, she compared the task of defining workplace bullying to the questions that surrounded the idea of sexual harassment when it was first litigated in courts. "People said how are we going to say what harassment is? That worked out."
One test case emerged in 2006, when a judge in London ruled in favor of a former employee of DB Services (UK) Ltd., a UK subsidiary of Deutsche Bank, who said she was systematically bullied at work until she suffered two bouts of Major Depressive Disorder. In a detailed, 46-page decision, High Court Justice Robert M. Owen said the bullying was harassment under the country's Protection from Harassment Act of 1997, and that the company should have done more to prevent it.
The plaintiff, Helen Green, said coworkers engaged in "petty" bullying conduct and went out of their way to exclude her from conversations, lunches, work-related email chains and more. Green even recounted that one coworker made a raspberry sound every time she took a step while walking across the office. "Many of the incidents that she describes would amount to no more than minor slights," Owen wrote. "But it is their cumulative effect that has to be considered." What's more, the company was privy to information about Green's mental health history and could have known she would be vulnerable to such bullying, he ruled.
Such situations aren't uncommon in American workplaces, plaintiffs' attorneys said. Mandelbaum said many people call seeking legal representation, only to learn what they experience at the hands of a coworker or supervisor is not illegal. What's more, often it's bullying that motivates someone to sue for sexual harassment or discrimination in the first place, he said. "It's that kind of conduct that underlies their feelings and their motivation to go through what they need to go through to enforce their rights legally." Mandelbaum said.

Tags: AB2053, abusive conduct, california, education, sexual harassment, supervisor training, workplace bullying law
Posted in Healthy Workplace Bill (U.S. campaign), Workplace Bullying Laws | 1 Archived Comment | Post A Comment () »
Wednesday, October 1st, 2014
Workplace Bullying & Abusive Conduct:
The Other Harassment DVD
We know time is valuable. Educate all employees with this 20 min. training DVD. Distinguish abusive conduct from lesser forms of mistreatment that do not cause the same level of disruption in productivity.
This DVD video training is appropriate for non-supervisory employees or managers. Produced in August 2014.
It is the ideal video to accompany sexual harassment training. Can be streamed for online viewing by employees.
Complies with Section 12950.1, California Government Code required as of 1/1/2015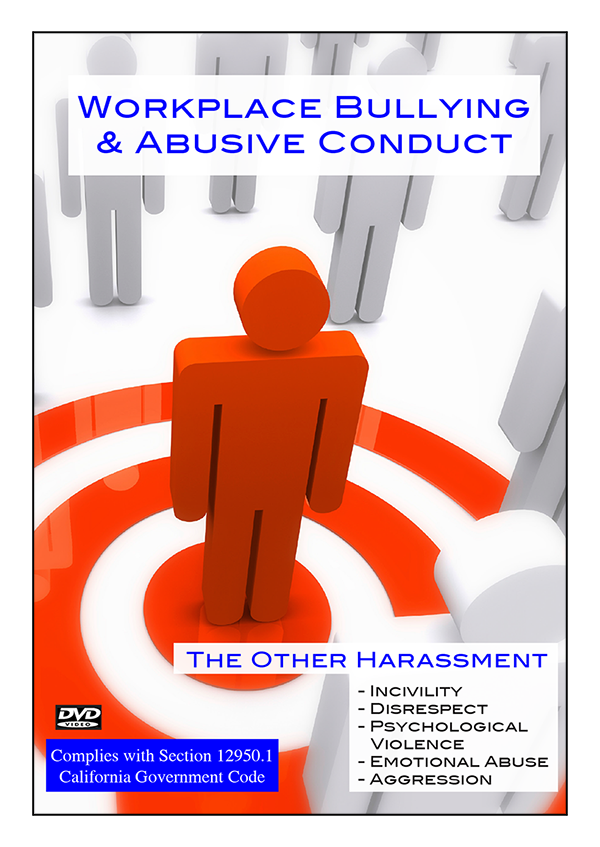 Twenty-seven percent of adult Americans report being bullied at work; an additional 21% witness it (an est. 65 million workers) and vicariously are made miserable (according to the scientific national 2014 WBI U.S. Workplace Bullying Survey). It's time to examine the real costs for employees (health consequences) and for employers (unwanted turnover, absenteeism, lawsuit or complaint settlements, workers comp and disability claims).
Dr. Gary Namie, recognized as North America's foremost authority on workplace bullying, personally introduces the topic, citing the latest prevalence statistics and the newest and most relevant research findings.
Program Topics
1. The Phenomenon
2. Examples
3. Perpetrators
4. Who Gets Bullied
5. Health Impact
6. Impact on Organizations
7. What Employers Can Do

DVD available for purchase now.

Tags: abusive conduct, California section 12950.1, compliance training, DVD, education, employer, Gary Namie, training, training DVD, Workplace Bullying Institute
Posted in Products & Services | No Archived Comments | Post A Comment () »
Friday, September 17th, 2010
There are many myths and misconceptions about workplace bullying advanced by disbelievers and opponents. One portrayal is that bullying affects only the uneducated, unskilled workers.
The WBI 2003 online survey reported that the five top reasons individuals are targeted for bullying, in rank order, were: (1) refusal to be subservient (being independent), (2) being more technically skilled than the bully, (3) being liked by co-workers/customers (being the go-to expert), (4) being ethical and honest, and (5) not being sufficiently political. Thus, people are targeted for their strengths and the threats they pose to the defensive, narcissistic perpetrator.
In the scientific (nationally representative) 2010 WBI U.S. Workplace Bullying Survey, respondents could check whether they had a college degree (or beyond) or whether they did not have a degree. That allows us to determine if the reported experiences with bullying differed according to education level.

Tags: 2010 WBI U.S. Workplace Bullying Survey, education, workplace bullying, Workplace Bullying Institute
Posted in Bullying-Related Research, Tutorials About Bullying | 15 Archived Comments | Post A Comment () »
Thursday, March 25th, 2010
Guest essay by Matt Spencer, EdD, veteran school administrator and HR professional, connecting the dots between workplace bullying in the schools and its impact on students.
"The workplace bully in America's schools is a taker…a robber…a thief. The bully steals the dignity, self-esteem, confidence, joy, happiness, and quality of life of the targeted victim. But when the target is a teacher, a great injustice occurs because the bully robs the students of what they want, need, and deserve…. A great tragedy occurs everyday in America's schools as thousands of children are robbed by the workplace bully of the RIGHT to be nurtured and taught by such honorable, caring, outstanding educators."

Tags: bullied teachers impact students, education, HR, Matt Spencer, stealing from children, teacher bullying, workplace bullying in schools
Posted in Employers Gone Wild: Doing Bad Things, Fairness & Social Justice Denied | 8 Archived Comments | Post A Comment () »