Posts Tagged 'emotional abuse'
Thursday, March 13th, 2014
Kelly Greenberg has been coach of the women's basketball team at Boston University for 10 years, and at the University of Pennsylvania and Holy Cross for a total of 12 years before that. Her style has been described as "difficult," and bullying by the Boston Globe.
This season, four scholarship players walked away from the team, tired of the emotional abuse Greenberg directed at them. Without scholarships that BU might take back, staying in school there is an expensive proposition. From the Globe article, here are some statements by the women players.
"I arrived feeling very confident and motivated. Then I felt bullied, threatened, and emotionally abused by the coach. By the time I left, she had demolished me as a person. She didn't treat us like human beings at all" … Dana Theobald
"I discovered that when you play for Coach Greenberg, you don't play the game you love. You play her game, an emotional game that is not about basketball." … Melissa Gallo
And from the student who was taken to hospital when suicide was contemplated
"Basketball is a contact sport. We have all played for tough coaches. But I went to BU because I believed [Greenberg] was a great coach, and I was shocked by how it turned out. It was very scary. I was blaming everything on myself because of the way I had been treated. I knew deep inside that it wasn't me, but I was too afraid to say it was [Greenberg] because she didn't make me feel supported. Giving up a $60,000-a-year scholarship is the hardest thing I've ever done. I hate that I'm not in school, but it had to be done. My spirit was broken." … Dionna Joynes
These comments are completely consistent with the experiences of bullied targets. The bullying was not about the sport of basketball (the equivalent of work-related tasks) but about Greenberg's volatile emotionality. Finally, illustrating the perfect fit with the phenomenon of bullying, the targets lost their jobs (the sport) they loved because they were involuntarily emotionally abused.
It seems coach Greenberg had trouble with players who were injured. She assaulted them as "selfish" after suffering a concussion or ankle injury.
When two players quit previously and the university conducted its "investigation," Greenberg was made aware that she is difficult and that she had made regrettable mistakes.
Let's see if BU renews Greenberg's contract. Read the full story in the Globe.
Tags: Boston University, coach bullying, Dionna Joynes, emotional abuse, Kelly Greenberg, sports bullying, suicide, woman-on-woman, workplace bullying
Posted in Media About Bullying, Print: News, Blogs, Magazines, Tutorials About Bullying, WBI Education | No Archived Comments | Post A Comment () »
Thursday, December 5th, 2013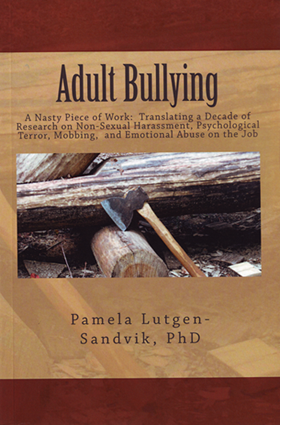 Adult Bullying
A Nasty Piece of Work:
Translating a Decade of Research
on Non-Sexual Harassment,
Psychological Terror, Mobbing,
and Emotional Abuse on the Job
By Pamela Lutgen-Sandvik, Ph.D.
North Dakota State University
Dr. Lutgen-Sandvik is arguably one of the most prolific American academic researchers on the topic of workplace bullying. She certainly is the best informed among academics, with few exceptions.
Here's why.
Pam is real. From her bio, prior to earning her doctorate in organizational communication at Arizona State she worked as a social service organization administrator, first in the field of women's advocacy and then in outpatient substance abuse treatment. Advocacy in the human services field is a rare background for academics.
Pam's practical, kick 'em in the shins approach to the esoteric world of academic research is revealed in the titles of some of her works — "Nightmares, demons & slaves" (can you hear Cher?), "Take this job and shove …" "Burned by bullying in America." And her style of collecting research data was to talk with bullied targets.
This book is a compilation of her work. It is not written by an egghead. The subtitle refers to her "translating" research into plainspeak. That's what she is profoundly good at doing well. Thus, it is ultimately readable.
The information found between the covers is useful if you are fighting a grievance, filing a complaint, embroiled in a lawsuit, or facing blank stares from HR.
The book covers many aspects of the bullying phenomenon with chapters on each — the prevalence, the stages of bullying, explaining the pain, the trauma and stigma of being bullied, how organizations become toxic, why women bully women, behavior of witnesses, and reversing the effects of bullying in individuals' lives.
Pam dedicates the book to all those bullied individuals who bravely participated in her research.
In 2013, she moved to North Dakota State (NDSU) in 2013 to join the Department of Communication in Fargo. She continues to research, publish, and teach in the area of organizational communication at NDSU and serves as the Director of the NDSU Communication Research & Training Center. Dr. Lutgen-Sandvik is married, has two children, and lives in Moorhead, MN.
Also, in 2013, Pam attended the WBI Workplace Bullying University® training for professionals in Bellingham, Washington to which she contributed mightily.
Pam declares that
All proceeds from book sales support scientific research that seeks to reduce workplace bullying, improve workplace communications and build more respectful workplace climates.
Where else can approx. $11 accomplish all that? Buy this book for yourself and as gifts for loved ones who have been bullied at work. While shopping, also buy Overcoming Mobbing by Duffy & Sperry new this holiday season 2013, and our book, The Bully At Work. They will be forever grateful.
With Pam, our admiration is personal. She came to Bellingham to meet us Namies in 2003 before her graduate studies were finished. She came to glean all she could from Dr. Ruth. So she is more than an intellectual colleague, she is a precious friend. We bought the book. You should, too.
Tags: bullied targets, emotional abuse, Len Sperry, Mobbing, non-sexual harassment, Pamela Lutgen-Sandvik, psychological terror, research, self help, workplace bullying, workplace bullying book
Posted in Books, Bullying-Related Research, Good News, Hear Ye! Hear Ye! 2, Media About Bullying, Social/Mgmt/Epid Sciences | No Archived Comments | Post A Comment () »