Posts Tagged 'emotional intelligence'
Friday, July 31st, 2015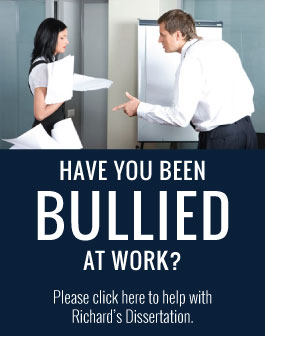 If you believe you have been bullied at work, you are invited to participate in a dissertation survey on Workplace Bullying approved by the WBI. The title of the dissertation is
"The Effect of Target Demographics and Emotional Intelligence on Workplace Bullying.
It takes about 20 minutes. There are two steps to the process:
Read the Consent Form
Take the survey (there are three surveys all combined into one)
Click here to start.
Please share this with anyone you feels has been bullied. Richard needs about 120 participants for the process.
Thank you.

Tags: emotional intelligence, research, survey, workplace bullying
Posted in Bullying-Related Research, Social/Mgmt/Epid Sciences | No Archived Comments | Post A Comment () »
Friday, June 13th, 2014
By Richard P. Himmer, an Emotional Intelligence Consultant and Affiliate of the Workplace Bullying Institute. He is conducting research for his dissertation and will soon be soliciting for volunteers to be part of the study. He can be reached at EQMicroSkills.com.
---
For many employees, going to work each day requires all their strength — not because they are physically challenged, but because they have a bully in their life. Fifty-two percent of a target's day is spent avoiding the bully. Workplace bullying is described as psychological terror and it continues to escalate.
In 1996, 75 percent of surveyed organizations said they had no bullying in their organization, executives in sum denied that it existed. In a recent 2014 survey by the Workplace Bullying Institute (WBI) more than 65 million American workers are affected by what is called the American Cancer and public awareness is 72 percent.

Tags: emotional intelligence, Richard Himmer, workplace bullying, Workplace Bullying Institute, Workplace Bullying University
Posted in Tutorials About Bullying, WBI Education | No Archived Comments | Post A Comment () »