Posts Tagged 'employment law'
Wednesday, November 13th, 2013
Show: Central Standard, KCUR-FM NPR, Kansas City Public Media, Nov. 12, 2013
In light of the recent NFL bullying scandal where Richie Incognito's inappropriate locker room behavior landed him in the national spotlight, we explore the reality of adult bullying. We talk about how prevalent adult bullying is, as well as how important it is for managers and supervisors to enforce anti-bullying policies in their workplaces.
Host: Bill Anderson
Guests:
Dennis Egan, Trial Lawyer for the Popham Law Firm
Dr. Gary Namie, social psychologist with Workplace Bullying Institute
Audio clip: Adobe Flash Player (version 9 or above) is required to play this audio clip. Download the latest version here. You also need to have JavaScript enabled in your browser.
26 min.
Follow the full NFL story in the Category list in the sidebar: NFL: Jonathan Martin
Tags: Bill Anderson, Dennis Egan, employment law, Gary Namie, intentional infliction of emotional distress, Jonathan Martin, Miami Dolphins, NFL, Richie Incognito, workplace bullying
Posted in Broadcasts: Video, TV, radio, webinars, Media About Bullying, NFL: Jonathan Martin, Tutorials About Bullying, WBI Education | No Archived Comments | Post A Comment () »
Thursday, September 26th, 2013
WBI's colleague, Professor David Yamada of Suffolk University and author of the Healthy Workplace Bill, just published a great piece about the roots of American employment law.
Here's a link to the Minding the Workplace blog article.
Tags: David Yamada, employment law, Healthy Workplace Bill, master, Minding the Workplace, servant
Posted in Healthy Workplace Bill (U.S. campaign), Workplace Bullying Laws | No Archived Comments | Post A Comment () »
Tuesday, March 12th, 2013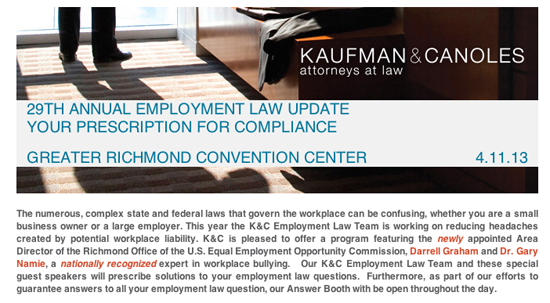 April 11, 2013, Greater Richmond Convention Center, 403 N. Third Street, Richmond, VA
Registration Information
Tags: employment law, Kaufman & Canoles, workplace bullying
Posted in Events & Appearances, Products & Services, WBI Education | No Archived Comments | Post A Comment () »
Friday, March 1st, 2013
Growing Push to Halt Workplace Bullying
by Sam Hananel, Associated Press, March 1, 2013
Margaret Fiester is no shrinking violet, but she says working for her former boss was a nightmare.
"One day I didn't do something right and she actually laid her hands on me and got up in my face and started yelling, 'Why did you do that?'" said Fiester, who worked as a legal assistant for an attorney.
Fiester doesn't have to worry about those tirades anymore, but she hears lots of similar stories in her current role as operations manager at the Society for Human Resource Management, where she often fields questions about the growing issue of workplace bullying.
On-the-job bullying can take many forms, from a supervisor's verbal abuse and threats to cruel comments or relentless teasing by a co-worker. And it could become the next major battleground in employment law as a growing number of states consider legislation that would let workers sue for harassment that causes physical or emotional harm.
"I believe this is the new claim that employers will deal with. This will replace sexual harassment," said Sharon Parella, a management-side employment lawyer in New York. "People who oppose it say these laws will force people to be polite at work. But you can no longer go to work and act like a beast and get away with it."
Tags: AP, associated press, employment law, Gary Namie, Greg Sorozan, Healthy Workplace Bill, Massachusetts healthy workplace advocates, Sharon Parella, SHRM, unions and bullying, workplace bullying
Posted in Healthy Workplace Bill (U.S. campaign), Media About Bullying, Print: News, Blogs, Magazines, Unions, WBI in the News, Workplace Bullying Laws | No Archived Comments | Post A Comment () »