Posts Tagged 'Fairness & Social Justice Denied'
Tuesday, February 11th, 2014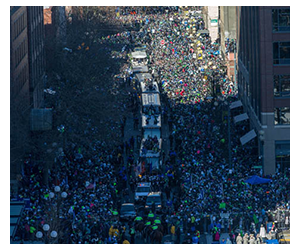 They came by the hundred thousands. You might think this is about the 750,000 Seattle Seahawks fans clogging the streets of Seattle to greet their NFL team coming home triumphant from the Super Bowl (pictured on the left). In a way, they make the point for me that it took the NFL to get people to take to the streets. But it was a feel-good parade that few could argue with. And note that the parade's participants outnumbered the population of Seattle. Some converged on the city from far away. WBI lives 100 miles north and there were two busloads and untold car pools who made the trek. So this is what it takes to move people to act, to stand in the frigid air to make a statement of some sort.
Why don't Americans protest in the streets? Robert Reich wrote that despite the economic pain suffered by the poor — underpaid workers, the underemployed and the unemployed — we Americans are afraid to protest corporate greed and government indifference lest we lose our jobs. He also believes that our cynicism about government, now commonplace thanks to an unrelenting message from the right for over 40 years, keeps us in our couches.
But hope springs eternal. A bit of background. North Carolina is one of several states where rabid right wingers (don't call 'em conservatives) control the state legislature and the governor's seat. The politicians who seem to hate citizens have run amok, trampling voting rights, undermining public education and seemingly re-segregating the state as was done after the Civil War (or War of Northern Aggression) via Jim Crow laws. Bill Moyers produced a mini-documentary on the recent setbacks for North Carolinians.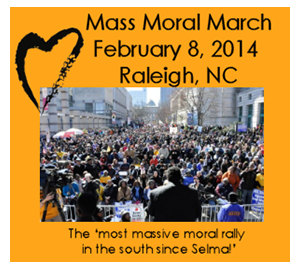 In N.C., Rev. William Barber, pastor, PhD in public policy, State NAACP President, and organizer extraordinaire, has led what he called "Moral Monday" protests. They began with a half dozen people at his church. Barber, the smart organizer staged an event on Feb. 8 in Raleigh (see poster) that included activists for multiple progressive causes. In fact, the event had a 14-point agenda. On Sunday, the crowd estimated at between 80,000 and 100,000 marchers took over Raleigh.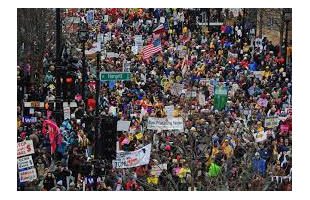 Moral marchers modeled for other Americans one week after the Super Bowl that other things matter beside the NFL: quality public schools, livable wage, health care for all, increased access to voting, affordable housing, end of the death penalty, immigrant rights, and redress for North Carolina's racist past. It was heartening to see the successful event. It should remind us of our rebellious history, that our nation was forged by protest. Too bad the corporate media kinda ignored it all.
WBI salutes the Moral Monday movement in North Carolina and around the nation.

Tags: environmental justice, Fairness & Social Justice Denied, moral march, moral mondays, NAACP, North Carolina, William Barber
Posted in Commentary by G. Namie, Good News, The New America | No Archived Comments | Post A Comment () »
Tuesday, January 28th, 2014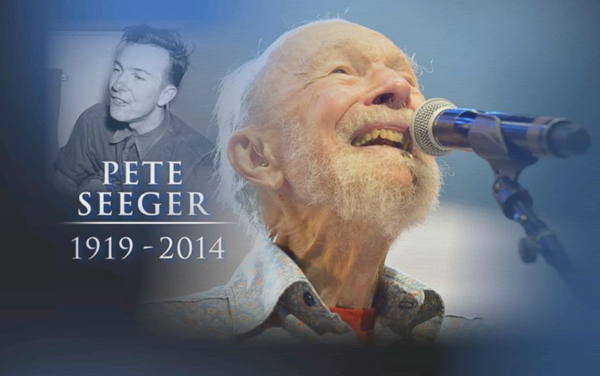 January 27, 2014 a great flame went dark … the good don't always die young
For Pete
he's a sailor
a bumbling, crafty, thoughtful, dreaming
chopstick drummer
a lover
a brightly colored creature
a root that knuckles through the soil
to reach you
a sculptured banjo body
shedding humane thoughts
on careless scraps of paper leaves
a voice of fiber bark
tender as an April bud
a raging, flaming, autumn fire
Tall
Strong
bending in the breeze, but growing
natural as wood
a shady place
for all these children of the son
Don McLean
(From Songs and Sketches of the First Clearwater Crew; North River Press, 1970)
More relevant than ever…WWII vet Pete on the Vietnam-era Smothers Brothers shut down by timid CBS executives …Pete sings Waist Deep in the Big Muddy…warning to not follow the Big Fool who commands us to push on…sage advice to all of us in contemporary America…let's remember when we recognized the power of singing together with one voice…Pete would like that
Audio clip: Adobe Flash Player (version 9 or above) is required to play this audio clip. Download the latest version here. You also need to have JavaScript enabled in your browser.
Pete Seeger testified before the kangaroo court known as Congress' House Unamerican Activities Committee in 1955 during another time of intense fear replacing leadership in this country. Then, it was communists, now it's terrorists. Read how bravely Pete stood up and proclaimed his love of country, not the HUAC-crazed country that turned friends against friends, but the USA to which we and Pete aspire.

Tags: activist, champion of causes, Fairness & Social Justice Denied, folk singer, Pete Seeger
Posted in Fairness & Social Justice Denied | No Archived Comments | Post A Comment () »
Thursday, September 5th, 2013

Leave it to Canada to lead the way to rejuvenate the labor movement. A new 300,000 member union, Unifor, was launched when the CAW (auto workers) and CEP (energy and paper workers) merged. The timing — "when our economy is being hollowed, our democracy eroded and when governments have abandoned social progress in the name of austerity" — is a warning shot to austerity-mongerers that this union will still stand for social justice.
The new union was created to be "a modern, inclusive approach to serve members better and participate more effectively in our workplaces and communities."
"As the largest private sector union in Canada, Unifor will advocate for and defend the rights of working people, in more than 20 economic sectors and in communities across Canada. We will stand for safer workplaces, secure employment, wages and benefits that provide a decent standard of living, and dignity and mutual respect in the workplace."
"We will be a union for workers, a union for the unemployed, a union for women, a union for new Canadians, a union for young workers and the precariously employed – a union for everyone."
In Unifor's Constitution, one of its founding Principles is to be Progressive.
Our goal is transformative. To reassert common interest over private interest. Our goal is to change our workplaces and our world. Our vision is compelling. It is to fundamentally change the economy, with equality and social justice, restore and strengthen our democracy and achieve an environmentally sustainable future. This is the basis of social unionism — a strong and progressive union culture and a commitment to work in common cause with other progressives in Canada and around the world.
Naomi Klein was a speaker at the launch. Read about her contributions.

Tags: austerity, Canadian auto workers, Canadian energy and paper workers, Fairness & Social Justice Denied, Naomi Klein, private sector unions, progressive, social unionism, Stephen Harper, unifor, union
Posted in Unions | No Archived Comments | Post A Comment () »