Posts Tagged 'FBI'
Wednesday, January 29th, 2014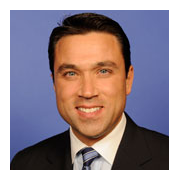 Last week, the FBI arrested Congressman Michael Grimm's (R-NY) fundraiser (and ex-girlfriend) Diana Durand on charges of illegally contributing more than $10,000 to Grimm's 2010 campaign through straw donors. And he's a known "tough guy," as an ex-Marine and FBI agent.
Last night he was interviewed by NY1-TV reporter Michael Scotto. After commenting about the State of the Union address, Scotto dared to start to ask Grimm about the above scandal, but didn't get the question out before Grimm declared it off limits.
Grimm walked out of camera range for seconds. Then he returned while the camera was still running to threaten Scotto. Here's the text of the exchange.
Grimm: "Let me be clear to you, you ever do that to me again I'll throw you off this f—–g balcony."

Scotto: "Why? I just wanted to ask you…"

[[cross talk]]

Grimm: "If you ever do that to me again…"

Scotto: "Why? Why? It's a valid question." [[cross talk]]

Grimm: "No, no, you're not man enough, you're not man enough. I'll break you in half. Like a boy."
When the twittersphere exploded with calling Seattle Seahawks Richard Sherman a thug after his post-game rant was televised, Sherman eloquently and accurately replied with the definition of thug that requires that criminality be a part.
Now comes Grimm whose threats of bodily harm might actually constitute a crime. To me, that justifies his branding as a thug.

Tags: bullying, FBI, Michael Scotto, NY1, rage, Rep Michael Grimm, threat, thug
Posted in Broadcasts: Video, TV, radio, webinars, Media About Bullying, Tutorials About Bullying, WBI Education | No Archived Comments | Post A Comment () »
Wednesday, July 3rd, 2013
Bullied targets often wait a long time to complain about their plight. Delays happen when they are not quite certain what freight train hit them. They ruminate too long about why they unjustly were targeted? How could someone be so cruel? Eventually, they want to tell their employer.
Chain-of-command reporting requirements are common. Got a problem? Tell your supervisor. But when your supervisor is the bully, the requirement is a dangerous trap. It turns out to be equally ineffective when the bully's boss is asked to make the bullying stop. [See the 2012 WBI Strategies Effectiveness study about the futility of confronting the bully directly or telling the bully's boss.]
People erroneously believe workplace bullying is an HR-level problem. Not so. It is more about leadership or the lack thereof. [See what understanding by a leader looks like.] Expecting HR to resolve bullying by holding a manager-bully accountable is a rare event. HR is there to defend the interests of management. They are not a neutral party in disputes. Retaliation is the most frequent consequence of following internal procedures for righting a wrong.
The larger point is that internal systems put the institution in the tripartite role of abuse by agents of the employer, then they are investigators, and finally they are judges and adjudicators. How can this turn out well for those subjected to harm by that same system? Internal investigators grant credibility to managers, while non-supervisory workers are considered malingerers, malcontents, disgruntled and mendacious. Senior managers consider workers who report that the best connected friends of those senior managers have done bad things to be the problem. The reporting is considered the problem — not the unconscionable actions that the complainant felt had to be reported.
And so we see the model repeated by several government institutions: the NSA, the CIA-FBI, the Dept. of Defense. Truth tellers (whistleblowers) and truth-telling victims are hunted like criminals, dehumanized, discounted, ignored, tormented, terminated, discharged from service, or imprisoned all to discourage others from showing the same kind of courage.

Tags: CIA, complainant, complaint system, Edward Snowden, FBI, government, HR, Jack Kiriakou, Kirsten Gillibrand, military sexual trauma, Myah Smith, NSA, sexual assault, Thomas Drake, Tina Clemans, traitor, whistleblower, workplace bullying
Posted in Commentary by G. Namie, Fairness & Social Justice Denied, Media About Bullying, Print: News, Blogs, Magazines, The New America, Tutorials About Bullying, WBI Education | 3 Archived Comments | Post A Comment () »
Wednesday, July 3rd, 2013
John Kiriakou worked for both the CIA and FBI. During the president of George W. Bush, he was the first CIA officer to admit that torture was official U.S. policy. He was convicted and sentenced to a 30-month prison sentence for providing the name of an officer involved in the CIA's rendition program. He sent an open letter to Edward Snowden from his Pennsylvania prison. It was published by Kevin Gosztola July 2 at Firedoglake.com.
One of the lessons for bullied targets is that trusting and staying within the system does not work for brave individuals who describe corrupt people or corrupt practices to the same masters responsible for inventing those practices and rewarding those people.
Here's his advice which features the admonition to never cooperate with the FBI (or by extension, federal authorities) because they lie, trick and deceive to get their way.

Tags: CIA, Edward Snowden, FBI, John Kiriakou, torture, whistleblower
Posted in Tutorials About Bullying, WBI Education | No Archived Comments | Post A Comment () »