Posts Tagged 'fiscal impact'
Thursday, April 24th, 2014
This tutorial is for bullied targets who decide to fight back. Do not confront your bully. If you could have done that successfully, you would have. Waiting for months makes whatever you do ineffective. It's not your style. That's OK. Nor should you bother to explain to anyone who will listen (and the number of those people dwindles by the day) the emotional harm you suffer. That tale will scare people away and make you appear weak and psychologically frail. What can you do?
The best option is to spend time, while off on job-stress disability leave at home, researching the historical effect the bully has had on the organization. Below, we explain how to estimate the total costs associated with that one person or group of bullies. Make the impersonal, consultant-like, economic, bottom-line case rather than an emotional appeal.
Our approach is not idealistic, or utopic, as one commenter suggested. It is grounded in reality. Read our rationale for this approach, fully taking into account the fact that most employers would rather defend and retain the bully than the bullied target. It is an irrational decision to be sure by employers, but bullying itself is an irrational, indefensible act.
Here's the way calculate losses attributable to the bully.

Tags: absenteeism, costs, fiscal impact, litigation, turnover, workplace bullying
Posted in Tutorials About Bullying, WBI Education | 1 Archived Comment | Post A Comment () »
Monday, April 15th, 2013
The price paid by the City and County of San Francisco for defending indefensible discrimination and general bullying across 5 years was over $10 million. If City leaders were rational, they would see that BULLIES ARE TOO EXPENSIVE TO KEEP! … but it's not a rational world and butt-kissing bullies are adored and hardly ever terminated.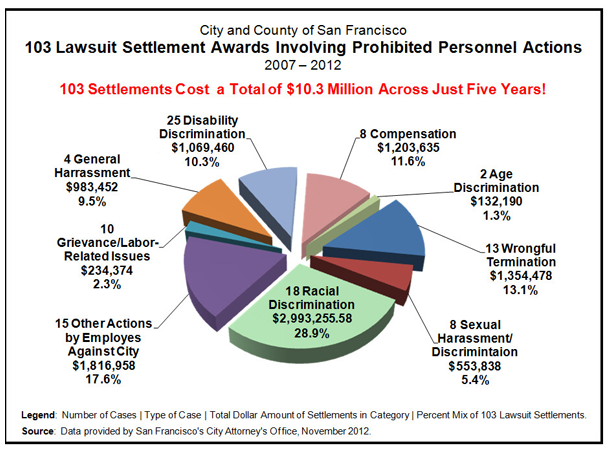 Thanks to Steve Zeltzer for finding this set of facts.

Tags: costs of bullying, discrimination, fiscal impact, harassment, San Francisco, workplace bullying
Posted in Tutorials About Bullying, WBI Education | No Archived Comments | Post A Comment () »
Wednesday, July 18th, 2012
by Janet Fowler, Investopedia, July 16, 2012
Society is becoming more aware of bullying in all aspects of our world – everywhere from school to online. We are recognizing that bullying can be found in many different situations. Workplace bullying has also become a more common topic of discussion, with estimates suggesting that somewhere between 25 and 50% of the workforce has been subject to some form of bullying in the workplace. Nearly half of the working population has witnessed it at some point. Workplace bullying can take many forms and is generally intentional.
Workplace bullying can include verbal abuse, intimidation, humiliation and sabotage. These mistreatments are typically not one-time occurrences; they happen over a significant length of time and cause the victim to suffer a loss of self-esteem and possibly even long-term physical or mental health issues. Aside from the damages to the victims of bullying, organizations are finding that workplace bullying costs money as well.

Tags: cost of workplace bullying, fiscal impact
Posted in Media About Bullying, Print: News, Blogs, Magazines | No Archived Comments | Post A Comment () »