Posts Tagged 'Gary Namie'
Sunday, March 12th, 2017



Training for Professionals in Mental Health, Law, HR, Nursing, Medicine, Management, Trainers, Consultants, Clergy, Career Changers
Spend three intensive, immersive days with the Drs. Namie in San Francisco.
April 21-23, 2017
Comprehensive curriculum, graduate-level seminar, evidence-based, derived from our experience as consultants to organizations and advisors to bullied targets.
Since 2008. Always new. Constantly updated.
Tuition discount ends March 31. Number of seats limited. Small group. Register with deposit.
Tags: Gary Namie, Ruth Namie, WBI, workplace bullying training, Workplace Bullying University
Posted in Workplace Bullying University | No Archived Comments | Post A Comment () »
Friday, July 29th, 2016
By Darrell Smith, Sacramento Bee, July 28, 2016
with WBI commentary inserted
Sacramento jurors, in a $1.1 million verdict Wednesday, sided with a state corrections employee who claimed her higher-ups did little or nothing to protect her from threats made by one of her subordinates, then retaliated against her when she complained of the threatening treatment.
The threat was a death threat, of bringing a gun to work, not a minor act.
Jurors awarded Onalis Giunta, a supervising dental assistant at Folsom State Prison when she filed the 2012 lawsuit against California Department of Corrections and Rehabilitation, $990,000 for noneconomic losses and mental suffering along with another $107,000 in past and future earnings, in their verdict, court documents showed.
It was not known Thursday whether there were plans to appeal the verdict.
Giunta in the lawsuit characterized the man identified in court documents as Serge Protsyuk, as a problem employee who often ran afoul of California Department of Corrections and Rehabilitation rules and regulations.
Protsyuk was a former coworker of the newly promoted supervisor, Giunta. He never respected her authority and was coddled by two male supervisors of hers who undermined her role. He aggressively disobeyed rules that he felt did not apply to him, daring her to discipline him.
Giunta alleged that the employee threatened to bring a gun to work after disciplinary action in November 2010. Protsyuk followed the alleged gun threat with months of more intimidation, the lawsuit alleged, forcing Giunta to take a yearlong, doctor-ordered stress leave.
Yes, you read that correctly. After he threatened revenge on her for an unfavorable evaluation by bringing a gun to work, the warden and security staff who had been told of the threat that night planned to search him the next morning when Protsyuk arrived for work. NO ONE ever called Giunta that night to warn her of the threat made against her. Protsyuk was frisked the next morning and allowed to go work as usual. Giunta was told about the threat AFTER she saw Protsyuk walk past her office window! No suspension. No punishment. And Giunta had to work with him for another six months without his removal.
Giunta was traumatized. All the while, the warden had decided that no violation of the strict zero-tolerance Violence Prevention Policy had occurred. No investigation of Giunta's complaint about the violation was undertaken.
Tags: bullying, California Department of Corrections & Rehabilitation, Folsom State Prison, Gary Namie, Lawrance Bohm, Onalis Giunta, Protsyuk, Robert Boucher, trial, violence policy
Posted in Expert Witness, Fairness & Social Justice Denied, Rulings by Courts, WBI in the News | No Archived Comments | Post A Comment () »
Tuesday, May 3rd, 2016
The cover story of Counseling Today magazine is about bullying. A significant portion of that article, written by Laurie Meyers, features an interview with WBI's telephone coach for bullied targets, Jessi Eden Brown. Jessi maintains a private practice in Seattle in addition to continuing to provide coaching for targets who seek her advice after discovering her services posted at this WBI website.
Jessi is the most expert advisor to targeted individuals in the U.S. Her fees are inexpensive and worth every penny. Time precludes offering free advice, so please don't insult her and ask. [Neither can WBI offer free advice by phone as it did for 18 years.] Here is Jessi's information page.
An excerpt from
Fertile Grounds for Bullying
Counseling Today, April 21, 2016
By Laurie Meyers
Bullying isn't confined to childhood or adolescence. Adults can experience bullying too, particularly in the workplace. Bullying in the workplace involves less obvious behavior than does school bullying and can be almost intangible, says Jessi Eden Brown, a licensed professional counselor and licensed mental health counselor with a private practice in Seattle.
"Bullying in the workplace is a form of psychological violence," says Brown, who also coaches targets of workplace bullying through the Workplace Bullying Institute (WBI), an organization that studies and attempts to prevent abusive conduct at work. "Although popular media theatrically portray the workplace bully as a volatile, verbally abusive jerk, in actuality, the behaviors tend to be more subtle, insidious and persistent."
Instead of shoving and name-calling, Brown says, workplace bullying includes behavior such as:
– Stealing credit for others' work
– Assigning undue blame
– Using public and humiliating criticism
– Threatening job loss or punishment
– Denying access to critical resources
– Applying unrealistic workloads or deadlines
– Engaging in destructive rumors and gossip
– Endeavoring to turn others against a person
– Making deliberate attempts to sabotage someone's work or professional reputation
"It's the fact that these behaviors are repeated again and again that makes them so damaging for the target," she explains. "The cumulative effects and prolonged exposure to stress exact a staggering toll on the overall health of the bullied individual."
What's more, those bullied in the workplace often stand alone, Brown notes. "While the motivating factors may be similar between workplace bullying and childhood bullying, the consequences for the bully and the target are unmistakably different," she says. "In childhood bullying, the institution — the school — stands firmly and publicly against the abuse. Teachers, staff, students and administrators are thoroughly trained on how to recognize and address the behavior. Students are given safe avenues for reporting bullying. Identified bullies are confronted by figures of authority and influence — teachers, administrators, groups of peers, parents. When the system works as intended, there are consequences for the bully, as well as resources and support for the target."
(more…)
Tags: abusive conduct, counseling, Gary Namie, helping bullied targets, Jessi Eden Brown, psychotherapy, Ruth Namie, telephone coaching, workplace bullying, Workplace Bullying Institute
Posted in Bullying & Health, Media About Bullying, Print: News, Blogs, Magazines, Products & Services, WBI Education, WBI in the News | 4 Archived Comments | Post A Comment () »
Wednesday, March 30th, 2016

The nation's only comprehensive training in the phenomenon of workplace bullying designed for professionals
The next 3-day public session in Boise, Idaho is May 20-21-22.
Visit the WBI Workplace Bullying University website for program details. Taught personally by Dr. Gary Namie & Dr. Ruth Namie.
Designed for professionals in Labor, Healthcare, Mental Health, Counseling, Management, Higher Education, HR, Training, Consulting, and those in life & career transition.
Tags: Gary Namie, healthcare bullying, Ruth Namie, training, Unions, Workplace Bullying Institute, Workplace Bullying University
Posted in Unions, WBI Education, Workplace Bullying University | No Archived Comments | Post A Comment () »
Thursday, February 25th, 2016

C-Suite Talking Points for HR About Workplace Bullying
By Gary Namie, PhD
Assumptions: (1) No anti-bullying initiative can succeed without support from the top. (2) It will be the job of HR to take that message up the ladder.
Here is a list of reasons senior leaders should care. It includes, but is not limited to, the following:
• Workplace Bullying is a costly litigation nightmare. Even though a low proportion of incidents of bullying also have an aspect of discrimination (20%), the public erroneously believes hostile work environment protections apply to everyone. Therefore, too many individuals shop for an attorney willing to either threaten or file a lawsuit or EEOC formal complaint. At the very least, a defense has to be mounted, or settlement paid, or trial and penalty expenses absorbed.
• Recruitment & retention of highly skilled workers undermined. The typical bullying scenario finds the best & brightest targeted for baseless, mindless persecution until they either voluntarily quit or are driven away. This is unwanted, unnecessary and PREVENTABLE turnover.
• A tarnished reputation as one of the "worst places to work" on the street (mainly in social media) follows the expulsion of highly qualified workers. In turn, recruitment is made more difficult.
• Bullying causes stress-related diseases. Allowing it to continue unabated directly contradicts the internal commitments to wellness and employee well being. In fact, research clearly shows the causal role of personalized bullying in cardiovascular and gastrointestinal diseases, changes in the brain that lead to irreversible behavioral dysfunction that passes for incompetence to the naive observer, life shortening interference with DNA cellular replication, and doubling the rate of suicidal ideation. Why should we allow the health-harming misconduct to continue knowing that our staff and associates are being so severely impaired?
(more…)
Tags: advice for employers, C-suite, costs of bullying, Gary Namie, HR, workplace bullying
Posted in Advice for Employers | 3 Archived Comments | Post A Comment () »
Friday, January 22nd, 2016
Business 21 presents a Webinar for HR
When the Bully is the Boss
HR must do something about bully managers
When: Thursday Feb. 4 2016, 2:00 pm Eastern, 60 minutes, HRCI credit hour
Presenter: Dr. Gary Namie, WBI Director
Many companies assume they don't have a bullying problem. Employees get along. In meetings, team members respect each other. But look closer. You might find that the bully is the very person you would expect to protect your employees from being bullied—the boss.
Some managerial bullying is unintentional—supervisors see themselves as "demanding results." Other times bosses know their behavior crosses the line, but they don't care.
Not convinced? Consider the slew of new state laws protecting workers against bullying. And consider the number of companies that have rushed to adopt anti-bullying policies and procedures for investigating complaints.
Problem is, most policies are written for peer-to-peer conduct. They don't do enough to protect employees against bully bosses.
The costs are real. The employee's health can suffer, causing missed work, higher healthcare costs and reduced productivity. Bullied employees are also a flight risk, as are those who witness bullying. And there's the threat of lawsuits against the company.
In this session, Dr. Gary Namie will teach you:
• How to recognize and respond to a bully boss
• What differentiates "bullying" from other conduct- both illegal (discrimination) and legal (non-abusive disagreements)
• Why your workplace climate may be allowing the bully to prosper
• Why owners and executives tend to defend bullies
• How to build an abuse-intolerant, accountable culture for all employees, regardless of rank
Tags: Business 21, Gary Namie, webinar, when the bully is the boss, workplace bullying, Workplace Bullying Institute
Posted in Advice for Employers, Products & Services, WBI Education | 1 Archived Comment | Post A Comment () »
Wednesday, December 23rd, 2015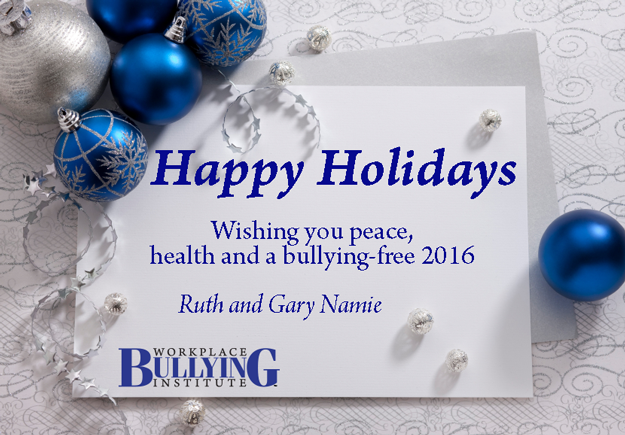 Please complete our new survey
Loading ...
Tags: Gary Namie, holiday wishes, Ruth Namie, workplace bullying, workplace bullying insitute
Posted in WBI Surveys & Studies | No Archived Comments | Post A Comment () »
Friday, November 27th, 2015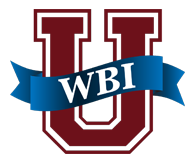 The nation's only comprehensive training in the phenomenon of workplace bullying designed for professionals — Workplace Bullying University®
An early registration discount is available until Friday Dec. 18 for the January 15-16-17 session in Boise, Idaho.
Call today to reserve your seat in the small group.
360-656-6630
Visit the WBI Workplace Bullying University website for program details. Taught personally by Dr. Gary Namie & Dr. Ruth Namie.
Designed for professionals in Healthcare, Mental Health, Counseling, Management, Higher Education, HR, Training, Consulting, and those in life & career transition.
Past graduates have said …
"Like that infernal whack-a-mole game in carnivals, bullies keep popping up in our organizations. Drs. Gary and Ruth Namie have blown the cover of off this game to show us exactly how bullying works, its devastating effects on employees and the negative impact it has to the bottom line. The Workplace Bullying Institute University program has given me the tools to protect our employees from bullying and to permanently disconnect the bully's power source. Definitely the most value-added program to organizational development I have attended in my 30-plus years in the business."-Greg H.
"I acquired a treasure trove of historical and current data on the subject, and detailed explanation of every term and dataset along with a substantial amount of supporting material for use in future presentations of my own. This is the first time in my 17 years as a professional that I attended training and walked away with a turn-key program. I highly recommend this program to any professional who wants to be on the leading edge of preventing, training, and correcting one of the leading detractors to workplace health and productivity."-D.I.G.
"I came away with an in-depth perspective that permeated my being. I received more information in 3 days than in the previous 2 years of research. Gary and Ruth Namie bring a perspective to organizational culture, leadership, and HR that can only be derived from personal experience coupled with scholarly research and study."-Richard H.
"This is more than a course, a class, or a training. It is truly an experience. I have been in HR for 20 years and I can tell you that attending WBU was one of the most fulfilling and gratifying experiences of my life. It even motivated me to seek my PhD and to write my dissertation on workplace bullying."-Nathalie D.
"This is the best training I have attended in my 22 years of being a union advocate." -Judy C.
Tags: education, Gary Namie, Ruth Namie, training, workplace bullying, Workplace Bullying Institute
Posted in WBI Education, Workplace Bullying University | No Archived Comments | Post A Comment () »
Monday, November 9th, 2015
Here in America, employers claim that loyal, engaged, hard-working employees have disappeared or are extremely rare. Work, like many social functions operates on the notion of an implicit contract between the parties. In exchange for compensation, workers lend their talent to employers. Employers, in turn, have the exclusive right to optimize profit from the relationship. The deal should be a mutually beneficial one to both sides.
History shows that contempt for workers was common in the bad old days.
Tags: distrust, employee monitoring, employer-employee relationships, exploitation, feudal, flexispy, Gary Namie, surveillance, workplace bullying
Posted in Commentary by G. Namie, Employers Gone Wild: Doing Bad Things, The New America | No Archived Comments | Post A Comment () »
Tuesday, October 20th, 2015
Bullying of Faculty Alleged at UMass
By Laura Krantz, Boston Globe, Oct. 18, 2015
Power struggle roils chemical engineering department
It began as minor personality clashes among professors, the type that can be common at any university. But what evolved at the University of Massachusetts Amherst chemical engineering department has proved far nastier.
Over three years, the dispute has turned into an ugly power struggle over an aggressive — one report said "bullying" — attempt by four members of the department to recruit others in a coup to oust their department head.
Documents and e-mails provided to the Globe paint a picture of the extended battle. Some involved in it describe screaming at faculty meetings, a rigged department election, vindictive annual reviews, and an attempt to block a professor from securing a full-time position.
Facts about who is ultimately to blame are harder to find. What is clear is that for the prestigious department in the state's flagship public university, with its renowned faculty, millions in funding, and promising research, the imbroglio created a poisonous atmosphere that has disrupted the scientists' work.
Beyond the department, it pulled in the faculty union and Chancellor Kumble Subbaswamy, who called the situation "quite serious."
On one side, professors accuse four colleagues of trying to bully other faculty into supporting a bid to undermine then-department head T.J. Mountziaris, who served for nine years.
On the other side, professors said Mountziaris, who lost his chairmanship last year and is on sabbatical, made life difficult for some faculty, going so far as to block one person's attempt to shift to become a full-time professor.
Tags: abusive conduct, bullying in the academe, Gary Namie, professors, UMass, workplace bullying, Workplace Bullying Institute
Posted in Employers Gone Wild: Doing Bad Things, WBI in the News | No Archived Comments | Post A Comment () »