Posts Tagged 'Gary Namie'
Friday, April 18th, 2014
We announce the first-ever healing workshop for bullied targets and their loved ones.

The inaugural Workplace Bullying Retreat will be Saturday May 31 in Bellingham, WA. The one-day Retreat is facilitated by WBI founders, Drs. Ruth and Gary Namie. Attendees will understand the storm that ripped through their lives, its impact on their health, and solutions when employers do nothing to stop it.
"Bullying is perplexing, leaving targeted workers with lingering questions such as 'Why me?'," said Dr. Gary Namie. "The retreat is designed to answer those questions so the person can move on with her or his life after bullying."
This new workshop differs from WBI's other programs that emphasize education alone. The Retreat is designed to create a validating, encouraging, emotionally positive, healing, and supportive, safe harbor for attendees who have endured emotional abuse.
"No one else has talked with over 10,000 bullied targets like we have," remarked Dr. Ruth Namie. "We're proud to create this first-ever, in-person experience just for targets after 17 years of advocacy on behalf of targets."
Family members are also encouraged to attend in order to learn how to best help their loved one move on toward an abuse-free working life.
The first three scheduled days in 2014 are May 31, July 19, August 23
Discounts are available for the first 10 registrants.
Visit the Retreat page for details.
Tags: bullied targets, education, Gary Namie, healing, retreat, Ruth Namie, workplace bullying, Workplace Bullying Institute
Posted in Hear Ye! Hear Ye! 2, Products & Services, WBI Education | 5 Archived Comments | Post A Comment () »
Tuesday, April 15th, 2014

AMERICANS AFFECTED BY BULLYING
We begin with the frequencies reported for each of the bullying experience categories from the Survey previously discussed — the two classes of direct experience with bullying, the two witnessing classes, and the self-described perpetrators, and the three classes of individuals with no personal bullying experience (believers and disbelievers who were both aware of bullying, and those who claim to be not aware of bullying).
The Survey was conducted at a time when the U.S. non-farm labor force was approximately 137,499,000. We are able to estimate the equivalent number of working Americans that correspond to each bullying experience category. The estimates appear in the middle column in the table below.
Then, we estimate the adult (over age 18) U.S. population, 76.5% of the total, to be 240,113,369 (in 2012). We apply the bullying experience category frequencies to that total and arrive at the values in the right column in the table below.
Tags: 2014 WBI U.S. Workplace Bullying Survey, bullying statistics, Daniel Christensen, David Phillips, Gary Namie, people affected, population statistics, workers affected, Workplace Bullying Institute
Posted in WBI Education, WBI Surveys & Studies | No Archived Comments | Post A Comment () »
Tuesday, April 8th, 2014

U.S. NATIONAL PREVALENCE in 2014
Workplace bullying is repeated mistreatment and a form of "abusive conduct." For the first time, we used the definition of workplace bullying that matches perfectly the definition codified in the Healthy Workplace Bill.
Thus, we asked Americans to consider only the most serious forms of bullying. Eye rolling may be part of bullying, but it alone is not sufficient. Nonverbal cues coupled with verbal abuse and the tactics of exclusion are delivered by perpetrators repeatedly in order to intentionally harm targeted individuals. The closest analogy to workplace bullying is domestic violence. Bullying is a non-physical form of workplace violence.
Tags: American workers affected, bullying statistics, Daniel Christensen, David Phillips, Gary Namie, national prevalence, WBI 2014 U.S. Workplace Bullying Survey, Workplace Bullying Institute, workplace bullying research
Posted in Bullying-Related Research, Social/Mgmt/Epid Sciences, WBI Education, WBI Surveys & Studies | No Archived Comments | Post A Comment () »
Monday, April 7th, 2014
By Jane Mundy, Lawyers and Settlements, April 7, 2014
Craig, a commercial truck driver, isn't about to take bullying lying down. He believes this type of harassment should be a violation of the California labor law. Unfortunately, this type of harassment is not contrary to the California labor code, but wrongful termination is.
If not for Craig being pro-active, he wouldn't be able to collect unemployment insurance. His boss, the owner of the trucking company, accused Craig of misconduct and fired him. Initially Unemployment Insurance denied his claim but he went before an impartial unemployment Administration Law judge who sided with him.
"That was one notch in my favor and I was able to collect backpay, but I still haven't been paid for the week I worked, and even more important, this guy shouldn't get away with his bullying," says Craig. "I only worked one week for him and it was probably the worst week of my life.
Tags: 2007 WBI US Workplace Bullying Survey, California labor law, Gary Namie, Healthy Workplace Bill, NAGE Local 282
Posted in Healthy Workplace Bill (U.S. campaign), Media About Bullying, Print: News, Blogs, Magazines, WBI in the News, Workplace Bullying Laws | No Archived Comments | Post A Comment () »
Thursday, April 3rd, 2014
WATR-AM Talk of the Town show host, Larry Rifkin, and Dr. Gary Namie, WBI, discussed workplace bullying, Connecticut attempts at passing the anti-bullying Healthy Workplace Bill, and the suicide of Marlene Braun mentioned in the essay by Katherine Hermes.
Tags: Gary Namie, Healthy Workplace Bill, Katherine Hermes, Larry Rifkin, WATR, workplace bullying, Workplace Bullying Institute
Posted in Broadcasts: Video, TV, radio, webinars, Media About Bullying, WBI in the News | No Archived Comments | Post A Comment () »
Tuesday, April 1st, 2014
The Workplace Bullying Institute and the New Workplace Institute are happy to announce the launch of a joint initiative, the U.S. Academy on Workplace Bullying, Mobbing, and Abuse, which will support and promote the multi-disciplinary work of leading and emerging educators, researchers, practitioners, writers, and advocates who are dedicated to understanding, preventing, stopping, and responding to workplace bullying and related forms of interpersonal mistreatment.
"For over a year, we've been contemplating how to bring together an American network of leading and emerging experts on workplace bullying and related topics. The Academy is our conduit for doing so. We look forward to highlighting the good works of these incredible people," says David Yamada, Suffolk University law professor and New Workplace Institute director.
The Academy has over 50 Fellows including leading psychological researchers, physicians, attorneys, occupational health experts, professors of management, nursing, and communications, counselors, union trainers, military leaders, advocates, and consultants. The complete list of Fellows can be seen at workplacebullyingacademy.com.
"When we started WBI there was one trade unionist and a couple of academic researchers with the courage to focus on workplace bullying. Since then the field exploded exponentially," says Gary Namie, PhD, Co-founder of the Workplace Bullying Institute, established in 1997. "We recognize the universality of these destructive behaviors, and this network focuses on the unique challenges posed by American employee relations, mental health, and legal systems."
Tags: abuse, bullying research, David Yamada, Gary Namie, Mobbing, new workplace institute, U.S. academy, workplace bullying, Workplace Bullying Institute
Posted in Bullying-Related Research, Good News, Healthy Workplace Bill (U.S. campaign), Hear Ye! Hear Ye! 2, Products & Services, Social/Mgmt/Epid Sciences, Tutorials About Bullying, Unions, WBI Education | 1 Archived Comment | Post A Comment () »
Tuesday, March 25th, 2014
Executives dwell in the C-Suite. By rank, they are often referred to as "leaders," though leadership is a demonstrable skill instead of a position on an organization chart. Executive leaders in charge are the ones who set the operating the rules for their organizations. They establish the climate that can either foster and encourage bullying abusive conduct or they can act with indifference toward it (a laissez-faire management style) which allows bullies to run wild with impunity.
Given the clout executives have, they can stop bullying if they want to. Here are the steps they can take to make their organizations bullying free. [It's a good idea to have them read first The Bully-Free Workplace to understand the barriers that await implementation of any plan.]
Tags: 2014 U.S. Workplace Bullying Survey, C-suite, correction, executives, Gary Namie, prevention, workplace bullying
Posted in Tutorials About Bullying, WBI Education | No Archived Comments | Post A Comment () »
Thursday, March 20th, 2014
Hitachi technology takes worker surveillance to new extremes. Where is the employers' confidence in, and trust of, employees? It's called the "Business Microscope."
Here's a picture of the device and the tracking system: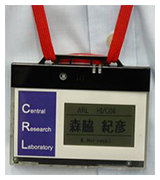 Listen to WBI Podcast 39 by Dr. Gary Namie
Audio clip: Adobe Flash Player (version 9 or above) is required to play this audio clip. Download the latest version here. You also need to have JavaScript enabled in your browser.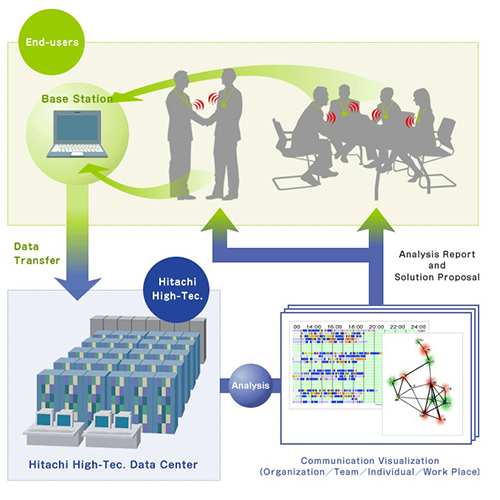 Tags: Gary Namie, Hitachi Business Microscope, Podcasts, workplace bullying, Workplace Bullying Institute
Posted in Commentary by G. Namie, Employers Gone Wild: Doing Bad Things, Podcasts, The New America, WBI Education | No Archived Comments | Post A Comment () »
Wednesday, March 19th, 2014
By Carolyn Penniman
Michigan State University Extension
March 17, 2014
Michigan State University Extension violence prevention programs focus on changing negative beliefs and attitudes that support violence. These programs aim to build social competencies and relationships across differences to find healthy alternatives to negative behavior. In exploring issues of violence prevention, a recent topic of research is adult bullying.
Research Director, Gary Namie, PhD of the Workplace Bullying Institute (WBI), takes some credit for the high level of public awareness about adult bullying that was reported in the U.S. Workplace Bullying Survey released in February 2014. According to the survey, 27 percent of Americans have suffered abusive conduct at work, another 21 percent have witnessed it and 72 percent are aware that workplace bullying happens. Men make up about two-thirds of bullies, and their targets are women 57 percent of the time. Although women make up only 31 percent of bullies, their targets are other women more than two-thirds of the time. Bullying by a boss is the most common kind of workplace bullying, making up more than half of all instances.
Namie and Ruth Namie, PhD co-founded the WBI in 1998, and have continued to educate the public through research, consulting and publications. They have co-authored The Bully-Free Workplace (Wiley, 2011) and The Bully at Work second edition (Sourcebooks, 2009), which are derived from empirical research and also from coaching and counseling over 5,000 individuals. Ruth is a clinical psychologist and Namie is a social psychologist, and they have experienced workplace bullying themselves. Namie and Ruth's articles are published in the Journal of Consulting Psychology, International Journal of Communication, Employee Rights and Employment Policy Journal, Ivey Business Journal, Journal of Employee Assistance; and contributed chapters in the books Destructive Organizational Communication, and Bullying and Harassment in the Workplace: Developments in Theory, Research and Practice.
Tags: 2014 U.S. Workplace Bullying Survey, carolyn penniman, Gary Namie, michigan state university extension, workplace bullying
Posted in WBI in the News | No Archived Comments | Post A Comment () »
Monday, March 10th, 2014
By Sam Hananel, Insurance Journal (reprint from previous AP story), March 4, 2014
Margaret Fiester is no shrinking violet, but she says working for her former boss was a nightmare.
"One day I didn't do something right and she actually laid her hands on me and got up in my face and started yelling,' Why did you do that?"' said Fiester, who worked as a legal assistant for an attorney.
Fiester doesn't have to worry about those tirades anymore, but she hears lots of similar stories in her current role as operations manager at the Society for Human Resource Management, where she often fields questions about the growing issue of workplace bullying.
On-the-job bullying can take many forms, from a supervisor's verbal abuse and threats to cruel comments or relentless teasing by a co-worker. And it could become the next major battleground in employment law as a growing number of states consider legislation that would let workers sue for harassment that causes physical or emotional harm.
"I believe this is the new claim that employers will deal with. This will replace sexual harassment," said Sharon Parella, a management-side employment lawyer in New York. "People who oppose it say these laws will force people to be polite at work. But you can no longer go to work and act like a beast and get away with it."
Tags: anti-bullying legislation, Gary Namie, Greg Sorozan, Healthy Workplace Bill, NAGE, workplace bullying, Workplace Bullying Institute
Posted in Healthy Workplace Bill (U.S. campaign), Media About Bullying, Print: News, Blogs, Magazines, WBI in the News, Workplace Bullying Laws | No Archived Comments | Post A Comment () »