Posts Tagged 'Gary Namie'
Tuesday, February 13th, 2018
Bully Bosses Can Inflict More Damage with Negative References
By Dinah Wisenberg Brin, SHRM, Feb 12, 2018
Employees trying to escape a bullying boss, and even those who have managed to land a new position, may be surprised to learn that their workplace nemesis is causing further damage by providing negative job references.
HR departments similarly may not realize that supervisors are disregarding company policies against giving references that go beyond confirming job titles and employment dates.
With prospective employers often bypassing human resources and calling supervisors for references, bully bosses can and do impair employees' future job prospects, experts say.
"In the good old days, the references were HR, and in many cases, in many companies, HR still is the traditional venue. But we've seen a marked shift of interest in calling the former supervisors," said Jeff Shane, president of reference-checking firm Allison & Taylor. "Hiring managers have long since figured out that supervisors tend to be far more talkative."
Job seekers often wrongly believe that their current or former employers will say nothing negative and do no more than confirm employment, Shane said.
Many supervisors, however, never receive company training on how to respond to employee reference checks, while many others forget or ignore the policy, he added. His Rochester, Mich.-based firm checks references on behalf of job seekers, compiles reports on responses from former employers, and, if necessary, sends cease-and-desist letters to companies violating policies or even laws by supplying negative references that cross the line into misrepresentations or lies and that could be construed as defamation.
"We call a great many supervisors as references for individuals. The vast majority of the time, the supervisor has something to say" beyond titles and employment dates; their reviews, even if sincere, often are less than optimal. "In many instances, they know exactly what they're doing" and that the employee is unlikely to ever find out if the negative review caused a missed opportunity, Shane said.
Nearly half of all reference checks that Allison & Taylor conducts contain some degree of negativity, he said. Even a supervisor who gives an employee a positive letter of recommendation will sometimes go "180 degrees in another direction" when called for a reference, he said.
Smart firms wanting to avoid litigation coach bosses to give only employment dates, said Gary Namie, Ph.D., co-founder of the Workplace Bullying Institute, which refers bullying targets to Allison & Taylor to learn about feedback from a current or former employer. Often the news confirms a candidate's fear, and "a great many of our clients are totally shocked and devastated" by what is found. (more…)

Tags: Allison & Taylor, bullied targets, bullies giving bad references, Gary Namie, reference checking, SHRM, workplace bullying, Workplace Bullying Institute
Posted in Employers Gone Wild: Doing Bad Things, Media About Bullying, Print: News, Blogs, Magazines | No Archived Comments | Post A Comment () »
Wednesday, January 31st, 2018

The nation's only comprehensive evidence-based training in the phenomenon of workplace bullying designed for professionals. Designed by the Drs. Namie and delivered since 2008. Come to San Francisco for the experience of a lifetime. It will change you forever.
Professionals from the following disciplines attend:
– Healthcare — nurses and physicians
– Legal
– Unions
– Mental health — psychotherapists & psychologists
– Higher education
– Schools, K-12
– HR & Management
– Diversity management
– Risk management
– Government
– Life/Executive Coaches
In addition, well healed former bullied targets seeking to re-invent themselves as training, coaching or consulting professionals attend.
Regular tuition is $2,400 per individual. Take advantage of this time-limited deep discount.
Visit the Workplace Bullying University website for program details.

Tags: abusive conduct, bullying training, Gary Namie, Ruth Namie, training, Workplace Bullying Institute, Workplace Bullying University
Posted in Workplace Bullying University | No Archived Comments | Post A Comment () »
Thursday, January 25th, 2018
Jan. 24, 2018
WA State Senate Labor & Commerce Committee Hearing on SB 6435, the Healthy Workplace Bill.
It is the anti-workplace bullying legislation written by David Yamada, Law Professor, Suffolk University, Boston, for the Workplace Bullying Institute. The principal sponsor is Sen. Annette Cleveland with co-sponsoring Senators Karen Keiser, Patty Kuderer and Rebecca Saldana. Five supporters testified, including WBI Director Gary Namie by phone.
You might find the two business lobbyists who opposed the bill for its reference to "vicarious liability." Had they known existing law since 1998, they would understand vicarious liability places responsibility on employers for misconduct of their agents — employees and managers.

Tags: abusive conduct, abusive workplace conduct, Annette Cleveland, anti-bullying law, David Yamada, Gary Namie, Healthy Workplace Bill, legislation, SB 6435, workplace bullying
Posted in Healthy Workplace Bill (U.S. campaign), Workplace Bullying Laws | 1 Archived Comment | Post A Comment () »
Monday, January 15th, 2018
Workplace Bullying Affects Nearly Half of US Workers. It's Time We Did Something About It
By Micahel Arria, Truthout, Jan. 11, 2018
Many are hoping that 2017 represented a turning point in the fight against workplace harassment, as the #MeToo moment put a spotlight on sexual misconduct. Now some labor advocates are hoping that the momentum of #MeToo helps to fuel an additional campaign against a different and overlapping type of harassment: workplace bullying.
While there's been increased attention paid to the bullying of children in recent years, there hasn't been the same kind of focus on bullying among adults, but statistics indicate that it's a major problem. According to one 2008 study, nearly 75 percent of participants have witnessed workplace bullying at their job and 47 percent have been bullied at some point in their career. Another 27 percent said they had been bullied within the last 12 months. In a 2014 survey by the Workplace Bullying Institute (WBI), 72 percent of the respondents said that their employer either condones or encourages the behavior.
There's no universal definition of it, but the WBI defines it as repeated, health-harming mistreatment of one or more persons (the targets) by one or more perpetrators. It is abusive conduct that is:
– Threatening, humiliating, or intimidating, or
– Work interference — sabotage — which prevents work from getting done, or
– Verbal abuse.
WBI sprang from a campaign that was started by Ruth and Gary Namie, a husband-and-wife team of psychologists. In the late 1990s, Ruth worked in a psychiatric clinic and was bullied by her supervisor. To their surprise, the Namies discovered there was very little Ruth could do about the situation. Employment discrimination laws existed, but they didn't cover things like your boss screaming at you daily or a co-worker trying to sabotage your imminent promotion. If you hadn't been targeted for abuse because of your race, sex or national origin, or because you blew the whistle on something related to the company, there wasn't a legal avenue for you to pursue.
The Namies also discovered that there were no organizations working on the issue in the United States, so they started the Work Doctor at the WBI website, where they wrote about the issue, drawing heavily on existing research from countries where it was taken seriously (such as Sweden, Belgium and France). They also created a toll-free hotline for workers to call, counseled thousands of people on the issue, and hosted the first US conference dedicated to the subject of workplace bullying.
At the end of 2001, the campaign moved from California to the state of Washington. At Western Washington University, Gary Namie taught the first US college course on workplace bullying, and the campaign evolved into WBI after a group of research students volunteered to do more survey research.
(more…)

Tags: abusive conduct, David Yamada, Gary Namie, Gillian Mason, Healthy Workplace Bill, Jobs With Justice, Ruth Namie, Truthout, workplace bullying
Posted in Healthy Workplace Bill (U.S. campaign), Media About Bullying, Print: News, Blogs, Magazines | 1 Archived Comment | Post A Comment () »
Sunday, December 31st, 2017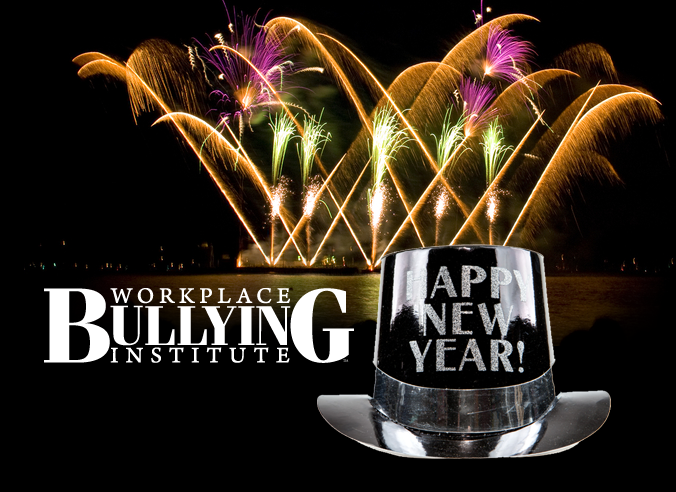 Tags: abusive conduct, Gary Namie, Ruth Namie, Workplace Bullying Institute
Posted in Hear Ye! Hear Ye! 2 | Comments Off on If wishing could make it happen – have an abuse-free 2018 | Post A Comment () »
Wednesday, December 13th, 2017

Tags: Dave Phillips, Gary Namie, Jessi Eden Brown, Ruth Namie, Workplace Bullying Institute
Posted in Hear Ye! Hear Ye! 2 | Comments Off on Happy Holidays & Happy New Year 2018 | Post A Comment () »
Wednesday, December 13th, 2017
An incomparable amount of public attention has been fixed on sexual harassment in the latter half of 2017. It's a tsunami, a virtual revolution.
We are finishing a short book, a primer, a white paper on lessons and opportunities for bullied targets to apply from the new movement and changing employer landscape.
The publication will be available for sale at a nominal price in early January 2018.
Check back to get your copy.

Tags: #MeToo, abusive conduct, advice for targets, bullied targets, Gary Namie, MeToo Revolution, Ruth Namie, sexul harassment, workplace bullying
Posted in Books, Hear Ye! Hear Ye! 2, Media About Bullying, Products & Services, Tutorials About Bullying, WBI Education | No Archived Comments | Post A Comment () »
Wednesday, December 13th, 2017
Battling Bullying in the Workplace
By Rebecca Koenig, U.S. News & World Report, Dec. 13, 2017
It's Monday morning and you're filled with dread. You have to present research at the office this afternoon, but the gnawing feeling in your stomach isn't just performance anxiety. Whenever you speak in front of your team, your boss interrupts to mock what you say. He questions your judgment, calls you an "idiot" and even mimics your voice in an unflattering way. Worse, a few of your co-workers have started to follow his lead, criticizing your work behind your back, and, increasingly, to your face.
You know your contributions are excellent – at least, you used to know. Lately, you haven't been so sure.
Welcome to the world of workplace bullying. That's right, the same sort of name-calling, intimidation and ostracism some children experience on the playground can take root among adults in their offices. When constructive criticism crosses a line, or a co-worker undermines your efforts, or your boss starts spreading rumors about your personal life, those are all examples of workplace bullying.
The effects of this abusive behavior can be serious: decreased self-esteem, worsened health and career deterioration. Read on to learn more about the phenomenon and how to combat it.

Understanding the Workplace Bullying Definition
Office bullying is defined as "repeated, health-harming mistreatment" that involves verbal abuse, work sabotage and/or humiliation and intimidation, according to the Workplace Bullying Institute, a research and advocacy organization.
It may occur one-on-one (between two co-workers or a supervisor and subordinate) or in a group setting. The latter, in which multiple people gang up on one person, is known as "mobbing."
Typically, a bully is "an aggressive person who strikes out at a particular person more than once over the course of months," says Nathan Bowling, a psychology professor at Wright State University.
Workplace Bullying Statistics
One-fifth of American adults have directly experienced abusive conduct at work, according to a 2017 Workplace Bullying Institute survey of more than 1,000 people.
More than two-thirds of office bullies are men, and both men and women bullies target women at higher rates. Hispanics report higher levels of bullying than members of any other race.
It's not uncommon to have a bully boss: 61 percent of targets reported bullying from people in more senior positions.
(more…)

Tags: David Yamada, Gary Namie, workplace bullying, Workplace Bullying Institute
Posted in Media About Bullying, Print: News, Blogs, Magazines, WBI Surveys & Studies | No Archived Comments | Post A Comment () »
Tuesday, August 1st, 2017
The first glowing positive public headline read "Apple will make products (iPhones and iPads) in the U.S." Yea! Good news, right? Maybe not so. Reading the details revealed that one of Apple's major manufacturers in China, the Tawainese company Foxconn, was searching for an American location. Not Apple itself — its contracted manufacturer. Apple not only makes its gizmos offshore; it hoardes millions in profits offshore to avoid a US tax bill.
Foxconn, the astute reader remembers, was rendered infamous years ago when it coerced a spate of employee suicides. Investigations uncovered the fact that young workers were crammed into tiny employer-provided apartments too many for the space allotted. (Think factory towns under total employer control.) Then, at the worksite, the workers were forbidden to speak with one another on the Apple products assembly line. The prohibition extended to any talking, not gossip or non-work-related communications — any interpersonal contact!!!!
Worker have a fundamental human need to belong to groups, to be included. When that need is thwarted in cases of social exclusion or ostracism, individuals suffer social harm. Neuroscience research reveals that the social pain endured is real pain — the kind taking painkillers will reduce. Hence, the suicide by jumping off the roof of Foxconn buildings in China.
Foxconn institutionally abused its workers for some unknown reason. The solution to their suicide "problem" — probably considered nothing more than a public relations crisis — was to install netting to catch the jumpers before hitting the ground below. Great fix, huh? No need to attack the root cause — the Foxconn policy and practice. Better to simply minimize the deaths by suicide with "safety" nets. Stupid (or as Trump would say "Sad!).
Foxconn couldn't convince Pennsylvania to give them a substantial prize for the locating there. But union-busting Scott Walker delivered Wisconsin. As the following report from the Milwaukee Journal Sentinel states, the state will pony up $3 billion of taxpayer funds to entice the company to locate in either Racine or Kenosha counties. Further, the full-control Foxconn style practiced in China is likely to be replicated, or attempted, in Wisconsin. The newspaper story stated that the "factory project would involve a virtual village, with housing, stores and service businesses spread over at least 1,000 acres." That is, employer-controlled housing.
Will Americans be willing to cram 10-15 people into spaces designed for two or three? Or will the company simply provide gymnasium-size quarters with cots so workers can sleep up to 6 hours before getting back to the assembly line?
Most important, watch to see how they manage interpersonal relations in the factory. Will Foxconn prohibit workers from talking to one another as they did in China? There's not a single U.S. labor law to prevent it. [The Wisconsin legislature in the session immediately prior to Walker and the Republican takeover, not only sponsored the WBI Healthy Workplace Bill, it held hearings I attended. The bill did not pass, but at least workers' rights were on the lawmakers' agenda. Now, not so much.] And Walker and his Republican thugs have paralyzed once union-proud Wisconsites into fear of union organizing.
Watch for the proactive installation of nets to catch suicide leapers in Wisconsin. Why do we let this happen in America????
Read the Journal Sentinel article that follows.

Tags: abusive conduct, Apple, Foxconn, Gary Namie, institutional bullying, suicide, Wisconsin jobs, workplace bullying
Posted in Bullying & Health, Employers Gone Wild: Doing Bad Things, WBI Education | 1 Archived Comment | Post A Comment () »
Friday, July 7th, 2017
2017 WBI U.S. Workplace Bullying Survey
Support for a New Law Against Abusive Conduct At Work

77% of Americans support a new law to address abusive conduct at work

The Workplace Bullying Institute commissioned Zogby Analytics to conduct the 2017 national scientific U.S. survey across two days in late April. The stratified random sample of 1,008 individuals represented all adult Americans. [Zogby methodology and sample details here.] It was WBI's fourth national survey.
We used the definition of workplace bullying that matches perfectly the definition codified in the Healthy Workplace Bill. Bullying is repeated mistreatment but also "abusive conduct." We asked American survey respondents to consider only the most serious forms of bullying.
When the 2017 WBI U.S. Workplace Bullying data were collected, legislation written to address abusive conduct in American workplaces – the Healthy Workplace Bill – had been introduced in 30 states and Territories. The bill had not yet been enacted into law in its complete form.
We asked all respondents [N = 1,008] whether they supported or opposed such a law.
Wording of the Support for New Law Question: Do you support or oppose enactment of a new law that would protect all workers from repeated health-harming abusive mistreatment in addition to protections against illegal discrimination and harassment?

It is clear that the American public wants to see worker protections against abusive conduct extended beyond the anti-discrimination statutes – 77% support specific anti-bullying legislation when strongly support and somewhat support proportions are combined.
Self-described political ideology was one of the demographic variables provided by Zogby. There were 242 liberals, 314 moderates and 369 conservatives. Table 12 shows the pattern of support and opposition for the new anti-abuse workplace law. The phenomenon of bullying ignores ideological boundaries (with the possible Trump effect being the exception, see the analysis of the final question). Nevertheless, liberals and moderates showed the strongest support for the bill. It is noteworthy that two-thirds of conservatives support enacting the law against abusive conduct at work.
Gary Namie, PhD
WBI Research Director
Download the pdf version of these Support for New Law findings.
View findings related to other questions asked in the 2017 Survey.
Download the complete report of the 2017 WBI U.S. Workplace Bullying Survey.

Tags: 2017 WBI U.S. Workplace Bullying Survey, abusive conduct, Gary Namie, Healthy Workplace Bill, law enactment, state law, WBI, Workplace Bullying Institute, workplace bullying law
Posted in Bullying-Related Research, Social/Mgmt/Epid Sciences, WBI Education, WBI Surveys & Studies | 2 Archived Comments | Post A Comment () »