Posts Tagged 'harassment'
Friday, June 13th, 2014
Dear Kalola,

I am still in a bullying workplace. The person who is bullying is my supervisor. It started immediately after I started. The supervisor is related to the boss and that is why she gets away with it. She does it it front of other coworkers never the boss.

Some examples of bullying; she once said to me "where are you wearing that short ass skirt to?".

She once said to me in front of two people, "why aren't you taking notes, don't come to these meeting without a pad".

She once said to me, " I would hope you are not acting like a den bat."

Just recently she got upset because she has a visitor and because I notified her and she said to me " I am tired of this from you" and slammed the phone in my ear.

These are just some of the examples. They go on and on.

Please help, what are my rights, can I sue? Do I need to start documenting?

Dore
(more…)

Tags: EEOC, harassment, Let's Talk with Kalola, workplace bullying, Your Legal Rights
Posted in Let's Talk with Kalola | No Archived Comments | Post A Comment () »
Monday, April 15th, 2013
The price paid by the City and County of San Francisco for defending indefensible discrimination and general bullying across 5 years was over $10 million. If City leaders were rational, they would see that BULLIES ARE TOO EXPENSIVE TO KEEP! … but it's not a rational world and butt-kissing bullies are adored and hardly ever terminated.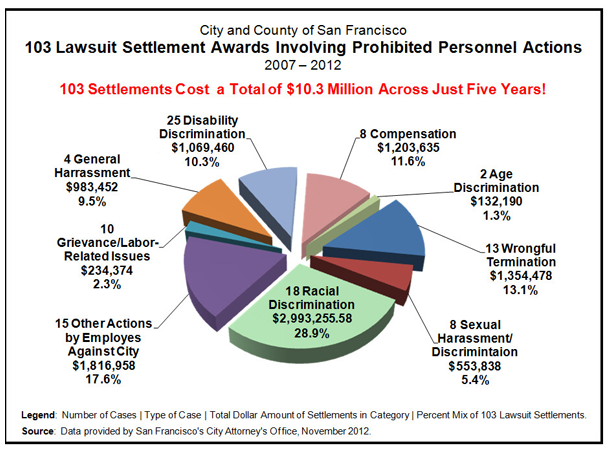 Thanks to Steve Zeltzer for finding this set of facts.

Tags: costs of bullying, discrimination, fiscal impact, harassment, San Francisco, workplace bullying
Posted in Tutorials About Bullying, WBI Education | No Archived Comments | Post A Comment () »
Sunday, December 2nd, 2012
As bullied targets learn quickly, civil rights laws rarely apply in bullying situations. The magic combination of a target being a member of a protected class and the bully not being a member happens in only 1 in 5 cases. With all other combinations the target must overcome legal obstacles too great for most attorneys to tackle.
On Nov. 26, the U.S. Supreme Court (SCOTUS) heard oral arguments in the case brought by a black woman Maetta Vance against Ball State University. The case is not about whether or not she suffered racial discrimination at the hands of Saundra Davis, a white woman, but whether Davis was her supervisor.
The University is not liable for Davis' conduct if the court deems Davis a coworker. Vance contends that Davis acted as her supervisor. That's the crux of the case. The final decision affects the liability of employers in harassment cases and could make it even tougher to sue employers for one of their employee's wrongdoing.

Tags: Ball State University, employer liability, harassment, Maetta Vance, status-protected group, supervisor definition, vicarious liability
Posted in Fairness & Social Justice Denied, Rulings by Courts, Tutorials About Bullying, WBI Education, Workplace Bullying Laws | 1 Archived Comment | Post A Comment () »
Friday, March 2nd, 2012
By Carol J. Williams, Los Angeles Times, March 2, 2012
Ani Chopourian told of sexually inappropriate conduct, bullying and retaliation at a Sacramento hospital. The award is believed to be the largest for a single victim of workplace harassment in U.S. history.

Tags: Ani Chopourian, harassment, hospitals, Sacramento's Mercy General Hospital
Posted in Rulings by Courts, WBI in the News | 17 Archived Comments | Post A Comment () »
Saturday, November 5th, 2011
Sexual harassment violates state and federal laws. Harassers pose a legal liability to employers. Therefore, employers will pay cash to bury the secrets.

Tags: Cain, discrimination, gag clauses, harassment, lawsuits, settlement agreements
Posted in Employers Gone Wild: Doing Bad Things, Tutorials About Bullying | 3 Archived Comments | Post A Comment () »
Friday, September 10th, 2010
We at WBI often complain that management is lax regarding mistreatment of workers. Our 2007 national study showed that bosses are perpetrators in 72% of cases. Bosses too rarely try to prevent or rectify bullying and harassment. But this story is among the more preposterous ones we have heard.
The hero is Luis Collazo a former supervisor at Bristol-Myers Squibb, Puerto Rico. A woman scientist in his unit, Diana Hiraldo, complained to him on Feb. 10, 2003 that a co-worker was sexually harassing her on the job. Instead of ignoring the complaint or tipping off the alleged harasser thus triggering an escalation, he arranged and attended a Feb. 20 meeting between Hiraldo and an HR specialist Edgardo Garcia. Garcia explained to her the grievance process. Collazo did the right thing. Agree?
(more…)

Tags: Bristol-Myers Squibb, harassment, Jim Edwards, lawsuit, Luis Collazo, Placebo Effect
Posted in Employers Gone Wild: Doing Bad Things | 7 Archived Comments | Post A Comment () »
Monday, June 1st, 2009
Did you know the origin of the word harassment?
to ha•rass
Etymology: French harasser, from Middle French, from harer to set a dog on, from Old French hare, interjection used to incite dogs, of Germanic origin
No wonder bullying and harassment are so dehumanizing, it is as if someone called on the attack dogs. Our South African friend Susan Steinman always invoked in her books the metaphor of bullies as hyenas, flesh-eating, pack-traveling attackers.
Illinois State professor Curtis White ponders in a new essay how humans can destroy the natural world. According to him, the source precedes contemporary culprits, and goes much deeper. Unfettered capitalism and the emphasis on "winning" are certainly to blame. But the human "barbaric heart" underlies our warlike approach to others. Violence and plunder are virtuous in a winner-take-all society. Citing the experience of the Romans, for whom prosperity depended on violence, White makes the point that the strategy is ultimately suicidal. But barbarians lack insight, never pausing to reflect on actions taken.
I know many of you are convinced most bullies are evil, barely human! Others believe all bullies are psychopaths. I thought you'd appreciate yet another way to characterize their quest for interpersonal violence at work — they are barbarians. In reality, we believe most bullies are banal soccer moms and fathers of the month. At work, they are transformed into barbarians.
Love to have your thoughts on the matter.

Tags: barbaric heart, harassment, Steinman, White
Posted in Tutorials About Bullying | 5 Archived Comments | Post A Comment () »