Posts Tagged 'health harm'
Thursday, October 22nd, 2015
Bullying in the workplace: How to recognize and address it
By Becky Parker, WDAZ-TV (Grand Forks, North Dakota), Oct. 22, 2015
Bullying is an issue people may think is reserved for the schoolyard, or even cyberspace.
But adult bullying in the workplace can have devastating effects on people's lives.
One in 10 U.S. workers say they are being bullied at their jobs.
Forty-five-percent say they've been bullied at some point during their career, and another 25% say they've witnessed workplace bullying.
We spoke to North Dakota State University professor and researcher Pam Lutgen-Sandvik, who has been studying workplace bullying for nearly 15 years. [Note: Dr. Lutgen-Sandvik is a WBI friend & colleague; her research is featured prominently in the WBI training for professionals, Workplace Bullying University.]
She defines bullying as persistent, hostile, aggressive behavior that can be verbal or non-verbal.
Research shows adult bullying can lead to depression, eating disorders, sleeping disorders, PTSD and physical ailments.
It also increases the person's stress levels and degrades their mental health by making them feel crazy, scared, and anxious.
"It also bleeds into families. When you're bullied and abused at work you go home and sometimes there's displaced aggression when you're screaming at your family members, sort of that, 'kick-the-dog' kind of thing. We do know for sure it reduces people's satisfaction with their personal lives," says Lutgen-Sandvik.
Here's what she says you should do if you are being bullied at work:
• Give it a name – define it as workplace bullying.
• Remember that it's not your fault – bullies often make the victim feel crazy.
• Get some social support – like a counselor – as bullying can degrade your mental health.
• Take some time off from work to regroup and figure out how to address the problem.
"Trying to make sense of it and figure out what you're going to do is really difficult when you're in the environment and you're constantly bombarded with this aggression and hostility. If it's possible, take some time off of work so you can kind of get your bearings and figure out, 'am I going to stay? If I'm not going to stay, what am I going to do here?'"
Many people in a bullying situation at work might want to fight back, but that can be risky.
Often, bullying situations at work involve an element of power. In the U.S., it's usually a manager, but can also be a peer.
If you do choose to fight back, Lutgen-Sandvik says the best way is to talk to someone who has power over the bully.
Bring specific examples of bullying, have other co-workers to back you up, and have a clear goal in mind.
Lutgen-Sandvik says it is not a good idea to confront the bully directly.
"They will escalate the abuse worse than it ever was before, and drive the people out of the workplace because now they've become serious threats to the perpetrator. So, directly confronting the perpetrator, it's really a very, I would say, dangerous thing to do."
###
This is Freedom from Workplace Bullies Week and October is Bullying Prevention Month and Domestic Violence Awareness Month.
Readers may click-to-purchase Adult Bullying, Pam's chronicle of her decade of research into workplace bullying, written in easy-to-understand prose.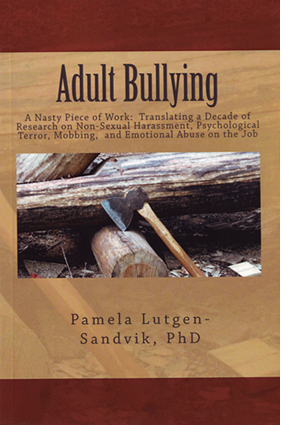 Tags: 2014 WBI U.S. Workplace Bullying Survey, abusive conduct, adult bullying, health harm, Lutgen-Sandvik, NDSU, professor, research, workplace bullying
Posted in Bullying & Health, Bullying-Related Research, Social/Mgmt/Epid Sciences, WBI Education, Workplace Bullying University | No Archived Comments | Post A Comment () »
Wednesday, October 21st, 2015

Lana Cooke, West Virginia State Coordinator, Healthy Workplace Bill campaign

Ernie Cooke, Lana's supportive husband, Requiescat in pace dear gentle man

Jane Bethel, Virginia State Coordinator, Healthy Workplace Bill campaign

Neil Dias, Verizon

Susan Rae Baker


Tags: abusive conduct, anecdotal tales., bullied targets, degradation, harm to individuals, health harm, spousal support, workplace bullying, Workplace Bullying Institute
Posted in Freedom Week, WBI Education | No Archived Comments | Post A Comment () »
Friday, January 2nd, 2015
If not now, when will principled lawmakers come forward to not only introduce, but to work tirelessly to enact, legislation that holds employers accountable for allowing (through indifference or ignorance) or fostering (through rewards, both explicit and implicit) health-harming abusive conduct, a.k.a., workplace bullying?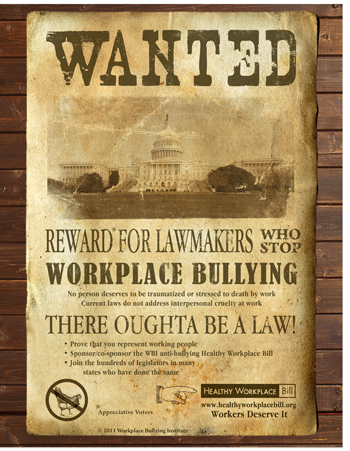 We seek elected officials who can resist arguments of pro-business lobbyists who make false claims about our Healthy Workplace Bill.
Here are some of those lies and distortions espoused by HWB opponents followed by the truth according to terms and provisions of the actual legislation.
1. Workplace bullying sounds childlike. Bullying is for kids; adults work.
The term does not appear in the text of the HWB bill. Instead, lawsuits will require demonstrably health-harming abusive conduct be shown that was followed by the employer's decision to punish the plaintiff with negative employment actions. Nothing infantile about abuse. Arguing "for abuse" should be condemned for not only poor "optics" but for the immorality of the position.
2. Bullying is too subjective. It cannot be defined.
So is sexual harassment, though illustrations can be given. But the perception's of the allegedly harassed recipient must be treated as credible until shown to be otherwise. This bill reflects the same subjectivity contained in civil rights statutes. By adding significant evidentiary burdens for the plaintiff, such as malice, proof of health harm, and a demonstrated pattern of repeated misconduct, the definition of abusive conduct approaches a more objective standard than long-standing harassment laws.
Tags: abusive conduct, health harm, Healthy Workplace Bill, legislation, objections, politicians, workplace bullying
Posted in Healthy Workplace Bill (U.S. campaign), Workplace Bullying Laws | 1 Archived Comment | Post A Comment () »
Saturday, July 26th, 2014
Tags: Gary Namie, got a minute, health harm, workplace bullying, Workplace Bullying Institute
Posted in Commentary by G. Namie, Media About Bullying, WBI Education | No Archived Comments | Post A Comment () »
Friday, June 6th, 2014
Another reason to pay attention to workplace bullying — it's a public health hazard.
Tags: health harm, stress, stress-related diseases, stressors, workplace bullying
Posted in Tutorials About Bullying, WBI Education | No Archived Comments | Post A Comment () »
Saturday, May 24th, 2014
Tags: Gary Namie, goat a minute, health harm, neuroscience, workplace bullying
Posted in Commentary by G. Namie, Media About Bullying, WBI Education | No Archived Comments | Post A Comment () »
Friday, February 28th, 2014
Dear Kalola,

My bully boss enacted a posse of others to support her gossip and lies. She ran several major grants at a public university. I was her star employee, the go-to for all the hard tasks that she felt she did not want to do (or procrastinated on doing). She relied on me to support more than $8 million in grant-funded project activities. And, she never gave me credit or praise for any of my hard work or dedication. I remained behind the scenes as her "secret weapon." She called me on weekends, evenings—just about any time she pleased.  She gossiped, slandered and complained about everyone in the organization. I listened to her endless lies and complaints—all generated from her own insecurities—for nearly 7 years. I always knew, listening to her, that it was a matter of time before I became her next target.

After nearly two years of working for her, I had my first warning sign that I was under unusual stress. I went the the emergency room at my local hospital with stroke-like symptoms; they told me it was a TIA and sent me home with aspirin. That first warning should have been my last, but it only incited the bully to heap on more responsibilities and a little bit more monetary compensation to keep me in her grasp.

At year five, a fellow employee attempted to expose her bullying and discriminatory behavior. Courageous soul; the university backed her up because she brought in millions from government grants. He left distressed, distraught and demoralized. I knew that I was next—I had complained to several co-workers and one higher-up about her bad behavior. I had started to capture the outrageous lies, the slander, the falsified data she used to support her claims that she was "doing good" for students in need.

My second TIA was more dramatic. It happened nearly two years after the first one. I ended up in the hospital emergency room again, but this time the doctor issued a warning: Get rid of the stress. After that second TIA, her madness escalated. My productivity had plummeted. I scarcely realized that I was depressed and could not focus or function much. Thoughts of suicide were daily and normal. I dreaded each new day … even the weekends, because I knew that she would probably call me to continue her gossip and lies.

When she realized that I was planning on leaving, she resorted to keeping information away from me, using our shared social network to malign me and my good work; she even paid off several of my colleagues with "new" contracts and enlisting them in spreading lies about me, anything to keep me dis-empowered.

I did finally get up the courage to leave. My doctors helped me to make the decision. Medication also helped with my depression. It's been over a year and a half, and my health has rebounded in the most miraculous ways. My spirit has been set free from the tyrant and her posse. I only hope that I can help others to break free and claim their right to greatness and joy.

Joyce
(more…)
Tags: health harm, heart, Let's Talk with Kalola, stress, tia, workplace bullying
Posted in Let's Talk with Kalola | No Archived Comments | Post A Comment () »
Monday, August 12th, 2013
Bradley Jones worked at Fred Fincher Motors, Houston, Texas. For the last several months, his sadistic coworkers and the dealership manager, Sam Harless, tasered him dozens of times. A taser attack is painful and a form of torture. When applied by untrained amateurs, it can result in death.
Jones endured the surprise, pain and humiliation simply because his coworkers sought to entertain themselves deriving their pleasure from his pain. They filmed the events and posted on YouTube (since taken down.) Jones has filed a Harris County civil lawsuit (Case 1035300 on Aug. 2) against his three assailants — Adam Winslow, Sam Harless and Alberto Chavarria, and the owner of the dealership, Patricia Harless (wife of manager Sam and a Texas State Representative). We at WBI hope law enforcement also pursues criminal prosecution of these civil defendants.
Somebody should at least their jobs for their monstrosity. Guess who was banished. Bradley Jones was fired!
Watch the KHOU-TV story and see Sam Harless's confidence that the county court system will exonerate him and his cohorts.
Not sure which is worse — a gloating Harless or recognizing the trauma to which Jones was subjected while simply trying to sell cars or the all too predictable fact that the victim was the one fired !!! Share your outrage with Sam Harless.
Help the Texas State Coordinator get the anti-bullying Healthy Workplace Bill enacted.
Tags: Bradley Jones, Fred Fincher Motors, health harm, Patricia Harless, PTSD, Sam Harless, taser, workplace bullying, workplace violence
Posted in Broadcasts: Video, TV, radio, webinars, Commentary by G. Namie, Employers Gone Wild: Doing Bad Things, Fairness & Social Justice Denied, Media About Bullying, Target Tale, Tutorials About Bullying, WBI Education | 2 Archived Comments | Post A Comment () »
Thursday, June 13th, 2013
Dear Kalola,

When I started with this company as a Clerical Assistant for the data team I was happy outgoing and loved going to work. When I made a change because of a financially crisis at home, I was not doing good so I transferred to a FT position. Once I moved into this position I was quickly moved to another position without even being asked. I had no proper training and my manager didn't know much either so it made this job stressful because you had to meet quotas and they based your performance on that. I began to feel really stressed.

For my one year anniversary my manager threw the packet on my desk and walked away in front of my coworkers. I felt humiliated, embarrassed and ashamed. After 3 months of this stress I began to feel sick nausea, vomiting, diarrhea, losing excessive weight, and migraines. I was diagnosed with 2 bleeding ulcers, a gastric ulcer and a condition called gastro paresis which its a condition where the stomach does not empty. After 4 months of hostile environment I was diagnosed with anxiety, depression and high blood pressure.

I wrote to HR and I was ignored. I filled out FMLA, I wrote to the owner 3 times but that made matters worse. I am still being written up and ignored. They have succeeded in taking my chance in education, my school flex schedule was taken away, written up with no chance to transfer out of this hostile deptartment. Everyday I am being harassed, abused and humiliated, provoked...I am at the end of my rope sometimes I feel like Im losing my mind...I cant quit because financially I'm suffering with all the hospital bills, doctor bills, procedures and medication.

Because of being absent because of my illness I am not getting paid, my bills have accumulated and I have no money to buy my Rx one at $30 the other three $15 each. My health has deteriorated drastically from someone so full of life, happy and outgoing to a depressed, not wanting to go out, insomnia, worries of what will happen if I lose my job, hard time sleeping and shutting down my brain so I don't think about it. Everyday going to work my body begins to shake, my chest gets tight, I have a hard time breathing, the nausea starts then the vomiting, diarrhea, and migraines begin again I stay feeling anxious and all I do is cry uncontrollably. On the weekends I am fine come Sunday night and everything starts again.

Florida Worker
(more…)
Tags: health harm, Let's Talk with Kalola, workplace bullying
Posted in Let's Talk with Kalola | No Archived Comments | Post A Comment () »
Thursday, February 7th, 2013
WBI introduced the British term "Workplace Bullying" to the U.S. back in 1997. We sometimes cringe when we see the bullying or bully terms tossed around glibly when people really mean to say "mean." Bullying is so much more.
WBI defines workplace bullying as repeated, health-harming mistreatment of one or more persons (the targets) by one or more perpetrators that takes one or more of the following forms:
Verbal abuse
Offensive conduct/behaviors (including nonverbal) which are threatening, humiliating, or intimidating
Work interference — sabotage — which prevents work from getting done

The public may focus on the acts themselves, for example, verbal abuse. The most popular measure of bullying used by academic researchers is called the Negative Acts Questionnaire. Most consider verbal abuse unilaterally delivered to be sufficient to call the act bullying and the actor a bully. But we have a contrarian view.

We believe acts alone do not constitute bullying. Some recipients of what we all would agree was verbal abuse are not negatively affected. They genuinely are not offended, hurt or damaged in any way. Individual differences in sensitivity and socialization can account for the very real result.

Bullying requires both a committed act (actually acts done on a chronic basis) AND a negative effect on the recipient, the target. Neither act nor harm alone defines bullying. Without tangible impact, when there is no harm, there is no foul. Caveat: The onset of harm may be delayed as is PTSD. The absence of immediate harm followed by a latent effect is still harm. If no harm ever manifests itself, then we can say the person was not harmed and, therefore, not bullied.

Tangible harm comes in at least four varieties.
Tags: economic harm, Gary Namie, health harm, occupational health, workplace bullying, workplace bullying definition
Posted in Bullying & Health, Tutorials About Bullying, WBI Education, WBI Surveys & Studies | 4 Archived Comments | Post A Comment () »