Posts Tagged 'Hennepin County Bar Association'
Wednesday, May 29th, 2013
Abuse of power: Dealing with a bully lawyer. By Barbara L. Jones, Minnesota Lawyer, May 10, 2013.
CLE examined the cost of bullying in the legal profession
When Minneapolis attorney Bernice Fields organized a CLE on Bullying in the Legal Workplace, some legal secretaries told her they were afraid to ask for time off to attend.
At least one person in the audience cried at the description of being a bully's target and what that can do to your health.
And the Minnesota Supreme Court last week confronted bullying in the profession when it suspended attorney Peter Nickitas for 30 days, followed by two years of supervised probation. There were several charges against Nickitas, but they included behavior that could readily be described as bullying. The petition said he made insulting remarks to opposing counsel during an arbitration, even screaming nose-to-nose with one attorney, the petition said. Nickitas could not be reached for comment.
The topic of bullying has taken center stage lately. The Anoka-Hennepin School District entered into a consent decree in 2012 governing discrimination and bullying after seven students there committed suicide. The Minnesota House of Representatives has passed the Safe and Supportive Schools bill requiring schools to have tougher antibullying policies. Hennepin and Ramsey County have "respectful workplace" policies that encompass bullying.

Tags: attorneys, Barbara L. Jones, Bernice Fields, Gary Namie, Hennepin County Bar Association, lawyers, legal secretaries, workplace bullying, Workplace Bullying Institute
Posted in Target Tale, Tutorials About Bullying, WBI Education, WBI in the News | No Archived Comments | Post A Comment () »
Wednesday, March 6th, 2013
Bullying in the Public Workplace, a program for Unions
Dr. Gary Namie, WBI Director
Tuesday April 30, 2013 1-4 pm
Hennepin County Bar Assoc, Minneapolis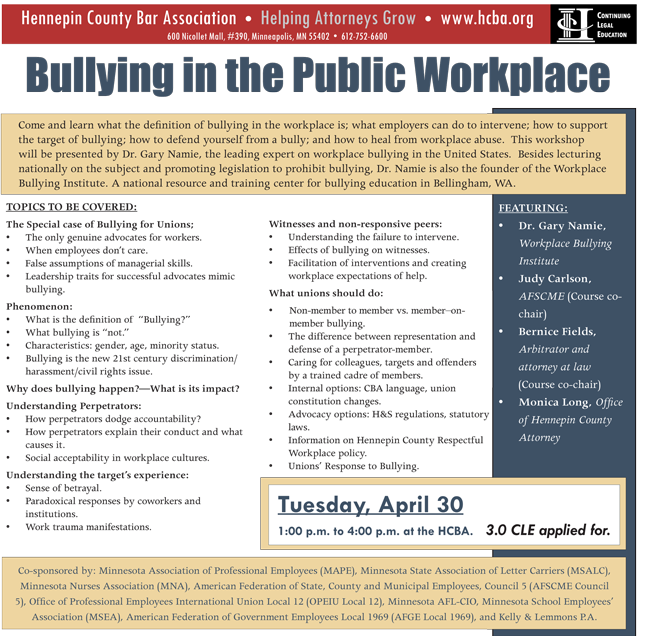 Tags: bullying in the public workplace, Gary Namie, Hennepin County Bar Association, Minneapolis, Unions, workplace bullying
Posted in Events & Appearances, Unions, WBI Education | No Archived Comments | Post A Comment () »