Posts Tagged 'HR'
Saturday, June 14th, 2014
Here is some work by a former target that lampoons the idea that "Human Resources" should change to a "Consumable resources" model. It would at least be more honest.
This is a great display of how time and creativity can help you work past a bullying experience.
Tags: consumable resource institute, HR, parody, workplace bullying
Posted in Broadcasts: Video, TV, radio, webinars | No Archived Comments | Post A Comment () »
Wednesday, February 19th, 2014
New from your friends in the legal-averse HR industry: a webinar for HR folks on how to avoid granting (un)paid leave or making federal law mandated accommodations for people with mental disabilities called depression.
Session title: "Depression in the Workplace"
A rational person would think the session would be led by a psychologist, but nooo, it's an attorney from the Eyres Law Group. Of course, if you or I non-attorneys professed to opine on subjects delving into the application of laws, we would be accused of an illegal act. But attorneys believe mental health and psychology are something not requiring any training or specialization.
The webinar topic list is upsetting, given what we know about the trauma that workplace bullying causes. And the fact that 49% of bullied individuals suffer clinical depression for the first time in their lives at the hands of an abuser at work!
Look at these webinar goals:
• How to tell if a depressed employee is "disabled" under the ADA's mental impairment definition (WBI: the only thing worse than attorneys playing psychologist is HR doing the same. Yikes!)
• Whether depression is generally a "covered" disability if it's the result of an underlying medical condition or due to an emotional trauma (WBI: which, of course, would never be caused BY the workplace)
• The medical inquires, limited examinations, and documentation you may legally request that the employee provide in support of a need for leave as accommodation (WBI: here's where employers hire their own hack shrink who conducts an "independent" medical exam guaranteed to conclude that the problem is not real, these medical professionals rarely practice outside employer panels)
• How to respond to erratic attendance and persistent tardiness, including when to raise potential FMLA leave as an option (WBI: FMLA, in most cases is unpaid leave forcing workers to stay on the job against their physicians' advice)
• How to successfully manage intermittent leave for chronic depression and curb potential FMLA abuse related to depressed workers (WBI: yes, abuse of unpaid leave is surely a chronic problem in the American laborforce that works more hours than workers in any other industrialized nation because there is no paid sick leave policies and leaves must be begged for. This smells like employer paranoia. Too bad employers don't have to answer yet for real abuse, abuse of employees!)
• When you may legally discipline or terminate an employee with depression without sparking liability under federal disability and leave laws (WBI: Ah yes, the real agenda — how to fire the harmed employee.)
Tags: ADA, clinical depression, disability, Health harm from bullying, HR, mental illness, workplace bullying
Posted in Employers Gone Wild: Doing Bad Things, Tutorials About Bullying, WBI Education | 1 Archived Comment | Post A Comment () »
Thursday, December 5th, 2013
Check out this great 2-part interview for the program Executive Decisions. Host Tim Muma talks with Dr. Namie about bullying tactics and how to stop workplace bullying from costing your business money.
Listen to more Executive Decisions at localjobnetwork.com.
Part 1
Audio clip: Adobe Flash Player (version 9 or above) is required to play this audio clip. Download the latest version here. You also need to have JavaScript enabled in your browser.
Part 2
Audio clip: Adobe Flash Player (version 9 or above) is required to play this audio clip. Download the latest version here. You also need to have JavaScript enabled in your browser.
Tags: Executive Decisions, Gary Namie, HR, localjobnetwork.com, Tim Muma, workplace bullying
Posted in Tutorials About Bullying, WBI in the News | No Archived Comments | Post A Comment () »
Thursday, August 22nd, 2013
By Kelly Ann Bird & Lindsay J. Jarusiewicz, The Metropolitan Corporate Counsel, August 21, 2013
Every parent is familiar with the word "bullying." It has now also become an important employee relations issue for businesses. Though there is no current federal or state law explicitly prohibiting workplace bullying, many states are considering legislation that would make bullying conduct illegal and create remedies for aggrieved employees. But even without workplace anti-bullying legislation, there is good reason for employers to address bullying concerns in the workplace. First, if unchecked, employees may assert claims related to bullying by sweeping the conduct into allegations of violations under existing laws. Second, the conduct is prevalent and persistent and, as such, clearly impacts the workplace.
(more…)
Tags: Healthy Workplace Bill, HR, workplace bullying, Workplace Bullying Institute
Posted in Healthy Workplace Bill (U.S. campaign), WBI Education, WBI in the News, Workplace Bullying Laws | 1 Archived Comment | Post A Comment () »
Friday, July 5th, 2013
Valerie Jarrett, an adviser to Pres. Obama, was the one to announce that employers will have an extra year to not provide employees with health insurance if they do not now. The White House chose to make the announcement the day before July 4 on Jarrett's blog. The headline read: "We're Listening to Businesses about the Health Care Law." Too bad they don't listen to workers without insurance whose immediate health problems require medical attention! But in America, as in no other major industrialized nation, without insurance people don't have affordable access to doctors, clinics or hospitals.
Jarrett wrote:
"As we implement this law, we have and will continue to make changes as needed. In our ongoing discussions with businesses we have heard that you need the time to get this right," she said in a post on the White House blog. "We are listening."
According to the Kaiser Family Foundation 2012 Survey of Employers: 94% of employers with 50-199 employees provide some sort of health insurance (albeit with high deductibles and premium sharing); 98% of employers with over 200 employees make insurance available. Then, why the delay? Implementation of the law (passed back in 2010) will affect only employers with 50 or more employees.
SHRM, the HR trade association sure was happy, telling their members:
HR professionals across the country are celebrating today, not just in anticipation for Independence Day, but because of the U.S. Treasury Department's announcement of a one year delay in implementing the employer mandate in the Patient Protection and Affordable Care Act.
Thought you'd want to know who has the ear of the President.
Tags: Affordable Care Act, health insurance, HR, Jarrett, Obamacare, SHRM
Posted in Commentary by G. Namie, Fairness & Social Justice Denied | No Archived Comments | Post A Comment () »
Wednesday, July 3rd, 2013
Bullied targets often wait a long time to complain about their plight. Delays happen when they are not quite certain what freight train hit them. They ruminate too long about why they unjustly were targeted? How could someone be so cruel? Eventually, they want to tell their employer.
Chain-of-command reporting requirements are common. Got a problem? Tell your supervisor. But when your supervisor is the bully, the requirement is a dangerous trap. It turns out to be equally ineffective when the bully's boss is asked to make the bullying stop. [See the 2012 WBI Strategies Effectiveness study about the futility of confronting the bully directly or telling the bully's boss.]
People erroneously believe workplace bullying is an HR-level problem. Not so. It is more about leadership or the lack thereof. [See what understanding by a leader looks like.] Expecting HR to resolve bullying by holding a manager-bully accountable is a rare event. HR is there to defend the interests of management. They are not a neutral party in disputes. Retaliation is the most frequent consequence of following internal procedures for righting a wrong.
The larger point is that internal systems put the institution in the tripartite role of abuse by agents of the employer, then they are investigators, and finally they are judges and adjudicators. How can this turn out well for those subjected to harm by that same system? Internal investigators grant credibility to managers, while non-supervisory workers are considered malingerers, malcontents, disgruntled and mendacious. Senior managers consider workers who report that the best connected friends of those senior managers have done bad things to be the problem. The reporting is considered the problem — not the unconscionable actions that the complainant felt had to be reported.
And so we see the model repeated by several government institutions: the NSA, the CIA-FBI, the Dept. of Defense. Truth tellers (whistleblowers) and truth-telling victims are hunted like criminals, dehumanized, discounted, ignored, tormented, terminated, discharged from service, or imprisoned all to discourage others from showing the same kind of courage.
Tags: CIA, complainant, complaint system, Edward Snowden, FBI, government, HR, Jack Kiriakou, Kirsten Gillibrand, military sexual trauma, Myah Smith, NSA, sexual assault, Thomas Drake, Tina Clemans, traitor, whistleblower, workplace bullying
Posted in Commentary by G. Namie, Fairness & Social Justice Denied, Media About Bullying, Print: News, Blogs, Magazines, The New America, Tutorials About Bullying, WBI Education | 3 Archived Comments | Post A Comment () »
Thursday, March 28th, 2013
UPDATE: To write a great workplace bullying policy and enforcement procedures, go here.
When fuzzy facts (first generation distortion) are allowed to pass for actual data and circulated widely by media (2nd gen distortion) they used by critics to undermine the anti-bullying campaign. Let's clear the air about current American employer engagement in stopping workplace bullying.
SHRM (the HR trade association) conducted a 2011 study about workplace bullying and reported results in Feb. 2012. The non-scientific survey of members had a low response rate of 15% (the final 401 respondents meant SHRM randomly polled 2,673 members). The results shed light on HR's view about the prevalence of workplace bullying policies in the U.S. When asked if respondents' organizations had specific anti-bullying policies in place, 44% of HR respondents defiantly stated their organization has "no policy and has no plans to put a workplace bullying policy in place." The answer, "No, but we plan to put a formal policy in place in the next 12 months," was chosen by 13%. Another 40% said, "Yes, our workplace bullying policy is part of another workplace policy." Only 3% of SHRM members said "Yes. We have a separate workplace bullying policy" in our organization.

Actual slide from 2012 SHRM survey results from which 56% statistic was plucked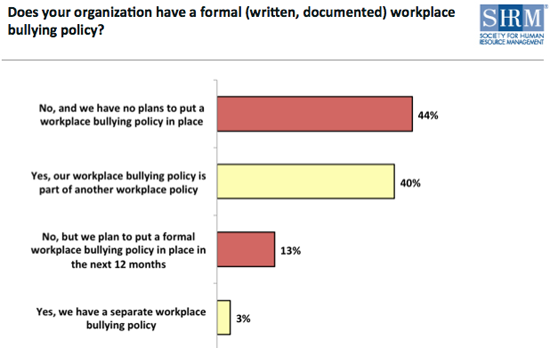 You can download the slide show from here.
(more…)
Tags: Gary Namie, HR, human resources, SHRM, surveys, WBI research, workplace bullying, workplace bullying policies
Posted in Employers Gone Wild: Doing Bad Things, Media About Bullying, Print: News, Blogs, Magazines, WBI Education, WBI Surveys & Studies | 7 Archived Comments | Post A Comment () »
Thursday, March 21st, 2013
Human Resource Association of Central Connecticut (HRACC) hosts Teresa Daniel, PhD, JD
April 16, 2013, 5 to 8 pm
Sheraton Hotel
Rocky Hill, CT
Note: Teresa Daniel is a WBI colleague and friend. Unlike other HR folks, she understands completely how destructive workplace bullying is and how HR can improve its response.
###
From the Hartford Courant
Workplace bullying affects more than 50 million U.S. employees. This topic will be discussed at an April program sponsored by The Human Resource Association of Central Connecticut.
With one incident of bullying every seven minutes, sadly, bullying is the most frequent form of violence that school-aged children encounter.
Tags: HR, HR in the Crossfire, human resources and bullying, Teresa Daniel, workplace bullying
Posted in Events & Appearances | No Archived Comments | Post A Comment () »
Monday, February 18th, 2013
Outrageous By Any Other Name
Bullied targets are not believed. Sometimes the disbelief is rooted in the outrageousness of perpetrators and the innovative cruelty they inflict on targets. It's hard to believe people can be so vicious.
There are three principal groups who deny bullying as it actually happens. Each group of disbelievers is discussed in separate audio tracks to make WBI Podcast 32.
Listen to all three parts in one clip:
Audio clip: Adobe Flash Player (version 9 or above) is required to play this audio clip. Download the latest version here. You also need to have JavaScript enabled in your browser.
Or in separate sections:
1. U.S. biz school researchers who cite "victim precipitation" as a cause
Audio clip: Adobe Flash Player (version 9 or above) is required to play this audio clip. Download the latest version here. You also need to have JavaScript enabled in your browser.
2. Employers — executives and HR
Audio clip: Adobe Flash Player (version 9 or above) is required to play this audio clip. Download the latest version here. You also need to have JavaScript enabled in your browser.
3. U.S. courts who make proving that the bullying was outrageous nearly impossible
Audio clip: Adobe Flash Player (version 9 or above) is required to play this audio clip. Download the latest version here. You also need to have JavaScript enabled in your browser.
Tags: Gary Namie, HR, intentional infliction of emotional distress, outrageous conduct, targets not believed, victim precipitation, WBI podast
Posted in Healthy Workplace Bill (U.S. campaign), Podcasts, Rulings by Courts, WBI Education, Workplace Bullying Laws | No Archived Comments | Post A Comment () »
Thursday, January 3rd, 2013
By Jeanne Allen
Bullying is very much a part of business these days. Those bullies in middle school and high school grew up and are waiting right around the corner for their next target. It's disheartening but true — in some circumstances bullying is legal.
According to The Workplace Bullying Institute, a nonprofit organization dedicated to understanding, correcting and preventing all abuse at work, bullying is four times more prevalent than illegal harassment.
Tags: HR, Workplace Bullying Institute
Posted in WBI in the News | No Archived Comments | Post A Comment () »