Posts Tagged 'human resources'
Thursday, March 28th, 2013
UPDATE: To write a great workplace bullying policy and enforcement procedures, go here.
When fuzzy facts (first generation distortion) are allowed to pass for actual data and circulated widely by media (2nd gen distortion) they used by critics to undermine the anti-bullying campaign. Let's clear the air about current American employer engagement in stopping workplace bullying.
SHRM (the HR trade association) conducted a 2011 study about workplace bullying and reported results in Feb. 2012. The non-scientific survey of members had a low response rate of 15% (the final 401 respondents meant SHRM randomly polled 2,673 members). The results shed light on HR's view about the prevalence of workplace bullying policies in the U.S. When asked if respondents' organizations had specific anti-bullying policies in place, 44% of HR respondents defiantly stated their organization has "no policy and has no plans to put a workplace bullying policy in place." The answer, "No, but we plan to put a formal policy in place in the next 12 months," was chosen by 13%. Another 40% said, "Yes, our workplace bullying policy is part of another workplace policy." Only 3% of SHRM members said "Yes. We have a separate workplace bullying policy" in our organization.

Actual slide from 2012 SHRM survey results from which 56% statistic was plucked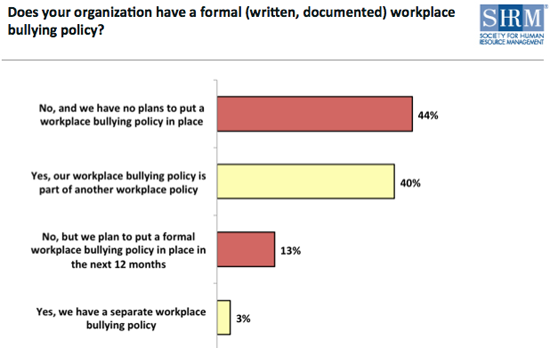 You can download the slide show from here.
(more…)
Tags: Gary Namie, HR, human resources, SHRM, surveys, WBI research, workplace bullying, workplace bullying policies
Posted in Employers Gone Wild: Doing Bad Things, Media About Bullying, Print: News, Blogs, Magazines, WBI Education, WBI Surveys & Studies | 3 Archived Comments | Post A Comment () »
Tuesday, March 12th, 2013
Wednesday, April 3, 2013 from 7:30 AM to 4:30 PM (CDT)
Hyatt Regency Hotel, 400 West Waterman Street, Wichita, KS 67202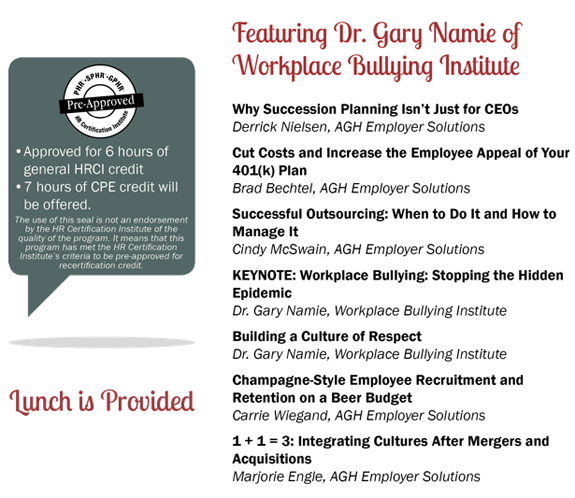 Tags: AGH, Gary Namie, HR solutions, human resources, KS, Wichita, workplace bullying
Posted in Products & Services, WBI Education | No Archived Comments | Post A Comment () »
Friday, December 10th, 2010
Kermit, the HR director for the Washington State Department of Transportation, has reportedly terrorized HR staff for years. He has now been fired for being a bully. And he now chooses to sue the state. Watch the Seattle NBC affiliate KING-TV report that aired on Dec. 9. Great tale of workplace bullying. Everything is accurate except the myth that HR is supposedly the role model for organizational integrity.
Tags: HR, human resources, workplace bullying, WSDOT
Posted in Employers Gone Wild: Doing Bad Things | 2 Archived Comments | Post A Comment () »
Friday, September 3rd, 2010
I want to love HR. I know good HR people. One shining example was a 2009 WBI University graduate. She was accustomed to serving at the executive level, as Senior Vice President, in several hospitals. When we met, she had lost two previous jobs simply because she dared to stand up to senior manager bullies. Each time, the CEOs terminated her and kept their buddies. We withhold her name so she can work again.
Another good person is a New York City-based HR professional who blogs and has written a book called the HR Toolkit and works with our NY State group to pass the anti-bullying Healthy Workplace Bill, despite SHRM's official opposition to the legislation.
(more…)
Tags: HR, human resources, WBI-Zogby, workplace bullying
Posted in Bullying-Related Research, Employers Gone Wild: Doing Bad Things, Tutorials About Bullying | 4 Archived Comments | Post A Comment () »