Posts Tagged 'human resources'
Wednesday, September 10th, 2014
The NFL — the No Effin' Liability league for the boys of football — has struck again. As a multi-billion dollar enterprise (owned by revered American entrepreneurs — celebrities themselves who own celebrity labor), the league of owners of American professional football has shown itself to be incredibly inept. Their mouthpiece, the "commish" Roger Goodell seems driven solely to protect the NFL brand. He certainly is not a competent CEO though paid $44.2 million per year to be incompetent. I'm not sure he could work the drive-thru at McDonalds — it's too fast moving and accuracy matters.
You see Roger got caught crafting corporate policy in a very public way, then revising it to be more punitive publicly, only to get caught acting unilaterally and reflexively, all the while completely ignoring his own stated "policy." The man doesn't know "strategery,"willing to act without thinking.
Ray Rice, star player for the Baltimore Ravens, was caught on a New Jersey casino hotel security video entering an elevator with this then-fiance, Janay Palmer. That same camera caught him dragging an unconscious Janay from the elevator minutes later.
Conclusion to be drawn by any reasonable person: Rice struck Palmer in the elevator. Local law enforcement, the district attorney and the judge seemed to believe an unknown third person must have assaulted her in the elevator. Charges were dismissed. The NFL also engaged in such magical thinking. Goodell was allowed to assume that if the courts didn't care to protect Palmer and jail Rice, the Ravens and NFL had little to worry about. And the only worry for the team and league is LEGAL liability. Just protect the shield, baby (tip to Al Davis).
Goodell decided that he had better punish Rice in some way. He grazed him with a 2-game suspension. Even within the NFL's hierarchy of punishments, the penalty was light as compared to a pot smoking 6-game suspension. The inequity was obvious to all immediately but not to Goodell. Weeks later, he publicly declared that a domestic violence first-time violation committed by a player (nothing said about the distinction between proof, accusation, arrest, indictment or conviction) would draw a 6-game penalty. What to do with Rice retroactively? Suddenly two new domestic violence cases emerged with San Francisco and Carolina players. What to do? Goodell waited.
Into the breach strode that paragon of journalism, TMZ, with the missing link — video from the elevator. At last, Goodell could see what had actually happened between the video sequences taken outside the elevator. He rapidly, within the day, compelled the Ravens team to fire Rice and the NFL suspended Rice indefinitely (which in the past has always been the route to redemption and restoral of playing privileges).
Goodell expected praise. Instead, there have been calls for his head. ESPN talking head, attorney, and former NFL quarterback Steve Young opined that the Ravens should have acted like a responsible corporate employer and sent Rice home without pay pending an investigation.
I'll let ESPN's Keith Olbermann explain why Goodell and the Ravens and county officials screwed up. He calls for mass resignations. Obermann says Goodell "comforted the violent and afflicted the victim" and is an "enabler of men who beat women."
As an institution, the NFL is screwy. The people in charge seem incapable of owning the responsibility for what they have done. It's all deflection and denial. Just protect the shield, baby.
It's corporate CYA!
Coming: Part II — The NFL's Personnel Problem
Tags: CEO, corporate irresponsibility, domestic violence, human resources, investigations, NFL, Roger Goodell, wullying
Posted in Commentary by G. Namie, Employers Gone Wild: Doing Bad Things, NFL: Domestic Violence, The New America | No Archived Comments | Post A Comment () »
Thursday, March 28th, 2013
UPDATE: To write a great workplace bullying policy and enforcement procedures, go here.
When fuzzy facts (first generation distortion) are allowed to pass for actual data and circulated widely by media (2nd gen distortion) they used by critics to undermine the anti-bullying campaign. Let's clear the air about current American employer engagement in stopping workplace bullying.
SHRM (the HR trade association) conducted a 2011 study about workplace bullying and reported results in Feb. 2012. The non-scientific survey of members had a low response rate of 15% (the final 401 respondents meant SHRM randomly polled 2,673 members). The results shed light on HR's view about the prevalence of workplace bullying policies in the U.S. When asked if respondents' organizations had specific anti-bullying policies in place, 44% of HR respondents defiantly stated their organization has "no policy and has no plans to put a workplace bullying policy in place." The answer, "No, but we plan to put a formal policy in place in the next 12 months," was chosen by 13%. Another 40% said, "Yes, our workplace bullying policy is part of another workplace policy." Only 3% of SHRM members said "Yes. We have a separate workplace bullying policy" in our organization.

Actual slide from 2012 SHRM survey results from which 56% statistic was plucked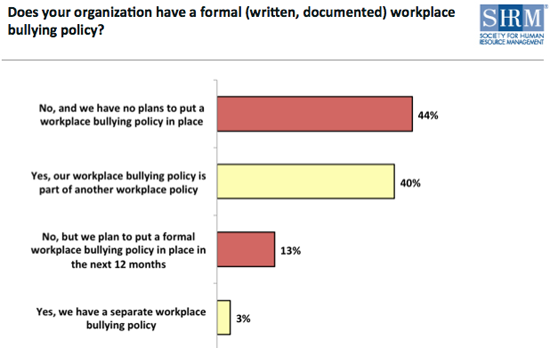 You can download the slide show from here.
(more…)
Tags: Gary Namie, HR, human resources, SHRM, surveys, WBI research, workplace bullying, workplace bullying policies
Posted in Employers Gone Wild: Doing Bad Things, Media About Bullying, Print: News, Blogs, Magazines, WBI Education, WBI Surveys & Studies | 7 Archived Comments | Post A Comment () »
Tuesday, March 12th, 2013
Wednesday, April 3, 2013 from 7:30 AM to 4:30 PM (CDT)
Hyatt Regency Hotel, 400 West Waterman Street, Wichita, KS 67202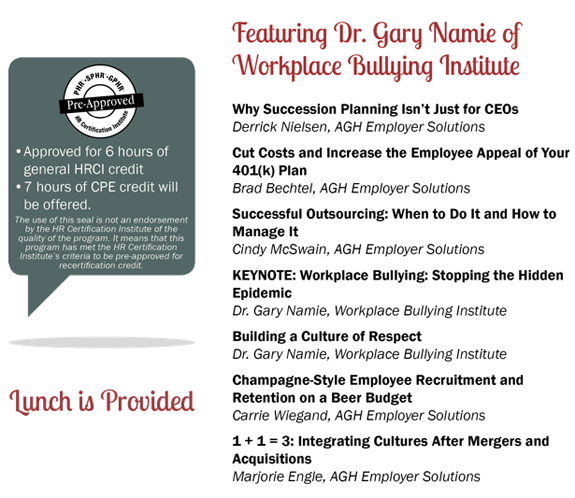 Tags: AGH, Gary Namie, HR solutions, human resources, KS, Wichita, workplace bullying
Posted in Products & Services, WBI Education | No Archived Comments | Post A Comment () »
Friday, December 10th, 2010
Kermit, the HR director for the Washington State Department of Transportation, has reportedly terrorized HR staff for years. He has now been fired for being a bully. And he now chooses to sue the state. Watch the Seattle NBC affiliate KING-TV report that aired on Dec. 9. Great tale of workplace bullying. Everything is accurate except the myth that HR is supposedly the role model for organizational integrity.
Tags: HR, human resources, workplace bullying, WSDOT
Posted in Employers Gone Wild: Doing Bad Things | 2 Archived Comments | Post A Comment () »
Friday, September 3rd, 2010
I want to love HR. I know good HR people. One shining example was a 2009 WBI University graduate. She was accustomed to serving at the executive level, as Senior Vice President, in several hospitals. When we met, she had lost two previous jobs simply because she dared to stand up to senior manager bullies. Each time, the CEOs terminated her and kept their buddies. We withhold her name so she can work again.
Another good person is a New York City-based HR professional who blogs and has written a book called the HR Toolkit and works with our NY State group to pass the anti-bullying Healthy Workplace Bill, despite SHRM's official opposition to the legislation.
(more…)
Tags: HR, human resources, WBI-Zogby, workplace bullying
Posted in Bullying-Related Research, Employers Gone Wild: Doing Bad Things, Tutorials About Bullying | 4 Archived Comments | Post A Comment () »