Posts Tagged 'instant poll'
Sunday, March 10th, 2013
Tags: Gary Namie, instant poll, research, workplace bullying, Workplace Bullying Institute
Posted in Events & Appearances, WBI Surveys & Studies | 1 Archived Comment | Post A Comment () »
Thursday, February 28th, 2013
Loading ...
Tags: Gary Namie, instant poll, WBI research, WBI survey, workplace bullying, Workplace Bullying Institute
Posted in Events & Appearances, WBI Education, WBI Surveys & Studies | No Archived Comments | Post A Comment () »
Wednesday, January 16th, 2013
WORKPLACE BULLYING PERPETRATORS' RANK & NUMBERS
WBI Research: 2012 – H Instant Poll
Workplace Bullying Institute Instant Polls are online single-question surveys that rely upon self-selected samples of individuals bullied at work (typically 98% of any sample). No demographic data are collected. Our non-scientific Instant Polls accurately depict the perceptions of workers targeted for bullying at work as contrasted with the views of all adult Americans in our scientific national surveys.
In the eighth IP of 2012, 81% of the 806 respondents declared that a boss (higher-ranking person than the target) was involved than bullying.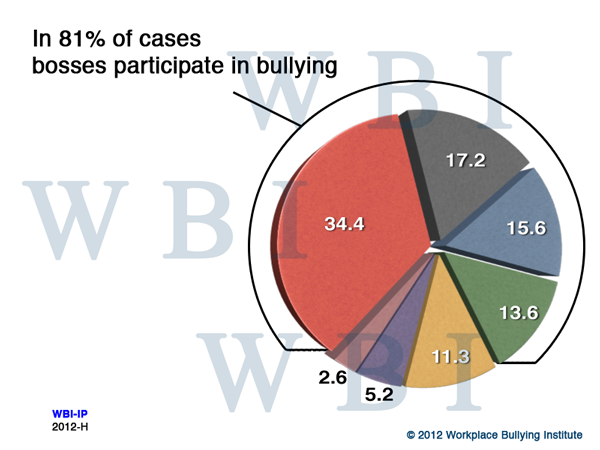 Tags: bullies, instant poll, Mobbing, perpetrators, rank, WBI survey, workplace bullying
Posted in Tutorials About Bullying, WBI Education, WBI Surveys & Studies | No Archived Comments | Post A Comment () »
Thursday, May 3rd, 2012
Employer Workplace Bullying Policies
2012 WBI Instant Poll – B
Using our Instant Poll capability here at the WBI website, we asked 311 respondents (98% of whom are self-declared targets of bullying):
Does (did) your employer have a specific policy prohibiting workplace bullying? [It can be part of another policy, but there must be protections for everyone, regardless of sex, age, religion, etc.]
Tags: employer policies, instant poll, survey, Workplace Bullying Institute
Posted in Employers Gone Wild: Doing Bad Things, Tutorials About Bullying, WBI Surveys & Studies | 2 Archived Comments | Post A Comment () »