Posts Tagged 'labor relations'
Tuesday, July 29th, 2014
The President of the International Association of Machinists and Aerospace Workers (IAM) is calling on Boeing CEO Jim McNerney to apologize to Boeing's workforce for offensive remarks made during a quarterly earning call with reporters on July 23, 2014.
"The heart will still be beating, the employees will still be cowering, I'll be working hard," said McNerney in response to a reporter's question about whether he had plans to retire after he turns 65 next month. Boeing's policy is for executives to retire at age 65.
McNerney is ranked #126 on the Forbes list of CEO compensation earning $13.36 million per year.
"Boeing's CEO would have been far better served to give credit to the workforce that has driven the company's sales and profits to record levels," said IAM President Tom Buffenbarger. "Instead, his unfunny and unnecessary remarks serve as reminder that the Jack Welch style of anti-personnel management is still alive and well at Boeing. If he is able to get his foot out of his mouth, the very next thing we hear from Mr. McNerney should be a sincere apology to all employees at Boeing."
The IAM and Boeing have a contentious relationship with Boeing always threatening IAM with shutting down production plants and moving to anti-union states (as they did for one plant moving to South Carolina from Washington state).
On that same Friday, McNerney issued an apology distributed companywide. He said the comment made during a call about the company's quarterly results was a "joke gone bad."

Tags: Boeing, CEO, IAM, labor relations, Machinists, McNerney
Posted in Employers Gone Wild: Doing Bad Things, Unions | No Archived Comments | Post A Comment () »
Friday, January 25th, 2013
Steven Greenhouse, New York Times Labor Reporter, writes that a 3-judge panel from the US court of appeals for the DC circuit just ruled unconstitutional President Obama's Jan. 2012 recess appointments to the National Labor Relations Board (NLRB). A full year of NLRB decisions, including some that restored balance to the employer-employee relationship, will be invalidated.
Only one NLRB member, Mark Pearce, will be left standing and the agency cannot rule without at least 3 members. Therefore, there will be no NLRB — it's the employers' dream. Sharon Block and Richard Griffin will be cut.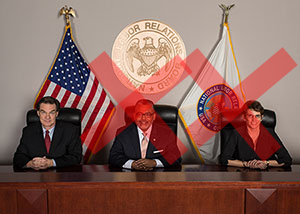 Tags: Gary Namie, labor relations, NLRB, Obama, recess appointment, Republicans, Richard Griffin, Sharon Block, Unions
Posted in Unions | No Archived Comments | Post A Comment () »