Posts Tagged 'locker room bullying'
Tuesday, August 19th, 2014
The fifth annual Sports Law and Ethics Symposium hosted by the Santa Clara University (CA) Institute of Sports Law and Ethics will cover trending issues like changes in the NCAA, bullying, match-fixing, steroid use, and the opening of the new San Francisco 49ers stadium.
The event will be held at Benson Memorial Center on SCU's campus Sept. 11, from 8:30 a.m. to 6 p.m.
This year's Symposium will feature top speakers from the Bay Area and the nation, from morning keynote speaker and San Francisco 49ers President Paraag Marathe to featured lunchtime speaker, Travis Tygart, the CEO of the United States Anti-Doping Agency (USADA).
Among the topics to be discussed during the Symposium:
Bullying and a Culture of Performance: Positive Coaching Alliance CEO and founder Jim Thompson will lead a discussion with Dr. Gary Namie, founder of the Workplace Bullying Institute and expert witness in the Jonathan Martin bullying case; Dr. William Pollack, Harvard Medical School associate clinical professor and author of Real Boys: Rescuing our Sons from the Myths of Boyhood; and Brandi Chastain, Olympic gold medal winner and member of World Cup champion U.S. soccer team.

Tags: Brandi Chastain, bullying in sports, Gary Namie, ISPE, Jim Thompson, locker room bullying, Santa Clara University, William Pollack
Posted in Media About Bullying, Print: News, Blogs, Magazines | No Archived Comments | Post A Comment () »
Tuesday, March 4th, 2014
WBI: The tale gets curiouser and curiouser …
Police in Arizona send Richie Incognito to mental-health facility
By Andrew Abramson, Palm Beach (FL) Post, Feb. 28, 2014
Dolphins guard Richie Incognito is receiving treatment at a psychiatric-care unit in Arizona after reportedly admitting to police that he damaged his Ferrari with a baseball bat in a fit of rage.
Incognito was hospitalized involuntarily late Thursday after Scottsdale police filed a petition to have him admitted, according to TMZ, which quoted a source.
Incognito apparently did not fight the order. NFL Media reported that he accepted the care because of the stress of the NFL investigation of his alleged bullying.
The NFL hired attorney Ted Wells to investigate claims of harassment in Miami's locker room. The report, issued two weeks ago, found that Incognito led the bullying of offensive tackle Jonathan Martin, several other players and an assistant trainer.

Tags: bully, Jonathan Martin, locker room bullying, Miami Dolphins, NFL, Richie Incognito, workplace bullying
Posted in Employers Gone Wild: Doing Bad Things, NFL: Jonathan Martin | No Archived Comments | Post A Comment () »
Wednesday, February 26th, 2014

The report by Ted Wells, the investigator in the NFL bullying scandal, introduced to the public for the first time two bully accomplices of Richie Incognito — Mike Pouncey and John Jerry. With Pouncey and Jerry, the harassment became same-race bullying, neither is white.
The New York Times did a long article profiling the two. Inside the article are statements of denial by friends of Pouncey and Jerry.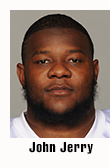 An unnamed friend commenting on the reactions of the two
they were upset at how the report characterized what they saw as harmless banter among friends and teammates. Neither had a sense that Martin was feeling bullied
Note how the bullies' version of the target's right to feel what he felt is given credibility.
A college coach saying
That's part of the culture of playing football.
A former teammate saying
Pouncey was not the type to harass teammates.
The article ends with Pouncey's "father figure" saying:
He'll be back to playing football. That's what he needs, and that's what he'll do.
Yes. Let's just move on … so we can forget! Wrong! Lessons must be learned and changes made. If not, this is another example of bully apologists at work to restore the offenders' image.
Read the entire article for yourself. Two Dolphins' Path to a Bullying Scandal by Steve Eder and Ben Shpigel, New York Times, Feb. 24, 2014
###
Follow the full NFL story in the Category list in the sidebar: NFL: Jonathan Martin

Tags: football culture, John Jerry, Jonathan Martin, locker room bullying, Miami Dolphins, Mike Pouncey, NFL, Richie Incognito, workplace bullying
Posted in Employers Gone Wild: Doing Bad Things, NFL: Jonathan Martin | No Archived Comments | Post A Comment () »
Tuesday, February 18th, 2014
By Jeff Pearlman, CNN, Feb. 18, 2014
An excerpt …
… as the world — in and out of sporting — chatters over the 144-page report commissioned by the NFL to explore allegations of bullying within the Miami Dolphins, I can't help but sigh, shrug and accept the reality that — even with Richie Incognito's warranted public flogging, even with Michael Sam's announcement of his homosexuality, even with continued societal enlightenment — little will change.
As anyone who has spent time covering athletics will tell you, life in a male professional clubhouse is often akin to the worst fraternity on campus — minus the rules, regulations and governing bodies. There is a caste system, but it has little to do with the most intelligent and mature rising to the top. Here, the skinny backup quarterback who attended, say, Harvard or Northwestern gains no points for his pedigree. The strong debater or the Tolstoy fan isn't considered a guide or guru.
No, this is the heartland of Richie Incognitos — large, loud, oafish dunderheads who would be branded bullies elsewhere but are here leaders. As the NFL report detailed, Incognito and Co. appeared to take a sadistic pleasure in torturing Jonathan Martin, a teammate considered to be weak.

Tags: Jonathan Martin, locker room bullying, NFL, Richie Incognito, workplace bullying
Posted in Guest Articles, NFL: Jonathan Martin | No Archived Comments | Post A Comment () »