Posts Tagged 'Mike Pouncey'
Wednesday, April 9th, 2014
The smoke has nearly cleared on the NFL Miami Dolphins bullying scandal. There were two phases of national attention. Phase 1 covered the time from Jonathan Martin's voluntary departure from the team on October 28, 2013, after game 4 of the season, until Feb. 14, 2014. Martin gave an abusive environment as his reason and did not speak until January in an interview with Tony Dungy. The plethora of stories featured the accused and suspended bully, Richie Incognito. Lots of sports commentators sided with Incognito against Martin. Incognito gave interviews, took a baseball bat to his sports car and was involuntarily hospitalized. He lost paychecks for two games and has not been hired by another team.
Phase 2 began with the release of the report of the independent investigation into Martin's allegations commissioned by the NFL and conducted by attorney Ted Wells. After Feb. 14, the world learned there were three principal perpetrators of abuse. Incognito was joined by John Jerry and Mike Pouncey in abusing Martin. Jerry and Pouncey and Martin are all African-American.
On March 11, 2014, Jonathan Martin was hired by the San Francisco 49ers. He rejoins his Stanford university coach, Jim Harbaugh. "It can be a very powerful opportunity and motivator for a player to say, 'It wasn't me, it was my situation,' " Harbaugh said. "Jonathan Martin is another player who will have a powerful opportunity." A recent description of the team culture Harbaugh crafts at the 49ers is:
"With the 49ers, just like at Stanford, Jim Harbaugh has made sure that nonsense is not possible. He has whipped up a singular focus: winning. So, I think this situation is perfect for Jonathan Martin."
Despite the report about Pouncey's conduct and his vehement discrediting of Martin as unwelcome, Miami Dolphins owner Stephen Ross declared Pouncey an "an outstanding young man," an "excellent football player," and expects him to be a team leader in 2014. His place in the Dolphins' hierarchy is no longer in question. The team is expected to exercise Pouncey's fifth-year option for 2015.
The other offensive lineman in the trio of harassers, John Jerry, identified by Wells as the first to taunt Martin in Miami, was hired by the New York Giants. Head Coach Tom Coughlin said "Calls were made to the league office. There is no suspension in the air or anything of that nature. Whatever part he played in it, there was remorse, sincere remorse."
The NFL Commissioner, Roger Goodell, reserved the right to suspend Pouncey or Jerry or both. Goodell made is sound like his decision to suspend or not depends on medical evaluations yet to be made.
###
Follow the full NFL story from the start in the Category list in the sidebar: NFL: Jonathan Martin Read the NFL investigation report.

Tags: John Jerry, Jonathan Martin, Miami Dolphins, Mike Pouncey, NFL, offensive linemen, Richie Incognito, Stephen Ross, Ted Wells, workplace bullying
Posted in Employers Gone Wild: Doing Bad Things, NFL: Jonathan Martin | No Archived Comments | Post A Comment () »
Wednesday, February 26th, 2014

The report by Ted Wells, the investigator in the NFL bullying scandal, introduced to the public for the first time two bully accomplices of Richie Incognito — Mike Pouncey and John Jerry. With Pouncey and Jerry, the harassment became same-race bullying, neither is white.
The New York Times did a long article profiling the two. Inside the article are statements of denial by friends of Pouncey and Jerry.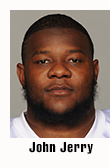 An unnamed friend commenting on the reactions of the two
they were upset at how the report characterized what they saw as harmless banter among friends and teammates. Neither had a sense that Martin was feeling bullied
Note how the bullies' version of the target's right to feel what he felt is given credibility.
A college coach saying
That's part of the culture of playing football.
A former teammate saying
Pouncey was not the type to harass teammates.
The article ends with Pouncey's "father figure" saying:
He'll be back to playing football. That's what he needs, and that's what he'll do.
Yes. Let's just move on … so we can forget! Wrong! Lessons must be learned and changes made. If not, this is another example of bully apologists at work to restore the offenders' image.
Read the entire article for yourself. Two Dolphins' Path to a Bullying Scandal by Steve Eder and Ben Shpigel, New York Times, Feb. 24, 2014
###
Follow the full NFL story in the Category list in the sidebar: NFL: Jonathan Martin

Tags: football culture, John Jerry, Jonathan Martin, locker room bullying, Miami Dolphins, Mike Pouncey, NFL, Richie Incognito, workplace bullying
Posted in Employers Gone Wild: Doing Bad Things, NFL: Jonathan Martin | No Archived Comments | Post A Comment () »