Posts Tagged 'Mobbing'
Friday, April 10th, 2015
Stockholm Bias: It's Not Quite Stockholm Syndrome, But It Affects All of Us
By Eyal Winter, em>Forbes, April 8, 2015
Winter is Professor of Economics, Hebrew University of Jerusalem
My father, Hans Winter, was a Jewish kid in pre-Nazi Germany who ran for his life to Palestine a year after Hitler took power. Until his last day, he considered the word Nazi to be synonymous with ultimate evil, yet when I asked him about his schoolteachers during that period he would be overcome with nostalgia and romanticism. When pressed, he would admit that most of his teachers supported the Nazi party, and would even describe the parades they organized and the Nazi songs he was forced to sing along with the rest of the class, even before Hitler took power. When noticing my astonishment, he often argued, "Yes, they were Nazis, but they treated me well." My father was not comfortable talking about it, and he appeared quite embarrassed as he wiped the small tear that ran slowly down his cheek. I believe he was affected by what I call Stockholm bias, a mild version of the better-known Stockholm syndrome.
 
On August 23, 1973, a group of burglars entered and commandeered a Kreditbanken bank branch in Norrmalmstorg Square in Stockholm. Over the next five days, several bank employees were held hostage in a vault by the burglars, who eventually surrendered to the authorities. What happened next was very peculiar. Most of the bank employees who had undergone the nightmare of captivity expressed support and sympathy for the hostage takers in press interviews. Some even offered to serve as character witnesses for the defense in the subsequent trial. The event prompted psychologists and psychiatrists to identify a new psychological phenomenon they called Stockholm syndrome.
Tags: 2014 U.S. Workplace Bullying Survey, Eyal Winter, Gary Namie, Mobbing, stockholm syndrome, workplace bullying, Workplace Bullying Institute
Posted in Tutorials About Bullying, WBI Education, WBI in the News | 3 Archived Comments | Post A Comment () »
Wednesday, March 11th, 2015
Mass. State Rep. Ellen Story, a staunch ally of the anti-abuse campaign for the workplace, has introduced the Healthy Workplace Bill (HWB) for the 2015-16 legislative session. Rep. Story has been involved since 2004! Her latest contribution is House bill H 1771. This is the full version of the bill that carries employer liability for enabling and maintaining a toxic work environment in which employees can be subjected to health-harming abusive conduct.
Mass. joins New York State as the only two states with current bills that hold employers accountable for the psychological safety of the work environment. Of course, the HWB grants good employers an escape from vicarious liability when they voluntarily take steps to prevent and correct abusive conduct. But toothless bills gutted by the state chambers of commerce (and others in the business lobby) share one common element — no employer liability.
The very effective WBI affiliate MA Healthy Workplace Advocates were able to secure 57 co-sponsors. In years past, the group, working in concert with organized labor, NAGE, orchestrated successful committee hearings. Perhaps this year after another hearing, H 1771 can move to a floor vote and beyond … to the Governor's desk.
We salute our Massachusetts volunteer State Coordinators and Citizen Lobbyists. Stay tuned.
You can track H 1771's progress at the MA State Page of the HWB website.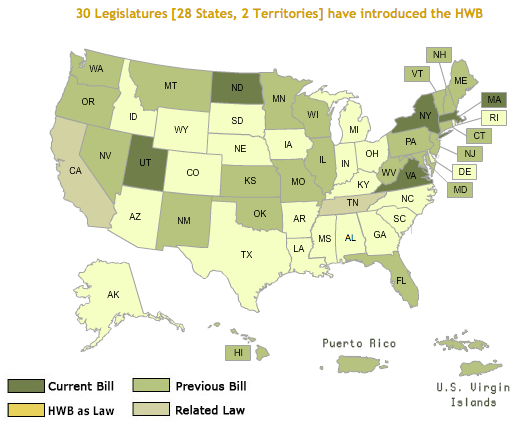 Tags: abusive conduct, abusive work environment, Healthy Workplace Bill, MA Healthy Workplace Advocates, Mobbing, workplace bullying
Posted in Healthy Workplace Bill (U.S. campaign), Hear Ye! Hear Ye! 2, Workplace Bullying Laws | 1 Archived Comment | Post A Comment () »
Tuesday, April 1st, 2014
The Workplace Bullying Institute and the New Workplace Institute are happy to announce the launch of a joint initiative, the U.S. Academy on Workplace Bullying, Mobbing, and Abuse, which will support and promote the multi-disciplinary work of leading and emerging educators, researchers, practitioners, writers, and advocates who are dedicated to understanding, preventing, stopping, and responding to workplace bullying and related forms of interpersonal mistreatment.
"For over a year, we've been contemplating how to bring together an American network of leading and emerging experts on workplace bullying and related topics. The Academy is our conduit for doing so. We look forward to highlighting the good works of these incredible people," says David Yamada, Suffolk University law professor and New Workplace Institute director.
The Academy has over 50 Fellows including leading psychological researchers, physicians, attorneys, occupational health experts, professors of management, nursing, and communications, counselors, union trainers, military leaders, advocates, and consultants. The complete list of Fellows can be seen at workplacebullyingacademy.com.
"When we started WBI there was one trade unionist and a couple of academic researchers with the courage to focus on workplace bullying. Since then the field exploded exponentially," says Gary Namie, PhD, Co-founder of the Workplace Bullying Institute, established in 1997. "We recognize the universality of these destructive behaviors, and this network focuses on the unique challenges posed by American employee relations, mental health, and legal systems."
Tags: abuse, bullying research, David Yamada, Gary Namie, Mobbing, new workplace institute, U.S. academy, workplace bullying, Workplace Bullying Institute
Posted in Bullying-Related Research, Good News, Healthy Workplace Bill (U.S. campaign), Hear Ye! Hear Ye! 2, Products & Services, Social/Mgmt/Epid Sciences, Tutorials About Bullying, Unions, WBI Education | 1 Archived Comment | Post A Comment () »
Friday, December 6th, 2013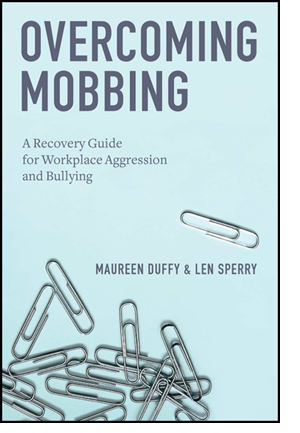 Overcoming Mobbing
A Recovery Guide for
Workplace Aggression
and Bullying
By Maureen Duffy & Len Sperry
A powerful, practical book that accurately reflects the entire bullying experience. These two clinicians, Duffy a clinical psychologist and Sperry a psychiatrist, demonstrate a deep understanding of bullied individuals and what it takes to heal them so life can be lived after bullying.The subtitle says it all — Recovery.
From the Foreword
Practical is the adjective to best describe this book. Though it is rich in citations and relies on science, applicability to real lives, real families and real organizations jumps off the pages. It tackles an admittedly complex subject with an accessible writing style that showcases illustrations and summary lists and tables. Points are driven home artfully with compassion for victims present throughout …
The blunt and truthful authors then describe how organizations create "shadow files" and do whatever it takes for administrators hide behind the myth that it is a "good and fair place to work." Hypocritically, those employers discard good employees as though they are dispensable resources using the tactics of mobbing fueled by the hurtful power of social exclusion, ostracism …
The authors do not leave the reader submerged in the dark side of the world of work. Ultimately, the book is about hope and inspiration. So, the seventh chapter signals the shift toward a discussion of recovery from mobbing. The valuable advice flows steadily and includes gems such as "don't make fighting the organization that mobbed you your next career." Their wisdom extends to selecting psychotherapists who practice "trauma-informed mental health care" by taking into account the organizational, cultural and power dynamics factors that instigated the mobbing experience rather than a focus on the victim's vulnerability …
The authors' defiantly critique the "bad apple," personality-dominated explanation for mobbing. They give the reader an introduction to work environments and their working parts. Personalities of perpetrators comprise only a small part …
Hooray for Duffy and Sperry's clarity in pronouncing that banishing bullies does not end the systemic problem. As the authors write "it takes an organization" to create it, and that's what it takes to stop it. ###
There is wisdom for organizational reps for those smart enough to apply the lessons contained inside. However, this book is primarily for bullied targets and the families who love them.
About the authors
Maureen Duffy, PhD, is a practicing family therapist and consultant specializing in workplace and school mobbing and bullying issues and an Affiliate with the Qualitative Research Graduate Program at Nova Southeastern University She provides trauma-informed psychotherapy to targets of mobbing and bullying and their families and consultation and training on workplace abuse to stakeholders including human resource managers and attorneys. She is the coauthor of Mobbing: Causes, Consequences, and Solutions.
Len Sperry, MD, PhD, is Professor of Mental Health Counseling at Florida Atlantic University and Clinical Professor of Psychiatry at the Medical College of Wisconsin. He has provided psychotherapy to mobbing victims and consulted with corporations on mobbing and bullying. He is the coauthor of Mobbing: Causes, Consequences, and Solutions.
Buy this book (along with the Lutgen-Sandvik book and, if they don't own it yet, our book, The Bully At Work) for those who need it most this Christmas season. They will be forever grateful.
Tags: bullied targets, Len Sperry, Maureen Duffy, Mobbing, organizational factors, self help, strategies, therapy, trauma, workplace bullying
Posted in Books, Bullying-Related Research, Good News, Hear Ye! Hear Ye! 2, Media About Bullying, Social/Mgmt/Epid Sciences, Tutorials About Bullying | 1 Archived Comment | Post A Comment () »
Thursday, December 5th, 2013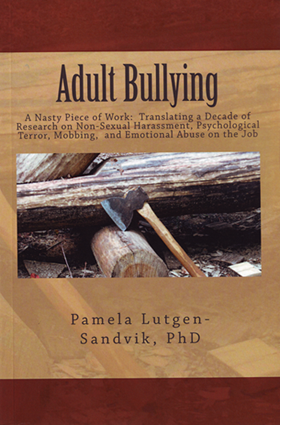 Adult Bullying
A Nasty Piece of Work:
Translating a Decade of Research
on Non-Sexual Harassment,
Psychological Terror, Mobbing,
and Emotional Abuse on the Job
By Pamela Lutgen-Sandvik, Ph.D.
North Dakota State University
Dr. Lutgen-Sandvik is arguably one of the most prolific American academic researchers on the topic of workplace bullying. She certainly is the best informed among academics, with few exceptions.
Here's why.
Pam is real. From her bio, prior to earning her doctorate in organizational communication at Arizona State she worked as a social service organization administrator, first in the field of women's advocacy and then in outpatient substance abuse treatment. Advocacy in the human services field is a rare background for academics.
Pam's practical, kick 'em in the shins approach to the esoteric world of academic research is revealed in the titles of some of her works — "Nightmares, demons & slaves" (can you hear Cher?), "Take this job and shove …" "Burned by bullying in America." And her style of collecting research data was to talk with bullied targets.
This book is a compilation of her work. It is not written by an egghead. The subtitle refers to her "translating" research into plainspeak. That's what she is profoundly good at doing well. Thus, it is ultimately readable.
The information found between the covers is useful if you are fighting a grievance, filing a complaint, embroiled in a lawsuit, or facing blank stares from HR.
The book covers many aspects of the bullying phenomenon with chapters on each — the prevalence, the stages of bullying, explaining the pain, the trauma and stigma of being bullied, how organizations become toxic, why women bully women, behavior of witnesses, and reversing the effects of bullying in individuals' lives.
Pam dedicates the book to all those bullied individuals who bravely participated in her research.
In 2013, she moved to North Dakota State (NDSU) in 2013 to join the Department of Communication in Fargo. She continues to research, publish, and teach in the area of organizational communication at NDSU and serves as the Director of the NDSU Communication Research & Training Center. Dr. Lutgen-Sandvik is married, has two children, and lives in Moorhead, MN.
Also, in 2013, Pam attended the WBI Workplace Bullying University® training for professionals in Bellingham, Washington to which she contributed mightily.
Pam declares that
All proceeds from book sales support scientific research that seeks to reduce workplace bullying, improve workplace communications and build more respectful workplace climates.
Where else can approx. $11 accomplish all that? Buy this book for yourself and as gifts for loved ones who have been bullied at work. While shopping, also buy Overcoming Mobbing by Duffy & Sperry new this holiday season 2013, and our book, The Bully At Work. They will be forever grateful.
With Pam, our admiration is personal. She came to Bellingham to meet us Namies in 2003 before her graduate studies were finished. She came to glean all she could from Dr. Ruth. So she is more than an intellectual colleague, she is a precious friend. We bought the book. You should, too.
Tags: bullied targets, emotional abuse, Len Sperry, Mobbing, non-sexual harassment, Pamela Lutgen-Sandvik, psychological terror, research, self help, workplace bullying, workplace bullying book
Posted in Books, Bullying-Related Research, Good News, Hear Ye! Hear Ye! 2, Media About Bullying, Social/Mgmt/Epid Sciences | No Archived Comments | Post A Comment () »
Thursday, February 21st, 2013
The Topics Investigated by WBI
Workplace Bullying Research
WBI's research complements the books, websites designed to help afflicted targets and their families, individualized support we give targets and Workplace Bullying University® for which research — ours and hundreds of others — is the foundation.
Below is the WBI set of 33 studies, arranged by topic, exploring most aspects of the workplace bullying phenomenon primarily from the perspectives of targeted individuals, conducted since the year 2000.
Use links to access all study synopses & downloadable reports.
Tags: Bullying rate compared to discrimination, Bullying tactics, Economic impact on bullying for targets, Employers' attitudes & actions, Gary Namie, Health harm from bullying, HR & bullying, Internet/Social media use & bullying, Lone perpetrator or multiple bullies, Mediation & bullying, Mobbing, Politics & bullying, Race of bullied targets, research, Targets' responses to bullying, U.S. National Prevalence, unions and bullying, WBI research, Why bullying happens, workplace bullying, Workplace Bullying Institute
Posted in Healthy Workplace Bill (U.S. campaign), Unions, WBI Education, WBI Surveys & Studies, Workplace Bullying Laws | No Archived Comments | Post A Comment () »
Wednesday, January 16th, 2013
WORKPLACE BULLYING PERPETRATORS' RANK & NUMBERS
WBI Research: 2012 – H Instant Poll
Workplace Bullying Institute Instant Polls are online single-question surveys that rely upon self-selected samples of individuals bullied at work (typically 98% of any sample). No demographic data are collected. Our non-scientific Instant Polls accurately depict the perceptions of workers targeted for bullying at work as contrasted with the views of all adult Americans in our scientific national surveys.
In the eighth IP of 2012, 81% of the 806 respondents declared that a boss (higher-ranking person than the target) was involved than bullying.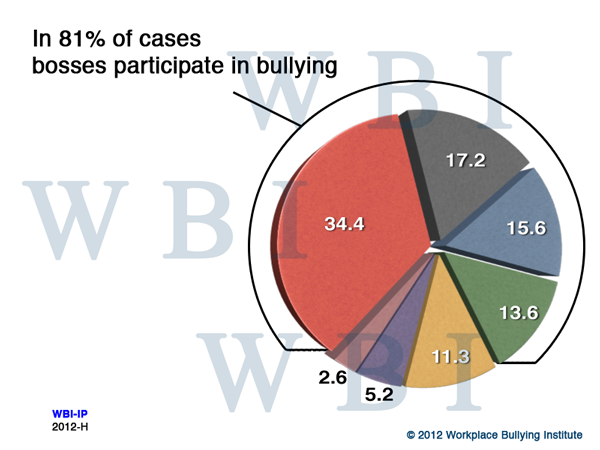 Tags: bullies, instant poll, Mobbing, perpetrators, rank, WBI survey, workplace bullying
Posted in Tutorials About Bullying, WBI Education, WBI Surveys & Studies | No Archived Comments | Post A Comment () »
Friday, October 12th, 2012
The founder of the international movement was Heinz Leymann. He dubbed the phenomenon "mobbing." We imported the British term, "workplace bullying," which followed Leymann's work by a few years. The authoritative account of Leymann's contributions can be found in Ken Westhues' incomparable mobbing portal website. See his tribute to Leymann.
Westhues writes:
In the workplace, a mob consists of ordinary workers who, after deeming an individual worker a threat, collectively attack the perceived enemy. Like birds, the individual workers harm the target by collective and relentless small jabs. The mob of workers can be understood as an entity in and of itself. Once it is formed, it takes on a life of its own, even when members may question the benefit of continuing to punish the target. As an aggressive force, a mob is very different from the"toxic worker" described in bullying literature. The toxic worker is understood as an aggressive individual who willfully attacks innocent others. By contrast, the mob is a collection of ordinary workers who collectively demonize an individual and destroy him or her.
Tags: Heinz Leymann, Ken Westhues, Mobbing, mobbing portal, workplace bullying
Posted in Tutorials About Bullying, WBI Education | 3 Archived Comments | Post A Comment () »
Friday, February 17th, 2012
As a vocal proponent of the term "workplace bullying," in my opinion only three individuals speak eloquently and authoritatively on "mobbing," the original term adopted by Heinz Leymann at the movement's birth. They are Ken Westhues, Len Sperry and Maureen Duffy.
Westhues wrote the Foreword to this new 2012 Oxford University Press book — Mobbing: Causes, Consequences and Solutions — by Duffy and Sperry. So, between the covers of a remarkable book, is found an incomparable compilation of research, clinical and practical information.
I stand by my comment for the book's cover. "A fantastic, mesmerizing encyclopedic narrative jammed between two covers touching on every aspect of the phenomenon of mobbing like no other single volume in the literature. The authors clearly have been in the trenches helping abused workers. Their advice is spot on and keenly oriented toward improving the individual victim's health and recovery from the mobbing assaults."
Tags: Len Sperry, Maureen Duffy, Mobbing
Posted in Bullying-Related Research, Events & Appearances | 1 Archived Comment | Post A Comment () »