Posts Tagged 'NFL'
Saturday, September 13th, 2014
Listen to Dr. Gary Namie be interviewed by Larry Buhl on the Labor Pains Podcast. The program covers workplace issues of today and tomorrow. Here Gary and Larry talk about workplace bullying and the NFL.
Audio clip: Adobe Flash Player (version 9 or above) is required to play this audio clip. Download the latest version here. You also need to have JavaScript enabled in your browser.
See more Labor Pains Podcasts here.
Tags: Gary Namie, labor pains podcast, larry buhl, NFL, workplace bullying, Workplace Bullying Institute
Posted in NFL: Jonathan Martin, WBI in the News | No Archived Comments | Post A Comment () »
Wednesday, September 10th, 2014
The NFL — the No Effin' Liability league for the boys of football — has struck again. As a multi-billion dollar enterprise (owned by revered American entrepreneurs — celebrities themselves who own celebrity labor), the league of owners of American professional football has shown itself to be incredibly inept. Their mouthpiece, the "commish" Roger Goodell seems driven solely to protect the NFL brand. He certainly is not a competent CEO though paid $44.2 million per year to be incompetent. I'm not sure he could work the drive-thru at McDonalds — it's too fast moving and accuracy matters.
You see Roger got caught crafting corporate policy in a very public way, then revising it to be more punitive publicly, only to get caught acting unilaterally and reflexively, all the while completely ignoring his own stated "policy." The man doesn't know "strategery,"willing to act without thinking.
Ray Rice, star player for the Baltimore Ravens, was caught on a New Jersey casino hotel security video entering an elevator with this then-fiance, Janay Palmer. That same camera caught him dragging an unconscious Janay from the elevator minutes later.
Conclusion to be drawn by any reasonable person: Rice struck Palmer in the elevator. Local law enforcement, the district attorney and the judge seemed to believe an unknown third person must have assaulted her in the elevator. Charges were dismissed. The NFL also engaged in such magical thinking. Goodell was allowed to assume that if the courts didn't care to protect Palmer and jail Rice, the Ravens and NFL had little to worry about. And the only worry for the team and league is LEGAL liability. Just protect the shield, baby (tip to Al Davis).
Goodell decided that he had better punish Rice in some way. He grazed him with a 2-game suspension. Even within the NFL's hierarchy of punishments, the penalty was light as compared to a pot smoking 6-game suspension. The inequity was obvious to all immediately but not to Goodell. Weeks later, he publicly declared that a domestic violence first-time violation committed by a player (nothing said about the distinction between proof, accusation, arrest, indictment or conviction) would draw a 6-game penalty. What to do with Rice retroactively? Suddenly two new domestic violence cases emerged with San Francisco and Carolina players. What to do? Goodell waited.
Into the breach strode that paragon of journalism, TMZ, with the missing link — video from the elevator. At last, Goodell could see what had actually happened between the video sequences taken outside the elevator. He rapidly, within the day, compelled the Ravens team to fire Rice and the NFL suspended Rice indefinitely (which in the past has always been the route to redemption and restoral of playing privileges).
Goodell expected praise. Instead, there have been calls for his head. ESPN talking head, attorney, and former NFL quarterback Steve Young opined that the Ravens should have acted like a responsible corporate employer and sent Rice home without pay pending an investigation.
I'll let ESPN's Keith Olbermann explain why Goodell and the Ravens and county officials screwed up. He calls for mass resignations. Obermann says Goodell "comforted the violent and afflicted the victim" and is an "enabler of men who beat women."
As an institution, the NFL is screwy. The people in charge seem incapable of owning the responsibility for what they have done. It's all deflection and denial. Just protect the shield, baby.
It's corporate CYA!
Coming: Part II — The NFL's Personnel Problem
Tags: CEO, corporate irresponsibility, domestic violence, human resources, investigations, NFL, Roger Goodell, wullying
Posted in Commentary by G. Namie, Employers Gone Wild: Doing Bad Things, The New America | No Archived Comments | Post A Comment () »
Saturday, August 2nd, 2014
Tags: Gary Namie, got a minute, NFL, target, who gets bullied, workplace bullying, Workplace Bullying Institute
Posted in Commentary by G. Namie, Media About Bullying, NFL: Jonathan Martin, WBI Education | No Archived Comments | Post A Comment () »
Thursday, April 17th, 2014
By Bernadette Starzee, Long Island (NY) Business News, April 16, 2014
The much-publicized investigation into alleged bullying on the Miami Dolphins football team has brought workplace bullying into the national spotlight.
More than a third of American workers say they've been bullied at work, according to a survey by the Workplace Bullying Institute, a national organization that defines workplace bullying as repeated, health-harming abusive conduct committed by bosses and/or co-workers. This may include verbal abuse, intimidation, humiliation and sabotage that prevents work from getting done.
While bullying is not healthy for the victim or the workplace, it's not necessarily unlawful. Though so-called "Healthy Workplace" bills have been introduced in 26 states since 2003, including New York, none of these anti-bullying bills have become law.
Tags: bullying scandal, Jonathan Martin, Miami Dolphins, NFL, workplace bullying, workplace bullying policies
Posted in Healthy Workplace Bill (U.S. campaign), Media About Bullying, NFL: Jonathan Martin, Print: News, Blogs, Magazines, WBI in the News, Workplace Bullying Laws | 1 Archived Comment | Post A Comment () »
Wednesday, April 9th, 2014
The smoke has nearly cleared on the NFL Miami Dolphins bullying scandal. There were two phases of national attention. Phase 1 covered the time from Jonathan Martin's voluntary departure from the team on October 28, 2013, after game 4 of the season, until Feb. 14, 2014. Martin gave an abusive environment as his reason and did not speak until January in an interview with Tony Dungy. The plethora of stories featured the accused and suspended bully, Richie Incognito. Lots of sports commentators sided with Incognito against Martin. Incognito gave interviews, took a baseball bat to his sports car and was involuntarily hospitalized. He lost paychecks for two games and has not been hired by another team.
Phase 2 began with the release of the report of the independent investigation into Martin's allegations commissioned by the NFL and conducted by attorney Ted Wells. After Feb. 14, the world learned there were three principal perpetrators of abuse. Incognito was joined by John Jerry and Mike Pouncey in abusing Martin. Jerry and Pouncey and Martin are all African-American.
On March 11, 2014, Jonathan Martin was hired by the San Francisco 49ers. He rejoins his Stanford university coach, Jim Harbaugh. "It can be a very powerful opportunity and motivator for a player to say, 'It wasn't me, it was my situation,' " Harbaugh said. "Jonathan Martin is another player who will have a powerful opportunity." A recent description of the team culture Harbaugh crafts at the 49ers is:
"With the 49ers, just like at Stanford, Jim Harbaugh has made sure that nonsense is not possible. He has whipped up a singular focus: winning. So, I think this situation is perfect for Jonathan Martin."
Despite the report about Pouncey's conduct and his vehement discrediting of Martin as unwelcome, Miami Dolphins owner Stephen Ross declared Pouncey an "an outstanding young man," an "excellent football player," and expects him to be a team leader in 2014. His place in the Dolphins' hierarchy is no longer in question. The team is expected to exercise Pouncey's fifth-year option for 2015.
The other offensive lineman in the trio of harassers, John Jerry, identified by Wells as the first to taunt Martin in Miami, was hired by the New York Giants. Head Coach Tom Coughlin said "Calls were made to the league office. There is no suspension in the air or anything of that nature. Whatever part he played in it, there was remorse, sincere remorse."
The NFL Commissioner, Roger Goodell, reserved the right to suspend Pouncey or Jerry or both. Goodell made is sound like his decision to suspend or not depends on medical evaluations yet to be made.
###
Follow the full NFL story from the start in the Category list in the sidebar: NFL: Jonathan Martin Read the NFL investigation report.
Tags: John Jerry, Jonathan Martin, Miami Dolphins, Mike Pouncey, NFL, offensive linemen, Richie Incognito, Stephen Ross, Ted Wells, workplace bullying
Posted in Employers Gone Wild: Doing Bad Things, NFL: Jonathan Martin | No Archived Comments | Post A Comment () »
Wednesday, March 12th, 2014
This may be the happy ending denied so many bullied targets. The most famous of all targets in recent times, Jonathan Martin, has landed a new job. He was traded by the Miami Dolphins, the team with the abusive work environment that compelled him to voluntarily leave, to the 49ers coached by Jim Harbaugh, his college coach at Stanford.
And he's happy. Read the press account.
WBI research with bullied targets found that after bullying, 29% made more money, 37% were not bullied again, 65% were not able to match their lost income, and 26% never found another job. So, Jonathan Martin is one of the lucky ones. Of course, he still has to win a job on the 53-man roster this summer, but at least he has been given the chance.
We wish him luck.
###
For now, it appears this story ends, you can follow the full NFL story from the start in the Category list in the sidebar: NFL: Jonathan Martin Read the NFL investigation report.
Tags: Jonathan Martin, locker room culture, Miami Dolphins, NFL, workplace bullying
Posted in Good News, NFL: Jonathan Martin, Tutorials About Bullying, WBI Education, WBI Surveys & Studies | No Archived Comments | Post A Comment () »
Tuesday, March 4th, 2014
WBI: The tale gets curiouser and curiouser …
Police in Arizona send Richie Incognito to mental-health facility
By Andrew Abramson, Palm Beach (FL) Post, Feb. 28, 2014
Dolphins guard Richie Incognito is receiving treatment at a psychiatric-care unit in Arizona after reportedly admitting to police that he damaged his Ferrari with a baseball bat in a fit of rage.
Incognito was hospitalized involuntarily late Thursday after Scottsdale police filed a petition to have him admitted, according to TMZ, which quoted a source.
Incognito apparently did not fight the order. NFL Media reported that he accepted the care because of the stress of the NFL investigation of his alleged bullying.
The NFL hired attorney Ted Wells to investigate claims of harassment in Miami's locker room. The report, issued two weeks ago, found that Incognito led the bullying of offensive tackle Jonathan Martin, several other players and an assistant trainer.
Tags: bully, Jonathan Martin, locker room bullying, Miami Dolphins, NFL, Richie Incognito, workplace bullying
Posted in Employers Gone Wild: Doing Bad Things, NFL: Jonathan Martin | No Archived Comments | Post A Comment () »
Monday, March 3rd, 2014
From the Editorial Board of the New York Times, March 1, 2014
Last year's National Football League season was tainted by on-field racial slurs and the bullying of a Miami Dolphins player. Of course, professional football players operate in an emotional, intensely competitive and physically punishing environment. It is obviously not your normal workplace. But, as employees, there is no reason they should be immune from modern standards of workplace conduct.
Professional football seems to know it has a problem. Over the weekend the Fritz Pollard Alliance, which monitors diversity in the N.F.L., recommended strict consequences for players who use discriminatory language on the field, including slurs against African-Americans: The first offense would result in a 15-yard penalty; the second, in ejection.
The chairman of the alliance, John Wooten, said he expected the N.F.L. to adopt the rule in March. Although referees can already cite players for unsportsmanlike conduct, the creation of a specific infraction sends a clear message that something that may once have been overlooked is now unacceptable.
The league's official report in the Dolphins bullying case, released last month, sends a similar message. It found that three players had "engaged in a pattern of harassment" against Jonathan Martin, who quit the team in desperation and sought psychiatric treatment. The investigators said it was "urgent that a tolerant atmosphere exist throughout the league." That is especially relevant in light of the recent announcement by Michael Sam, an N.F.L. prospect, that he is gay and will enter the draft. The Dolphins have since fired their offensive line coach and head athletics trainer, both implicated in the report.
Creating that "tolerant atmosphere," though, will require not just firings or other punishment but a shift in society's expectations for athletes. Even the authors of the report made allowances, explicitly accepting that "the communications of young, brash, highly competitive football players often are vulgar and aggressive." They added: "We did not approach this assignment expecting to discover behavior that society might anticipate in, say, an accounting firm or a law office."
It was not so long ago that accounting firms and law offices excused sexual harassment as boys-will-be-boys high jinks. But in recent years, most workplaces have tried hard to move beyond the vulgarity and aggressiveness of the "Mad Men" days, and certainly beyond racial animosities. Locker rooms should do the same.
###
Follow the full NFL story in the Category list in the sidebar: NFL: Jonathan Martin
Tags: Jonathan Martin, Miami Dolphins bullying scandal, NFL, Richie Incognito
Posted in Employers Gone Wild: Doing Bad Things, NFL: Jonathan Martin | No Archived Comments | Post A Comment () »
Wednesday, February 26th, 2014

The report by Ted Wells, the investigator in the NFL bullying scandal, introduced to the public for the first time two bully accomplices of Richie Incognito — Mike Pouncey and John Jerry. With Pouncey and Jerry, the harassment became same-race bullying, neither is white.
The New York Times did a long article profiling the two. Inside the article are statements of denial by friends of Pouncey and Jerry.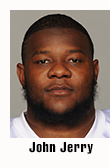 An unnamed friend commenting on the reactions of the two
they were upset at how the report characterized what they saw as harmless banter among friends and teammates. Neither had a sense that Martin was feeling bullied
Note how the bullies' version of the target's right to feel what he felt is given credibility.
A college coach saying
That's part of the culture of playing football.
A former teammate saying
Pouncey was not the type to harass teammates.
The article ends with Pouncey's "father figure" saying:
He'll be back to playing football. That's what he needs, and that's what he'll do.
Yes. Let's just move on … so we can forget! Wrong! Lessons must be learned and changes made. If not, this is another example of bully apologists at work to restore the offenders' image.
Read the entire article for yourself. Two Dolphins' Path to a Bullying Scandal by Steve Eder and Ben Shpigel, New York Times, Feb. 24, 2014
###
Follow the full NFL story in the Category list in the sidebar: NFL: Jonathan Martin
Tags: football culture, John Jerry, Jonathan Martin, locker room bullying, Miami Dolphins, Mike Pouncey, NFL, Richie Incognito, workplace bullying
Posted in Employers Gone Wild: Doing Bad Things, NFL: Jonathan Martin | No Archived Comments | Post A Comment () »
Thursday, February 20th, 2014
The owner of the NFL Miami Dolphins fired offensive line coach Mike Turner and trainer Kevin O'Neil. Turner was named as an accomplice in the mistreatment of Jonathan Martin by Ted Wells in his report about the abusive team environment and bullying scanda. Below, head coach Joe Philbin commented on the report and changes he plans for next season.
Follow the full NFL story in the Category list in the sidebar: NFL: Jonathan Martin Read the NFL investigation report.
Tags: bullying, Jonathan Martin, Miami Dolphins, NFL, workplace bullying
Posted in Good News, NFL: Jonathan Martin | No Archived Comments | Post A Comment () »