Posts Tagged 'NLRB'
Saturday, December 20th, 2014
The NLRB (National Labor Relations Board) ruled that McDonald's, the corporation, acting through its franchisees, violated the rights of its workers who were protesting for higher wages, specifically a $15 hourly wage.
Fast food workers have increasingly and visibly been conducting protests for higher wages and better working conditions for the past two years. Local owners of McDonald's franchises have retaliated against those workers with punishment by reducing hours, threats, surveillance, interrogations and restrictions on talking with union organizers, and terminations.
Advocates for the workers filed 291 charges against corporate McDonald's. The NRLB found merit in 78 of them while others are still under investigation.
Corporate McDonald's claims it has no control over what local owners do. It wants to dodge responsibility for the denial of workers rights. However, the NLRB agreed with groups like Jobs With Justice that the corporation dictates to franchisees very detailed operating standards to maintain consistency across various McDonald's locations.
So, when a local McDonald's punishes workers for protesting peacefully and acting together to improve their work lives it is now assumed that the local owner is acting as an agent for the corporate McDonald's. The NLRB ruled that the franchisees are joint owners.
Regional hearings are set to begin in early 2015 with a settlement deadline of March 30, 2015.
You can find the list of actual cases here.

Tags: $15, franchisees, higher wages, Jobs With Justice, McDonalds, mistreatment, NLRB, retaliation
Posted in Employers Gone Wild: Doing Bad Things, Related Phenomena, WBI Education | No Archived Comments | Post A Comment () »
Thursday, June 26th, 2014
We wrote in Jan. 2013 about the Republican attempts to block Pres. Obama's appointments to the National Labor Relations Board (NLRB). Sen. Mitch McConnell kept convening and recessing the Senate during the break at the end of 2011. Using this pro forma technique, the Senate was technically never recessed for more than three days at at time. During one of those 3-day recesses, Obama appointed two of his desired NLRB Commissioners.
Following their appointments, the NLRB made several pro-worker decisions, reversing years of anti-worker decisions by Republican-led Boards. If two of the three NLRB members were to be invalidated, the decisions could also be considered invalid.
A federal court vacated Obama's recess appointments, deeming them unconstitutional. In the NLRB v. Noel Canning Supreme Court June 26, 2014 decision, the high court supported the lower court's decision. SCOTUS concluded "Three days is too short a time to bring a recess within the scope of the [Recess Appointment] Clause [of Article 2 of the U.S. Constitution], so the President lacked the authority to make those appointments." Obama's appointments to the NLRB are unconstitutional, so sayeth a unanimous (9-0) Supreme Court. The typical liberal justice Breyer wrote the opinion with Scalia writing his own concurring opinion criticizing the majority for being too narrowly focused.
The Court did think it important that a recess be more than 3 days. A review of past recess appointments by Presidents showed that 10 days was the shortest period on record. So, there must be a magic time between 3 and 10 days to make it right. With regards to the Court reviewing actual work done during pro forma sessions (none) and challenging their legitimacy, the Court said it would not "engage in an in-depth factual appraisal of what the Senate actually did during its pro forma sessions in order to determine whether it was in recess or in session for purposes of the Recess Appointments Clause."
Read the Supreme Court decision.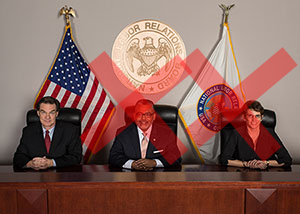 Tags: NLRB, Noel Canning, recess appointments, U.S. Supreme Court, workers' rights
Posted in Commentary by G. Namie, The New America | No Archived Comments | Post A Comment () »
Saturday, February 9th, 2013
Management tells non-supervisory workers (underlings, subordinates) that direct, honest communication with your boss is possible, as if both are equals. It's called an "Open Door Policy." Sounds great, but rarely practiced. Just another disingenuous biz buzz phrase that rings hollow. Here's an example of the words:
At Cablevision we maintain a true culture of family and teamwork based on mutual respect. We foster an environment of camaraderie, equality, cooperation, dedication, and recognition. We believe in the importance of supporting our employees by providing excellent career-development opportunities, tuition assistance, valuable training, and maintaining an open door policy.
An "Open Door" is offered as an excuse to convince workers there is no need to bring in a union for representation. Target, the retailer, uses the ploy. Watch the video to see for yourself.
But workers and managers are not equals. Here's an example of what actually happened when workers try to use such a policy. 23 Cablevision (see its policy above) Brooklyn, NY union workers were fired on Jan. 30.

Tags: Bill de Blasio, Cablevision Brooklyn, Christine Quinn, CWA, CWA Local 1109, Gary Namie, NLRA, NLRB, open door policy, workplace bullying
Posted in Employers Gone Wild: Doing Bad Things, Unions | 3 Archived Comments | Post A Comment () »
Friday, January 25th, 2013
Steven Greenhouse, New York Times Labor Reporter, writes that a 3-judge panel from the US court of appeals for the DC circuit just ruled unconstitutional President Obama's Jan. 2012 recess appointments to the National Labor Relations Board (NLRB). A full year of NLRB decisions, including some that restored balance to the employer-employee relationship, will be invalidated.
Only one NLRB member, Mark Pearce, will be left standing and the agency cannot rule without at least 3 members. Therefore, there will be no NLRB — it's the employers' dream. Sharon Block and Richard Griffin will be cut.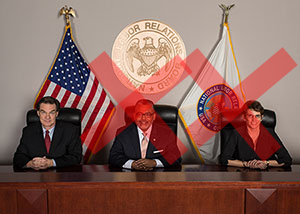 Tags: Gary Namie, labor relations, NLRB, Obama, recess appointment, Republicans, Richard Griffin, Sharon Block, Unions
Posted in Unions | No Archived Comments | Post A Comment () »
Friday, November 2nd, 2012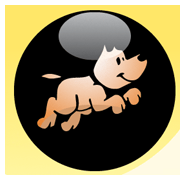 According to its website: "Andaz West Hollywood is more than a hip boutique hotel in Los Angeles. It's a lifestyle. Meaning "personal style" in Hindi, Andaz West Hollywood adds the latest style, service, and high-touch innovation to your West Hollywood hotel experience."
The Hyatt's latest innovation seems to be tethering their housekeepers, members of UNITE HERE Local 11, using two high tech innovations — iPod Touch and REX software. REX stands for Room Expeditor, a product sold by M-Tech to the hotel industry. Its logo (you decide if it's clever or downright insulting) is the little doggie ready to "go fetch" on the master's command pictured here.

Tags: distrust, housekeepers, Hyatt Andaz, M-Tech, NLRB, REX, UNITE HERE Local 11
Posted in Employers Gone Wild: Doing Bad Things, Tutorials About Bullying, WBI Education | No Archived Comments | Post A Comment () »
Sunday, August 12th, 2012
In December 2009 CEO Ryan Smith of Central Peninsula Hospital in Soldotna Alaska brought us in to implement our comprehensive program to prevent and correct workplace bullying. One year prior, there had been an on-site gunslinging event that claimed two lives, the shooter, fired employee Joseph Marchetti, and one of his victims. Others were paralyzed and wounded.
Trouble had been brewing beforehand. There is nearly always a story behind the headline-grabbing "shooter as mental nut" cover story (the theme of the documentary Murder By Proxy). A VP of the nurses union, Ray Southwell, had briefed his fellow union members and the CPH Board that "the environment is ripe for another shooting." He spoke regularly of bullying of nurses. Smith hated Southwell. Eventually, Smith, who had been brought in to "clean up" certain departments fired Southwell.

Tags: Alaska, Alaska Nurses Association, Central Peninsula Hospital, healthcare bullying, Lore Weimer, NLRB, nurses, Ray Southwell, Ryan Smith, Soldotna, William G Kocol
Posted in Media About Bullying, Print: News, Blogs, Magazines, Rulings by Courts, Tutorials About Bullying, Unions, WBI Education, Workplace Bullying Laws | No Archived Comments | Post A Comment () »
Tuesday, August 7th, 2012
For decades, the NLRB has been under republican control and served employers' needs to look the other way as union organizers are indiscriminately fired for doing what should be protected by law. On Jan. 9, 2012, President Obama made a recess appointment of Richard Griffin, a long-time union attorney, to the Board. Griffin joined Sharon Block, winner of the JFK Labor Law Award, and Chairman Mark Pearce whose prior legal experience was with labor. In May, disgraced republican member Terence Flynn resigned after two Inspector General reports concluded that he had leaked information about NLRB deliberations prior to decisions to Mitt Romney's adviser. There are now 3 democrats and one republican, Brian Hayes, on the Board.
Now come two recent decisions that make employers and HR livid.

Tags: confidential investigations, HR, Mark Pearce, NLRA Section 7, NLRB, Richard Griffin, Sharon Block, Terence Flynn, union organizing
Posted in Rulings by Courts, Tutorials About Bullying, WBI Education, Workplace Bullying Laws | No Archived Comments | Post A Comment () »
Tuesday, November 9th, 2010
Wanna complain about your boss online? If you do it via FB, you might get fired. On Jan. 25, 2011 at the National Relations Labor Board (NLRB) an administrative law judge will hear the case of Dawnmarie Souza fired from American Medical Response, Hartford, CT. Ms. Souza, a Teamsters member, was denied union representation by her supervisor for a meeting. She wrote on her personal FB page from home about the supervisor. She was fired. She may have free speech rights that the employer denied. The case tests a worker's right, union or not, to express opinions about work conditions or unionization without reprisal from employers. Let's all watch closely to see if the current NLRB rules for the corporation or for the worker.
Read the NY Times story by Steven Greenhouse, one of few labor reporters left in the country.
Read colleague law professor David Yamada's interpretation of the case and implications for bullied workers.

Tags: American Medical Response, Dawnmarie Souza, facebook, NLRB, NY Times, Steven Greenhouse
Posted in Fairness & Social Justice Denied, Media About Bullying, Unions | No Archived Comments | Post A Comment () »