Posts Tagged 'Noel Canning'
Thursday, June 26th, 2014
We wrote in Jan. 2013 about the Republican attempts to block Pres. Obama's appointments to the National Labor Relations Board (NLRB). Sen. Mitch McConnell kept convening and recessing the Senate during the break at the end of 2011. Using this pro forma technique, the Senate was technically never recessed for more than three days at at time. During one of those 3-day recesses, Obama appointed two of his desired NLRB Commissioners.
Following their appointments, the NLRB made several pro-worker decisions, reversing years of anti-worker decisions by Republican-led Boards. If two of the three NLRB members were to be invalidated, the decisions could also be considered invalid.
A federal court vacated Obama's recess appointments, deeming them unconstitutional. In the NLRB v. Noel Canning Supreme Court June 26, 2014 decision, the high court supported the lower court's decision. SCOTUS concluded "Three days is too short a time to bring a recess within the scope of the [Recess Appointment] Clause [of Article 2 of the U.S. Constitution], so the President lacked the authority to make those appointments." Obama's appointments to the NLRB are unconstitutional, so sayeth a unanimous (9-0) Supreme Court. The typical liberal justice Breyer wrote the opinion with Scalia writing his own concurring opinion criticizing the majority for being too narrowly focused.
The Court did think it important that a recess be more than 3 days. A review of past recess appointments by Presidents showed that 10 days was the shortest period on record. So, there must be a magic time between 3 and 10 days to make it right. With regards to the Court reviewing actual work done during pro forma sessions (none) and challenging their legitimacy, the Court said it would not "engage in an in-depth factual appraisal of what the Senate actually did during its pro forma sessions in order to determine whether it was in recess or in session for purposes of the Recess Appointments Clause."
Read the Supreme Court decision.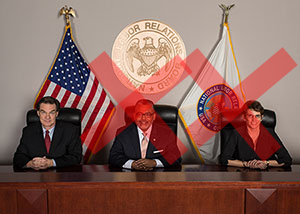 Tags: NLRB, Noel Canning, recess appointments, U.S. Supreme Court, workers' rights
Posted in Commentary by G. Namie, The New America | No Archived Comments | Post A Comment () »