Posts Tagged 'NSA'
Tuesday, February 11th, 2014
Join supporters of privacy and internet openness. See the 13 Principles on the Application of Human Rights to Communications Surveillance: including legality, necessity, proportionality, transparency and public oversight.
Call or e-mail your legislators easily from the campaign's website.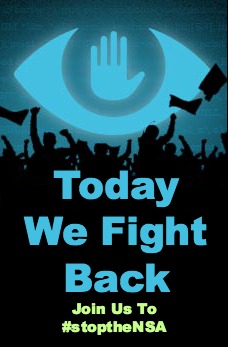 Tags: communications surveillance, NSA, surveillance state, The Day We Fight Back
Posted in Commentary by G. Namie, The New America | No Archived Comments | Post A Comment () »
Sunday, January 5th, 2014
WBI Note: The nation's best advocate for whistleblowers, the Goverment Accountability Project (GAP) made the following statement. Bullied targets are sometimes whistleblowers. (Though fraud is not always the issue, abuse is. And targets do expose fraudulent, undermining practices by bullies.) All whistleblowers are bullied.
WASHINGTON – January 3 – In June 2013, the American public learned conclusively about the wholesale surveillance of virtually all Americans through secretive programs by the National Security Agency (NSA) that continue to be implemented today. These programs collect the phone records, email exchanges, and internet histories of people all over the world who would have no knowledge of this were it not for the disclosures of former federal contractor Edward Snowden.
As legal counsel to Snowden as well as the nation's leading whistleblower protection and advocacy organization, the Government Accountability Project (GAP) would like to make its position clear on the following:
I. SNOWDEN IS A WHISTLEBLOWER.
Snowden disclosed information about programs that he reasonably believed to be illegal and abusive. In December 2013, this position was supported by a legal opinion by U.S. District Judge Richard Leon, who questioned the legality and the effectiveness of the bulk telephony metadata program, declaring it "likely unconstitutional."
Days later, a hand-picked White House panel of intelligence and legal experts bolstered this ruling with 46 recommendations to rein in the national surveillance apparatus, including a specific recommendation to terminate the bulk metadata collection program on American citizens by the NSA.
Snowden's revelations were undeniably in the public interest and have given rise to:
– governmental and corporate reforms all around the world
– more than two dozen bills in Congress
– half a dozen lawsuits
– an understanding that the Director of National Intelligence lied in testimony to Congress
(more…)
Tags: Edward Snowden, GAP, NSA, whistleblower, workplace bullying
Posted in Media About Bullying, Print: News, Blogs, Magazines | No Archived Comments | Post A Comment () »
Wednesday, July 3rd, 2013
Bullied targets often wait a long time to complain about their plight. Delays happen when they are not quite certain what freight train hit them. They ruminate too long about why they unjustly were targeted? How could someone be so cruel? Eventually, they want to tell their employer.
Chain-of-command reporting requirements are common. Got a problem? Tell your supervisor. But when your supervisor is the bully, the requirement is a dangerous trap. It turns out to be equally ineffective when the bully's boss is asked to make the bullying stop. [See the 2012 WBI Strategies Effectiveness study about the futility of confronting the bully directly or telling the bully's boss.]
People erroneously believe workplace bullying is an HR-level problem. Not so. It is more about leadership or the lack thereof. [See what understanding by a leader looks like.] Expecting HR to resolve bullying by holding a manager-bully accountable is a rare event. HR is there to defend the interests of management. They are not a neutral party in disputes. Retaliation is the most frequent consequence of following internal procedures for righting a wrong.
The larger point is that internal systems put the institution in the tripartite role of abuse by agents of the employer, then they are investigators, and finally they are judges and adjudicators. How can this turn out well for those subjected to harm by that same system? Internal investigators grant credibility to managers, while non-supervisory workers are considered malingerers, malcontents, disgruntled and mendacious. Senior managers consider workers who report that the best connected friends of those senior managers have done bad things to be the problem. The reporting is considered the problem — not the unconscionable actions that the complainant felt had to be reported.
And so we see the model repeated by several government institutions: the NSA, the CIA-FBI, the Dept. of Defense. Truth tellers (whistleblowers) and truth-telling victims are hunted like criminals, dehumanized, discounted, ignored, tormented, terminated, discharged from service, or imprisoned all to discourage others from showing the same kind of courage.
Tags: CIA, complainant, complaint system, Edward Snowden, FBI, government, HR, Jack Kiriakou, Kirsten Gillibrand, military sexual trauma, Myah Smith, NSA, sexual assault, Thomas Drake, Tina Clemans, traitor, whistleblower, workplace bullying
Posted in Commentary by G. Namie, Fairness & Social Justice Denied, Media About Bullying, Print: News, Blogs, Magazines, The New America, Tutorials About Bullying, WBI Education | 3 Archived Comments | Post A Comment () »