Posts Tagged 'nurses'
Wednesday, October 15th, 2014
The Association of Registered Nurses made the cessation of bullying among their members (lateral violence) and against their members (bullying & abusive conduct) a priority. The project was launched at a 1-day conference in Charlottetown on Oct. 10. Speakers included Gary Namie, Director of the Workplace Bullying Institute and Vicki Foley, Nursing Professor at the University of Prince Edward Island. Both speakers appeared on CBC-PEI radio show Island Morning promoting the event.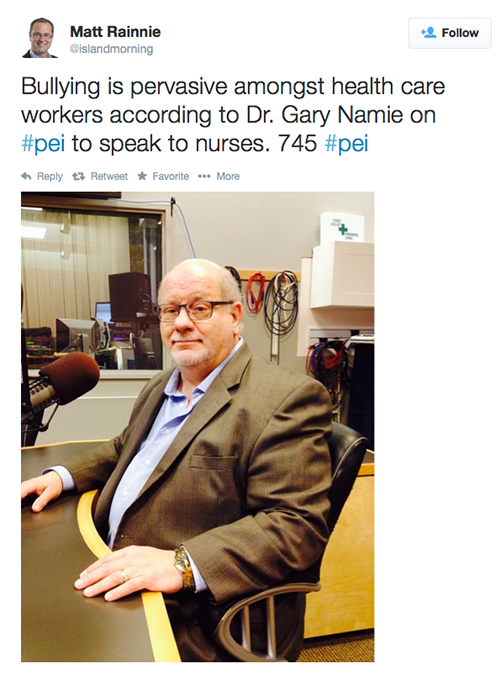 Tags: ARN, Gary Namie, nurses, PEI, RNs, Vicki Foley, workplace bullying
Posted in WBI in the News | 1 Archived Comment | Post A Comment () »
Monday, June 17th, 2013
An Ongoing Problem in the Health Care Workplace
By Jennifer Larson
June 13, 2013

When children repeatedly torment other children at school, it's called bullying, and it's deemed a significant problem. Research shows that children who are bullied tend to experience increased levels of stress, anxiety and depression.
Unfortunately, bullying doesn't stop at the playground gates, and children aren't the only ones who engage in bullying behavior.
The American Nurses Association (ANA) reports that between 18 and 31 percent of nurses have experienced bullying behavior at work. Like schoolyard bulling, workplace bullying involves a real or perceived imbalance of power and repetition of the negative behavior. The behavior can be overt, such as yelling or threatening, or it can be more insidious and passive, like refusing to cooperate or perform necessary tasks.
Whatever forms it takes, bullying is a serious, complex and ongoing problem in the health care workplace that results in demoralization and decreased job satisfaction, as well as feelings of isolation, anxiety, sadness and depression.
Bullying can also result in harm to patients. In a 2008 Sentinel Alert that addressed disruptive behaviors, The Joint Commission noted that "intimidating and disruptive behaviors can foster medical errors and (lead) to preventable adverse outcomes."

Tags: JCAHO, lateral violence, nurses, nursing, workplace bullying
Posted in Print: News, Blogs, Magazines | 4 Archived Comments | Post A Comment () »
Sunday, August 12th, 2012
In December 2009 CEO Ryan Smith of Central Peninsula Hospital in Soldotna Alaska brought us in to implement our comprehensive program to prevent and correct workplace bullying. One year prior, there had been an on-site gunslinging event that claimed two lives, the shooter, fired employee Joseph Marchetti, and one of his victims. Others were paralyzed and wounded.
Trouble had been brewing beforehand. There is nearly always a story behind the headline-grabbing "shooter as mental nut" cover story (the theme of the documentary Murder By Proxy). A VP of the nurses union, Ray Southwell, had briefed his fellow union members and the CPH Board that "the environment is ripe for another shooting." He spoke regularly of bullying of nurses. Smith hated Southwell. Eventually, Smith, who had been brought in to "clean up" certain departments fired Southwell.

Tags: Alaska, Alaska Nurses Association, Central Peninsula Hospital, healthcare bullying, Lore Weimer, NLRB, nurses, Ray Southwell, Ryan Smith, Soldotna, William G Kocol
Posted in Media About Bullying, Print: News, Blogs, Magazines, Rulings by Courts, Tutorials About Bullying, Unions, WBI Education, Workplace Bullying Laws | No Archived Comments | Post A Comment () »
Tuesday, May 10th, 2011
The NY Times ran the following Opinion piece by an oncology nurse during Nurses Week, 2011. WBI supports nurses and wants to see bullying of nurses by anyone — physicians, administrators, managers, other nurses — stopped. It need not be an accepted occupational hazard.
"Physician, Heel Thyself"
By Theresa Brown, Op-Ed Contributor, The New York Times, May 7, 2011,
It was morning rounds in the hospital and the entire medical team stood in the patient's room. A test result was late, and the patient, a friendly, middle-aged man, jokingly asked his doctor whom he should yell at.
Turning and pointing at the patient's nurse, the doctor replied, "If you want to scream at anyone, scream at her."

Tags: bullying in healthcare, nurses, The New York Times, Theresa Brown, workplace bullying
Posted in Bullying & Health, Employers Gone Wild: Doing Bad Things | 8 Archived Comments | Post A Comment () »
Tuesday, May 18th, 2010
by Tara Parker-Pope, New York Times, May 17, 2010
After years of studying the ill effects of workplace stress, psychologists are turning their attention to its causes. Along with the usual suspects — long hours, bad bosses, office bullies — they have identified some surprising ones.
Read the article at the NY Times site.

Tags: bad bosses, Bob Sutton, nurses, NY Times, performance appraisals, performance reviews
Posted in WBI in the News | No Archived Comments | Post A Comment () »
Monday, August 17th, 2009
On Sunday Aug. 16 Sen. Kent Conrad (D-ND) said in a live Fox News appearance that the public insurance option does not have the votes to pass in the Senate. Chair of the Senate Finance Committee, Max Baucus (D-MT) from the start of  consideration of health insurance reform refused to even consider a Medicare for all, single payer option as an alternative. At one meeting, he had 13 single payer advocates arrested. (more…)

Tags: Baucus, Conrad, Grassley, nurses, Senate Finance Committee
Posted in Bullying & Health, Fairness & Social Justice Denied | 2 Archived Comments | Post A Comment () »