Posts Tagged 'Obama'
Friday, October 18th, 2013
Because complaints about the website breakdowns at healthcare.gov mount, political opponents of the Obama administration blame the executive branch of government (guv'mint). According to the Washington Post, $364 million was allotted to create the website, with $88 million going to a Canadian firm, CGI Federal. Blame them and the other firms. Privatization advocates should take note.
At the same time, it seems WBI website traffic is starting to overrun our servers. Though we take heavier volume as a compliment, we regret when people who need to get answers about their bullying situations can't access our sites.
We apologize and are working to keep our sites running as fast as possible. At least, we take responsibility. Sorry for the inconvenience.

Tags: CGI Federal, healthcare.gov, Obama, privatization
Posted in Commentary by G. Namie, The New America | No Archived Comments | Post A Comment () »
Friday, January 25th, 2013
Steven Greenhouse, New York Times Labor Reporter, writes that a 3-judge panel from the US court of appeals for the DC circuit just ruled unconstitutional President Obama's Jan. 2012 recess appointments to the National Labor Relations Board (NLRB). A full year of NLRB decisions, including some that restored balance to the employer-employee relationship, will be invalidated.
Only one NLRB member, Mark Pearce, will be left standing and the agency cannot rule without at least 3 members. Therefore, there will be no NLRB — it's the employers' dream. Sharon Block and Richard Griffin will be cut.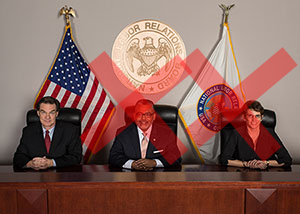 Tags: Gary Namie, labor relations, NLRB, Obama, recess appointment, Republicans, Richard Griffin, Sharon Block, Unions
Posted in Unions | No Archived Comments | Post A Comment () »
Wednesday, December 8th, 2010
For a long while we have watched President Obama put a higher priority on compromise than any other mode of operating in the political arena. He has been accused of capitulating by his supporters. His opponents treat him with utter contempt, yet he continues to speak of compromising with them. This a bullying scenario very familiar to visitors of this site. Lest you think I inject retail politics into this site, read this story "What Aspect of Dealing with Bullies Did Obama Fail to Learn as a Child?"

Tags: bullying, compromise, Obama
Posted in Fairness & Social Justice Denied | 7 Archived Comments | Post A Comment () »
Tuesday, August 4th, 2009
The recent Teachable Moment presented itself when the Cambridge, MA cop (Sgt. Crowley) arrested the Harvard professor (Henry Gates) in his own home and Pres. Obama dared to utter an empirical truth/fact about racial profiling because he knew the phenomenon well enough to speak spontaneously about it. The opportunity for the Moment passed once the media framed it as Obama's overzealous conclusion about police stupidity without knowing "all the facts in the case."
We're doomed it seems to never learn, or worse, never be able to teach ourselves to learn. This happens for several reasons. (more…)

Tags: American Dream, American exceptionalism, Cambridge Police, Crowley, Gates, Lamberth, Lowell Police Academy, medical bankruptcy, Obama, racial profiling, teachable moments
Posted in Fairness & Social Justice Denied | 5 Archived Comments | Post A Comment () »