Posts Tagged 'ostracism'
Tuesday, September 23rd, 2014
The Fifth Annual Sports Law and Ethics Symposium at Santa Clara University was hosted by the Institute of Sports Law and Ethics on Sept 11, 2014. Below is video of the panel
Bullying and the Locker Room Culture of Performance
Panelists:
• Jim Thompson, founder of the Positive Coaching Alliance an organization dedicated to transforming all youth sports into positive, character-building experiences
• William Pollack, PhD, Harvard Medical School clinical psychologist and author of Real Boys: Rescuing Our Sons from the Myths of Boyhood
• Brandi Chastain, U.S. Olympic and World Cup women's soccer champion turned advocate for youth safety in soccer
• Gary Namie, PhD, Workplace Bullying Institute Director, educating the audience about adult bullying in the workplace and its overlap with the Jonathan Martin/NFL case.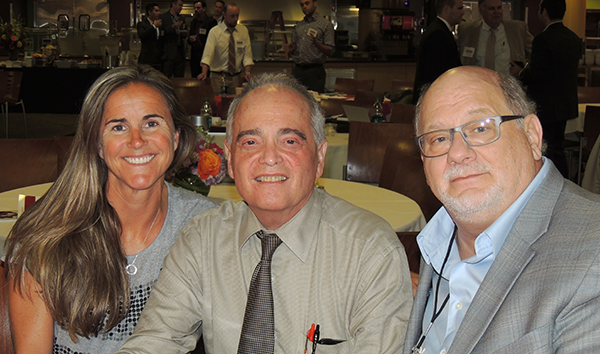 Pictured from left to right: Brandi Chastain, William Pollack, Gary Namie

Tags: Brandi Chastain, bullying in sport, Gary Namie, Jim Thompson, ostracism, Positive Coaches Alliance, William Pollack, Workplace Bullying Institute
Posted in Broadcasts: Video, TV, radio, webinars, Employers Gone Wild: Doing Bad Things, Media About Bullying, NFL: Domestic Violence, Tutorials About Bullying, WBI Education | No Archived Comments | Post A Comment () »
Thursday, February 28th, 2013
Our unhealthy love of reality TV
by Jen Christensen, CNN, Feb. 28, 2013
A red-faced Gordon Ramsay gets nose-to-nose with an older man and shouts, "Wake up!" He calls another chef's food "rotten." He reduces a middle-aged woman to hysterical tears. And all that's just in the opening credits of "Kitchen Nightmares."
For the next hour of the British culinary icon's popular reality TV series, there is little in the way of praise or pats on the back for the chefs he's coaching. Instead, he swears. He throws food. He calls people "stupid" and "disgusting pigs." His entire performance is based on sharp criticism and what some may argue is bullying-type behavior. Viewers eat it up.
Nightmarish behavior is the stuff reality TV shows are made of. Ramsay is certainly not alone. Tami Roman on VH1's "Basketball Wives" calls her friends "bitches" and physically attacks one of them in front of a fancy Miami restaurant. A study of the U.K.'s version of "The Apprentice" found it depicted 85 aggressive acts an hour. "American Idol" showed 57 aggressive acts an hour.

Tags: adult bullying, aggression, ostracism, reality TV, workplace bullying
Posted in WBI in the News | No Archived Comments | Post A Comment () »
Tuesday, July 17th, 2012
For all of those who missed it, the recording of this webinar is now available. This 1 hour presentation covers the social ostracism and isolation that accompanies workplace bullying.
Follow this link to watch the recording.
More webinars are coming. Be sure to follow the blog and the webinar queue for updates.

Tags: ostracism, social exclusion, webinar
Posted in Bullying-Related Research, Social/Mgmt/Epid Sciences, Tutorials About Bullying, WBI Education, WBI Surveys & Studies, Webinars | No Archived Comments | Post A Comment () »
Thursday, June 7th, 2012
On Saturday, July 7, 2012 10:00 am (pacific time), the Workplace Bullying Institute launches its live Webinar series.
Being "Iced Out" at Work
Dr. Namie will describe how isolation, social exclusion, ostracism, and shunning by coworkers prevents an individual from having a normal work life. Coworker betrayal is common and should be expected. The session explores social psychological theories about unhelpful non-intervening witnesses to the bullying and ways to break the cycle of silence.
This live webinar is free to the first 100 registrants. Register today. On-demand playback of the recording will be available after the live broadcast.

Tags: Gary Namie, icing out, ostracism, social exclusion, webinar, Workplace Bullying Institute
Posted in Broadcasts: Video, TV, radio, webinars, Events & Appearances, Tutorials About Bullying | 3 Archived Comments | Post A Comment () »