Posts Tagged 'perpetrators'
Friday, November 22nd, 2013
Review of Buckels, Jones & Paulhus (2013) Behavioral Confirmation of Everyday Sadism. This research was conducted at the University of British Columbia and the University of Texas at El Paso.
The phrase "workplace bullying" prompts most listeners to ponder deviant personality quirks of perpetrators. Though we at WBI believe work environment factors are better predictors of a bullying-prone workplace, it is the interaction of personality and work conditions that provide the fullest explanation. Bullied targets, when under assault, ruminate too long on the personality of their bully and the perp's motivation. So, we advise them to ignore the perp's personality so that they can act to get to safety. Given these forewarnings about the limited role of personality in bullying, here is a research article that addresses perhaps the most relevant of all personality traits related to bullying — sadism.
Tags: aggressors, Buckels, bullies, dark side of the world of work, dark triad, Paulhus, perpetrators, personality, sadism, workplace bullying
Posted in Bullying-Related Research, Social/Mgmt/Epid Sciences, Tutorials About Bullying, WBI Education | 2 Archived Comments | Post A Comment () »
Monday, February 4th, 2013
I'm old enough to remember when prostitution was rationalized as a "victimless" crime. The lies included: no one gets hurt, everyone is an adult free to choose, customers aren't bad people just doin' what comes naturally, blah, blah. Then newer generations discovered the sex slave trade, exploitation of young children, crime syndicates keeping the spoils. There certainly were then, and are, victims.
In our 15-year (16 in June) American campaign to raise awareness about the dangers of workplace bullying, we've seen some similar nonsensical rationalizations about this particular form of interpersonal violence. Excuses and protections for offenders delay societal rejection of workplace bullying. We call for an increased sympathy for bullied targets, the victims, to accelerate change.
Tags: Gary Namie, perpetrators, targets, victims, workplace bullying
Posted in Commentary by G. Namie, Tutorials About Bullying, WBI Education | No Archived Comments | Post A Comment () »
Wednesday, January 16th, 2013
WORKPLACE BULLYING PERPETRATORS' RANK & NUMBERS
WBI Research: 2012 – H Instant Poll
Workplace Bullying Institute Instant Polls are online single-question surveys that rely upon self-selected samples of individuals bullied at work (typically 98% of any sample). No demographic data are collected. Our non-scientific Instant Polls accurately depict the perceptions of workers targeted for bullying at work as contrasted with the views of all adult Americans in our scientific national surveys.
In the eighth IP of 2012, 81% of the 806 respondents declared that a boss (higher-ranking person than the target) was involved than bullying.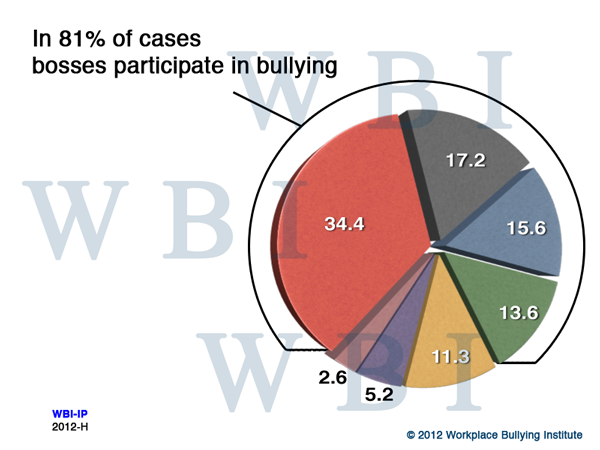 Tags: bullies, instant poll, Mobbing, perpetrators, rank, WBI survey, workplace bullying
Posted in Tutorials About Bullying, WBI Education, WBI Surveys & Studies | No Archived Comments | Post A Comment () »