Posts Tagged 'proclamations'
Tuesday, October 24th, 2017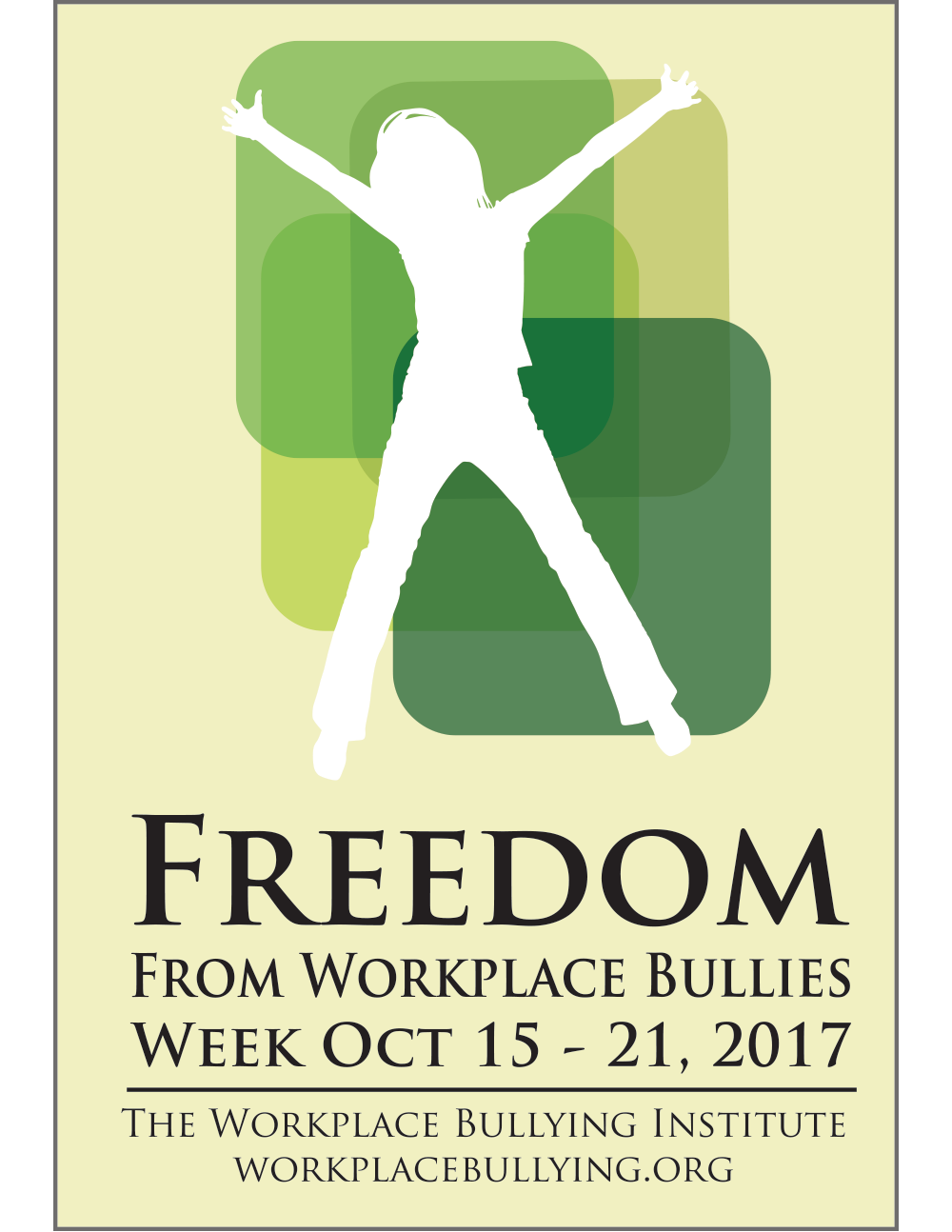 The California Healthy Workplace Advocates, CHWA, is one of the most active state-based groups in the nation. They are volunteer citizen lobbyists for the WBI anti-bullying Healthy Workplace Bill. They have members statewide. Monthly meetings are held in Sacramento. Details here.)
WBI established Freedom Week from Workplace Bullies Week, the third week in October during Domestic Violence Awareness and Bullying Prevention Month. CHWA routinely solicits proclamations from California cities and counties that declare the municipalities' endorsement of the following principles:
• government has an interest in promoting the social and economic well-being of its citizens
• that well-being depends upon the existence of healthy and productive employees working in safe and abuse-free work environments
• abusive work environments are costly for employers with consequences including reduced productivity, absenteeism, turnover, injuries
• protection from abusive work environments should apply to every worker, and not be limited to legally protected class status based only on race, color, gender, national origin, age or disability
Here are the cities and counties that proclaimed Freedom Week in 2017. Use links for viewing.

Tags: 2017 proclamations, abuse-free work environments, abusive conduct, california city proclamations, California Healthy Workplace Advocates, CHWA, Freedom from workplace bullies week, proclamations, worker well-being, Workplace Bullying Institute
Posted in Events & Appearances, Freedom Week, WBI Education | No Archived Comments | Post A Comment () »
Saturday, October 18th, 2014
WBI State Coordinators, the national network of volunteers who lobby state lawmakers to introduce, then enact, our anti-bullying Healthy Workplace Bill, are also the prime activists for Freedom from Workplace Bullies Week. Every year, in many states, cities and counties recognize Freedom Week. In turn, state lawmakers have to pay attention to the grassroots attention paid to ending abusive conduct in workplaces in their respective states.
In 2014, California leads the proclamation race with over 80 cities endorsing Freedom Week just prior to the start of the Week. Check the California Healthy Workplace Advocates website for a current listing. Here is a sample of California cities and counties.
Oakley, Calistoga, Pleasanton, Adlanto, Temecula, Campbell, Oceanside, Buena Park, Garden Grove, Oakdale, Lemoore, Palm Desert, Thousand Oaks, Carpinteria, South Lake Tahoe, Wasco, Santa Maria, Capitola, Saratoga, Santa Rosa, Walnut Creek, Indian Wells, Port Hueneme, San Juan Bautista, Costa Mesa, Kingsburg, Palo Alto, Santa Cruz County, Watsonville, Fowler, Sand City, Moreno Valley, Santa Clara, Grover Beach, Dinuba, Pinole, Ontario, Rohnert Park, Duarte, Goleta, Lompoc, Hermosa Beach, Tulare, Rancho Mirage, Redlands, Ridgecrest, San Leandro, Capitola, Placentia, City of Santa Cruz, Palmdale, Manteca, Portola Valley, Downey, St. Helena, Torrance, Moorpark, Sebastopol, Murieta, Contra Costa County, Mission Viejo, National City, Wheatland, Foster City, LaCanada, Dublin, Montclair, Tehachapi, Tustin, Pico Rivera, Lodi, Anderson, El Cerrito, Burbank, Tehachapi, Brea, South El Monte, Livermore, Lassen County

Tags: California Healthy Workplace Advocates, Freedom from bullies at work week, proclamations, Workplace Bullying Institute
Posted in Freedom Week, WBI Education | No Archived Comments | Post A Comment () »
Friday, October 25th, 2013
The WBI Freedom Week Proclamations Gallery

Tags: cities, Freedom from workplace bullies week, proclamations
Posted in Freedom Week, WBI Education | No Archived Comments | Post A Comment () »