Posts Tagged 'public schools'
Tuesday, June 24th, 2014
Talk about "values" is cheap. Living them is a tad more difficult. When budgets are tight, as all public school districts claim they are, where they spend those limited funds clearly demonstrates what Superintendents and School Boards believe is most important.
In southwest Missouri Christian County, Sheriff Joey Kyle believes he has the correct response to school shootings. Kyle told RiverFront Times reporter Sam Levin, "Gun ban talk is a hot topic, but I've got statistics out the ying-yang that shows gun bans are ineffectual. If these [shootings] are gonna get stopped, who's gonna be the people to stop it? You're there when the incident occurs. Let's empower people."
So far, Kyle convinced three of the eight school districts to agree to the 40 hours of training by Shield Solutions. The Kansas City Star reports that school districts are signing up fast from other regions of Missouri.
Two volunteers from a school are trained for $17,500. They will act as non-uniformed on-site respondents in the event of shootings, much like air marshals on commercial aircraft.
Odd how these districts found the funds for this unproven approach to school safety.

Tags: Christian County, guns, Joey Kyle, Missouri, public schools, school districts, shooting training, teachers
Posted in Commentary by G. Namie, The New America | No Archived Comments | Post A Comment () »
Thursday, September 12th, 2013
WBI colleague Dr. Matt Spencer has written his first book. He's applied his 32 years experience as a Superintendent, Associate Superintendent, teacher and coach in public schools to expose the problem of School Boards run amok. Here's a description.
Exploiting Children: School Board Members Who Cross the Line
By Matthew Spencer, Ed.D.
Published Sept. 22, 2013 by Rowman & Littlefeld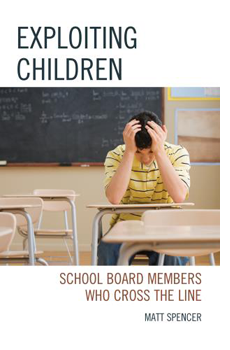 From the Foreword
Hold onto your hats, dear reader. This book is not for the faint of heart. Defenders of the status quo will be rattled. Similarly offended will be the apologists for scheming citizens who occupy seats on local school boards merely to have a pulpit for propagating their mix of anti-public school ideology and a naked desire for personal aggrandizement.
This book comes from the heart of a man with an indefatigable commitment to educating children. He has worked in districts that became the hell he describes in these pages. Authenticity and integrity leap off of every page.
Description
America's citizens want children to receive a high-quality education in clean, orderly and safe schools staffed with quality teachers, support staff and courageous educational leaders. In many communities, such a school experience is something the students will never have.
Why? One or more members of the governing board desire to use their elected position for personal gain. They are Exploiters. Some desire to exploit a little. Others crave total domination of the school system and become the petty tyrants of education.

Tags: board of education, exploiting children, Gary Namie, Matt Spencer, public schools, school boards, workplace bullying
Posted in Books, Events & Appearances, Media About Bullying | No Archived Comments | Post A Comment () »
Friday, September 6th, 2013
For-profit corporations have a simple, single stated goal — to maximize profits for shareholders. Profit-making trumps all ethical-sounding mission statements about improving the world. No requirement to treat workers humanely unless laws mandate. No need to consider the impact on the earth's environment in which we all live. No accountability for failure or harming people, except the risk that products or services do not sell in the marketplace.
Public education is government's investment in its children. It did not used to be about profit until the "reformers" attacked schools relentlessly. The media let opponents of public education blurt out "failed schools" without challenge. After 30 years of badgering, the semantic pairing of "failed" and "schools" seemed unquestionable. Reformers created a hybrid, the charter school — privately run with government money — the incremental step toward abolition of all public schools. They are not reformers. They are deformers backed by corporate sponsors drooling as they wait to take taxpayers' money for a "business" they do not know how to run. They are setting back progress in American public schools. Don't get snookered.
The latest testing-based demand from the federal Dept of Education (led by Arne Duncan, creator of Race to the Top who is a re/deformer who practiced in Chicago schools) is that states adopt the "Common Core" Standard Initiative. It replaces varying state educational standards by awarding grants to states that comply with the initiative. The standards have been adopted by 45 states and the District of Columbia.
From a Candice Bernd article comes Morna McDermott explaining the corporations who drive, and stand to benefit from, Common Core.
Click on map for larger version

Tags: Arne Duncan, Candice Bernd, Common Core, corporatization, deform, Morna McDermott, public schools, reform, school testing
Posted in Commentary by G. Namie | 1 Archived Comment | Post A Comment () »
Thursday, September 13th, 2012
A Chicago Tribune editorial today declared
Chicago Teachers Union officials aren't merely fighting City Hall. They're fighting the inevitability of education reform. They are denying the arc of history.
We challenge the inevitability of the erosion of workers' rights. Let's start with some history. What brought us to the point where the public sides with anti-union forces?

Tags: CTU, public schools, teachers, teachers strike
Posted in Commentary by G. Namie, Fairness & Social Justice Denied, The New America, Unions | No Archived Comments | Post A Comment () »