Posts Tagged 'Rep Michael Grimm'
Wednesday, January 29th, 2014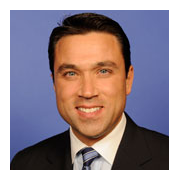 Last week, the FBI arrested Congressman Michael Grimm's (R-NY) fundraiser (and ex-girlfriend) Diana Durand on charges of illegally contributing more than $10,000 to Grimm's 2010 campaign through straw donors. And he's a known "tough guy," as an ex-Marine and FBI agent.
Last night he was interviewed by NY1-TV reporter Michael Scotto. After commenting about the State of the Union address, Scotto dared to start to ask Grimm about the above scandal, but didn't get the question out before Grimm declared it off limits.
Grimm walked out of camera range for seconds. Then he returned while the camera was still running to threaten Scotto. Here's the text of the exchange.
Grimm: "Let me be clear to you, you ever do that to me again I'll throw you off this f—–g balcony."

Scotto: "Why? I just wanted to ask you…"

[[cross talk]]

Grimm: "If you ever do that to me again…"

Scotto: "Why? Why? It's a valid question." [[cross talk]]

Grimm: "No, no, you're not man enough, you're not man enough. I'll break you in half. Like a boy."
When the twittersphere exploded with calling Seattle Seahawks Richard Sherman a thug after his post-game rant was televised, Sherman eloquently and accurately replied with the definition of thug that requires that criminality be a part.
Now comes Grimm whose threats of bodily harm might actually constitute a crime. To me, that justifies his branding as a thug.

Tags: bullying, FBI, Michael Scotto, NY1, rage, Rep Michael Grimm, threat, thug
Posted in Broadcasts: Video, TV, radio, webinars, Media About Bullying, Tutorials About Bullying, WBI Education | No Archived Comments | Post A Comment () »